This BAT contest is now closed.
Thanks to everyone who participated in the contest. And congratulations to the winners! They are:
Marc Lim Swee Keat (Open Training Tickets)
Lee Hexi (Match Day Tickets)
If you are keen to catch the Barclays Asia Trophy (BAT) but have not got any tickets yet, here is some good news. PrisChew.com is giving away ONE pair of Cat 1 Match Day 1 tickets for 15 July and ONE pair of open training session tickets for 14 July. Read on and scroll down to find out how YOU can win.
As well, you can also find out how to nominate friends and loved ones to win the Carlsberg Ultimate Man Cover Makeover and other attractive prizes below. Carlsberg is the Official Beer of the Barclays Premier
League.
A Brand New Global Campaign, "If Carlsberg Did…"
With the return
of its trademark tagline Probably the best beer in the world, Carlsberg has just launched a new global campaign this year, called "If Carlsberg did…" and this is a
modern take on possibly one of the most iconic beer advertising
campaigns worldwide.
Inspired by the founder of Carlsberg, J.C. Jacobsen, who had wanted to develop the art of making beer to the greatest possible degree of perfection, the campaign exemplifies the Semper Ardens (Latin for always burning) spirit to deliver superior experiences through a series of brand
communications which will roll out throughout the year.
Said Jolene Yeo, Marketing
Director of Carlsberg Singapore Pte Ltd, "More than a brewer and entrepreneur, J C Jacobsen was a visionary. His pioneering and unconventional spirit resonates throughout this new thematic campaign. Today, his continued innovation has been a driving force in shaping Carlsberg today. Through this campaign, the same Semper Ardens spirit will continuously be revealed."
"If Carlsberg did Buses" and "If Carlsberg did Taxis"
In line with its commitment to always doing things better, Carlsberg uses its trademark brand
of wry humour… to change ordinary experiences into extraordinary ones.
And to distract commuters from the grind of their daily journeys, Carlsberg recently launched an outdoor advertising campaign – where they featured a larger-than-life bottle of Carlsberg dispensing beer to passengers as they go about their daily routines… on 50 taxis and 9 buses. The hyperbolic construct aims to convey
"If Carlsberg did buses or taxis, they'd probably be the best in the world."
"If Carlsberg did Man Caves"
As Carlsberg and football go perfectly together, Carlsberg will be giving fans the chance
to nominate friends and loved ones to win the ultimate man cave makeover.
Carlsberg will bring the ultimate man cave fantasies to life with "If Carlsberg did Man Caves, they'd probably be the best in the world".
So nominate the person whom you feel best deserves to win, and explain why, along with a photo of the room to be turned into the man cave through the brand's official Facebook page. This aims to revitalise the clever sense of humour that the beer brand is well known for.
The winning room will be kitted out with a Samsung HD 55 inch Curved TV, Samsung 3D Home
Entertainment System, a chiller filled with Carlsberg beer, a reclining sofa and a mystery prize worth $720. The Man Cave. This is valued over $10,000.
Carlsberg In-Store Consumer Promotions
In addition, a nation-wide promotion will run throughout July and August at coffee shops, supermarkets and convenience stores, as well
as pubs and bars, so more fans will be able to win other attractive prizes in the contests.
To find out more about how to take part, see table below.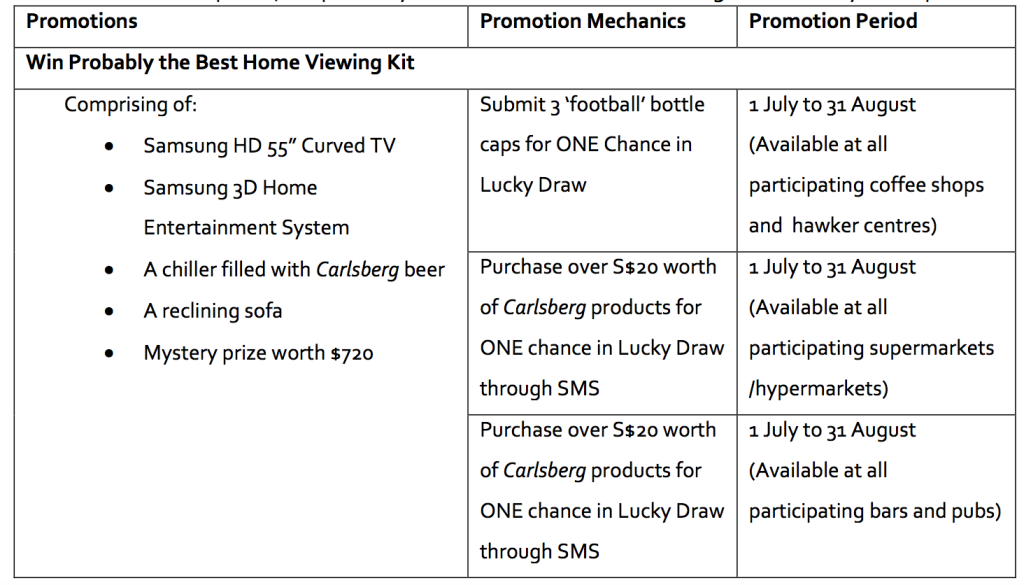 "If Carlsberg did…" thematic films 
This campaign will see the release of thematic films that capture the superior taste of Carlsberg by injecting a number of scenarios with the fun and witty humour of the beer brand
.
The series of films will be broadcasted across varying television, cinematic and digital platforms
.
Carlsberg and the BAT 2015
For the upcoming BAT, there will be Carlsberg beer on sale at 15 distribution points on level three as well as two exclusive
booths at Gates 3 and 15.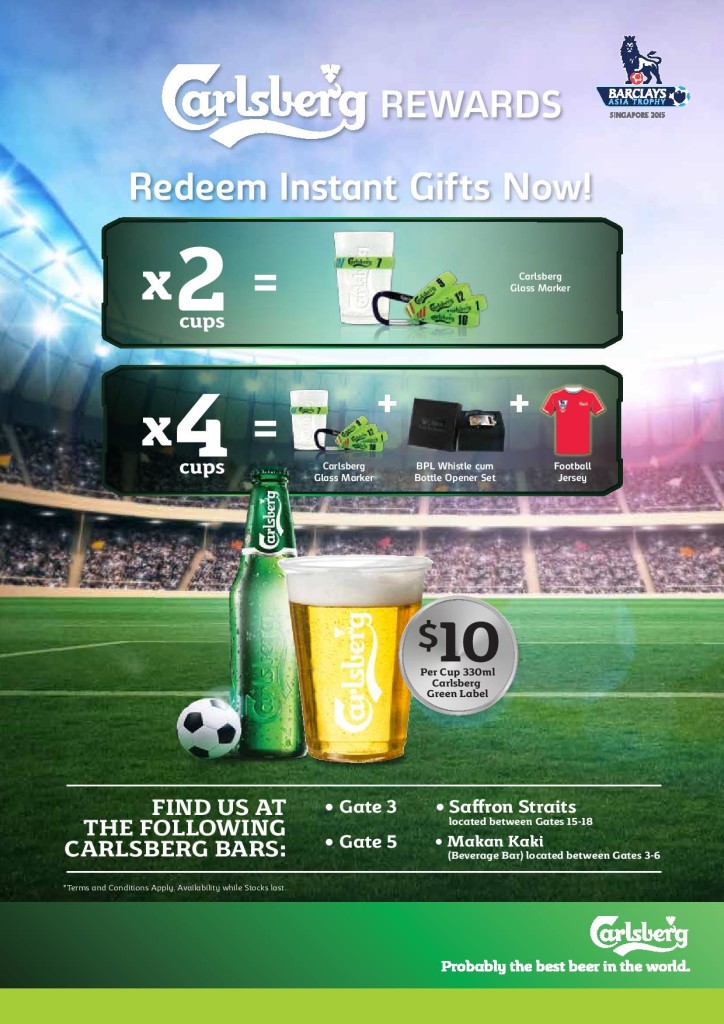 Buying two cups will entitle consumers to a glass marker.  To receive a whistle-cum-bottle opener and a Carlsberg Football Jersey, consumers must buy four cups, each costing $10. (330ml draught).
How To Win BAT 2015 Tickets
To win tickets to EITHER the match or the open training session, simply follow these steps.
1) LIKE PrisChew Dot Com Facebook page and/or @Prisgooner on Instagram
2) Share this post & answer the following question.
Which year did Carlsberg launch their iconic tagline, "If Carlsberg did…" in Singapore?
3) Email your answer, full name, mobile telephone number and your Facebook/Instagram username to pris.contest@gmail.com. Please also state in your email, whether you would prefer to win the open training session tickets or the match day tickets – or if you have no preference.
Only residents of Singapore are eligible to take part in this contest.
This BAT contest will close on Sunday, 12 July @ noon. Participants who have the correct answer to the question will go into a lucky draw – to determine the two winners, who will be notified by text or email to meet up at a stipulated time and location to collect their tickets.

Share this page with your friends!