This year, you can celebrate Chinese New Year with a wide range of traditional as well as new, unique festive products from NTUC FairPrice – and stand to win attractive prizes, in the FairPrice Fortune Draw.
FairPrice Fortune Draw
If you spend a minimum of $30 in a single receipt, you will qualify for the Fortune Draw and win prizes including $100,000 worth of FairPrice gift vouchers. You can win a Grand or a Consolation prize, as follows.
$5,000 and 1 year's supply of groceries (Grand Prize, 10 winners)
$500(Consolation prize, 100 winners)
Use OCBC Plus! Visa Cards to Double Your Winnings
And if you use OCBC Plus! Visa cards, you stand to double your winning chances.
At the same time, you will get 5 per cent off everything you purchase at FairPrice, FairPrice Online and Unity outlets, when you charge at least $500 monthly (excluding purchases made at the above three stores) to your OCBC Plus! Visa card.
Ordering Hampers
You should place any orders for NTUC FairPrice hampers by 10 February 2015 (Note that three days of processing are  required, excluding the day the items were ordered and Saturdays & Sundays).
For deli items, you should place your orders three days beforehand. Order forms are available in store or at Deli Order counters from 8 January to 12 February 2015. The collection period for orders is between 9 to 18 February 2015.
However, availability of items varies from one store to another, while stocks last.
What festive goodies are available at NTUC FairPrice?
Check out the interesting Chinese New Year items that NTUC FairPrice has in store for you, to celebrate the upcoming Year of the Goat.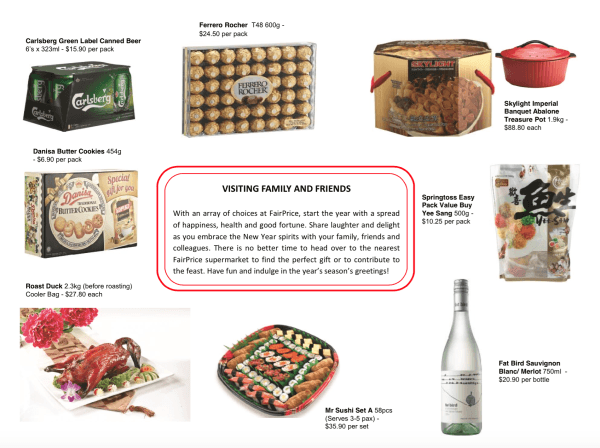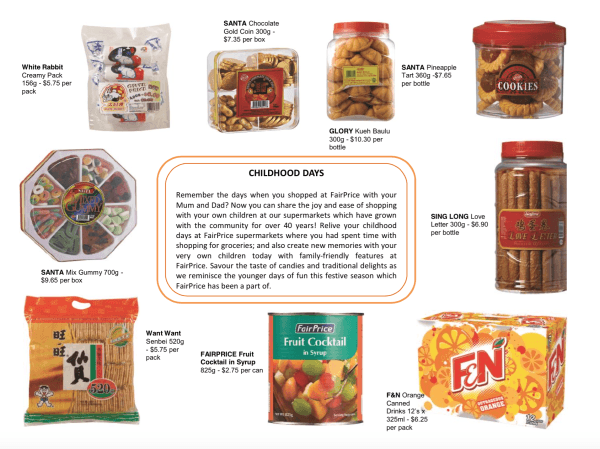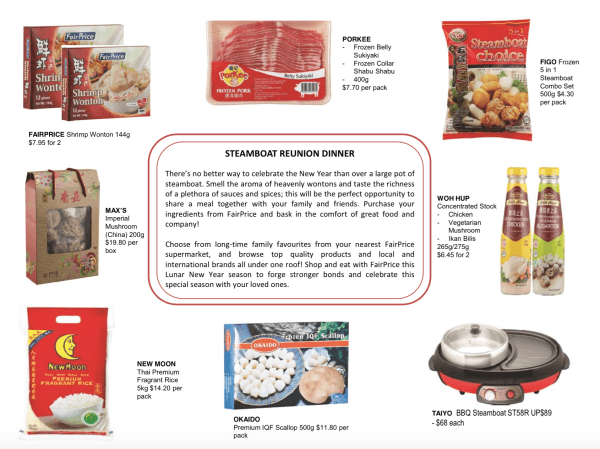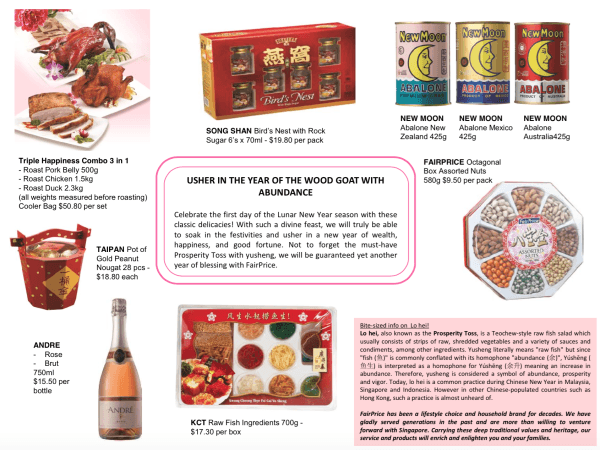 Share this page with your friends!