As soon as I stepped through the doors, the first thing that greeted me… were rows and rows of tantalising XO D24 durians lining the shelves in the room.
Yes, this was the sight which greeted me at Agrobazaar Malaysia @ Singapore, which is a one-stop shop for shopping, dining and chilling out with friends, family members and loved ones at Singapore's Sultan Gate area.
Singapore hub for Malaysian grown and Malaysian produced goods
A bustling hub for promotion of Malaysian grown and produced goods, this is not only a Malaysian-themed fruit and produce store – but there is also a small cafe (KopieSatu) and restaurant (The Verandah) here, serving authentic and fresh-tasting Malaysian food and beverages.
In Malaysia, KopeiSatu is also instantly recognisable as a well-known local cafe chain with outlets all over the country – selling fresh and premium coffee and other beverages, not unlike Singapore's ToastBox or Ya Kun coffee chains.
Said Aisah Amin, 50, Assistant Manager at Agrobazaar, "Our Agrobazaar concept is the first of its kind anywhere in Singapore and we set this up because we had wanted people outside of Malaysia to be more aware that we have such a wide variety of items back home in our country."
I was invited to taste the coffee and beverages at KopieSatu, as well as the delicious Malaysian cuisines at The Verandah. Here are my comments.
KOPIESATU
Serving gourmet coffee in a cosy setting, KopieSatu is a great place to hang out with friends and family members – and there is free WiFi too.
We tried the Durian Rainbow Cake, Iced Caramel and Teh Tarik from KopeiSatu.
Durian Rainbow Cake ($8.50 per slice)
I thought this was a very interesting cake. The exterior resembles a spiky durian, but when you cut the cake open, it is colourful just like a rainbow.
Said Aisah, "We put durian paste into the cake to tie in with our cafe's agro theme. And we chose a rainbow cake, rather than a simple durian cake, because rainbow cakes are the popular fad these days. So ours is a unique twist on the typical rainbow cake. The response has been good so far."
Upon tasting the cake, I thought it was quite interesting – the cake itself is moist, spongy and creamy. As a sponge cake, this is certainly a rather delightful dessert. However, while I could detect some durian flavour, it was not quite as strong as it could otherwise have been though.
Chendol ($4.00)
A bestselling dessert at Agrobazaar Malaysia, the Chendol comes in many versions. There is a traditional version for those who aren't so adventurous – as well as a durian one and a mixed fruits version, for those who prefer to have something different.
Said Aisah, "We have these versions because of our cafe's agro theme – to serve food with fruits. And chendol is a popular food item, so that is why we are offering it. Our version is a little different though, as it stays true to the Malaysian version."
The chendol looks nice – supplemented with boiled red beans and soft pulut hitam (black glutinous rice). The taste has a little bit of 'raw' gula melaka flavour and the coconut cream is a little more 'watery' than what I'm used to.
Iced Caramel Latte ($7.00)
This well-known drink is also available at the KopiSatu cafe chains in Malaysia. Said Aisah, "This iced caramel is from a KopieSatu recipe and is the Malaysian Prime Minister's favourite. But this is the first time that we are bringing the beverage out of Malaysia."
When I tasted the iced caramel latte, this definitely agreed with me. The caramel flavour is strong and intense, and this balances out very well together with the coffee kick in the beverage. The whipped cream used to decorate the caramel latte also added a creamy zing that enhanced the flavour.
Teh Tarik ($2.00 for hot, $2.50 for cold)
Aisah admitted that this Teh Tarik is not a beverage found at KopieSatu in Malaysia, but because of the popularity of the drink here, they decided to offer it when they came to Singapore. She said, "We want to be competitive in Singapore, and this is a common Singaporean beverage so we did some research and got our barista to make this – since everyone else was also making it."
For this Teh Tarik, the invited bloggers at the event were also treated to a wonderful demonstration on the pouring of Teh Tarik – by Agrobazaar's in-house barista. And I was really impressed and left in complete awe, by how high he was able to pour the beverage – without a single drop spilling onto the floor.
THE VERANDAH
A causal restaurant on the second floor of Agrobazaar Malaysia that offers both indoor and alfresco dining, this eatery serves popular Malaysian cuisines such as Penang Assam Laksa and Mee Bandung Muar.
Penang Assam Laksa ($8.90)
A very popular Malaysian dish, this is the bestseller at Agrobazaar Malaysia. Said Aisah, "Assam Laksa is quite rare in Singapore. While there are many types of Laksa available in Singapore, the one that we are selling is from Penang. Ours is also unique – due to the fish we use. This is our special ingredient. The type of fish used is very important in a bowl of Laksa because it can really change the texture and taste of the dish."
Just like how it should, this Penang Assam Laksa has a sour and tangy note to it – very different from the typical Singaporean style laksa that you find in most hawker centres and coffee shops. At the same time, the gravy is very rich and definitely more spicy than the laksa you find in Singapore – it is a typical Penang style Assam Laksa.
Mee Bandung Muar ($8.90)
While Mee Bandung Muar may be typically seen as an Indian dish, Aisah pointed out that it can be Malaysian as well. She said, "Ours is the Malaysian version, not the Indian version – so the ingredients and taste is very different to what you would usually find elsewhere."
This has a very thick sauce – very similar to that of mee rebus. However, the taste is spicier and hotter.
Tauhu Bakar ($4.90)
This Malaysian dish comes with grilled tau pok pieces and sliced cucumber, carrot and yam bean strips, served with a black sauce. It is similar to Singaporean rojak but the sauce is thicker and is more spicy.
Home Made Chicken Satay ($7.90 per plate of 6 pieces)
Said Aisah, "Our satay is different to the normal satay that you can get in most Singapore hawker centres because it is chunky. That is the Malaysian way of preparing satay."
When I tried this satay, the first thing that I noticed was the chunky chicken. However, that aside, I quite enjoyed the flavour and the texture – the meat was so tender. In fact, the satay was so good that I ended up eating many more sticks than I would have liked.
The satay sauce was also very different to the ones in Singapore – it is more spicy and does not contain as much peanut flavour as the version that you find locally.
Goreng Pisang ($4.90 for 8 pieces)
The first thing that I noticed about these deep fried bananas was that unlike the local ones, they were sliced into pieces. And when I bit into a piece, I found the texture to be quite chewy on the inside, and slightly crunchy on the outside. It was an interesting combination of taste and textures.
Said Aisah, "Many people have commented that our Goreng Pisang is different – that is because it is the Malaysian style of preparing this dish so that is why it is a little different to what most people here may be familiar with."
Durians
This is also a popular place to taste durians – but they were sold out when we came for the the tasting. Explained Aisah, "We are the first durian seller in Singapore that sells durians to eat in an air-conditioned room."
New dishes to be introduced soon
Aisah also added that Agrobazaar Malaysia, which will be one year old this month, is also constantly innovating and coming up with new dishes. She said, "Last year was good for us and this year we are hoping to launch some items from Trengganu. There will be six items and they are going to be things that are rare to Singaporeans."
According to Aisah, one of the dishes to be introduced, will be Keropok Lekor. This is a traditional Malaysian Fish Cracker snack. Added Aisah, "I am sure that you can probably find something like this in Geylang but our version will be very different to anything that you have probably tasted before."
Tips to cook good Malaysian food
And what tips does Aisah have – to cook good Malaysian cuisine? She said, "It all comes down to the ingredients. you must have the correct blend of ingredients to be able to cook good Malaysian dishes."
Contests and Promotions
If the delicious durian rainbow cake or the Malaysian chendol is making you salivate, you can try them out for yourself at KopieSatu, Agrobazaar Malaysia – at a 20 per cent discount. This is valid from now until 31 December 2015.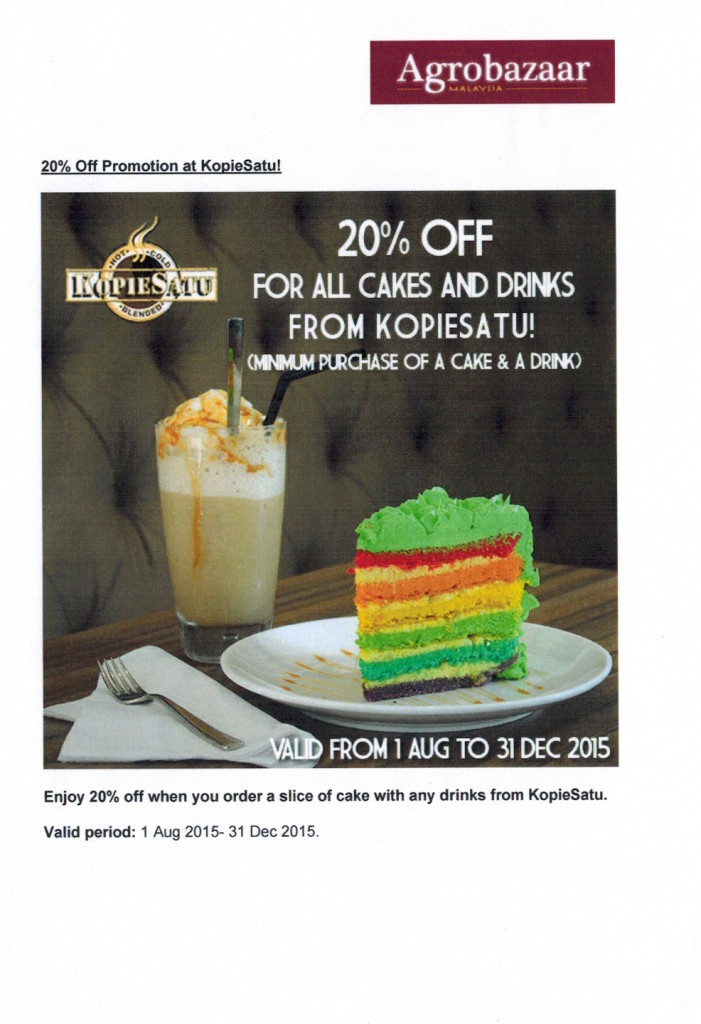 And you can stand to win $100 worth of dining vouchers for two diners at Agrobazaar Malaysia through an Instagram contest that they are holding now, until 31 September 2015.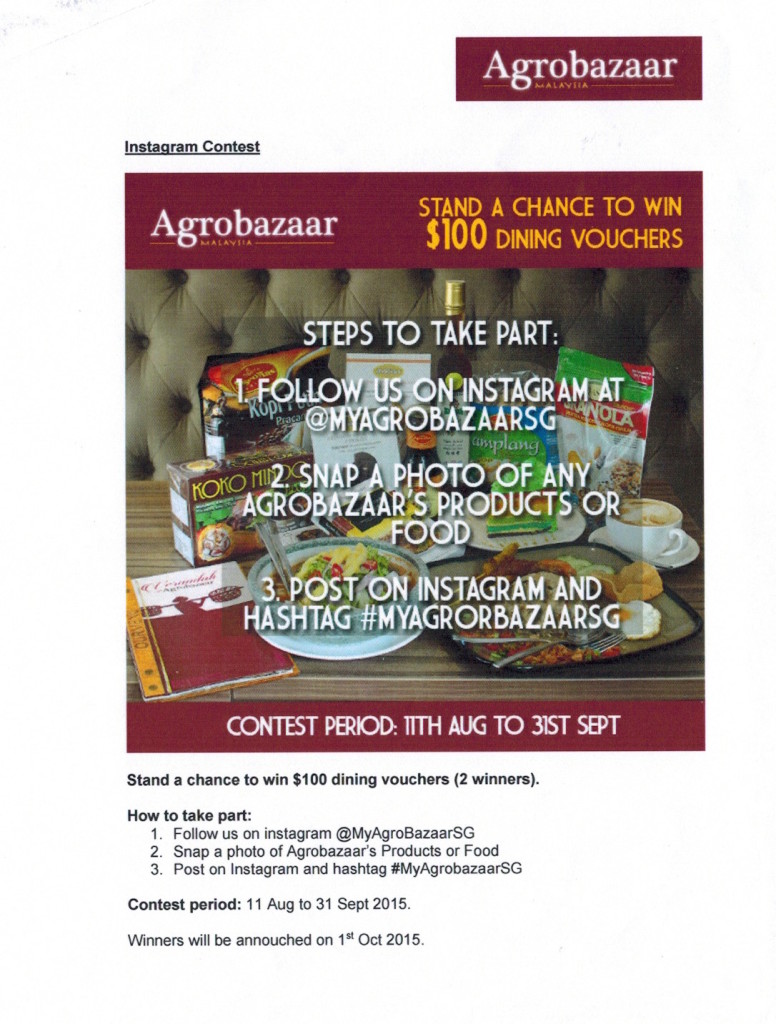 Thank you AGROBAZAAR MALAYSIA for the media invite to the tasting session.
AGROBAZAAAR MALAYSIA @ SINGAPORE
Lot 37 – 43, Sultan Gate, 
Singapore 198485. 
Nearest MRT: Bugis

Share this page with your friends!