Focusing on making healthy, delicious and affordable treats, Malaysian based company Amazin' Graze is on a mission to change the way that we snack.
According to the Amazin' Graze's co- founders, Amy Zheng, Ching Yi Lee and Sabrina How, they want to encourage people to eat real foods because they believe in eating right. So as such, their snacks contain only raw ingredients that have high nutritional value.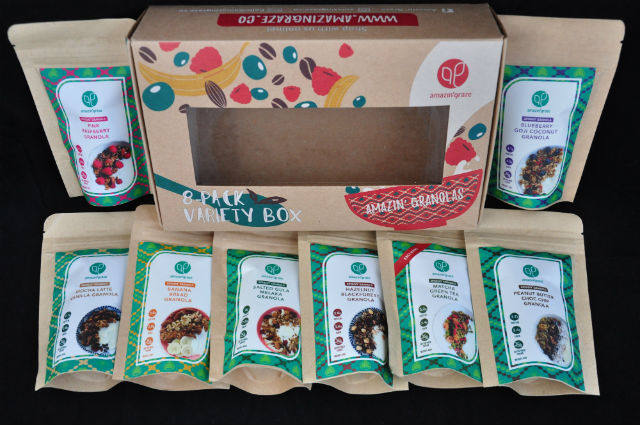 How Amazin' Graze came about
The inspiration for their company had come about because they were frustrated there was a lack of healthy yet affordable snack options in Malaysia – and so they felt they could do something to bridge the gap in the health food market.
So taking inspiration from a UK-based health food company, Graze, they started Amazin' Graze in 2015, producing artisanal handcrafted healthy snacks that are 100% natural, and with every ingredient being chosen with nutrition, taste as well as local culture in mind.
Have a range of crunchy granolas, nuts and nut butters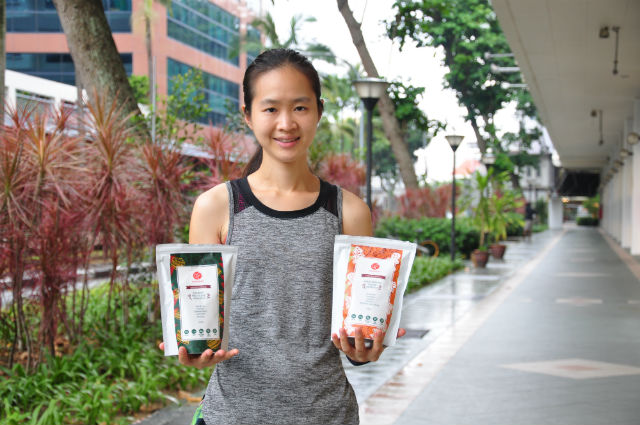 Fast forward to today, Amazin' Graze offers a range of crunchy granolas, nuts and nut butters that are packed with superfoods, whole grains and healthy fats that will keep you feeling satisfied and successfully curb your hunger pangs.
Freshly baked weekly with no added preservatives, the Amazin' Graze products have no added preservatives and are free of refined sugars.
They are also natural and free of any artificial additives. For their granolas, their oats come from Australia or the USA and with other ingredients coming from places like California, South Africa and Indonesia. Containing plenty of fibre and iron from the oats, granola is also generally good for you, as it is packed with unsaturated fats and some proteins coming from the nuts and seeds present in it too.
At Amazin' Graze, their product flavours range from Western based ones such as Hazelnut Black Forest Granola and the Banana Bread Granola to Asian themed ones, like the Pandan Coconut Nut Mix and the Tom Yum Kaffir Lime Nut Mix. So this means that there is definitely something to suit all types of taste buds and palettes.
And as well, for the Christmas season, Amazin' Graze has come up with three festive products – consisting of "naughty" festive treats and have put a twist on these flavours to turn them into healthy snacks that you can feast on without the guilt. These flavours are the Gingerbread Crumb Granola (S$10.50), Frosted Cinnamon Nut Mix (S$5.90) and Candied Fruit Cake Granola (S$10.50).
The Nut Mix is sold as a 100g packet while the two granola flavours are sold in 250g packets.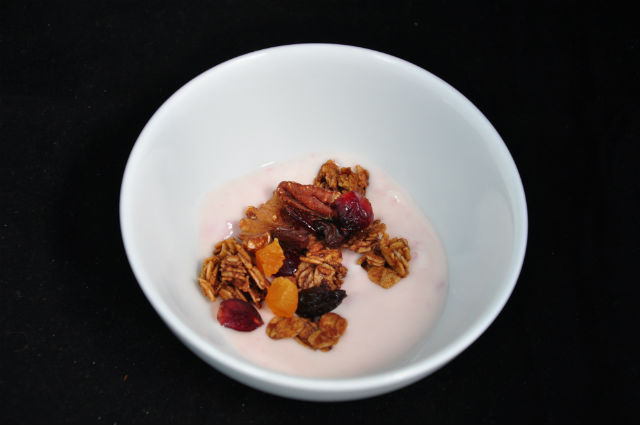 As you can see, the festive inspirations are based on Christmas goodies such as fruit cake and gingerbread, both of which are festive treats commonly eaten during Christmas but as we know, are not exactly healthy for you. I know that I should not be eating unhealthy foods, but as I have a sweet tooth, I love snacking on such treats.
So using "naughty" festive treats as the inspiration to make healthy snacks is certainly an idea that appeals. This is because as a recreational athlete who takes part in running and triathlon races, I do understand the importance of fuelling the body with nutritious foods, in order to optimise my performance and perform to my potential.
As such, I generally try to eat healthy, but at the same time, I do not believe in cutting out treats from my diet completely. So I will still eat the "unhealthy" foods sometimes, but have them in moderation.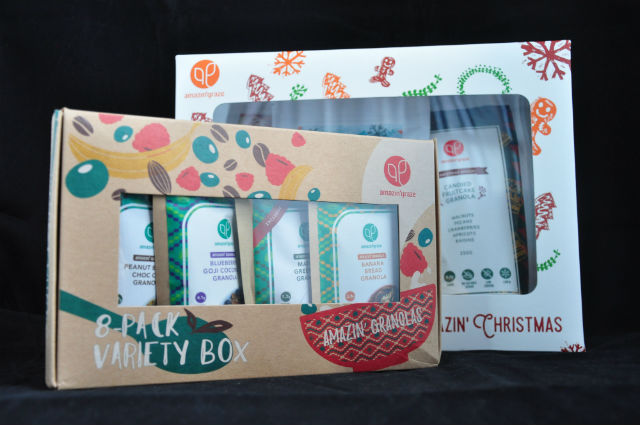 Now, with the Amazin' Graze Christmas granola range, I can enjoy the best of both worlds – to eat healthy and indulge in yummy festive treats at the same time.
Added Amy Zheng, "Our new range of Christmas snacks goes to prove that eating healthy doesn't mean having to compromise flavour or taste especially during Christmas time. Amazin' Graze strongly believes that festive indulgences can still be guilt free."
Trying the granolas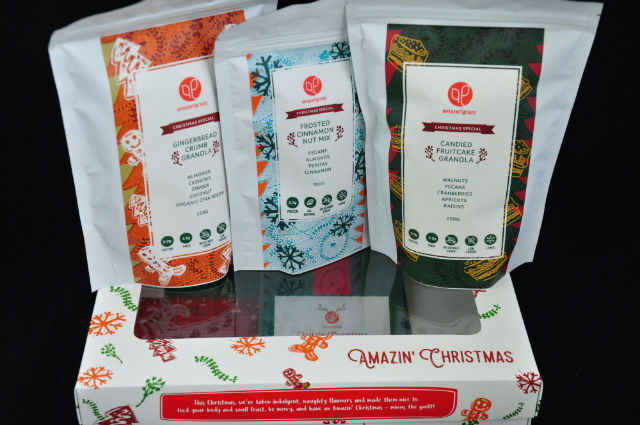 Thanks to Amazin' Graze, I recently had the chance to try out their three Christmas products, as well as their Amazin' Variety Box (S$19.90) which consists of all eight of their yummy and innovative granola flavours in handy 40g packets. These are as follows.
Blueberry Goji Coconut Granola
Hazelnut BlackForest Granola
Banana Bread Granola
Salted Gula Melaka Granola
Mocha Latte Vanilla Granola
Matcha Green Tea Granola
Pink Raspberry Granola
Peanut Butter Choc Chip Granola
As a whole, what I really enjoy about the Amazin' Graze granolas is that all of them are extremely crunchy, as compared to some other granolas that I have had.
If you are snacking on the granola all by itself though, it may be slightly dry in terms of the texture, but they pair really well together with yoghurt – the moist, semi-solid yoghurt and the dry granola complements each other perfectly.
Throughout the range, I had also thought that the amount of sweetness in the Amazin' Graze granola products had been just right for me.
With a subtle hint of sweetness coming from natural ingredients in most of their flavours, their granolas are just sweet enough to satisfy the sugar cravings, but at the same time, are not overpoweringly sweet so you can easily munch on them without feeling jelak.
The granola also seems to keep quite well overnight, regardless of whether you are storing them in the refrigerator or out in the open. I have tried storing them both ways, and the granola still retains its crunch, even after several days of storage inside the ziplock package that they had been sent to me in.
But if you want optimum levels of freshness when you eat the granola though, I would recommend you to store your granola in the refrigerator.
Amazin' Graze Christmas Specials
Candied Fruit Cake Granola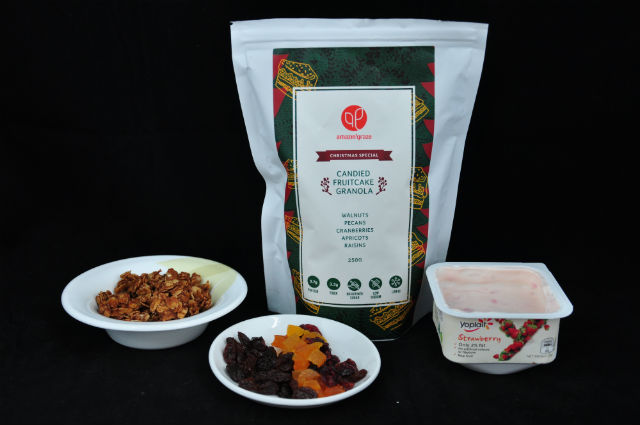 Out of the three Christmas flavours, my favourite one has to be the Candied Fruit Cake Granola. This had a subtle fruity hint that I had really enjoyed. Due to the small pieces of candied dried fruits, these had also helped to add a bit of moisture to this flavour so this meant that was not quite as dry as some of the other flavours.
As well I also quite liked the fact that the dried fruits were packaged separately – meaning that you only pour the fruits inside when you eat the granola. So this prevents the granola from getting soggy when it is stored.
Yet at the same time, I thought that the fruity flavour was not overpowering, and the sprinkling of nuts (walnuts and pecans) in the granola also helped to add an extra dimension to the combination of flavours too.
This rich and tasty granola definitely reminded me of a Christmas fruit cake, but of course, eating this comes without the guilt that comes together with enjoying an actual fruit cake though.
So this is one granola flavour that I can definitely see myself having for breakfast.
Gingerbread Crumb Granola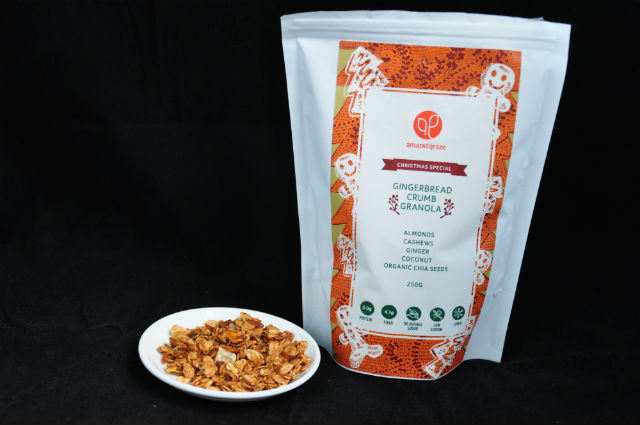 I also enjoyed the Gingerbread Crumb Granola. On tasting this for the first time, a cinnamon flavour immediately hit me, but this soon disappeared and gave way to other tastes such as gingerbread and spices, when I ate more of the granola.
Overall this flavour definitely reminded me of those delicious gingerbread cookies that I always enjoy eating during the Christmas season. So now, whenever I have a gingerbread craving, I can simply snack on a couple handfuls of this granola instead.
Frosted Cinnamon Nut Mix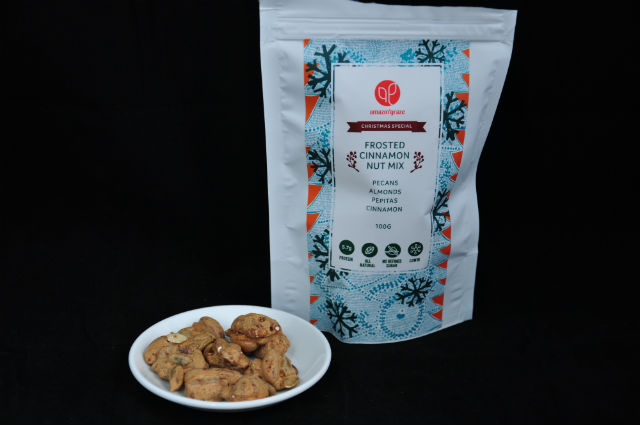 As for the Frosted Cinnamon Nut Mix, my first impression was that this was quite unusual. Upon opening the package, I was surprised that instead of individual pieces of nuts, the nuts had been stuck together with the cinnamon glaze, so the final product had reminded me of cookies instead of nuts.
Consisting of pecans, almonds and pepitas, I thought this Nut Mix was quite addictive! At the beginning, the cinnamon flavour also came out quite strongly but after a couple more mouthfuls, this cinnamon flavour disappeared though, and soon gave way to others.
Besides the cinnamon flavour, I could also taste a spicy note that had a hint of sweetness to it at the same time. As well there was a nutty fragrance that balanced out the rest of the flavours rather well.
This was in fact, so enjoyable that my family and I have almost polished off the whole 100g packet… less than one day after opening it!
However I must comment that this nut mix does not really keep well overnight though. I had kept them out in the open in an airtight container and when I tried some the next morning, the delicious flavour was still present, but the cinnamon glaze had somehow managed to soak up quite a fair bit of moisture and several nuts were stuck together as a result.
So as such, the nuts became more soggy than I would have liked them to have been when I subsequently ate them.
This experience did make me wonder though, if it may have been better to store these nuts in the fridge, if you are not going to consume the whole packet in one sitting.
The Amazin' Variety Box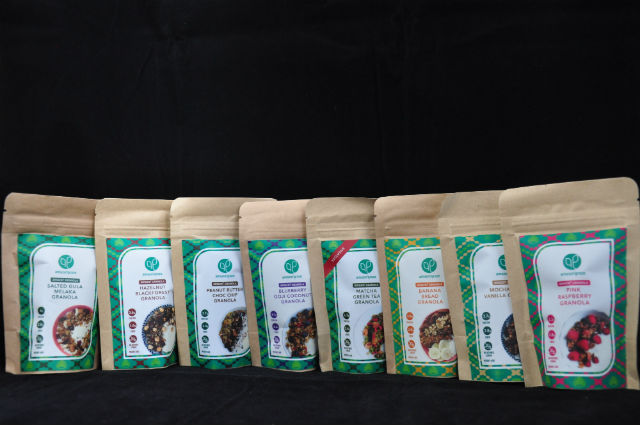 Here are my thoughts and comments about a selection of the granola flavours that were present in the Amazin' Variety Box.
Out of all the eight flavours present in the Variety Box, I had thought that the Hazelnut BlackForest Granola had been the most unusual one of the lot.
This granola, which was black in colour, had a slightly charred or toasted taste to it, that I had thought was quite interesting. At the same time, I could detect a nutty hint to it, possibly due to the hazelnuts in the granola.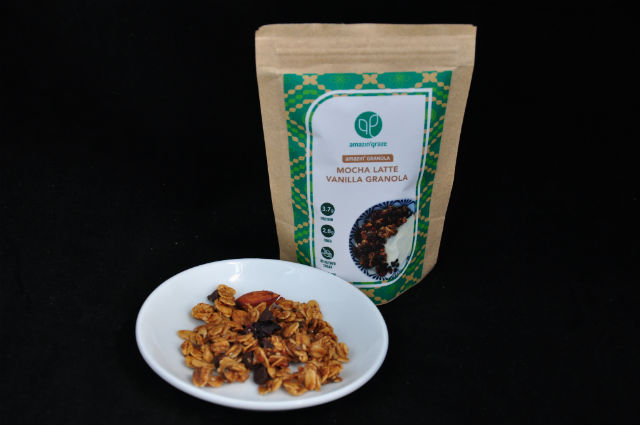 The Mocha Latte Vanilla Granola was quite interesting too. If you need a jolt to wake you up in the mornings, I strongly recommend this flavour. This is because when I took my first mouthful of this granola, a strong coffee flavour immediately hit me.
At the beginning, the coffee flavour seemed to drown out the other flavours in the granola, but after having a few mouthfuls of this, I could detect a rather subtle hint of vanilla too.
The Gula Melaka taste, however, did not come out as strongly as I would have liked, in the Salted Gula Melaka Granola.
When I eat this granola straight out of the packet, I can detect a sweet flavour with a rather slight hint of pandan to it, but when this granola is mixed with yoghurt or milk, the flavour somewhat disappears.
But otherwise, this is a rather pleasant tasting granola and it will suit those who do not really like to have strong flavours in their granola. Perhaps the intention though, may have been not to make the Gula Melaka flavour too strong, as that is a type of flavour that may sometimes get a bit jelak after several mouthfuls.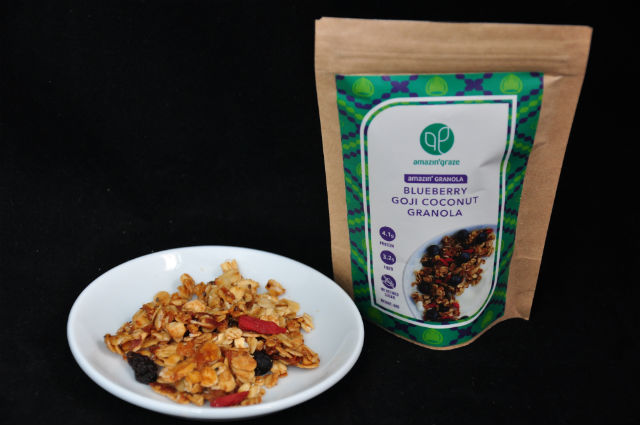 The Blueberry Goji Coconut Granola is another flavour that will suit those who like subtle, not strong flavours in their granola.
This one had a slight fruity taste and there was a hint of blueberry to it; however I felt that the blueberry was not really distinctive though when you eat this granola with yoghurt or milk.
Making Granola Peanut Butter Cookies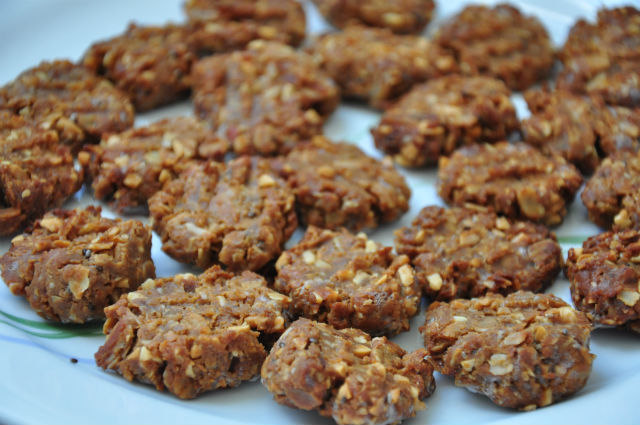 Using the Gingerbread Crumb Granola from Amazin' Graze, I also made some tasty peanut butter granola cookies.
I chose a recipe from Food & Wine because it is an easy and unusual one that stood out, requiring only four ingredients: these are toasted granola, peanut butter, egg and salt. Out of all the granola flavours that I had received, I used the gingerbread crumb flavour, because this flavour is traditionally associated with baked treats.
Including baking time, the cookies took only about an hour to make and I was happy with the result. These cookies are supposed to be soft and chewy, with a hint of a crunch. Mine was soft and chewy and also had a nice golden-brown colour when I took them out of the oven.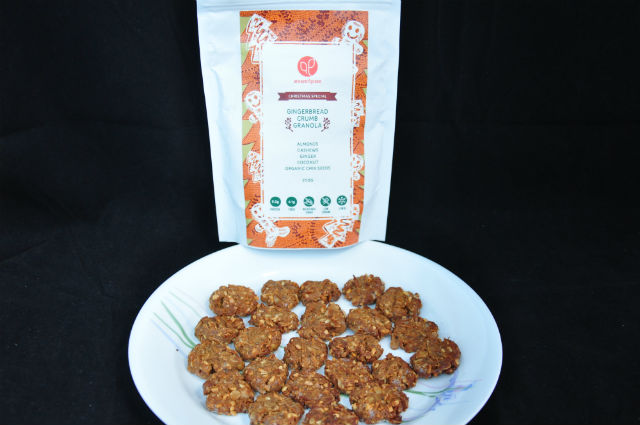 As well, the taste had been more yummy than I had anticipated – it had a slight tinge of gingerbread flavour from the granola, which blended in well with the peanut butter taste.
In fact I am already thinking of planning to make more of these tasty cookies for my next potluck gathering… so that my friends can try Amazin' Graze's Gingerbread Crumb Granola for themselves, too.
Overall Comments
My overall experiences with the Amazin' Graze granola products has been a positive one.
The interesting and dynamic flavours that the company has come up with, appeal to my taste buds and are more enjoyable than I had initially imagined.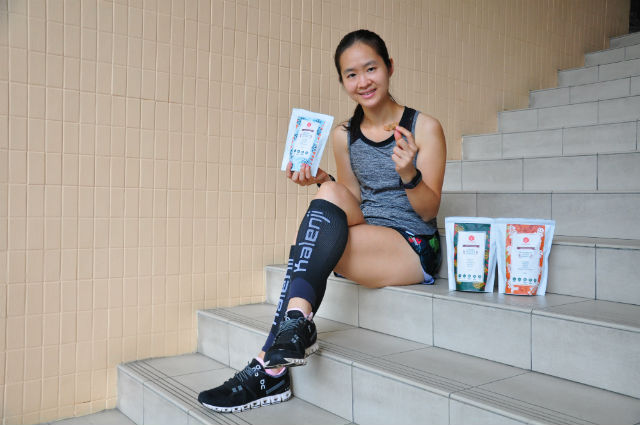 I admit that when I first saw the names of the flavours, they had been so different I was a bit sceptical at whether they would actually taste good. But Amazin' Graze has proved me wrong with that.
Where to buy the products
The Amazin' Graze granolas, nut range and nut butters are available at selected health food stores across Malaysia and Singapore. Prices vary depending on individual products.
They can also be bought online at https://www.amazingraze.co. 

Thank you Amazin' Graze for sending me the granolas.
Share this page with your friends!