Have you been searching for a healthy alternative to chocolate?
If so, then why not consider incorporating carob into your daily diet?
Carob is rich in vitamins and minerals
The fruit of the carob tree, carob is rich in vitamins and minerals, such as Vitamins A, B, B2, D2 and E. It also contains plenty of calcium and proteins and is rich in dietary fibre. Carob is also abundant in potassium and magnesium, and is both gluten and caffeine free.
Consuming carob on a regular basis has also been proven to have several health benefits, including the lowering of cholesterol levels, regulating blood sugar levels, helping in weight control and aiding in the treatment of common colds and influenza.
Said Lisa Saw, 30, from Forever Young Enterprises, which develops, imports and markets healthy products in Singapore, including carob, "The nutritional and health benefits are definitely one of the best attractive points to encourage someone to give Carob a shot."
She added, "Although carob does not have the flavourful taste like chocolate, the unique taste of the fruit gives a new dimension to people who suffer from allergies to gluten, caffeine and theobromine, as well as diabetics and those with heart issues. It is also an alternative for parents who want to give their children healthier snacks and beverages."
Carob is used as a healthy substitute for cacao and baking chocolate
Raw carob is slightly sweet, and bears a caramel-like taste. It is typically used as a healthy substitute for chocolate in baking – and due to its naturally sweet taste, it does not need as much artificial sweeteners, sugars and fats as chocolate – when used in the baking of cookies, cakes and tarts.
However, despite the many health benefits that carob can offer, Saw admitted that for a typical chocolate lover, it may be hard to get them to switch to carob. She explained, "It is hard to find a replacement with the same flavour and mouth-feel that chocolate provides. But if you are a chocolate lover and you are looking for a healthier option, then give carob a try."
Forever Young Enterprises import their carob from The Australia Carob Company in South Australia. Founded by Michael and Jam Jolley, this Australian company uses state-of-the-art machinery to produce a wide variety of carob products, which include raw and roasted carob powder, carob kibbles as well as pure carob syrup.
Carob products taste surprisingly pleasant
Thanks to Forever Young Enterprises, I had the chance to taste some of their carob products – these were the raw carob kibbles and roasted carob powder. I admit that I have heard a lot about carob and its numerous health benefits. So I have always been curious to try carob and its products.
And for someone who has always enjoyed chocolates, I found the carob flavour to be surprisingly pleasant. I mixed the roasted carob powder into a Milo beverage to drink. The carob powder didn't dissolve fully into the Milo, so it added more "body" to my drink. As for the taste, I thought the carob had a cereal-like flavour that reminded me a little of oatmeal. Combined together with the malty taste of the milo, this was quite pleasant.
Added Saw, "Compared to raw carob powder, the roasted version has a stronger caramel taste and is more intense in flavour."
The raw carob kibbles are slightly chewy when eaten by themselves as a healthy snack. And after opening the package, it also gave a smell that reminds me a little of oatmeal. They are a little chewy in terms of texture too and to consume them as a snack, I think that they will be good as part of a fruit & nuts trail mix. Also, I think they may make a good sprinkle on top of local dishes such as fried rice and wanton mee, to add some texture to the food when it is served – somewhat like pork floss.
Added Saw, "Raw carob kibbles have a more natural taste of carob and is a chewy, high-fibre snack. It is perfect for children, vegans and health-conscious adults."
Thanks to their in-house baker, Forever Young Enterprises had also made some Macadamia Nuts Carob Butter Cookies as well as two types of muffins, comprising of frozen blueberries and the other, dried raisins – for me to try. Both of these recipes contained roasted carob powder. Using it to bake cookies and cakes are two of the most common ways that carob is used in recipes.
The Macadamia Nuts Carob Butter Cookies were fragrant and the flavour was actually quite delicious. The carob flavour combined quite well with the butter, and gave the cookies a rather pleasant, malty taste that reminded me of a little of Horlicks. I would probably consider making these cookies myself, when I can find the time.
When baked into muffins, I thought that the carob flavour seemed to come out stronger after the muffins had been left in the fridge and then heated up the next day. The muffins had a brown colour, which had reminded me strongly of chocolate, but the flavour reminded me of oatmeal muffins.
Singaporeans can incorporate carob into their daily diet
Though carob may be commonly seen as a baking substitute for chocolate, many people in Singapore don't bake. But according to Saw, it is still possible to easily incorporate carob into the local Singaporean diet, though.
She said, "One of the ways is through our beverages. Carob can be put into beverages such as chocolate and cocoa drinks. You can also add carob syrup into coffee or tea as a substitute for sugar. We have a few milkshake recipes and hot carob drinks as a starting point for you to start using the product."
Added Saw, "Many athletes such as body-builders and other fitness enthusiasts can also use carob to replace chocolate in their daily protein drinks."
Carob Recipes
Here are a few simple carob recipes that you may wish to try.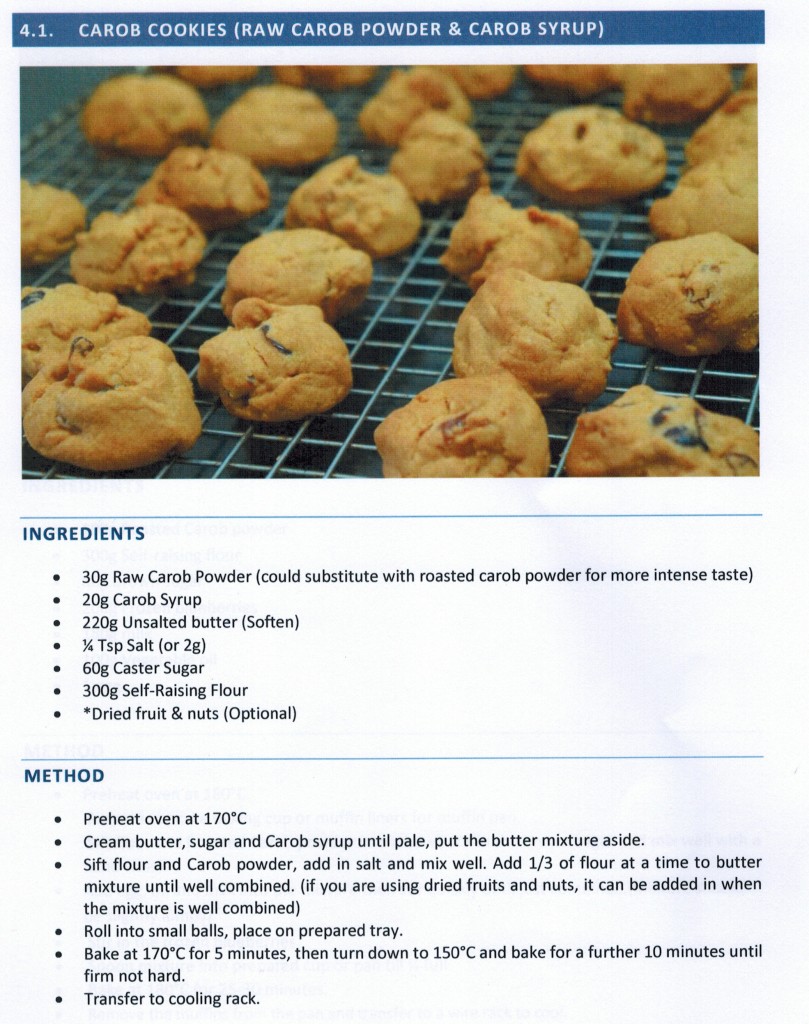 Check out Forever Young Enterprises's Facebook page here for more information about their carob products.
You can also purchase the carob products here. http://www.qoo10.sg/shop/foreveryoungsg
Share this page with your friends!