Recently, I visited Quayside Isle @ Sentosa Cove – Singapore's premiere waterfront retail and dining destination – and I literally felt as though I had been transported to another country.
This is because of the brilliant views of the picturesque harbour, coupled together with its laid-back Sentosa Cove location and a host of gastronomic food choices from 25 different restaurants Quayside Isle.
A trip to Quayside Isle truly provides the perfect setting for a getaway for lovers and families. As well, it is also great for celebrating special occasions such as birthdays, anniversaries, and Christmas there.
Scroll to the bottom of this blog post to find out how you can win $100 worth of Quayside Isle @ Sentosa Cove cash vouchers.
A one-of-a-kind Christmas experience at Quayside Isle
This December, Quayside Isle is offering a one-of-a-kind Christmas experience for you and your loved ones. For example, whimsical angels and a dynamic LED juggler will make special appearances at Quayside Isle @ Sentosa Cove this festive season – on the 19th and the 25th December.
However, for those who prefer to ring in the festivities during the day time, there will be free lunch-time parking at Quayside Isle from 12.00pm to 2.30pm – with no minimum spending required. For those who like to bask in the evening hues and feast into the night, entry to Sentosa is free for cars and taxis as well as driving in after 5pm on weekdays.
A media tasting session at Quayside Isle
Thanks to City Development Limited and the SPRG Group, members of the media were given a sneak peep into what Quayside Isle has to offer, through a food and wine tasting session at three different outlets. This had showcased to us, the wide range of food & beverages that Quayside Isle has to offer.
Wine Tasting @ The Straits Wine Company
We began the evening with a wine tasting session at The Straits Wine Company.
Offering a comprehensive range of services that caters to your wine needs, The Straits Wine Company offers a wide range of wines from countries such as Australia, New Zealand, France, Spain, Italy, Argentina and Portugal, amongst others. Regardless of whether you are a beginner or an experienced wine enthusiast, there will be something for you.
We tasted six different types of wines and these were all very different in terms of both their flavours and textures.
The wines that we had tasted were as follows: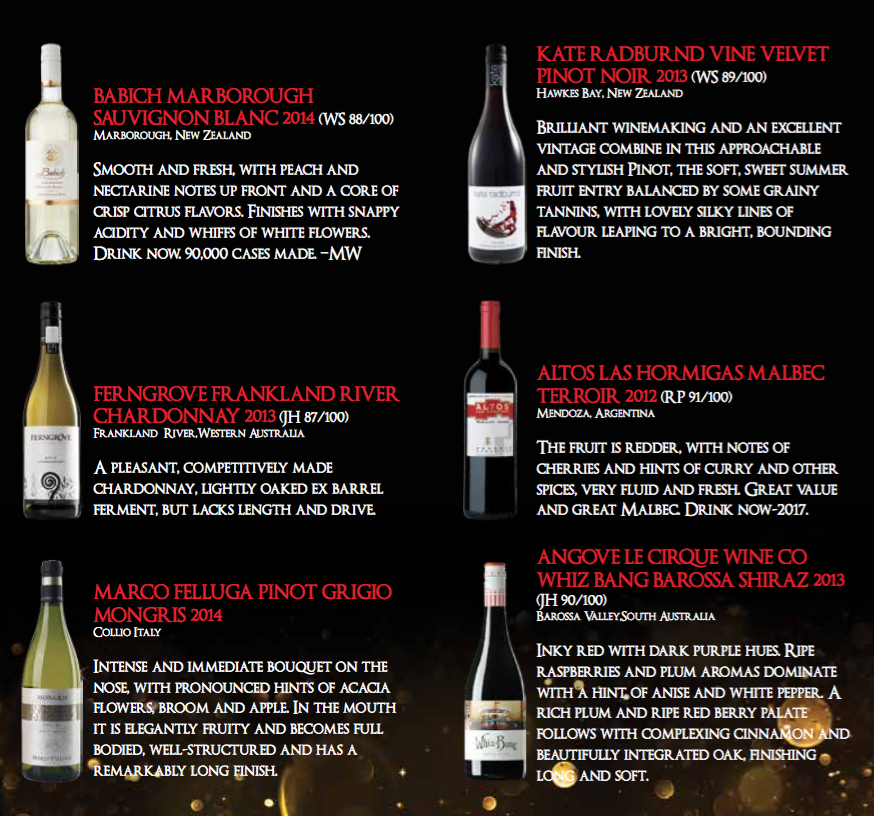 One wine, the Babich Marborough Sauvignon Blanc 2014 (SGD49.30) was very pleasant and was quite suitable for beginners at the same time. It has a very fresh and sweet flavour, starting with peach and nectarine notes up front, which was very quickly followed by citrusy flavours. I found myself emptying my wine glass, despite the fact that I am not really a wine person.
In contrast, lovers of strong and rich wines though, would enjoy the Angove Le Circue Wine Co Whiz Bang Barossa Shiraz 2013 (SGD49.30). With a very inky red colour, this wine has a rich raspberry and plum aroma, coupled together with a hint of anise. There are also cinnamon and oak flavours as well as a hint of anise and pepper spices. This wine would be good for the Christmas season, to pair together with your Christmas ham and turkey. This would appeal to wine lovers.
Food Tasting @ Gin Khao Bistro
Our first food tasting session of the evening took place at the Thai restaurant, Gin Khao Bistro.
Serving mind-blowing Thai cuisine, the aim of Gin Khao Bistro is to provide diners with a different ambience, mood and experience, while at the same time preserving the authenticity of Thai food.
Our dining experience began with the Prawn & Green Mango Relish for an appetiser, and this was quickly followed by Larb Moo as well as Som Tam salads, and then Tom Yum Seafood Soup.
The main courses then arrived – these were the Stir Fried Squid with Runny Salted Egg, Crayfish with Glass Noodles and the Watermelon Fried Rice.
My favourite dish was probably the Watermelon Fried Rice. Served inside a huge watermelon, this is a very interesting take of your classic Pineapple Fried Rice. With the addition of pork floss and crispy bean curd bits, the flavour of this dish was enhanced greatly.
The Stir Fried Squid with Runny Salted Egg was also yummy – I thought that the salty flavours from the egg balanced out the squid very well, without overpowering it.
For dessert, we had two types of Molten Lava Cake – both the Thai Tea and Chocolate flavours. There was also Mango with Black Sticky Rice, Deep Fried Banana Fritters and a Rainbow Cake.
We were also served four different types of gelato – these were Coconut, Tom Yum, Lychee Sorbet and Sticky Rice.
The most interesting dessert in my opinion, was probably the Thai Tea Molten Lava Cake. The flavour was quite unique and I enjoyed it, though it had reminded me more of sticky date rather than tea flavour.
The Deep Fried Banana Fritters were also prepared quite well, as these had been crispy on the outside and slightly soft and moist on the inside.
For the gelato flavours, I thought the Tom Yum one was very intriguing. It had a very unique savoury flavour, somewhat tasting like laksa. Moments later, the spiciness kicked in, and this reminded me of a mixture of wasabi and chilli.
The sticky rice flavour was very pleasant to the taste buds too, with bits of sticky rice meshed inside the Gelato, giving it an interesting texture and some mouth exercise.
Food Tasting @ Brussels Sprouts (This restaurant is no longer at Quayside Isle)
Our second food tasting session – and the final one for the night – took place at Brussels Sprouts.
A chic bar & bistro by celebrity chef Emmanuel Stroobant, you can enjoy a range of delicious Belgium flavours here, such as rollmops (pickled herrings), grey shrimp croquette and fresh mussels. There is also a huge range of Belgium beers to choose from, for the beer lovers.
Our evening had started out with Beef Tartare on Toast, and this was followed by the Belgium Rollmops, Crispy North Sea Shrimp Croquettes and Home-Made Belgian Cheese Balls.
I particularly liked the Home-Made Belgian Cheese Balls – the texture of the gooey cheese was great and it melted in my mouth, though I did wish that the cheese flavour could have been a wee bit stronger, as it appeared to have been marginally diluted with the presence of some mayonnaise. However the crispy, battered deep-fried shells were a great contrast to the hot, moist cheese inside.
We then went on to taste the Belgian Beerplankje, which was a cheese platter with Gouda cheese, pork salami, gherkins and mustard.
Then there was the mussels and fries – one of the specialties at Brussels Sprouts. We tried four different dips – Tom Yum, Mediterranean, Lobster Bisque and Blue Cheese. Out of these, I personally liked the Mediterranean one the most, as the flavour was not too intense. The Blue Cheese was nice too, but it can get quite rich if you eat a lot of it.
For the main meals, we had Home-Made Belgian Beef and Pork Meatballs, Slow-Cooked Leffe Brune Beef Cheek Stew, Grilled Pork Sausages and Classic Seafood Pasta.
These were all delicious even though I had been feeling really stuffed by this stage. My favourite though, definitely had to be the Grilled Pork Sausages, as they were very juicy and moist. The red wine sauce that it had been served with, also complemented the sausages very well.
That said though, the Slow-Cooked Leffe Brune Beef Cheek Stew was also really yummy though. The beef had been braised and cooked till it was really soft and tender, so it was full of flavour. The melt-in-your-mouth carrots in the stew had also absorbed the flavours of the stew very nicely, so they had been really good to munch on too, even though I was quite full.
Finally, we had three desserts to end off the night. These were the Creme brûlée, Molten Chocolate Fondant and the Strawberry Surprise Waffle.
I loved all of these, but my favourite one had to be the Molten Chocolate Fondant, which was served with home-made vanilla ice cream. The hot chocolate lava cake balanced out the cold ice cream very well. The textures of the ice cream were also fantastic and I could taste that authentic vanilla bean had definitely been used in the preparation process. At the same time, there were some diced almond nuts in the dish, which added a scrumptious crunch to the dessert.
The creme brûlée was scrumptious too, with the crispy outer layer providing a scrumptious crunch to the dish and the hot, warm caramelised centre adding a good contrast to the textures in this dish.
Besides the food, Brussels Sprouts is also well-known for their draught beers, and we got to try several types. These were the Stella Artois, Hoegaarden White, Leffe Blonde, Leffe Brune, Hoegarden Rosee and Lindermans.
My favourite two were the Hoegarden Rosee and Lindermans – because they had a nice fruity flavour and at the same time, they were not overly intense.
Christmas Promotions at Quayside Isle
Apart from the three outlets that we had visited, Quayside Isle actually has so much more to offer, in terms of satisfying your palette. So in fact, if you are looking to spend your Christmas there then you are in luck – as there will certainly be something available to tantalise all of your taste buds. And a few of the eateries are offering special Christmas promotions.
Some of these are as follows:
A Christmas Family brunch comprising of a live oyster station and a giant turkey paella @ Sabio by the Sea, is served on 25 Dec only (SGD88 for adults. SGD48 for children. Kids below the age of six dine for free)
A Surf and Turf combo (SGD49) and a Limited edition Lobster Roll (SGD42) are available at Made Burger Bistro L'entrecote Express, from 15th to 30th Dec
A Festive Christmas Dinner Set @ Quayside Fish Bar & Bistro is available after 6pm in December (2 course dinner at SGD68)
Christmas Eve Dinner Set Menu and Christmas Lunch Roast @ Saint Pierre from 24 Dec to 25 Dec (SGD188/person with wine pairing included. SGD98/person without wine pairing)
Kithmas Menu @ Kith Cafe, is available from now until 3 January. Items such as Honeycomb Whisky Mocha (SGD7.80) and Honeycomb Whisky Chocolate (SGD9.80), Beef & Reef (SGD38) and Chestnut Tart (SGD10), are available.
Click here for the full range of eateries and promotions available at Quayside Isle.
Contest: Win $100 Cash Vouchers to Quayside Isle @ Sentosa Cove
This contest is now closed. Congratulations to the winner, Constantine Chong Wei Jung!
If you are keen to experience what Quayside Isle has to offer, you are in luck.
That is because PrisChew.com is giving away $100 worth of cash vouchers to one lucky reader – to dine with their loved ones at Quayside Isle.
These vouchers are valid to dine at any eatery at Quayside Isle @ Sentosa Cove.
To enter the contest and stand a chance to win these exclusive vouchers, you just need to follow these simple steps.
Like 'PrisChew Dot Com' on Facebook and/or @Prisgooner on Instagram
Share this blog article on your Facebook/Instagram page and tag any three friends in your post. Please make sure that your post is set to 'public.'
Email your name, IC, mobile phone number and Facebook/Instagram username to pris.contest@gmail.com 
Contest is only open to residents of Singapore.
The contest closes on Sunday 20 December 2015 @ 11.59pm.

Share this page with your friends!