An established German Burger Grill & Bar originating from Munich, Germany, HANS IM GLÜCK has recently expanded to Singapore.
Situated at the heart of Singapore's main shopping district, Orchard Road, HANS IM GLÜCK's only international outlet is positioned between the International Building and the Thai Embassy.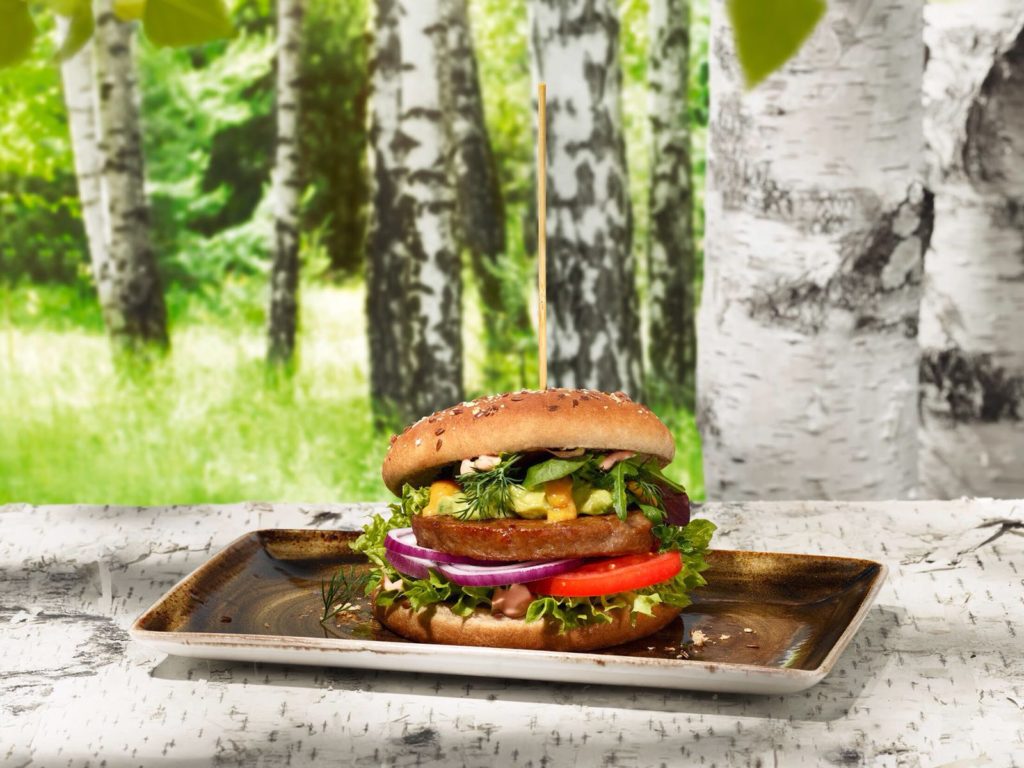 The Restaurant was conceptualised as an effort to shake up Germany's meat-centric dining scene
Seven years ago, HANS IM GLÜCK was conceptualised as a result of the founder, Gunilla Hirschberger's efforts to shake up the meat-centric dining scene in Germany.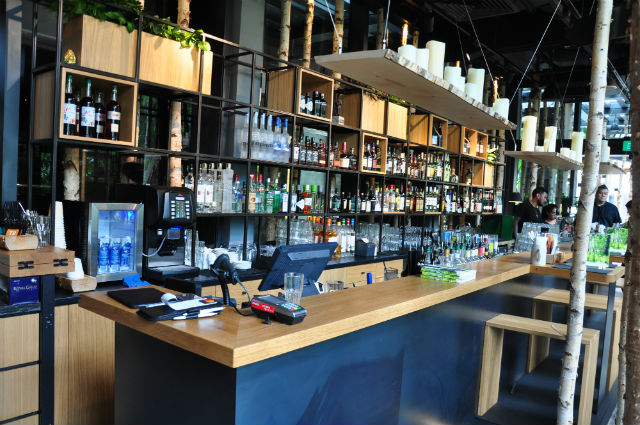 Being a vegan herself, Hirschberger had been frustrated with the lack of vegan dining options available at burger restaurants across Germany. So together with her husband, she opened up a a restaurant herself. This was, and is still known as HANS IM GLÜCK and offers vegetarian and vegan burgers, in addition to the usual beef and chicken offerings.
Singapore is HANS IM GLÜCK's first foray into Asia
Today HANS IM GLÜCK has taken off in Europe, with more than 49 outlets across Germany and Austria. The Singapore outlet is the brand's first foray into Asia and the store opened in December last year.
Why pick Singapore? In an interview with the Straits Times, Hirschberger had shared that she and her husband fell in love with Singapore after a recent trip to the country. As well, they were also attracted to the open mindedness of the locals here, together with the multi cultural aspect of Singapore, so they felt that our island nation would be perfect to set up shop.
By introducing German burgers to Singaporeans, Hirschberger hopes too, that she can change the stereotype of the locals here that German food is all about pork knuckles and Bratwurst sausages and that burgers, which generally come from America, are greasy and oily.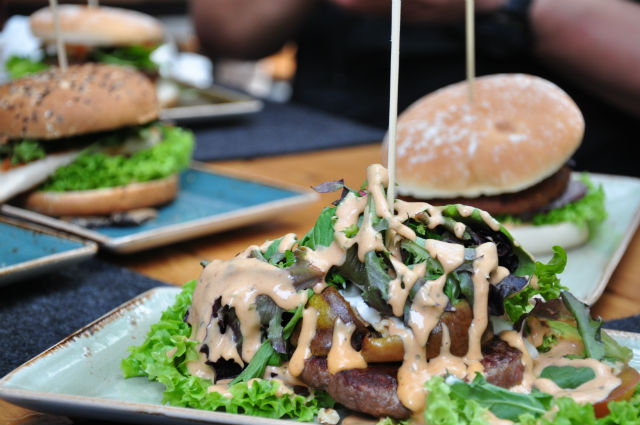 Eatery is named after the German fairy tale of the same name
Her restaurant, HANS IM GLÜCK is named after the fairy tale of the same name by The Brothers Grimm, which tells the story of Hans, a simple but hardworking boy who, by the end of the fairy tale, is left with no possessions – after making a series of barter trades that may seem "foolish" to most people.
But Hans has no regrets about his decisions though. Instead, he is elated that he is free of material possessions that would weigh him down. So the moral of the story is that less is more, and that we should instead be contented and live in the moment, rather than thinking about chasing material success and possessions, all the time.
So then, to tie in with the fairy tale theme, the Singapore restaurant resembles a fairy tale forest, complete with more than 180 Birch logs and German made oak furniture.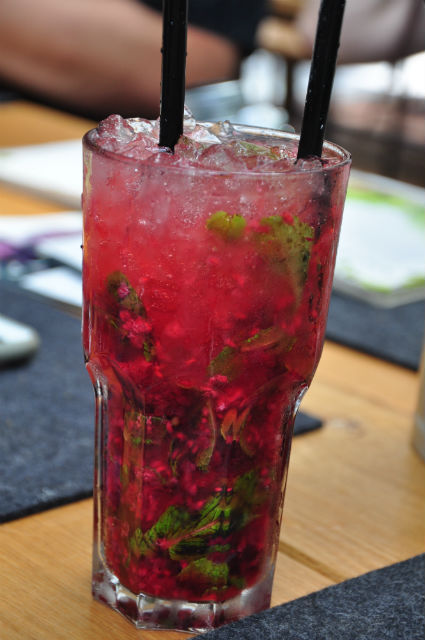 Invited to a food tasting session
I was recently invited to a food tasting session at HANS IM GLÜCK.
A whimsical, fairy-tale feel
And upon setting foot into the HANS IM GLÜCK restaurant for the first time, I had thought that the fairy-tale setting gave the eatery a very whimsical and interesting feel.
I have always loved fairy tales since I was a little girl – so seeing the decor at HANS IM GLÜCK, had brought back childhood memories – of enchanted forests, princesses and knights in shining armour.
This theme results in a very laid back atmosphere at HANS IM GLÜCK, which is great for spending an afternoon chit-chatting together with your girlfriends for a casual Sunday brunch, or for grabbing a hearty and satisfying burger dinner accompanied by your guy pals.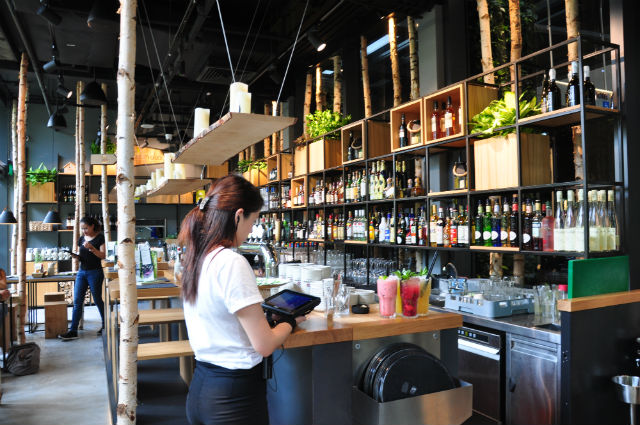 The fairy tale theme also extends to the restaurant menu, which reminds me of a children's storybook in terms of its design and layout.
As well, I thought too, that it was quite interesting that the HANS IM GLÜCK fairy tale is printed on the first couple of pages in the menu, as well, complete with simple illustrations.
Wide range of burgers to cater to all palettes
There is a wide range of burgers available at HANS IM GLÜCK to cater to all types of burger lovers. Fillings include beef, chicken, vegetarian and vegan patties with a myriad of toppings such as mushrooms, bacon, avocadoes and sour cream & chive sauce.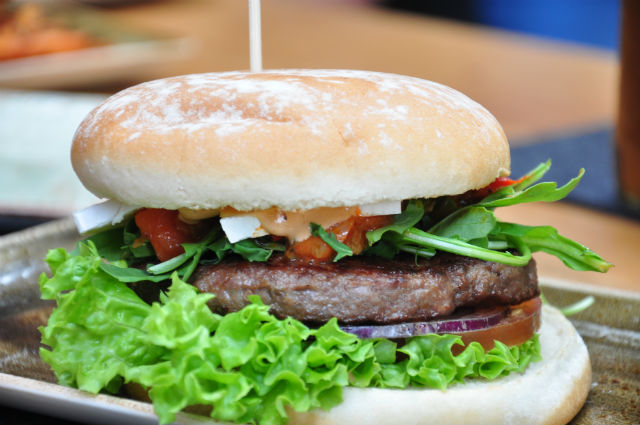 Customers can also choose between Sourdough or Multigrain bread, or for those who are on a low-carb or ketogenic diet, they can choose the "Naked" bun-less burger option.
The buns, according to HANS IM GLÜCK, all do not contain any sugar and they are sourced and shipped over from a bakery in Germany. They are also baked using traditional German methods, in order to stay true to their roots.
To accompany your burger too, you can also choose from a small selection of side dishes, such as sweet potato fries, steak fries, onion rings and meatballs.
Their Burgers
We tried out a variety of the burger offerings and a couple of sides at HANS IM GLÜCK. These are as follows.
For the beef burgers, we had the:
Klassik (S$14) – Described as the "mother of all burgers" on the menu, this contains beef patty with garden salad.
Sommernaucht (S$17) – Contains Brie, grilled vegetable tartare and rocket leaves
Kase & Speck (S$17) – Contains aged cheddar cheese and bacon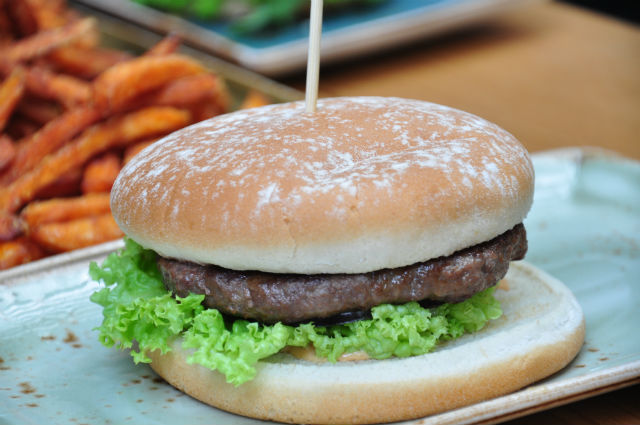 In terms of the beef patties at HANS IM GLÜCK, these are generally more firm and have a strong beefy note – as compared to the typical American burger.
For the three beef burgers that we tasted, too, some of the beef patties had been slightly juicier, but others had seemed to be a little over-done.
According to HANS IM GLÜCK though, their beef patties are generally cooked "well done" so perhaps some of the firmer patties may have been intended.
The beef patties also does not have the "flame-grilled" taste, too, which had been a little disappointing.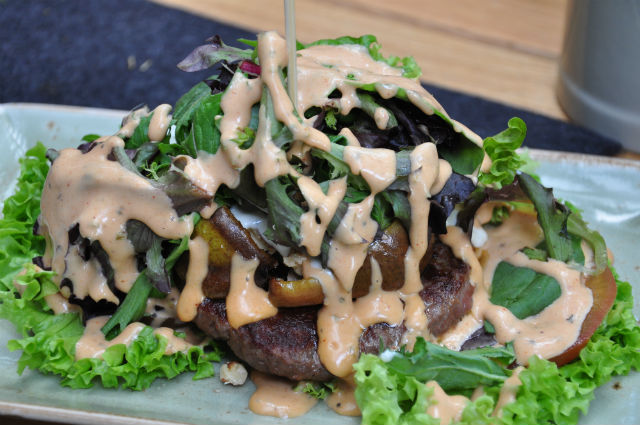 However, the beef is very finely ground – this is because according to HANS IM GLÜCK, the patty is made with fresh Australian minced beef with a 20 per cent fat to meat ratio.
We tried both their the Sourdough and the Multigrain buns too. The buns remind me of the bread from the traditional European-style bakeries, and the bread packs a punch full of flavour when eaten by itself, too. This is quite different to American style hamburgers, which typically come with soft buns.
Between the Sourdough and Multigrain bun variants, I must admit that I had preferred the extra nutty kick from the Multigrain bun, but the Sourdough bread is also rather yummy.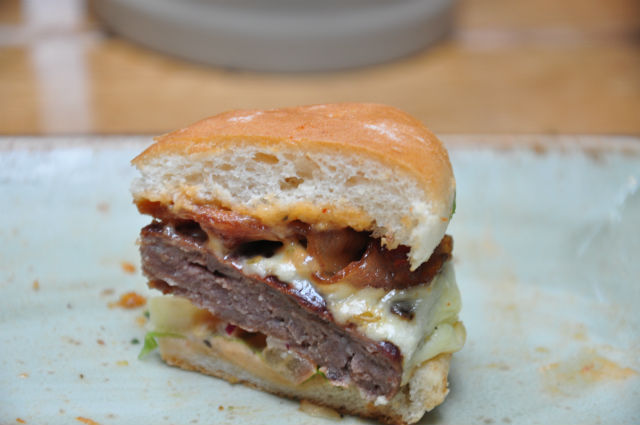 Out of the different variants that we had, my favourite beef burger, personally, was the Kase & Speck because I love the combination of beef patty with bacon. The addition of the cheese also brings out the flavour of the other ingredients and added a little moisture to the burger, too. But the bacon could have been more crispy, though!
When looking through the menu choices, one thing that left me puzzled, was that none of the beef burger options at Hans Im Gluck had featured an egg. I usually like an egg in my burgers, to bring out the flavour of the meat.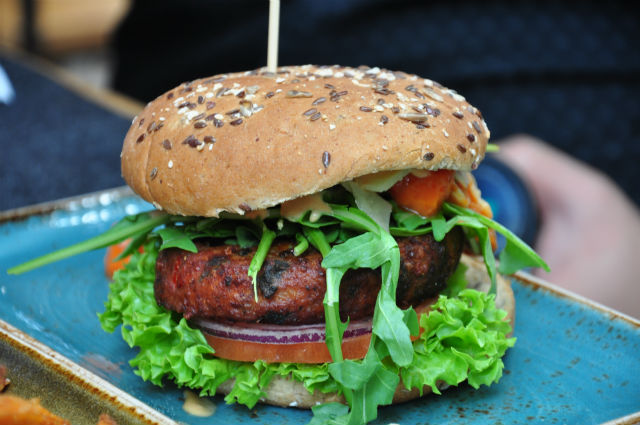 From the Vegan burger menu, we had the Fabehlafter (S$16), which contains a wheat patty with avocado cream, orange-mustard sauce and herby garden salad.
This was a burger that I had surprisingly enjoyed. The vegan patty had been really delicious. Biting into it, I had felt that it was really soft, succulent and juicy. There was a lovely smoky taste in the patty – which I had really liked.
Said HANS IM GLÜCK's Chef, Wayne Loo, "The vegan patty has marinade added to it, and that is the reason for the flavours that you can taste. There are also mushrooms in it. Our vegan patties were prepared for us by a supplier."
The patty also went quite well together with the avocado cream, which had brought out the moisture and flavours in the burger nicely. And the garden salad added a little crunch to the burger, which had balanced it out well, too.
I must admit that as a meat lover, I had initially been rather sceptical when I first heard that HANS IM GLÜCK serves vegan burgers. But if their vegan burgers taste this good, then I would not hesitate to order another vegan one!
We also had one of the Vegetarian burgers – the Abendrot (S$15). The name means "Red Evening" in English, and this burger contains an olive patty with Parmesan cheese, grilled vegetable tartare and rocket lettuce.
This burger was not bad either – the olive patty was quite dense, and it pairs nicely together with the crunchy vegetables and the milky cheese, to make for a satisfying and filling meal – containing plenty of ingredients from the three food groups.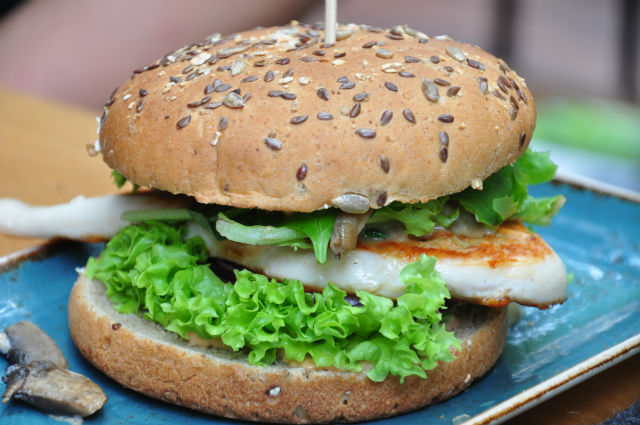 And for the chicken burger choices, we tried the Zenht (S$15) which consists of mushrooms, three-pepper sauce and herby garden salad.
I had thought that the chicken was a bit on the drier side when eaten by itself, but fortunately this burger contains juicy mushrooms and together with a three-pepper sauce, these ingredients had helped to somewhat combat the dryness of the chicken meat. The garden salad was also good to add a bit of a crunchy note to the burger.
Side Dishes
We had two side dishes. These were one pound of sweet potato fries (S$9) and a side serving of Steak Fries (S$6).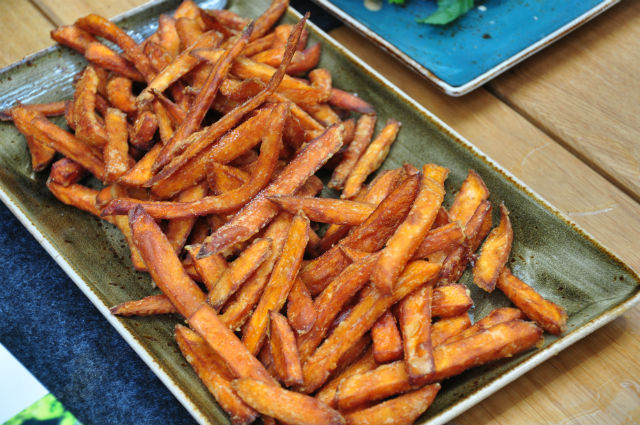 The Sweet Potato Fries were really delicious. I have tasted sweet potato fries before, but I was quite impressed with the version at Hans Im Gluck. Most of the time, I find that sweet potato fries tend to get soggy fairly quickly, but this was not the case with the version at Hans Im Gluck.
When eaten warm, the sweet potato fries were light, airy and crispy and this makes them the perfect complement to a juicy and meaty burger. They were crunchy on the outside and soft and warm on the inside. And despite being left on the table to cool, they still retained their crunch. These were so good that I think that I must have polished off more than my fair share of fries.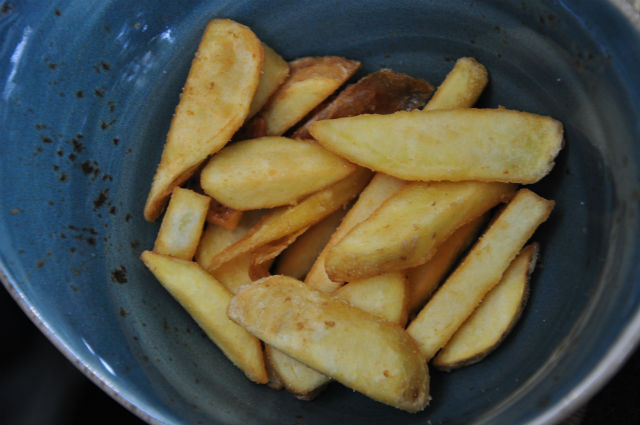 As for the Steak Fries, I thought that these were quite yummy, as well. When I bit into them, they too, are soft and warm on the inside and slightly crunchy on the outside. Though these may be best when eaten warm, they are still not too bad after being left on the table to cool for a bit.
If you are ordering the fries, I recommend pairing them with HANS IM GLÜCK's in-house concoction of dipping sauces. They have four types available, including Tangy Orange Mustard and Spicy BBQ Grill.
Out of the four sauces, I liked the Spicy BBQ Grill one the most, because it had a slight BBQ note that was smoky and not overpoweringly strong. At the same time there was a hint of spice that did not overwhelm my senses. Together with my Sweet Potato Fries, the combination goes together nicely.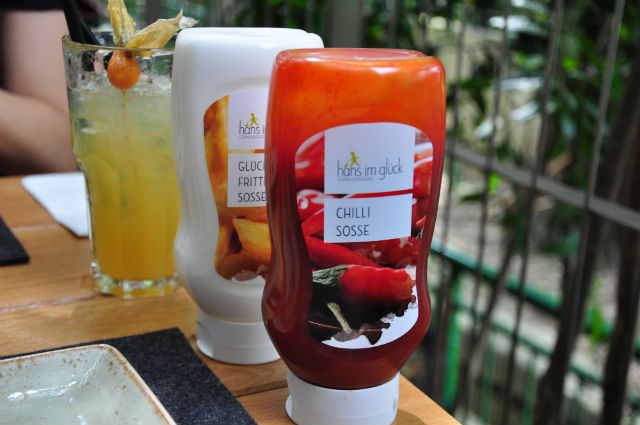 Desserts
I have a rather sweet tooth, so no matter how full I am feeling after a meal, I admit that I must always have my desserts.
So to end our meal on a sweet note, we tried all three of the dessert offerings on the HANS IM GLÜCK menu. These were the:
Omas Geheimnis (S$12) – a warm molten chocolate cake served with vanilla ice cream and whipped cream
Wohlergehen (S$10) – mini crepes drizzled with warm chocolate and served with vanilla ice cream and whipped cream
Bester (S$12) – a warm glazed apple tart served with vanilla ice cream and whipped cream
The same vanilla ice cream had been used for all three desserts. I noticed that the flavour of the vanilla did not come out as strongly as I would have liked. The ice cream also melted rather quickly.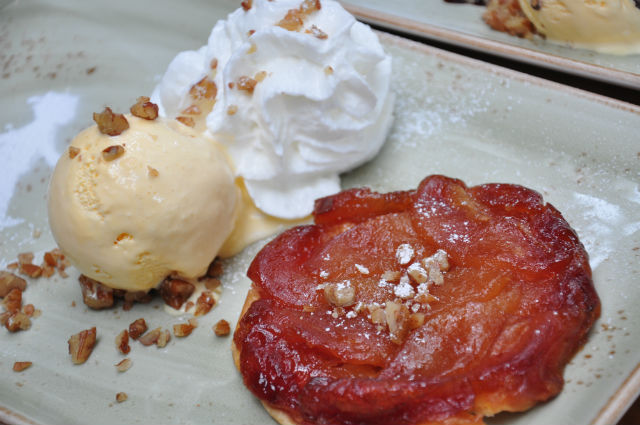 Out of the three desserts, the Bester was the one that had left the most impression on me. Consisting of caramelised apple pieces, this had a yummy apple note to it and the caramelised flavour went very well with the natural flavours coming from the apple.
The apple pie also combines very nicely with the ice cream. The pie is full of flavour, and blends in with the plain vanilla ice cream. So naturally, the contrast is an award-winning one.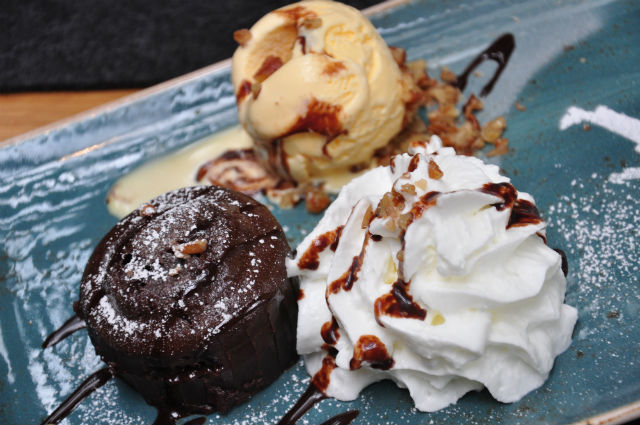 The Omas Geheimnis was also quite nice though. I liked the fact that the cake was soft and that the flavour of the chocolate was rich enough, but at the same time, not too strong. The amount of sweetness was just right, too.
Overall the flavour was very pleasant and satisfying and will definitely appeal to chocolate lovers. I always love the classic combination of chocolate with vanilla ice cream, so this dessert would be a winner for me, no matter what.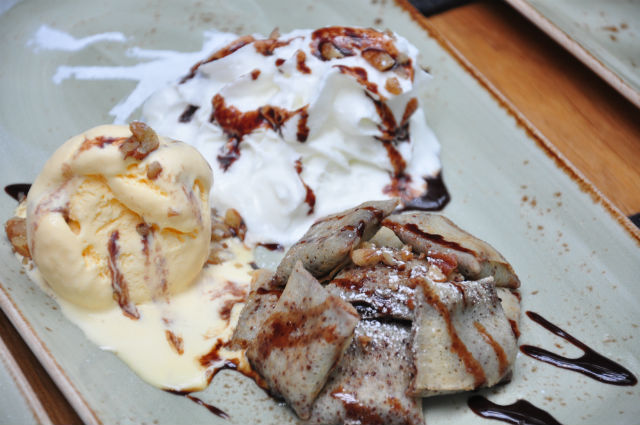 As for the Wohlergehen, the crepes were quite plain and light and fortunately not too doughy. So when paired together with the chocolate sauce and the ice cream, the combination of the flavours had been rather pleasant and not cloyingly rich.
If you want to have a light dessert, go for this option.
Drinks
Because HANS IM GLÜCK is a bar in addition to being a burger joint, I also had a mocktail to quench my thirst and also to wash down my meal. This was the Minne (S$10) and had cranberry, lime, fresh ginger and Fever-Tree ginger beer in it.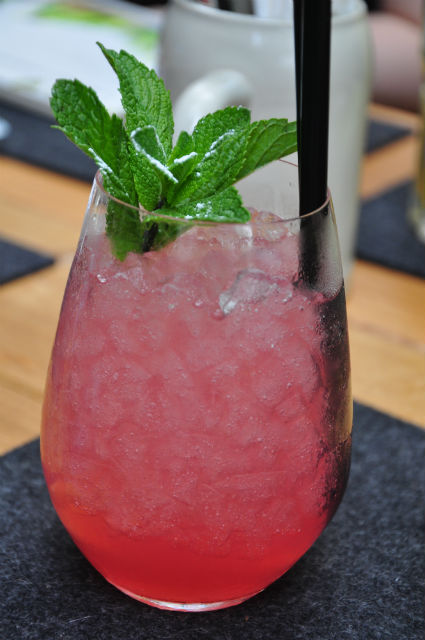 The flavour that had come out the most strongly in this beverage was interestingly, not the cranberry like I would have expected, but the lime. I could also tasted a hint of ginger though. Overall it was a pleasant drink and I would probably have it again.
The mocktails and cocktails at HANS IM GLÜCK are developed in Germany by the country's best bartenders and they source for the best ingredients available in Germany to use in their drinks, to ensure that the quality is there.
Besides the mocktails, HANS IM GLÜCK also serves cocktails, draft beers and German wines. Their wines are sourced from Austria and Germany and because they pride themselves in their drinks, the eatery ensures that they only bring in the top quality wines from these two countries.
Overall Thoughts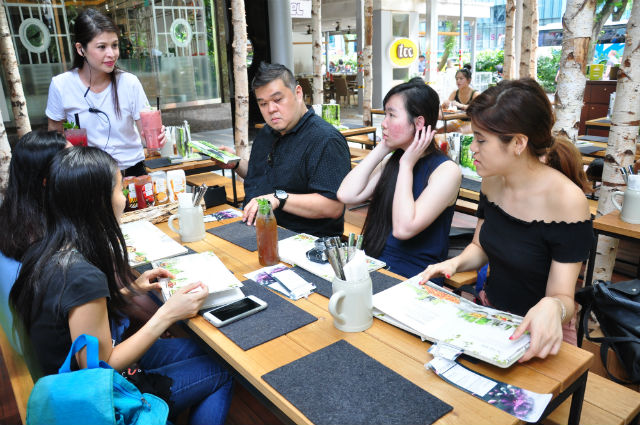 HANS IM GLÜCK definitely showcases a different side to German food that is rather different to their world-famous exports of pork knuckles and sausages. So this makes having a meal here, an eye opening experience for those who may not know so much about the variety of cuisine that may be available in Germany.
As well, with the myriad of options on the menu that cater to diners of different palettes and dietary needs, this ensures that everyone is well taken care of, whether you are a meat lover, vegetarian or vegan – so you will certainly be spoilt for choice here.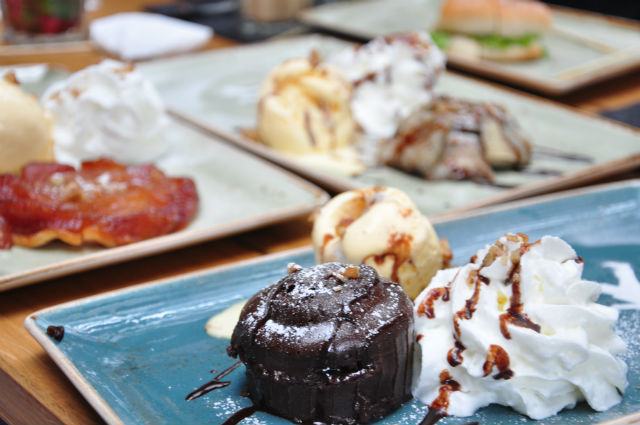 HANS IM GLÜCK Orchard is located at
362 Orchard Road, Singapore 238887
Tel: +65 9750 1488
Opening Hours: 11am – 12am (Mon to Thu), 11am – 1am (Fri & Sun)
For more information, they also have a website at
https://hansimglueck-burgergrill.sg.

Share this page with your friends!