Have you been craving for delicious smoked salmon, but aren't sure where to buy  a good piece?
You can now get smoked salmon that is packed with freshness and is tastefully salted. Now available at NTUC FairPrice, the Fassler range of Smoked Salmon – which is processed here in Singapore – is not only packed with freshness, but is also more vibrant in colour compared to the Atlantic smoked salmon.
Four different flavours
There are four different flavours of Fassler smoked salmon available. These are the Traditional Smoked Salmon, Smoked Salmon Graved Lax, Smoked Salmon with Fresh Herbs and Smoked Salmon with Five Peppers. I was given samples of the four flavours to taste and I served the salmon for lunch with some lightly seasoned pasta. Here are my comments on the salmon.
Traditional Smoked Salmon
The texture of this salmon was definitely very soft and smooth, and while it may be a little on the salty side, I really enjoyed the subtle smoky taste – which definitely helps to bring out the tasty natural salmon flavour and at the same time, adds a kick to the salmon.
Smoked slowly using natural beech wood for a few hours, this is supposed to release the salmon's natural flavour, giving you a velvety, scrumptious smoked salmon.
Smoked Salmon Graved Lax
Graved Lax is a Nordic dish comprising of salmon that is cured in salt, sugar and dill. When I tried this flavour, what had immediately hit me, was a combination of a delicious salty taste, mixed with dill herbs. This is generally a rather pleasant flavour, which agrees with me.
Smoked Salmon with Fresh Herbs
Comprising of basil, chives and parsley, this smoked salmon had a very mild flavour. The herbs slightly tickled the taste buds, and didn't really overpower. Compared to some of the other stronger and more intense flavours, I thought this one was pretty subtle and the taste of the basil, chives & parsley lingered in my mouth for a short while – which I enjoyed.
Smoked Salmon with Five Peppers
This was possibly my favourite flavour – the moment I took a mouthful of this one, the delicious peppery flavour immediately hit me. And combined together with a tinge of spiciness, I thought that this flavour can be especially addictive.
Preparation of your smoked salmon
Not sure how to prepare the Fassler's Smoked Salmon? It can be prepared in many different ways. One delicious way is to pair your salmon with cream cheese or sour cream to balance out the taste, for a delightful and indulgent snack. Here's the recipe.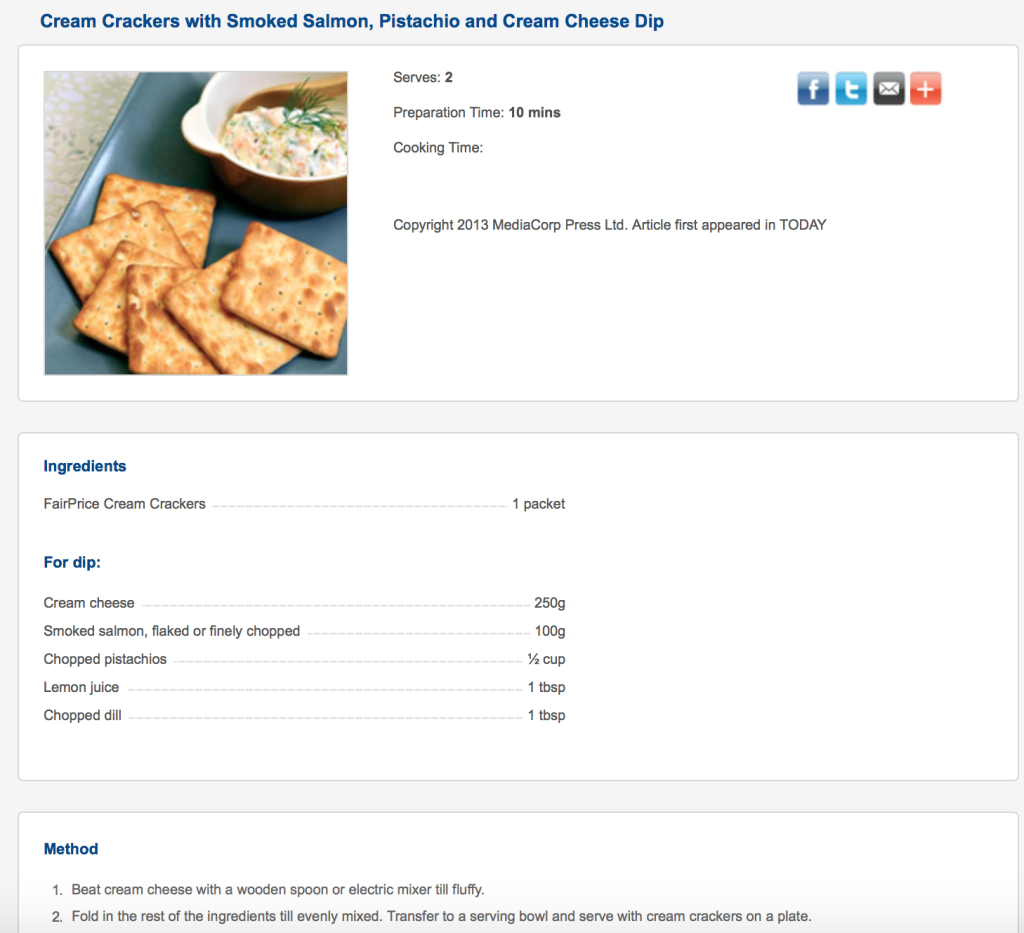 More recipes can be found at this link – http://www.fairprice.com.sg/wps/portal/fp/Recipes
Limited edition packaging
Available exclusively at NTUC FairPrice, Fassler's Smoked Salmon comes in a limited edition packaging with an extra 50g to celebrate Singapore's 50th birthday this year. From now until 1 July, FairPrice will be offering Fassler's Smoked Salmon at a special price of $12.50/250g. (Usual price is $13.80/250g). The four flavours are Halal-certified.

Other Blog Posts
Share this page with your friends!