Ramen lovers can now experience the taste of Ramen Nagi right here in Singapore, with the award winning ramen restaurant chain having just opened up their first Singapore outlet at the Suntec City Mall.
Ramen Nagi started in Fukuoka, Japan
Ramen Nagi has indeed grown a lot since its humble beginnings back in 2006. It had started out as a tiny ramen eatery with limited seating space in Fukuoka, Japan, where the restaurant's founder and chef, Satoshi Ikuta, aged 40, is originally from. Within a short time, Ikuta's restaurant became so well-known that customers even had to queue to be served.
With even more people flocking to Fukuoka to try the ramen, the reputation of Ramen Nagi had continued to grow as a gourmet ramen destination and so Ituka had decided to expand, setting up his first shop overseas, in Hong Kong. It was also at this outlet, that Ituka had initially came up with the idea of personalising each and every bowl of ramen, by giving customers an individual preference sheet where they could customise the taste and preference of their ramen to suit themselves.
Today, having this customised order sheet remains as a unique trademark of the 22 Ramen Nagi outlets in Japan, as well as the 28 outlets all over the world.
Hopes for Singaporeans to enjoy Ramen Nagi to suit their own taste buds and preferences 
Now, Ituka feels highly passionate about his ramen business and his dream is to introduce and expand Japanese ramen to all over the world. Ramen Nagi currently has shops in Hong Kong, Taiwan, Philippines, Shanghai and now Singapore.
Why Singapore? Explained Ituka, through an interpreter, "I found that Singaporeans love noodles. That is their basic culture. So I thought Singapore would be a good place to bring Ramen Nagi to."
He added, "With Ramen Nagi, I had wanted every Singaporean customer to enjoy their ramen to suit their own taste, by changing say the amount of oil or the spiciness or garnishing to suit what they want, and to enjoy their own taste of ramen."
Ramen Nagi's foray into Singapore comes via Mr Engelbert Farillas, the director of Ramen Nagi Singapore. His family is in charge of the Ramen Nagi franchise in the Philippines and the region.
Invited to the media launch event
I had been invited to the media launch of Ramen Nagi, where I got to experience customising my own ramen for the first time.
At the launch event, invited guests had the privilege of having every bowl of ramen personally prepared by Chef Ituka himself, who had flown in from Japan for the event.
The Ramen @ Ramen Nagi
At Ramen Nagi, Ituka explained to me that that they have four basic flavours of ramen, in order to cater to different taste buds.
What happens is that diners would choose the basic soup base flavour that they want, and then decide on for example, whether they would like their soup to be richer or lighter, or if they want garlic in the soup, and so on. As well, customers can also opt for the type of meat and garnishing that they would like to have with their ramen. Those who have bigger appetites can also get extra noodles or an additional helping of meat, too.
Said Ituka, "We have four different colours of ramen. These are white – which is the normal tonkotsu broth, as well as red, black and green colours. Customers choose their ramen by colour. Then you take a look at the order form to customise your own ramen. These are what separates Ramen Nagi from the other ramen eateries around Singapore."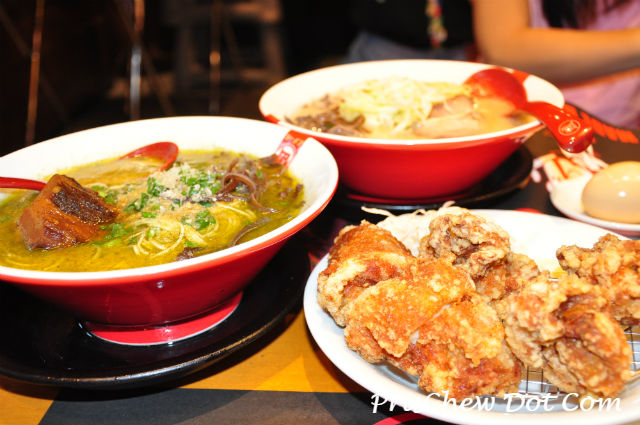 The white ramen is Ramen Nagi's signature tonkotsu broth prepared in the traditional Japanese method. It is mouth-wateringly rich, fresh and aromatic.
Ramen Nagi's other coloured ramen each provide a unique twist to their standard tonkotsu broth ramen.
The black ramen is a fragrant blackened garlic and squid flavour in a silky broth with succulent chashu and is finished with a large minced pork ball, black sesame and Nagi spices.
The red broth, as the name suggests, is fiery-hot. This is a striking blend of garlic, chilli oil and cayenne pepper in a velvety broth. It is topped with a tempting ball of miso infused minced pork and special Nagi spices with tender chashu.
Finally the green broth, which is the most unique one in my opinion, is a fusion of fresh basil and olive oil with deletable tonkotsu broth in a truly unique combination, lavishly garnished with grated parmesan cheese and richly marbled chashu.
But Ituka revealed to me, that the basic tonkotsu ramen (white) still remains as the most popular item though at Ramen Nagi outlets around the world, probably because people still prefer the traditional ramen flavour.
At the food tasting session, my eating companion and I had chose the White and the Green broth; the white one because this is the most traditional one, and the Green one because this is unique and different to anything that I have seen at a ramen restaurant previously and so I wanted to taste it.
As we have never eaten at a Ramen Nagi outlet before, we had opted for the standard version of each of the two soup broths.
Indeed, Ituka recommends first time customers at Ramen Nagi, to have the standard version on their first visit, like we had done. Said Ituka, "At first, the customer does not know the taste of Nagi, so they should start with the basic one, in terms of the oil, spiciness and the softness of the noodles. Then next time they come, we want them to adjust their ramen to their own preferences."
He added, "Of course if they want, they can adjust the garnishing to suit their taste buds, but things like the hardness of the noodles, oil and spiciness cannot be adjusted after the order has been made, so we want customers to try our ramen, find out their favourites and customise their ramen to suit their palettes on future visits."
The White ramen had been indeed rich and satisfying and the intense flavours coming from it, had hit me immediately on tasting it. As well there was also a strong meaty note to the broth. This would certainly suit those who love strong, traditional ramen with plenty of richness and flavours in it.
The Green broth on the other hand, was rather unique and I found that I couldn't quite place what flavour it was. I admit that I have not tasted anything quite like it, at a ramen restaurant. It too was rich and there was a slight meaty note to it, but this meaty note had been nowhere near as strong as the White broth though.
And at the same time, I could also detect a herbal flavour in the Green broth from the basil, and the chilli that we had added, gave the broth a slight spicy note too. Due to the grated parmesan cheese, I could also detect a slight hint of a cheese flavour but this was not very strong though. The combination of flavours together though, was interesting and it definitely opened up my senses. I would say that this is an acquired taste that you would probably love or hate though.
For the noodles, my dining companion kept commenting about being able to detect a jasmine flavour in the Green ramen, but upon trying these, I could not taste any though. I noted that the noodles were well-cooked and fragrant, though. The texture of the noodles was just right. It had been neither too hard nor too soft.
And in terms of our toppings, we had ordered Shoulder pork for the White ramen and the Pork Belly for the Green ramen. We also added a Japanese style flavoured egg and seaweed to each of our ramen, for more flavour and variety. As well, we had some spring onions in the Green ramen and lettuce in the White ramen, to add a bit of vegetables to our meal.
The Shoulder pork is basically similar to your usual Japanese style chashu. It was soft and tasty, flavoursome and well marbled at the same time. I rather enjoyed it.
As for the Pork Belly, I thought this had been definitely unusual in a bowl of ramen and I was pleasantly surprised that it was better than expected. It had been braised, and had a very distinctive porky note. At the same time, it was soft and flavoursome. It had somewhat reminded me of a more sophisticated and upmarket version of the canned pork belly from the supermarket.
At Ramen Nagi, the White tonkotsu ramen is $13.90 and the Black, Red and Green ramen are priced at $15.90 for each bowl.
Unfortunately, other types of ramen, such as the popular niboshi ramen that can be ordered at the restaurant's outlets in Japan and is prepared with more than 20 types of dried sardines, are not available at the Singapore store; this is intended to ensure the quality and freshness of the ramen.
Ramen Nagi's Side Dishes
Besides the ramen, we also tried a couple of Ramen Nagi's small selection of side dishes. These had been the Gyoza ($7.90) and the Chicken Karaage ($9.00).
I really enjoyed eating the Chicken Karaage. This, according to the menu, is Japanese fried chicken marinated in special sauce. It is deep fried in special breading and served with a dip of mayo mustard.
I had thought that the outer batter of the Chicken Karaage had been light and crunchy and the chicken meat inside was warm, moist and juicy at the same time. This is indeed how I like my fried chicken. However, as this dish seems to be a bit oily, it is probably intended to be shared, rather than eaten individually.
For the Gyoza, this was pleasant. The Gyoza is described as meat and vegetables seasoned with Japanese spices, and wrapped in Nagi's special dough and served in a sizzling plate to give that perfect crisp to the outside of each Gyoza.
I had thought that the Gyoza had a subtle chive flavour to it, and the meat inside was moist and juicy as well. The dough also indeed had a slight crunchy note to it, which had balanced out the warmth of the meat perfectly. As well, it was a great complement to the flavours coming from the richer ramen.
The Gyoza, according to Ituka, is the side dish that Ituka recommends the most, for customers to accompany a bowl of ramen with.
However, Ramen Nagi also has one more side dish, the Chashu Rice ($5.00) that we did not get round to tasting, because we were feeling too full by this stage. This however, is Japanese rice cooked in special sauce and topped with roasted pork and then served with a delightful blend of soy sauce and mayonnaise and it looked quite delicious, nonetheless. I think I will probably get this on my next visit to Ramen Nagi.
Unlike most of the other ramen eateries around Singapore, the lack of having a large range of accompanying side dishes at Ramen Nagi, according to Ituka, is because they want the customer to focus on enjoying their ramen.
Explained Ituka, "The concept of Ramen Nagi is simple; this is the same in Singapore as well as our outlets in other countries. We want customers to enjoy the ramen and so we do not think about expanding our menu with a lot of side dishes. This is simple and it works for us."
Hopes to open up more outlets in Singapore 
While Ituka wants to focus on the Suntec City store for the time being, he definitely hopes to open up about four more outlets across Singapore within the next year.
He said, "Of course we would want to have more stores in Singapore and we are looking for new sites to do so, but we want to focus on this shop for the time being."
Ramen Nagi Singapore
01-512/513 Suntec City Tower 2,
North Wing (next to north atrium taxi stand)
Phone: 6821 1601
Opening Hours: 11am to 10pm daily.

Other blog posts
Fresh Live Lobster @ Pince & Pints Singapore
Share this page with your friends!