Located along Sixth Avenue at Bukit Timah, Meat n' Chill prides itself at serving great American food at affordable prices – for families and friends to indulge in and bond over hearty portions of scrumptious food.
Said Jerry Sim, Co-founder and Director of Meat n' Chill, "Bonding over food is the easiest way to get people together. So we originally came up with the concept of Meat n' Chill – to get people to meet up and chill out over some food and drinks."
Their speciality is the ribs
Their speciality is ribs – because Jerry and his two co-founders are all avid meat lovers as well as fans of hearty American dining. But why ribs? Said Jerry, "A steak house is so much more common than a ribs house and also, it's hard to find good ribs in Singapore. So we thought that this would help us to stand out."
At the same time, Jerry had also felt that the ribs cooked by his friend and fellow co-founder, Bruce Chew, were delicious. He said, "So we then thought to ourselves, why not push our ribs?"
The ribs, together with most of Meat n' Chill's other food dishes, is cooked by Bruce, who had prior working experience in the culinary field. Said Bruce, "I had been on a working holiday for a year and a half in Sheffield, and from this stint, I had been inspired to learn more about cooking. So I then explored further using online foodie forums and also taught myself more about food and preparation of various dishes I liked."
Meat n' Chill had recently invited me down to a food tasting session at their restaurant together with five of my friends. As meat is supposed to be this eatery's speciality, we had tried a variety of their meat dishes – these were their BBQ Pork Ribs, Rib-Eye Steak, the Crispy Skin Grilled Salmon and the Cajun Fried Chicken.
These were served on a platter, which is priced at $100 – together with three different side dishes: sweet corn, French fries and garden salad as well as iced lemon tea to wash it all down. However each of the meats can also be purchased separately, for those with smaller appetites.
Here are my comments on how the food there stacks up.
The Meats
BBQ Pork Ribs (From $19.00)
Marinated for more than a day with Meat n' Chill's exclusive concoction, these ribs are then meticulously smoked over an aromatic composition of hickory n' mesquite wood chips for more than 30 hours. Then they are grilled together with the sauce of your choice.
Added Jerry, "And before we marinate the pork ribs, we trim the excess fat and remove the membrane. The preparation process is extremely long, but these ribs are the unique selling point of our restaurant."
As this is Meat n' Chill's signature item, there are also plenty of sauces available to accompany your ribs – these range from the more standard ones such as Original and Honey Mustard, to more adventurous flavours such as Coffee Kahlua, Guinness Stout and Marmite.
As we could choose two different sauce flavours, my friends and I opted for Original and Hickory (BBQ) sauce.
I was pleasantly surprised by the flavour and texture of these ribs – they were definitely delicious and perhaps amongst the better ribs that I have eaten. I found that the meat had been cooked till it was extremely soft, juicy and tender, and it was also falling off the bone, so the ribs were very easy to eat – without much chewing being required.
Agreed my dining companion Ivy Kang, 32, an accountant in the oil & gas industry, "I absolutely loved the pork ribs as it was well seasoned, juicy, tender and soft all at the same time."
The two sauces that we had selected also provided a good contrast to the pork ribs. While the Hickory sauce had a sweet flavour, the Original sauce had a slightly sour tang to it – and both provided a good contrast to complement the natural flavours of the ribs well.
Personally, between the two flavours of ribs, I had preferred the sweetness coming from the Hickory flavoured ribs, but some of my friends had commented that they had liked the slightly sour tang from the original sauce, better.
My dining companion Jeremy Lin Zilin, 32, an HR manager in the Manufacturing industry, had been one of those who had preferred the original flavoured sauce. He said, "The Hickory sauce was slightly sweet but the other was one step down so it tasted better for me."
He added, "Though the flavour tastes really great, and I thoroughly enjoyed them, I think that the ribs and the sauce could be separated though, so that people can choose how much gravy they want in their ribs. Sometimes I like it drier but other times I prefer more sauce in mine."
Red Neck Soo-Veed Rib-Eye Steak ($27.00)
A 250g chunk of rib-eye steak that is put inside the oven for a slow cook before finishing off on the grill, this meat has a delightful flavour.
Said Bruce, "If you grill the steaks, you will get a hard, unwanted crust, so we don't do that. Instead, we reverse-sear our steaks to prepare them."
As I am not a fan of rare meat, I had opted for a medium well doneness for the steak.
And it proved to be a clear winner amongst all of us – the steak was so good that the six of us had all agreed that Meat n' Chill could market the steak as their speciality item – along with their ribs.
In my opinion, the 'medium-well' request had been replicated perfectly and at the same time, the meat was very soft, tender and juicy. It was definitely one of the better steaks that I have had, and I could not stop eating it. As well, the natural flavour of the beef came out, and I could detect a peppery note too, in the beef, which had helped to enhance its natural flavour.
Said my dining companion Grace Ng, 35 and in-between jobs, "It's not often that I'd eat a steak of any other doneness than rare, and Meat n' Chill did their medium well really good."
Agreed Hu Han Yong, 30 and a Store Executive, "The steak was juicy and cooked just right; it wasn't too dry for a piece of steak, of medium well doneness."
We selected the red wine sauce to accompany the beef. The flavour of the wine was strong and full of flavour and complemented the natural essence of the beef very well.
Crispy Skin Grilled Salmon ($19.00)
Comprising of 160g of salmon grilled in a pan until its skin attains a satisfying crisp, the fish is then seated in the oven for a slow cook in order to retain its flavourful moisture. It is then finally served with a complementary portion of Tobiko (fish roe) cream sauce.
Added Bruce, "We also use some fish roe on the top when we serve this – in order to add some texture to the salmon."
I really loved the salmon. It had been cooked just right – to retain its juiciness, and I thought the fish roe really helped to add an interesting and unique crunchy note to the fish too. As well, the crispy salmon skin was absolutely perfect – it was full of flavour and indeed had a slight crisp to it – in fact, it was so good that I could have eaten the entire piece of salmon skin by myself!
Agreed my dining companion, Chong Wei Jung, in his early 30s and working in procurement, "The salmon was really delicious, full of flavour and very moist."
Added Jeremy, "The salmon was really good but the portion size was a bit small – so as a result, we were all fighting over it."
I also enjoyed the Tobiko cream sauce that came with the salmon – the small bits of Tobiko provided a nice crunchy texture which enhanced the softness and creaminess of the salmon. And at the same time, I also thought it added an interesting texture to the fish. This is certainly a creative way to prepare salmon!
Crispy Fried Chicken ($17.00)
This is a golden boneless chicken thigh served with rich gravy.
Explained Bruce, "For the chicken, we marinate it and then coat it with flour before we deep fry it."
There is a creamy chicken sauce – mixed with meat stock – served together with the chicken. This sauce had a pleasant and rather rich flavour, which goes quite well with the chicken and brings out its flavour.
Meat n' Chill's chicken was quite soft in texture, with the layer of surrounding batter having a slight crunch to it at the same time. Also, I could also detect a mild, peppery taste in the chicken and this added to the flavour of the chicken, a little, without being too strong.
Wei Jung commented that the "chicken was good – but I would not call it extraordinary." My other dining companions shared his opinion.
The Sides
Sweet Corn
My dining companions and I really loved the corn and completely lapped it up.
I felt that the amount of seasoning was good – and it had not been overdone. There was just enough butter and salt. The actual corn itself also had a very nice crunch and freshness to it at the same time.
Said Wei Jung, "The corn is extremely good and it stands out. I really enjoyed it."
Agreed Jeremy, "I really loved the corn. Generally when we think of corn, the first thing we think of is the pasar malam corn, but compared to that version, this one is just great – it isn't  overly salty and the flavours are simply perfect together. In fact I think it's so good that people can come to Meat n' Chill for the corn and the steak only."
French Fries
When the basket of French fries had come out, they were still piping hot – so that was good. However, perhaps they were a little less crunchy than I would have liked. The flavour of the potato though, was nice and the large cut of the fries meant that these had plenty of 'bite.'
However, my dining companions had agreed that maybe the fries could have had more salt.
Said Wei Jung, "To me, the fries tasted healthy due to the lack of salt."
Garden Salad
Comprising of a selection of raw vegetables including lettuce, tomatoes and cucumber, my friends and I all agreed that this was a simple side dish but I think it would certainly suit those who love their veggies.
Wei Jung summed up the salad as "a pretty normal salad dish" and the rest of us probably much shared the same sentiments.
Personally though, I feel that a helping of salad such as this, helps to complement the meat quite well, and adds a vastly different variety of flavours and textures to the various meat dishes, to balance the meal out.
Overall Comments
My dining companions and I really loved the meat dishes at Meat n' Chill – with all of us coming to a unanimous vote that the steak and the sweet corn had been the two best dishes of the night. So we didn't hesitate to give these the thumbs-up.
The service at Meat n' Chill was also a winner. Said Han Yong, "The service staff are friendly and attentive, with a good attitude."
Agreed Ivy, "The service and hospitality was great. Furthermore, the food was really yummy overall, and the serving size was just nice for six people."
So we all came to the consensus that Meat n' Chill is indeed a place that we would love to check out again for future catch-ups and gatherings.
Click here for

 my review of the One Nation, One Platter dish @ Meat N Chill
Current Promotions @ Meat n' Chill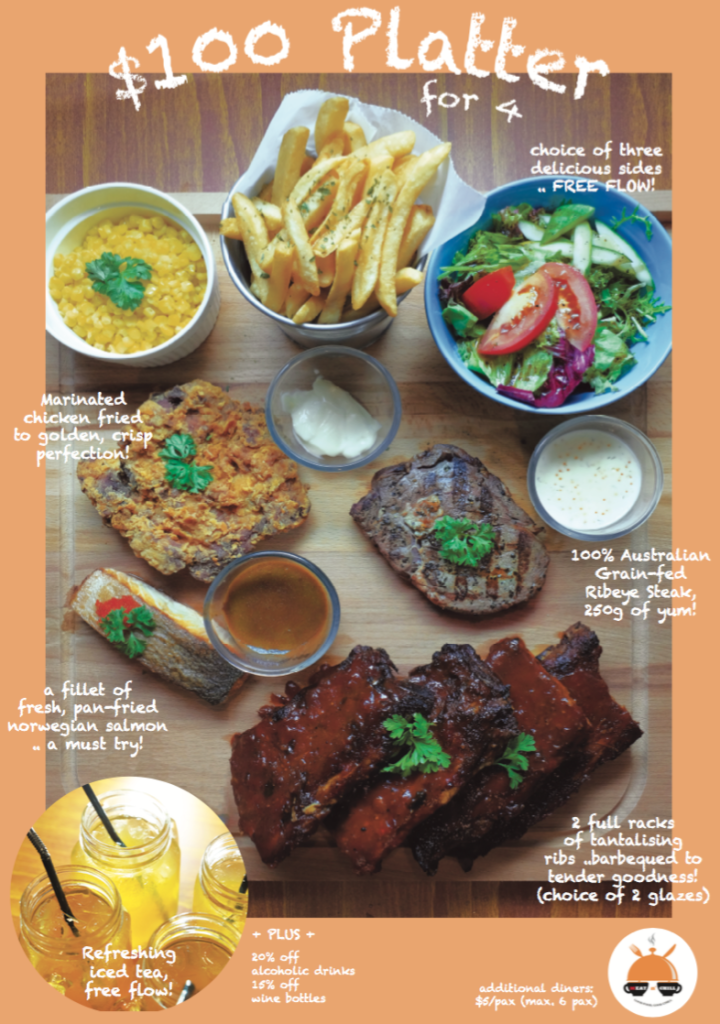 Meat n' Chill is located at:
805 Bukit Timah Road, 6th Avenue Centre #01-04 Singapore 279883
(3 mins walk from Sixth Avenue MRT Station)
Tel: 6219 7460
Opening Hours:
Tuesday – Thursday: 11:00am – 10:30pm      Friday – Saturday: 11:00am – 11:00pm Sunday: 11:00am – 10:30pm
Closed on Mondays

Share this page with your friends!