A premium boutique Japanese restaurant located in the Singapore CBD, Shukuu Izakaya prides themselves at sourcing their ingredients directly from Japan. From there, the ingredients are then air-flown to Singapore to maintain the freshness and richness of the flavours.
The menu itself has been crafted from the range of authentic and seasonal offerings from Japan and are tailored to match the Singaporean taste buds; while being prepared in various traditional styles and novel modern interpretations that makes Instagram worthy pictures and fascinating the senses at the same time.
In addition, the restaurant owners also believe that good food should be accompanied by excellent alcohol. So the in-house Sake Sommeliers spend great efforts in sourcing for premium Sakes to match the food and meet the expectations of discerning gourmets.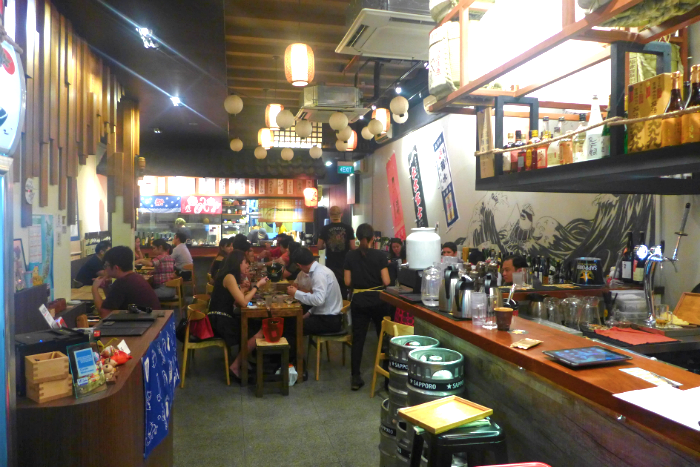 I had been recently invited for a media tasting session at Shukuu Izakaya. I visited the restaurant together with my dad and we tried a variety of their dishes as well as a couple of the Sakes.
Here are the items that we had tasted at the restaurant.
COLD SIDES
Reba Shoyuzke
$6.00
This is a marinated chicken liver dish in soy sauce.
Said the restaurant Co-founder & Executive Chef Luis Liu, "We marinate the chicken liver for 48 hours as the texture needs to be soft and moist in the middle but not too dry. It requires a lot of skill to prepare."
On trying this dish, I found the liver to be creamy, soft and tender and it packed a lot of flavours.
Agreed dad, "It's very creamy and soft and it also had a mild liver flavour. I've always liked liver though."
Tako Wasabi
$6.00
This is a dish of wasabi marinated octopus.
Said Luis, "This is a typical Japanese dish with a strong flavour; most Japanese restaurants will serve vinegar or wasabi with octopus."
On tasting this dish, I was surprised that the wasabi flavour was quite mild and pleasant.
The octopus was quite tasty and delicious. It was also quite springy.
Added dad, "The octopus was crunchy and the wasabi taste was more pleasant than I had expected."
Shirasu Ponzo Capsicums
$6.00
This is a dish of capsicums served in citrus sauce with fried white baits.
Said Luis "Our white bait comes straight from Japan but the capsicums are bought locally though."
I thought this was a rather pleasant dish; the capsicums had a crunchy kick to them and I rather liked the combination of sour and salty flavours, which combined together nicely. However the white bait had been unfortunately a little soggy for my liking though.
Said dad "The capsicums were nice and crunchy. I could taste more of the salty flavour but less of the tangy citrus taste."
Gyu Ponzu
$7.00
This is lightly seared beef fillet cooked with ponzu (a Japanese citrus flavour).
Said Luis "Our beef dish comprises of citrus and sweet onions; that is what makes it unique. We also use shredded chilli as a garnishing."
I really enjoyed this beef dish and in fact, it was probably one of my favourite dishes of the meal. The beef was really soft and besides the tangy flavour from the citrus, I could also pick up a slight salty flavour which balanced the dish out really well.
Added dad, "The beef has a very nice texture. It's really soft and fresh."
WARM SIDES
Kawa Ebi-Age
$7.00
This is a dish of deep fried river shrimps.
I feel that this has to be eaten hot. The shrimps have a slightly crispy taste that somewhat softens inside the mouth when it is chewed. At the beginning the prawn taste is also quite strong and distinctive, but after a few mouthfuls, we could not really taste it.
Added dad, "The first bite is crunchy and after you chew, the prawn taste comes out. And it is quite strong."
Rosti Mentai
$8.00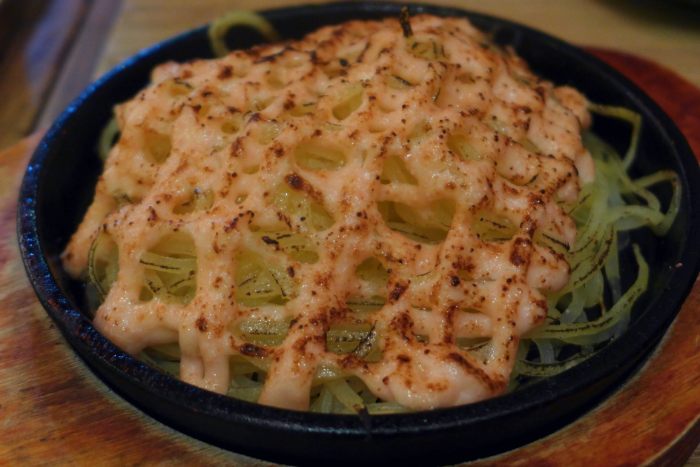 This is a Swiss style potato Rosti cooked with Mentaiko (marinated pollock fish roe) sauce.
The appearance of this dish had initially caught me by surprise; it resembled a plate of pasta with creamy sauce.
Said Luis "This is one of our more interesting dishes. When people think of potato Rosti they think of the traditional Swiss version that Marche sells, but we chose to make it look like noodles so that it will stand out. Also, Mentaiko is a traditional Japanese dressing while Rosti is European, so we have made this like a fusion dish of Western and Eastern cultures."
And when biting into it, the flavour was quite interesting. The potato was crunchy and when eaten by itself, it had a mild taste; however the mentaiko sauce was quite tasty and it had reminded me of a cream cheese sauce.
Said dad, "The sauce gave the Rosti a creamy note and a cooked, slightly burnt flavour which made it interesting."
Tori Kara-Age
$10.00
This is a dish of deep-fried garlic flavoured soy sauce chicken bites.
Upon tasting this, I thought that the batter was extremely crispy and delicious and I rather liked the slightly salty garlic flavour that had come out quite well. It was quite delicious in fact. Unfortunately the chicken meat had been a bit on the firm side and a little dry, though.
Agreed dad "The garlic flavour had a savoury tang to it, but I could not taste the soy flavour though. The chicken was a bit firm and dry for my liking. But this could have been because the meat had dried up when we were taking photos of it, prior to eating."
According to Luis, the chicken is not supposed to be dry and that the photographs could indeed have been the reason. He said "It should not be so dry; we intend our food to be eaten fresh and on the spot, rather than  to be brought home."
SKEWERS
Tsukune
$4.50
This is a meatball skewer item.
Said Luis "Our meatballs are home-made and soft; in fact a lot of people who come in here say that the meatballs are good."
I enjoyed the meatballs myself; the meat was really soft and had a bit of a charred flavour. At the same time there was a slight crispy note to it which made it stand out to some extent.
Added dad "The flavour was quite mild, and I liked the crunchy bits in the meatballs."
Momo
$4.00
This is a chicken thigh skewer.
I thought this item was quite delicious; the chicken was quite tender and full of flavour.
Added dad, "This is not too bad, actually."
Kurobuta Tontoro
$5.50
This is an Iberico black pork collar skewer.
I rather enjoyed the charred flavour of the pork here and the crunchy bits, though the actual meat could have been a bit softer for my liking.
Added dad, "The pork had a chewy and crunchy note – it seemed as though there were muscles in it. So that made it quite interesting."
Kaki No Sakamushi
$12.00
This dish is oysters cooked with Sake.
I felt that the taste of the oysters was a tad strong. But the concept of cooking the Oysters in Japanese sake had been interesting though.
Added dad, "I thought the oysters were quite tender, and the oyster taste was quite pronounced. The cooking did not seem to reduce the flavour."
Bacon Scallop
$8.00
As the name suggests, this is a scallop skewer wrapped with bacon. And it was decorated with red shredded chilli on top.
I could taste the bacon flavour quite strongly and as I love bacon, this suited me quite well. However I was a tad disappointed that the bacon was not crispy. The scallop flavour also did not come out as strongly as I had expected too.
Added dad, "The bacon was a bit soggy and overshadowed the taste of the scallop. But otherwise this was quite a nice and interesting item."
RICE
Negitoro Don
$10
This is a rice dish – served with mince tuna belly on top of sushi rice. It also comes with a raw quail egg and lots of spring onions as garnishing.
Said Luis, "We use Hokkaido Japanese rice for this dish; it is known as the whitest rice in the world."
I thought the dish was quite tasty and when all the ingredients in the rice had been mixed together, the flavours went quite well together with no one taste overpowering the rest. Maybe the flavour of the tuna was a tad weak though.
Added dad, "The rice was quite tasty but it was overpowered by the spring onions and garnishing though."
SAKE
Being an Izakaya restaurant, Shukuu Izakaya also prides themselves on their sake selection – and matching food with the various types of Sake in order to balance out the taste and flavours well.
It is also due to this reason that the food that Shukuu Izakaya serves, as we found out, are in small portions, similar to Spanish Tapas.
Added Luis, "And we are constantly improving and creating new dishes all the time. We might use the same ingredients but we want to prepare our food in different ways and change the flavours in order to go well with the different types of Sake that we serve here."
At any one time, Shukuu Izakaya carries roughly about 53 labels of Sake, but due to seasonal varieties, they have served more than 100 different types of Sake since they had opened about one year ago.
Said Luis, "For our Sakes, we do not go for big brands because many know that they are already good; instead we choose small breweries because they dedicate time in their Sake making and we want to show their Sake craftsmanship to Singaporeans to improve their recognition."
Their Sakes are differentiated according to region, grade of grain and respective Sake making techniques. This carefully curated variety allows for sophisticated pairing of Sake with the menu to create unparalleled complementary and exquisite flavours.
Luis feels that more Singaporeans are beginning to appreciate Sake. He added "But the Sake education in Singapore is currently still very minimal, so we wish to communicate to more Singaporeans about the history and culture of various types of Sake through our restaurant."
We tried two types of Sake – and these were as follows.
Summer Sake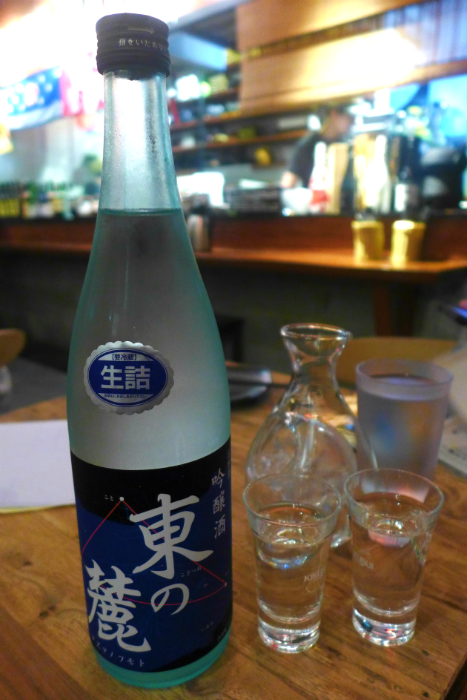 This Sake, according to Luis, is a seasonal Sake and is only available during the Japan summer months. This means that for this year, its season has just ended.
Said Luis, who is also a certified Sake sommelier himself, "Sake is seasonal in Japan; they eat certain foods during the summer months and others during the winter and autumn months – the Sakes are prepared not due to the timing of making them, but due to festival and seasonal strengths, for example, during the Sakura season in February the Sake is pink."
With its light blue bottle, the Summer Sake definitely reminds you of the beach and wind feeling according to Luis. The colour of the sake was also quite light and translucent, somewhat reminding you of the clear summer waters.
This Sake has a light and sweet fruity flavour, and as such, it was very pleasant. It is also great for pairing with light appetisers such as the Tako Wasabi and the Shirasu Ponzo Capsicums, which was when Luis had served it to us.
My dad had also enjoyed this sake, commenting on its light and fruity flavour.
Tamagawa Sake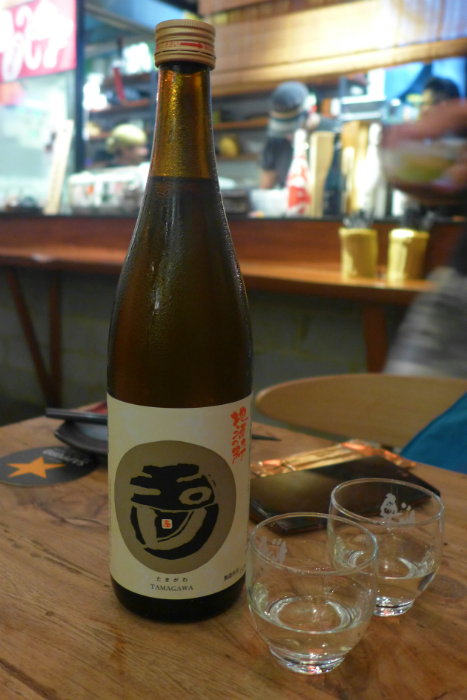 This Sake comes from Kyoto, which are the producers of the "second softest water in Japan" according to Luis. In fact since 80 per cent of Sake is water, having a good quality of water is paramount to producing high quality Sake.
Said Luis, "Water is the body of Sake. Softer water means that the Sake is clean, delicate and sweet."
He added, "if hard water is used to make Sake, the flavour will be more masculine and strong. But softer water has less mineral fermentation and the yeast is less active so that taste will not be so overpowering."
Tamagawa Sake is made by Philip Harper, who is originally from Britain but has since become one of the best and most respected Sake brewers in Kyoto, Japan.
Compared to the Summer Sake, this Sake was quite different, having a fuller and stronger body. It also had a slightly yellow colour, but that said, the taste balanced out quite well with the fried river shrimps that it had been served together with – and it washed down the oily and rich foods quite well.
Overall Thoughts
Dining at Shukuu Izakaya had been certainly an interesting experience, with their small dishes and their wide Sake selection. It was in short, a relaxing experience and the atmosphere and ambience is also great for chatting and catching up with family members, colleagues and friends.
So it is no wonder that according to Luis, the restaurant is targeting people who wish to unwind after a long day of work.
He said "While our main target audience is office professionals who wish to unwind, we are also targeting anyone who wants to experience the Japanese culture but may not be able to travel to Japan."
Similar to the Japanese cultural dining experience 
Indeed, what Shukuu Izakaya dishes out, is very similar to the Japanese culture experience and they are proud to admit it; in fact, many of their Japanese customers have commented that it reminds them of home – according to Luis.
Their Japanese customer base is about 30 per cent, but they are aiming for about 70 per cent in the future.
Said Luis, "Both Japanese and Singaporean customers come here. Our Japanese customers are very impressed especially with our Sake knowledge and food – and they tell us that it totally tastes like what they have eaten in Japan."
Thank you Shukuu Izakaya for the media tasting invite.
Shukuu Izakaya 
8 Stanley Street, Singapore 068727
Opening Hours:
Monday to Fridays, 11.30 AM – 2.00 PM, 5.30 PM – 11.00 PM. Saturdays, 6.30 PM – 10.30 PM.
Closed on Sundays and Public Holidays.

Share this page with your friends!