Popular Singapore bakery chain, BreadTalk, has recently come up with an adorable range of Hello Kitty buns and cakes. These include a mini tiramisu cake shaped like a Hello Kitty's face, Hello Kitty inspired chocolate mousse cakes as well as cat-shaped donuts and cream puffs.
During a recent visit to my nearest BreadTalk store, I could not help but notice how cute these Hello Kitty inspired creations were. So I decided to pick up some.
Kitty In Pink


When I first set my eyes on this Hello Kitty inspired tiramisu cake, I couldn't help but stare at it in amazement and wonder.
The cake was beautifully decorated in the shape of a Hello Kitty face, complete with a pink bow tie and two cute button eyes made out of chocolate. This cake was put into a beautiful pink box that was probably designed just for the cake and it initially looked too cute to eat so I could not bear to take a bite.
This Kitty in Pink cake has a very light texture. It has a thin layer of alcohol-infused coffee sponge at the bottom and cream forms the rest of the cake
At $4.20 per cake, this may seem a little costly, because the portion size is quite small. But on the other hand, it tastes really yummy and you should not forget that you are also paying for the Hello Kitty designs and decorations.
Pocket Full of Berries

This is a soft, white Hello Kitty inspired bun and stuffed with strawberries and cream on the inside.
I thought this bun was rather cute and went very well together with the freshly cut strawberry slices and the cream.
I left the bun in the fridge overnight, so I warmed it up before eating it, but the cream inside appeared to have melted. It may have been better, eaten straight from the fridge.
Together Forever


These are a really cute looking pair of cupcakes and are decorated to mimic the Hello Kitty (vanilla) and the Dear Daniel (chocolate) cakes. In fact, they looked so adorable that I could not bear to eat them.
Hello Kitty Cake
The Hello Kitty vanilla cupcake is decorated with marshmallows and cream and I thought that it was absolutely delicious. It is a soft sponge cake that practically melts in your mouth. The soft marshmallows and cream really enhances the flavour, making it taste irresistible.
Dear Daniel Cake
The Dear Daniel chocolate cupcake comprises of chocolate cream and is topped with three huge chocolate balls. This is a light and fluffy cake and the chocolate flavoured sponge melts in your mouth too. The intensity of the chocolate is also perfect – it isn't too strong and not too sweet either. The hollow chocolate ball on the top tasted really yummy too. Having a filling (for example, a praline one) inside though, would have been really good.
But these are two really delicious cupcakes that I would probably buy again if I have the chance.
They will set you back by $5.80 for a pair.
Kitty in Black and White
These are a pair of donuts made in the shape of a cat's face and complete with two pointed ears and coated with either white or dark chocolate.
Kitty in Black

This is a donut coated with dark chocolate, as the name suggests. Decorating the chocolate is a layer of hundreds and thousands, which give the donut a pretty and vibrant colour.
When I bit into this donut, I found the taste to be quite pleasant. Most importantly, the dark chocolate topping was not too sweet. The deep-fried donut pastry also wasn't too oily and the flavours combined very well together. I rather enjoyed eating this donut.
Kitty in White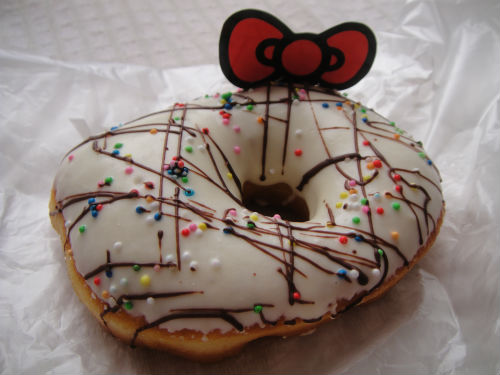 This is similar to the Kitty in Black, except that white chocolate is used as the base instead of dark chocolate.
The taste of this donut was similar to the Kitty in Black too, except that the chocolate seemed to be slightly milkier. But nevertheless, the combination was still good and this donut tasted just as yummy as the dark chocolate version.
Each donut will set you back by $1.50.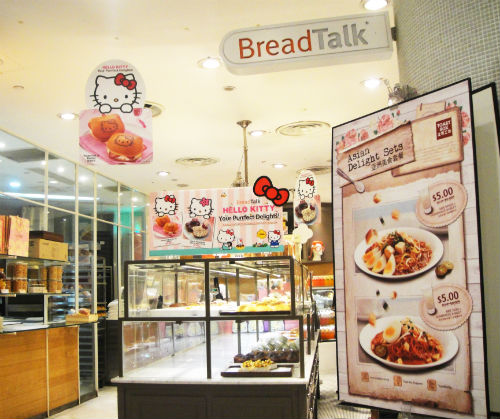 Overall Comments
These Hello Kitty treats at BreadTalk are not only pretty, but they also taste good. If you are a Hello Kitty fan, then they are definitely worth a try.
To find your nearest BreadTalk outlet, click here.
Singaporeans are crazy about Hello Kitty! Read it here.
More of the Cutest Food Ever
Gordon Ramsay came to Singapore! Read it here.
Share this page with your friends!