Located within the Giant Panda Forest at the River Safari, this cosy eatery is a fun restaurant that provides an enjoyable dining experience for everyone to enjoy.
Their signature dishes are the Panda Pau and the bamboo rice, but this Chinese-style café also offers a variety of other rice and noodle dishes as well as snacks such as dim sums and spring rolls.
I visited this restaurant recently while I was at the River Safari.
The Ambience
The interesting panda theme of this restaurant instantly grabbed me when I stepped inside. It is completely decorated with bamboo and reminds me literally of a gigantic panda forest.
The "pandas" in the enclosure are the chairs, where the backs of some of these are painted to look like pandas. I thought this was a rather interesting touch.
Photos of the two famous panda imports from China – Kai Kai and his female companion Jia Jia, also decorate the walls of the restaurant to complete the feeling that you are truly in panda country.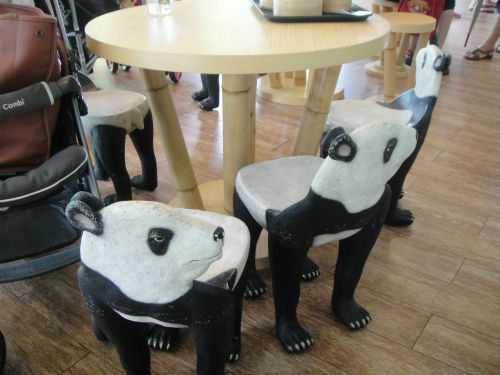 The Food
To keep in line with the Asian origin of the pandas, this eatery offers a variety of Chinese dishes, such as dim sums, bamboo rice and Asian noodle dishes. Their speciality is the Panda Pau, which is a rather big tau sar pau that is decorated to look like a panda's face
I ordered a chicken ramen set meal, which came together with lotus root chips and a dessert. While the dessert is usually a choice of mango or lychee pudding, there was a special offer to change this to a vanilla sponge cake to celebrate the first anniversary as well as the birthdays of Kai Kai and Jia Jia. I went with this birthday offer.
At the same time, I took away a Panda Pau because these are so cute and I simply had to find out whether they taste as cute as they look.
Ramen Soup Noodles
I was actually a bit disappointed with these noodles, which did not taste like the usual Japanese ramen. It resembled yellow noodles, which were a little soft for my liking.
The few stalks of leafy vegetables (chye sum) that were added to the soup gave some fibre to the dish.
However, the soup was rather plain and it could have had more flavour to it.
Chicken
Served on a separate plate, the flavour of this chicken was quite nice and the meat was soft and tender.
I would have preferred it more though, if the chicken had been warmed up before serving. I felt that the cold chicken did not really go well together with the ramen soup noodles.
Lotus Root Chips
I really enjoyed this item and when I bit into one, they really reminded me of potato chips. They are crispy on the outside, but hot, soft and tender inside.
In fact, they were so nice that I was left wondering why more restaurants don't prepare these as a healthier and less conventional substitute to potato chips.
Vanilla Sponge Cake
The slice of cake was placed on a plate and topped with a layer of vanilla cream, together with a piece of chocolate inked with a panda's face and a longan.
The sponge was soft and the cream balanced out the flavours perfectly. It was not too rich either, which suited me perfectly.
Panda Pau
I could not resist buying this relatively large Panda Pau simply because it looks so cute. The way that it is decorated really reminded me of a real panda's face.
The taste, however, was pretty average though and it is not the best Pau that I have eaten. At least the tau sar filling was not too sweet though.
Find out more about the pandas birthday celebration here.
Mama Panda's Kitchen @ River Safari
Giant Panda Forest
80 Mandai Lake Road
Singapore 729826 
9.00am to 6.00pm daily
Tel: (65) 6269 3411
More Related Articles
More Cute Food Places!
Share this page with your friends!