If the thought of Milo Dinosaur brings back those nostalgic and pleasant memories from your childhood days, then you are in luck.
Available till 21 September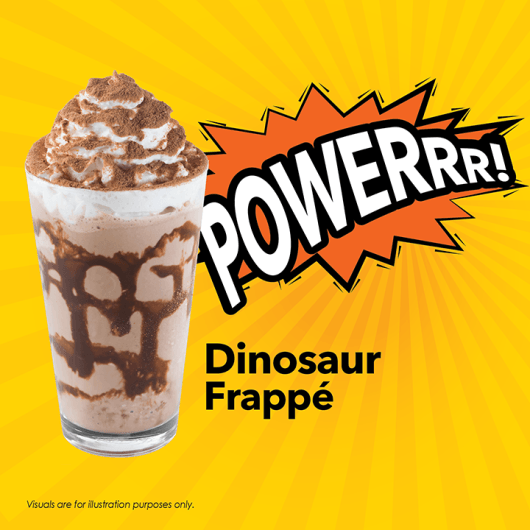 This is because the McDonald's McCafe outlets in Singapore have come out with a new limited edition Dinosaur Frappe – this will be available from now till 21 September while stocks last.
Each glass of the drink is priced at $5.30 each.
Crunchy coco pops and chocolate malt flavour 
Topped with crunchy coco pops and the delicious chocolate malt flavour that will definitely be familiar to many Singaporeans young and old, the Dinosaur Frappe is described by McCafe as giving you a "dino-mite" experience.
Drink appeals to me
Thanks to McCafe, I was given vouchers to redeem the Dinosaur Frappe. As I grew up drinking Milo, this is definitely a beverage that had appealed to me right from the beginning.
Chewy Milo powder 
On sucking the drink through the straw, I could pick up little pieces of chewy Milo powder which had been partially dissolved. This added some texture to the drink. The coco pops at the bottom also added a slightly crunchy note to the drink, I detected these when I was about halfway done with the beverage.
And while I could taste some of the malt chocolate flavour, I wish that this could have been slightly stronger, though.
I liked the way the Milo powder was sprinkled on top of the whipped cream on the surface of the drink. When I drank the Milo Frappe immediately after the beverage had been made, this powder was slightly crunchy, reminding me a little of taking fresh Milo powder straight out of the can!
However I thought the amount of Milo powder used could have been more generous though, in order to create the real experience of the actual Milo Dinosaur drink sold at local hawker centres.
The cream may make the drink a little rich though, so if you don't want the Frappe to feel so sinful, perhaps it may help to ask for less cream.
Overall Thoughts of the drink
My overall comments are that the new Dinosaur Frappe from McCafe will definitely reignite the familiar taste of Milo in the hearts of many, and so the new frappe is probably worth a try, to reignite those memories in us.
With the addition of the cream and the coco pops, I think that it is a rather new and interesting upgrade to the typical hot Milo from our local coffee shops and hawker centres. My only gripe is the lack of the crunchy Milo powder. Still though, this beverage will make a perfect creamy indulge for National Day – which is coming up soon.
Share this page with your friends!