Gru's yellow minions have truly invaded Singaporean shores. First, there were the McDonalds minion toys that resulted in long queues and even catfights all over Singapore and Malaysia.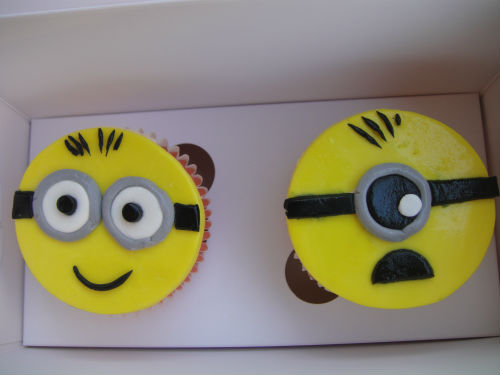 Then the minions came in the form of huge plush figurines, tee shirts, hair clips and nail-art. Nowadays, the food that we eat not even spared from minion fever. In fact, many bakery stores and eateries are now capitalising on the minions by making minion-inspired cakes and minion cupcakes.
One of these bakery shops selling the minion cupcakes is Hey Cupcakes, which is a boutique bakery located at Joo Chiat Road. When I first heard about these minion cupcakes, I knew that I had to try them, as I had fallen in love with the minions ever since watching the Despicable Me movies.
Introducing the Minion Cupcakes
The minions at Hey Cupcakes are in the form of cute, round icing fondants and these are placed on the top of the flavour of cupcake that you want. Flavours available include the standard chocolate and vanilla ones, as well as fruit-inspired flavours like strawberry, mango and banana.
I bought two cupcakes, and these were the strawberry and banana ones – these are two of my favourite fruits.
There are six different minion cupcake designs. I selected one minion with an eye in the centre and another, with two eyes and a few strands of hair on the top of his head.
Banana Minion Cupcake
This is a banana minion cupcake topped with chocolate buttercream. The minion fondant was placed over the top of the chocolate cream.
It may have looked really beautiful and cute, but I must say that the taste was not as good though. The banana flavour did not come out very strongly and I would have liked it better if there were some actual banana chunks in the cupcake. Moreover, the banana taste also seemed to have been completely drowned out by the chocolate cream and the chocolate buttercream was also a little bit too sweet for my liking.
Cute as it had looked, I must admit that I did not eat the actual minion fondant itself, because when I took a small bite of it, I found it to be a bit sweet and gooey for my liking.
Strawberry Minion Cupcake
This is a strawberry minion cupcake that is topped with a layer of cream cheese. Like the banana cupcake, the minion fondant was placed over the cream cheese.
I thought this cupcake was slightly more delicious than the banana cupcake. The strawberry taste wasn't as strong as I would have liked and there did not seem to be any strawberry chunks inside the cupcake.
The cream cheese itself was quite good though. It was quite creamy, but at the same time, it wasn't too rich for me and it did not actually overpower the strawberry cupcake.
Overall Comments
I must definitely applaud this bakery for their creativity with their minion cupcakes. But I have to admit that I have tasted better ones.
More cute cupcakes? Do check out Hey Cupcakes' Sesame Street Cupcakes
Hey Cupcakes @ Joo Chiat
428 Joo Chiat Rd
Singapore 427645
Opening hours: Tuesday – Sunday – 12.00pm to 9.00pm Telephone: 63450113  
Read about more Minion Madness!
Non Minion Blogs
Share this page with your friends!