Last Saturday morning, dieticians from the Singapore Sports Institute (SSI) gave a workshop on healthy cooking for participants of the OCBC Cycle 2015. The main aim was to give some tips to the cyclists on good nutrition.
Apart from learning to prepare time-saving and nutritious food such as home-made muesli bars and pasta bolognese, participants were also given tips on carbo loading for long bike rides. We also learnt about the various types of drinks that can be used as a form of hydration during and after cycling sessions.
Carbohydrates as fuel for exercise
And on the topic of carbohydrates – the main source of energy for athletes – we learnt that the amount required, varies from one athlete to another, depending on the person's load and intensity of training. For example, if an athlete was doing a moderate-intensity workout of about one hour per day, this would require him or her to intake five to seven grams of carbohydrates per kilogram of body weight as fuel for the exercise. But with extreme exercising, of more than four to five hours per day, this would require an intake of eight to 12 grams of carbohydrates per kilogram of body weight.
Some food with carbohydrates are more nutritious than others
Some food with carbohydrates, such as bread, rice, starchy vegetables and legumes, contain other nutrients such as vitamins and should form the basis of an athlete's diet. On the other hand, there are also drinks and other food containing carbohydrates, such as sports drinks, soft drinks and energy gels, but these should be used during and after training sessions and competition only – because they are not as nutritious, according to the dietician speaker.
Another group of carbohydrates are high in fats, and these include chocolate, cakes, pastries and french fries, and these should only be eaten in moderation.
Hydrating during exercise
We were also given tips about hydration and exercising. Generally, when engaging in vigorous sports, you will be losing a lot of body water through perspiration, so it is important to replenish this along the way. However, depending on the nature of your exercise session, the types of fluids that you should take, will vary. If you are doing a light and easy recovery session, you can re-hydrate with plain water. But if you are exercising at a moderate to high intensity for more than an hour, you should ideally consume commercial sports drinks or home-made ones. This will replenish not only the body water, but also the salts lost by the body though exercise. Chocolate milk is a good recovery beverage, as it contains not only fluids, but also carbohydrates and proteins.
And if you have the time to replenish your body with food too, such as carbohydrates, it would be ideal because you would need to replenish the depleted carbohydrate stores that the body has lost through exercising.
Cooking healthy dishes
Besides listening to the tips, we also learnt how to cook a healthy version of pasta bolognese and Mexican Quesadilla (tortilla bread), as well as making a nutritious muesli ball snack – which can be used as a good form of fuel for cyclists during exercise sessions.
While the procedure for preparing the muesli balls was only demonstrated to us, we were presented with the ingredients though, to actually cook the pasta and bolognese sauce, as well as the Mexican Quesadilla. The cooking of the pasta dish was definitely an eye-opener, with fresh ingredients, such as minced beef and vegetables, being used. Additional herbs and spices were made available to flavour the sauce – if we opted to add these. Salt, sugar and pepper could also be used, if we wanted to.
A healthy and nutritious way of cooking
Because the ingredients used were fresh and natural, I can certainly see how it will be a good source of everyday fuel for athletes. The meal that we cooked was very well balanced too, in terms of comprising items from the three food groups. For example, the carbohydrates came from the pasta and the tortilla bread, while the protein was from the beef. The vegetables included the mushrooms, carrots and celery that we added into the pasta dish.
When I finally got to taste the end product of my cooking, the result was really delicious. I enjoyed the items – and I think that I would probably cook them at home, some time.
Healthy Recipes
For your reference, here are the recipes for the muesli balls and the bolognese sauce.
Nut & Muesli Balls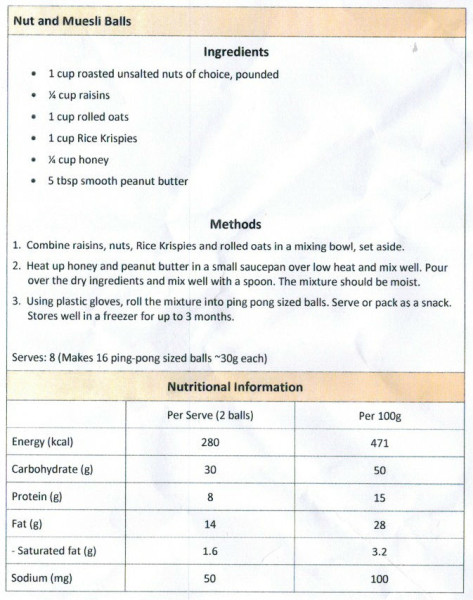 Bolognese Sauce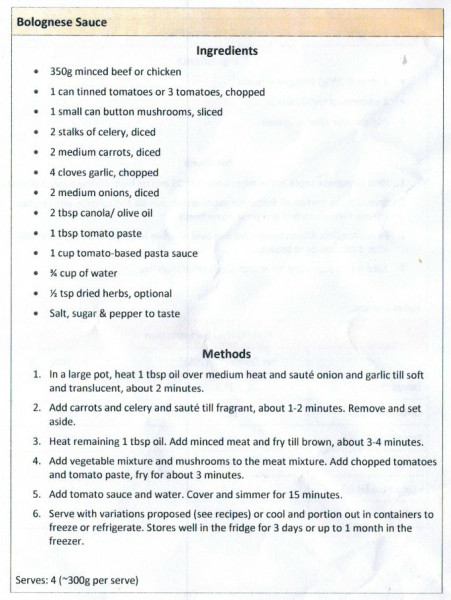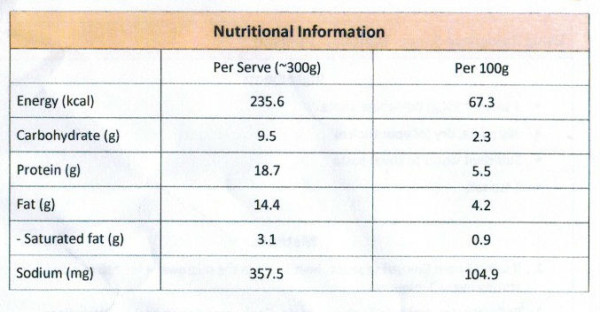 Bolognese With Pasta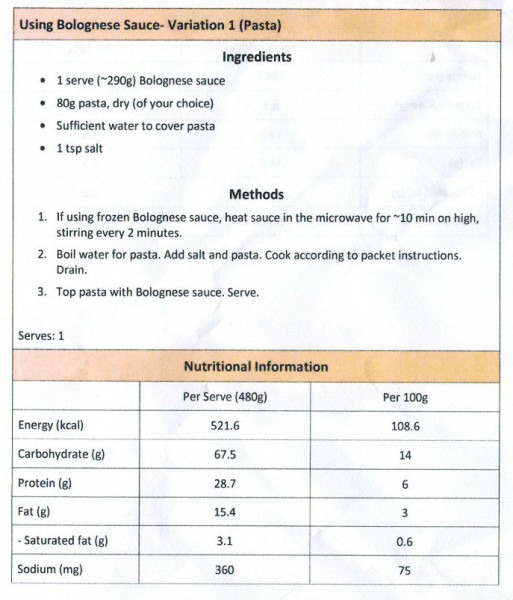 Mexican Tortillas with Beef Bolognese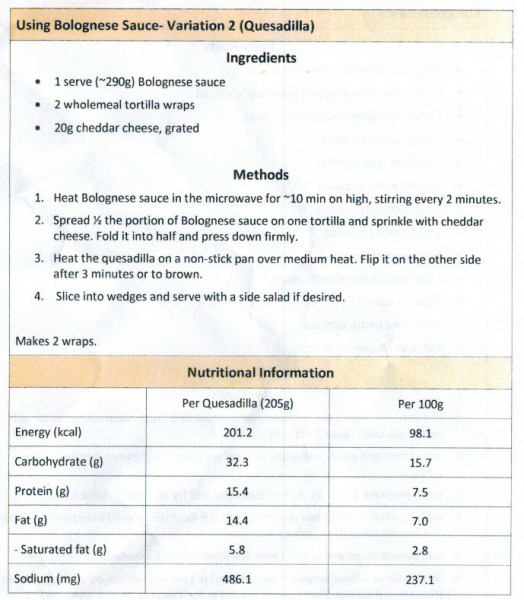 Other Blog Posts

Share this page with your friends!