The Volvo Makan Trail, one of the fringe activities organised by OCBC Cycle Singapore for the event's participants, took place last weekend.
A new lead-up activity that had been introduced for this year, the Volvo Makan Trail is quite similar to the OCBC Cafe Bike Crawl, except that instead of cycling from one cafe to another, we were chauffeured to the various cafes in Volvo cars.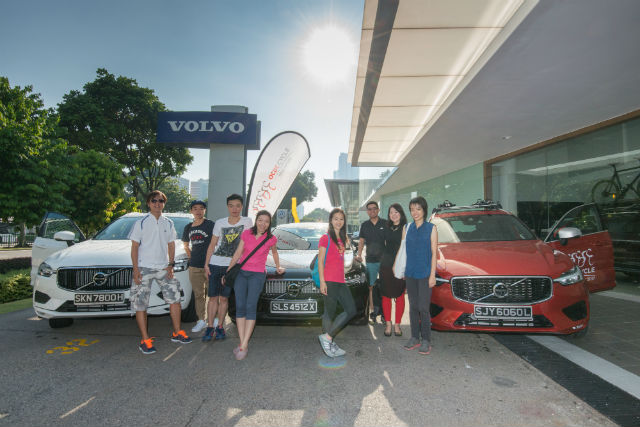 This year's edition of the OCBC Cycle Singapore event, takes place on 18 and 19 November this year at the Singapore Sports Hub.
Meeting at the Volvo Showroom
To kick-start the Volvo Makan Trail, we met at about 8.30am at the Volvo Showroom at Alexandra Road. There were about eight of us taking part in the activity altogether. With three Volvo cars available, we were split into small groups of two or three passengers to each Volvo car.
The car that my group and I started out with, had been a red Volvo sedan.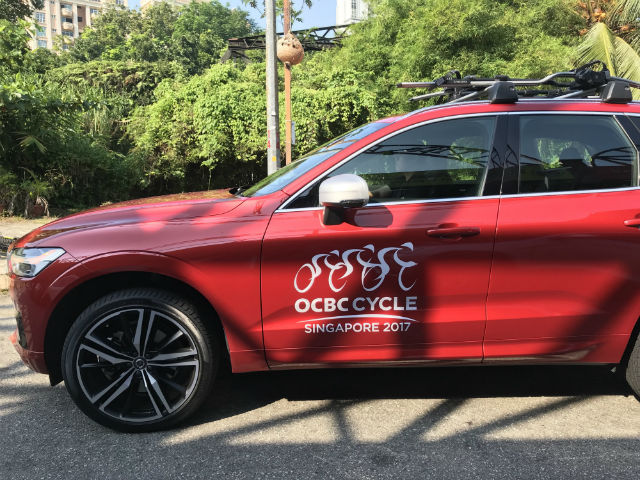 Riding in the red Volvo car made for a very smooth and comfortable journey in my opinion. The seats felt soft and squishy – to the extent that it would have been really easy to fall asleep whilst sitting on the back seat.
As well, the car also had plenty of cool features, such as an in-built GPS navigation system, air conditioning for the back seats, a bicycle rack and a small sun roof.
Springleaf Prata Place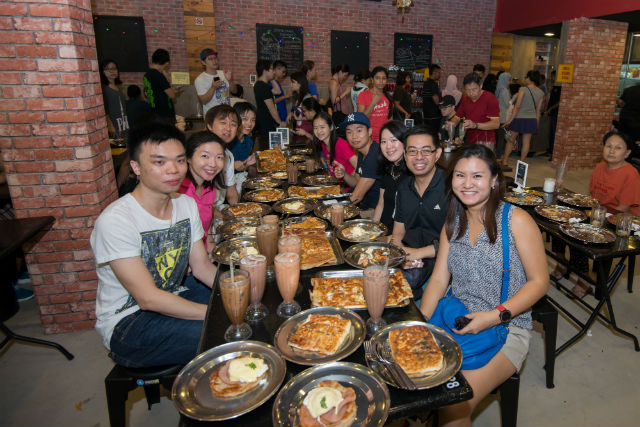 From the Volvo showroom, we headed to the first pit stop of the route, the Springleaf Prata Place at the Rail Mall, a one-stop family restaurant for delicious prata and other Indian food.
We had three types of novelty prata here, and these were as follows.
Plaster Blaster: This is an unusual twist on the traditional Prata Blaster, a type of prata where the egg is cooked on top of a plain prata instead of being mixed in. The result is that for Springleaf Prata's version, it is basically a Western style Eggs Benedict on top of a crispy prata, consisting of poached egg, Hollandaise sauce and turkey ham.
The Ultimate Murtabak: This is a large A3 sized prata that is stuffed with ingredients. It consists of cube sized tandoori chicken, mushrooms, cheese, egg and onions.
Prata Alfredo: This is one of Springleaf Prata's latest creations and consists of Rosemary Smoked Chicken, Fresh Button Mushrooms, Mozzarella cheese and creamy Alfredo sauce wrapped inside a crispy prata.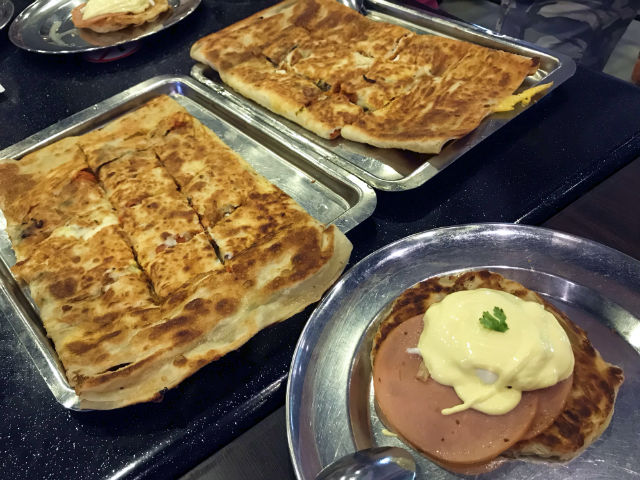 I must admit that these are all not types of prata that I would usually order; when I go to a prata place, I am generally more traditional and would prefer to stick to the tried and tested variations.
So I had thought that the three novelty prata creations from Springleaf were definitely interesting and I was glad that I'd had the chance to try them out. I thought the Prata Alfredo was the most delicious out of the lot, possibly because I love my cheese, which went really well together with the chicken and the mushrooms. The flavours came together nicely and I thought it had been a nice twist on the Italian Alfredo pasta dish.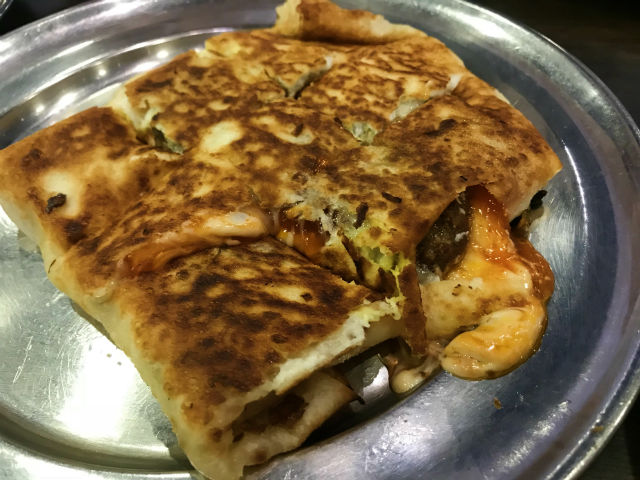 The Plaster Blaster was also interesting, and because of the crispy prata base, I thought that the crunchy note had added a nice crispy texture to the standard Eggs Benedict dish that are available at most Western cafes. There was also a slight wok hei flavour in the prata which added nicely to the dish.
The Ultimate Murtabak had probably been the most Asian item that we had tried, and I really liked the burst of flavours coming from the dish. It was rich, but filling and satisfying at the same time.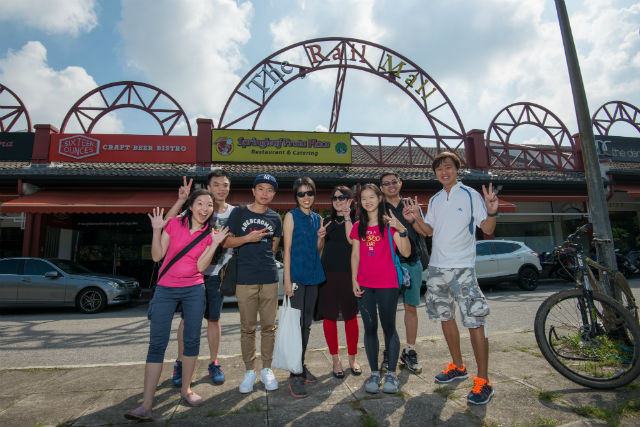 I also had a Milo to wash down all the prata.
Wheeler's Estate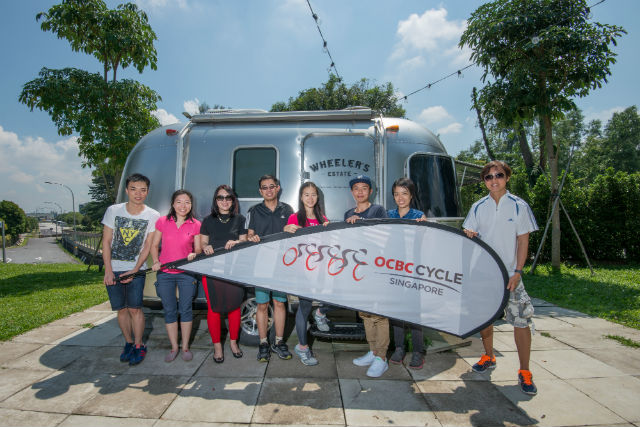 Our second stop along the route was the Wheeler's Estate at The Oval @ Seletar Aerospace. This is an upmarket version of the more commonly known bicycle themed cafe, Wheelers Yard.
To get there, we changed cars and this time rode in a smaller black Volvo sedan. According to OCBC Cycle, they had wanted us to experience a variety of Volvo cars.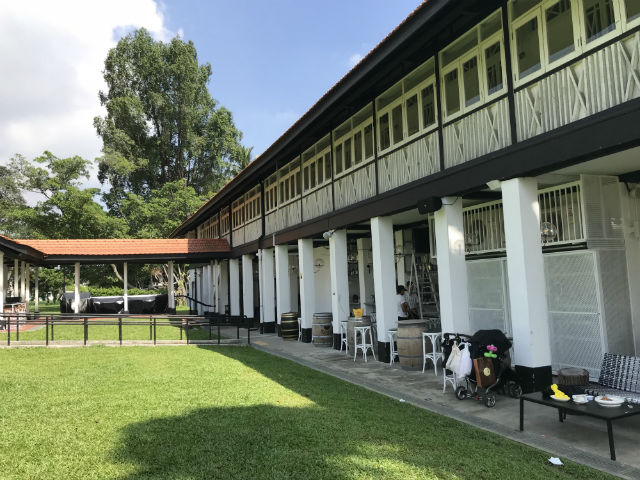 The black car had been slightly different to the red Volvo. It was just as plush and comfortable inside and it too, had been equipped with a smart GPS system. But the ride felt a tad more bumpy though, but that was just probably because the smaller car was closer to the ground.
Upon setting foot at Wheeler's Estate, I was completely blown away by the decorations and ambience of the place. It is essentially a two storey bungalow that houses a cafe and grill on the first floor, and a 150-seater verandah restaurant on the second floor. I thought the place was really picturesque and as such, I felt as if I had been transported to a paradise resort.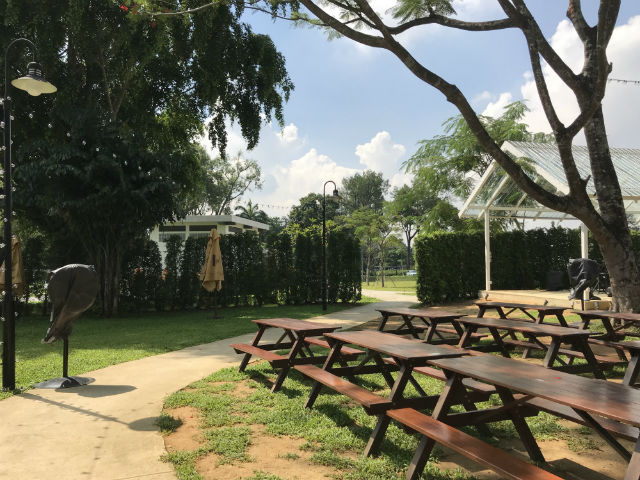 At Wheeler's Estate, I had an orange juice as I had wanted something fruity and refreshing, and we also shared an assortment of cakes amongst ourselves too.
I had thought that the cakes were really colourful and so as such, I could not stop taking pictures of them with my iPhone.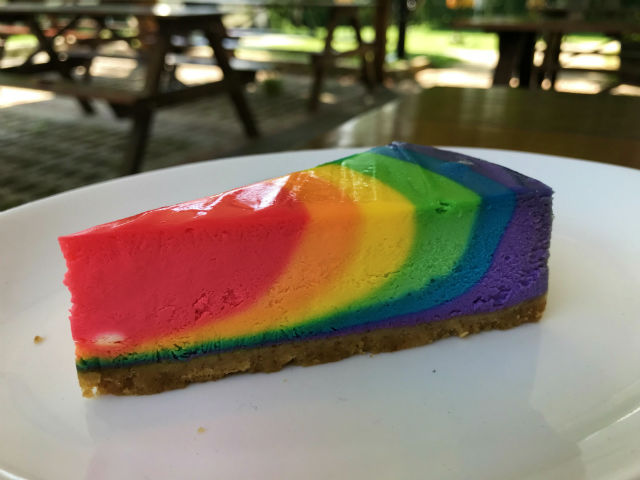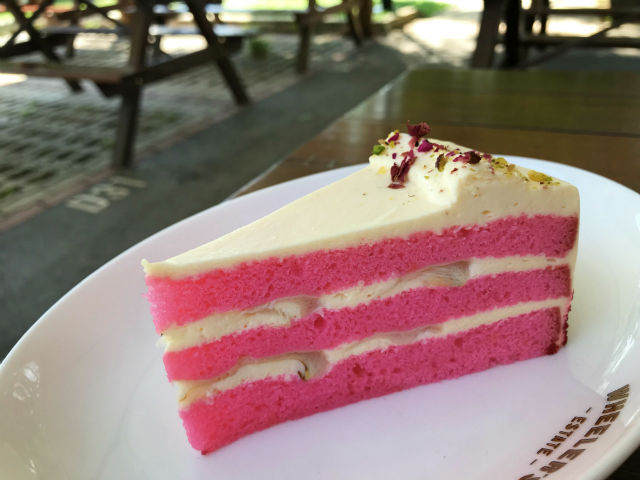 In terms of the taste of the cakes, my favourite of the lot was the rainbow cheesecake. The cheese mousse in the cake was just right without being too rich and cloying but perhaps the biscuit base could have been a tad crunchier though.
The two sponge cream cakes were also nice; one took on a fruity lychee flavour that seemed to be mixed with rose syrup and the other one had a caramel almond flavour taste that had been pretty addictive in my opinion.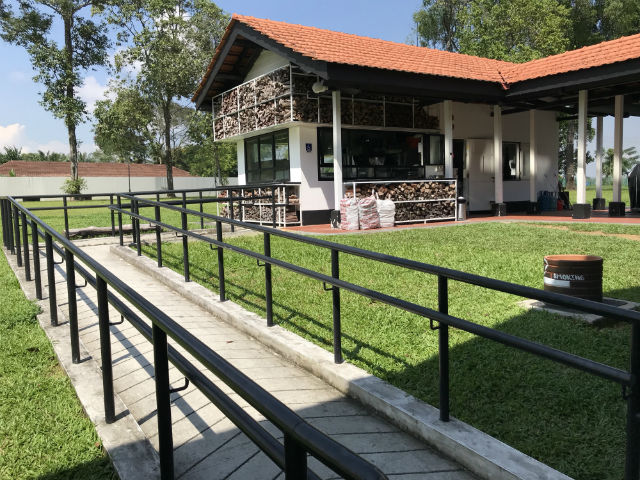 The Autobus
From Wheeler's Estate, we headed to The Autobus – a new bicycle themed cafe at Downtown Gallery, in the heart of the CBD that is a few months old.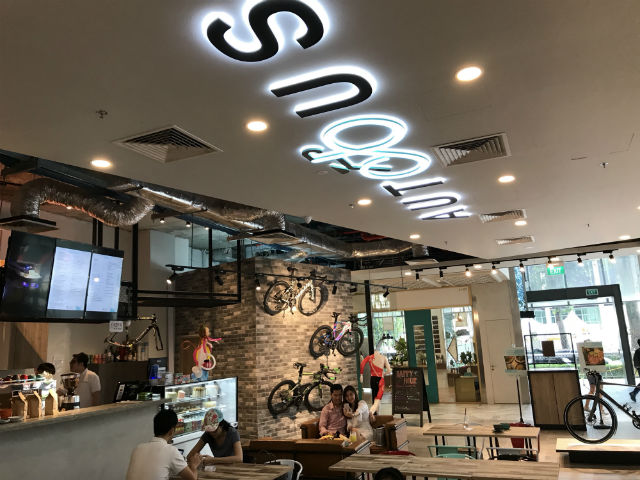 This time round, my group rode in a white Volvo sedan, which is similar to, but a slightly older model as compared to the red sedan. As such, a few smart features were missing such as the sun roof, but the smart GPS was still there. It too made for a really comfortable and relatively smooth ride, and at this point in time, with so much food already in my stomach, I was beginning to feel the signs of a food coma being induced. I could possibly have fallen asleep in the seat of the Volvo…
When we had reached The Autobus, the first thing that I saw, had been the numerous bicycle racks positioned outside the cafe. Apparently there is space for about 30 bicycles, in order to cater to people who ride to and from work and who need a place to park their bikes during the office day.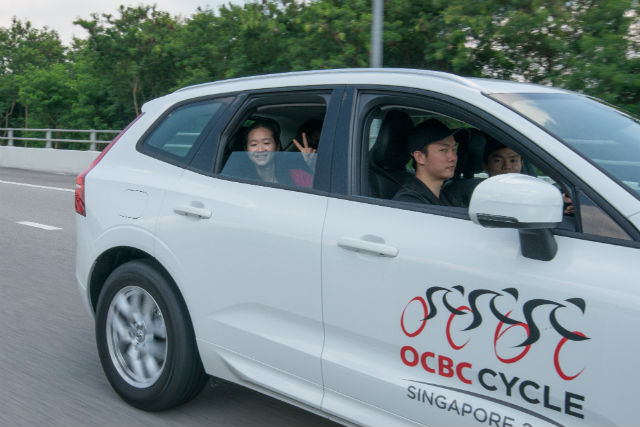 Inside the cafe, there are bicycles on display as well as merchandise for sale, ranging from saddle seat covers and helmets to gloves and water bottles. I saw a few groups of cyclists at the cafe too, enjoying their brunch, as we had walked in.
But besides being a bicycle cafe though, The Autobus focuses on serving quality coffee together with real foods that are whole and natural. They sell nutritious poke bowls during the weekday lunchtime hour and at nights and on weekends, they have a Western brunch menu.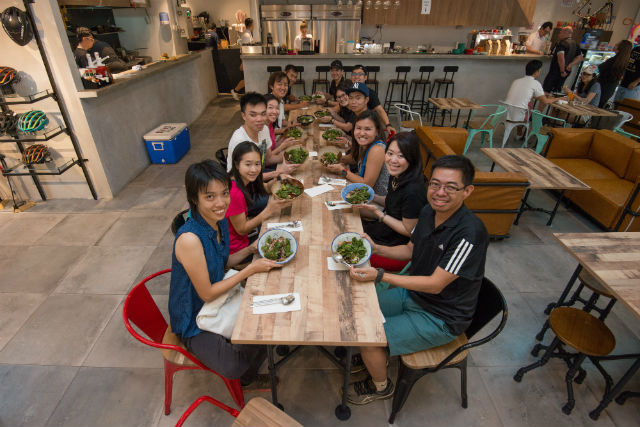 We had tried their poke bowls which consist of a protein, carb, sides and dressings of your choice. The choice of items are quite broad, and you can pick from things such as brown rice, quinoa, penne pasta, teriyaki grilled squid, spicy creamy salmon, BBQ pulled pork, button mushrooms, bell pepper, kale chips, soy sesame and black pepper.
Ours had been a quinoa poke bowl with Cilantro Yoghurt baked chicken, button mushrooms, Spa egg and Kale chips and it was topped off with a Soy Sesame dressing.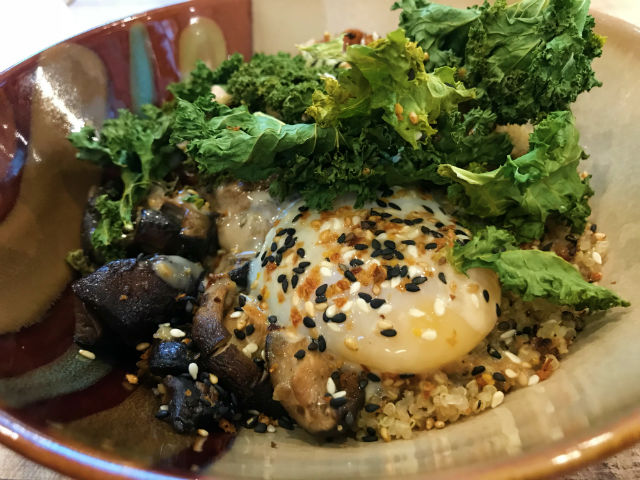 I had thought the dish was really delicious, in addition to being healthy. So flavour was definitely not being compromised here. The Kale chips are supposed to be air-fried, and they tasted really great, being a good substitute for potato chips. The chicken was also moist and when eaten with the quinoa, combined with the Spa egg, this also provided a good combination of flavours in the mouth. If I were not feeling so full by this point in time, I think that I would have polished off my share of the food. Nevertheless, this is a cafe that I think I would probably be coming back to.
I washed down the Poke bowl with a Banana Lime Yakult Smoothie and the sweetness coming from the Banana and Yakult combined nicely with the sourness of the lime, creating a fusion of flavours with every mouthful.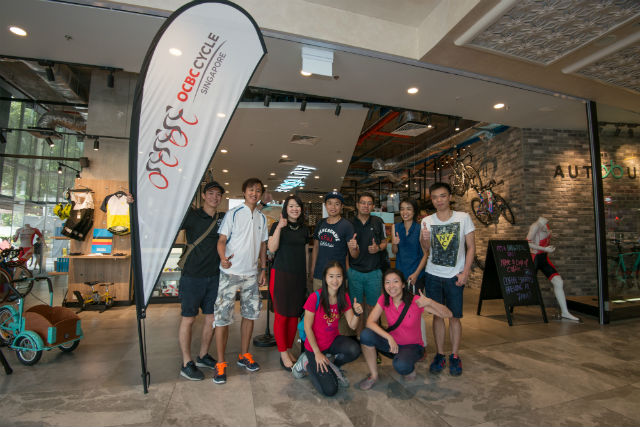 It was nice and also an enjoyable way to end off the morning.
Concluding the Event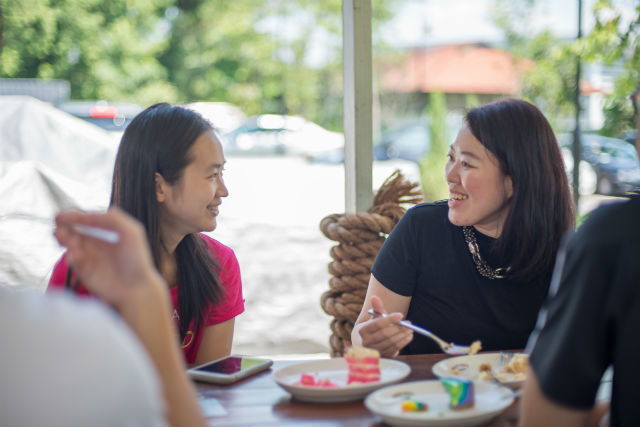 To conclude the OCBC Cycle Volvo Makan Trail, we were chauffeured back in the Volvo cars to the Volvo Showroom, where there had been, coincidentally, a children's carnival taking place there on the same day as our event.
Our Volvo Makan Trail finished at about 1.30pm.

other blog posts
Share this page with your friends!