French crepe & cider bar, O COMPTOIR, hopes to bring a slice of France to our island city, charming diners with their contemporary interpretation of the classic French creperie amidst the buzz of Boat Quay. Diners at O COMPTOIR can tuck into an appealing menu of healthy and wholesome French crepes, galettes and brasserie dishes that the restaurant's French owners have put together.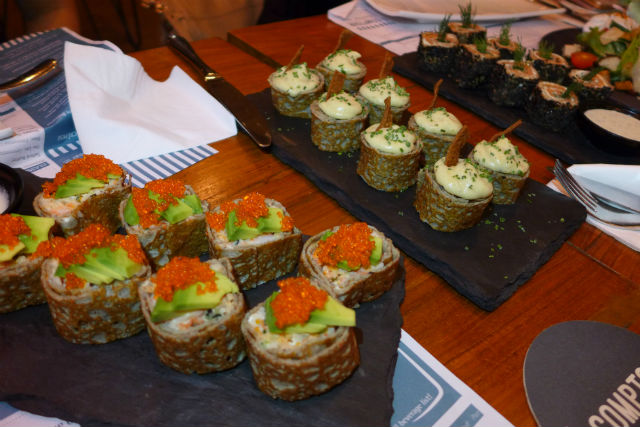 Said Antoine Rouland, 32, the owner of O COMPTOIR, "We had wanted to do a modern cafe serving crepes and galettes and at the same time we wanted to avoid the French decoration on the walls. We wanted to combine the French flair with modernity and give our customers the French experience but at the same time, bringing in a uniquely Singaporean flavour."
He added, "We brand our restaurant as having a strong French concept coupled with an Asian twist."
An interesting mix of French and Asian flavours

As such, O COMPTOIR's menu consists of an interesting mixture of traditional French galettes as well as inspirational flavours, which come with a Singaporean or Asian twist. Some of these include the Indian-style Chase the Spices consisting of masala chicken with tomatoes, fresh cheese, peanut and chilli, and the Thai-style Khao San Road, consisting of prawn, mango and bean sprouts.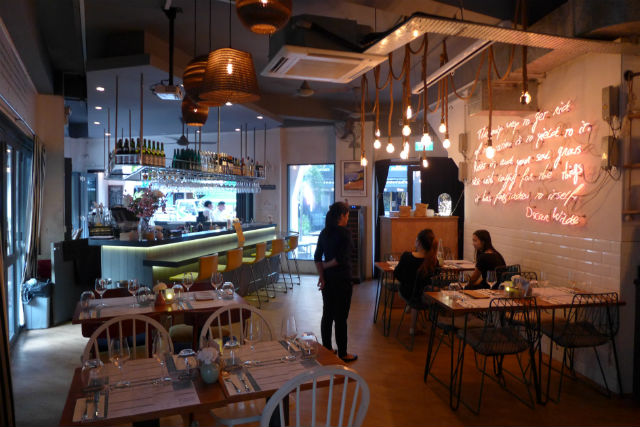 Said Antoine, "The inspirational flavours are to cater to the Singaporean market. When we first opened in Singapore three years ago, there was not much French cafes and those in other Asian cities such as India, Hong Kong and Shanghai served the traditional galettes with cheese base or tomatoes. This new category of galettes did not exist and we wanted to give French food that interesting twist."
He added "The galette after all is limitless. You can change the base and use whatever filling you want. The possibilities are endless. We thought this was quite interesting and we decided to experiment with some crazy flavours."
And to further add to their inspirational and fusion flavours, O COMPTOIR's newly introduced creation is the Maki Galette, which offers diners an interactive twist to their signature galettes. Made from gluten free, organic buckwheat flour, it is a healthy and delicious choice for customers.
At the same time, Antoine stressed that he is very picky with regards to the freshness of the ingredients used at O COMPTOIR, thus ensuring that customers only receive the best. He said, "We are picky on the freshness of the ingredients. The dough fermentation is also a very special process – we need 24 to 36 hours to get the best quality of dough. Our cheese is also imported straight from France."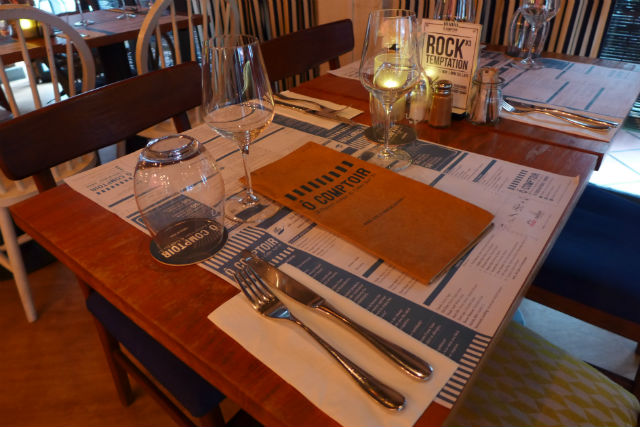 I had recently been invited to O COMPTOIR for a food tasting session to try out their new selection of the Maki Galettes.
Maki Galettes
I had their Maki Galettes in a few of the flavours, ranging from traditional French flavours to the unique fusion flavours. When the Maki Galettes first came out, I must admit that I was blown away by the appearance and presentation of these bite sized morsels. They had reminded me exactly of the traditional Japanese maki rolls.
Here are my comments on the Maki galettes that I tried.
Ham & Cheese ($14)
Comprising of ham and cheese and topped with half a quail egg, this is a rather traditional French flavour. So I had felt that I needed to try this one. When I first tasted this galette, I could immediately detect a strong cheese flavour. I like cheese, so this had suited me quite well.
As for the ham flavour, it does not really seem apparent to the taste buds. In fact, the ham flavour seems to be overwhelmed by the cheese when you put the galette into the mouth. But upon dissecting the galette and taking out a small piece of ham, I could taste the ham. There had also seemed to be some type of creamy sauce in this galette that seemed to have further accentuated the creaminess coming from the cheese.
The quail egg on top of this galette added to the interesting appearance and also gave this galette a slightly yolky flavour in the mouth when everything was eaten together as intended.
Duck Confit ($16)
This galette had consisted of duck and was topped with mashed potato. I must admit that I am not a huge fan of duck, but when I tried this galette, fortunately the duck flavour was not overpowering. The galette took on a very savoury note, with a slightly meaty texture from the generous amount of shredded duck that had been stuffed into the galette maki.
In addition, there was also a crunchy note that could have possibly been caramelised onions. The slightly sourish flavour that was coming out from these, had reminded me of the fried shallots that is commonly served as a condiment for dishes at hawker centres. Together though, the crunch had helped to add a variety of textures to the Maki galette, and at the same time I thought this had prevented the galette from feeling very doughy and soggy in the mouth.
I liked the slightly buttery note coming from the mashed potatoes on the top, as this added to the flavour and at the same time had somewhat helped to mask what could possibly have been a strong duck note.
Crab Avocado ($16)
This galette is accompanied with a side helping of cider sauce.
The flavour of this galette was quite interesting yet hard to place. I felt that this galette took on a slightly sweet note from the sauce that was used in the galette, and it had really reminded me of Japanese style cooking rather than French style. At the same time, there was a crunch coming from the fish roe topping, which had melted in the mouth upon biting into each piece of orange fish roe.
The galette used to wrap the fillings, however, seemed to have felt a bit soft in the mouth, probably because the crab filling inside had been quite soft and moist too.
Smoked Salmon ($18)
According to the menu, this galette comes with a hint of wasabi sauce that is probably intended to add a kick to the flavour. When I first tried this flavour, I thought that it was very interesting and complex and I found myself having trouble describing it.
What had immediately hit me at the beginning was the strong flavour and slight crunch coming from the sesame seeds that are used to coat the galette wrapping.
Upon then biting further into this flavour of Maki galette, I could detect the salmon, and it gave off a rather strong, smoky note. But the salmon was quite soft, to the point of almost melting inside the mouth. Unlike the Crab Avocado galette, the sesame seeds for this one appeared to have prevented the galette pastry from being too doughy.
Inspirational Galettes
Besides the various Maki Galettes, I also had the Bolo Galette ($18) from the Inspirational menu. This is described on the menu as a galette consisting of mince beef, tomatoes, mushrooms, carrot, rosemary, tomato puree and cheese.
When I bit into this galette, it reminded me of the Italian style Bolognese sauce but had a vey strong hint of mushrooms. The flavour had seemed as though Shitake mushrooms had been used, to give the dish an Asian connection. The beef flavour was also pretty strong at the same time, competing in the mouth with the mushrooms, and at the same time there was a spicy note that gave the dish a kick. The cheese had been melted onto the galette and though not every mouthful contained cheese, when I bit into the cheesy sections, I felt a strong rush of cheese arresting my taste buds. As such, this dish had reminded me of beef lasagna.
Besides the flavour that I had tasted, some of O COMPTOIR's bestsellers in this section, according to Antoine, are Chase the Spices, The 79s (Reblochon Cheese, potato, caramelised onion and bacon) and the Khao San Road.
For those who prefer classic French flavours, O COMPTOIR also has the Classic Galettes menu consisting of, for example, The Em (Emmental cheese), Veggie Diet (Emmanuel cheese, sunny egg, ratatouille) and the bestselling Menage a 5 (Emmental cheese, ham, sunny egg, mushroom and tomato)
Crepes
O COMPTOIR also has some sweet crepes and rolls to cater to those who want to indulge in their sugar cravings after their meal.
I tasted two of the sweet crepes from O COMPTOIR's menu. These flavours were as follows.
P.S. I Love You ($10)
This flavour of crepe consists of Vanilla ice cream, Home Made Salted Caramel and Toasted Almond. Upon trying this, I must admit that I was completely blown away by the salted caramel sauce on the crepe. It was possibly amongst the best versions of salted caramel that I had tasted to date. It was slightly sweet, and at the same time had a salty hint which balanced each other out quite well without overpowering the senses. At the same time too, I could detect a buttery tang in the salted caramel sauce, that made it feel rich enough to be satisfying, but not to the point of being cloyingly overdone.
At the same time, the salted caramel sauce went really well together with the vanilla ice cream, which was melting onto the crepe, as well as the crunchiness from the toasted almonds and the soft crepe. There were so many different textures to the dessert. And as well, the combination of the flavours really exploded in my mouth and completely arrested my taste buds. In fact I could not get enough of the salted caramel sauce; it was so good that I still found myself scraping out every bit from the crepe even though I had been feeling quite full by this point of the meal.
Keep Calm ($9)
This crepe has a Nutella base and is topped with sliced bananas. I chose this option because I love Nutella. And it did not disappoint. There was a generous portion of the delicious and warm Nutella on the crepe and surprisingly this goes really well with the squishy bananas. I also liked the fact that the Nutella had been heated up when it was served.
This dessert had reminded me to some extent, of chocolate & hazelnut dipped bananas. The rich, sweet flavours went well with the plain crepe and everything tasted delicious together. I must say that this is a simple, yet effective combination.
Other dessert crepes
Antoine had shared with me too, that the Coco Chanel (pear, chocolate, chantilly and almond) dessert was selling quite well at the restaurant, together with their home-made salted caramel rolls.
As O COMPTOIR is a cider bar as well as a creperie, Antoine also encouraged me to try their ciders. He shared that O COMPTOIR manages the wine process from harvest to production and that they do not buy their ciders from mass produced factories. Ciders at O COMPTOIR consist of natural fruit flavours and natural yeast and is thus drier than some mass produced ciders available in the supermarkets.
I tried the pear cider and it was very interesting. Almost immediately, I could taste the freshness from the pear. It had a very refreshing flavour and the texture was slightly dry. Antoine shared that the pear cider consists of 100 per cent pear juice.
On the other hand, for their apple ciders, these consist of more than 65 types of apple and taste wise, he added that drinking these can feel like you are biting into a real apple. Their ciders also have less than two per cent of alcohol.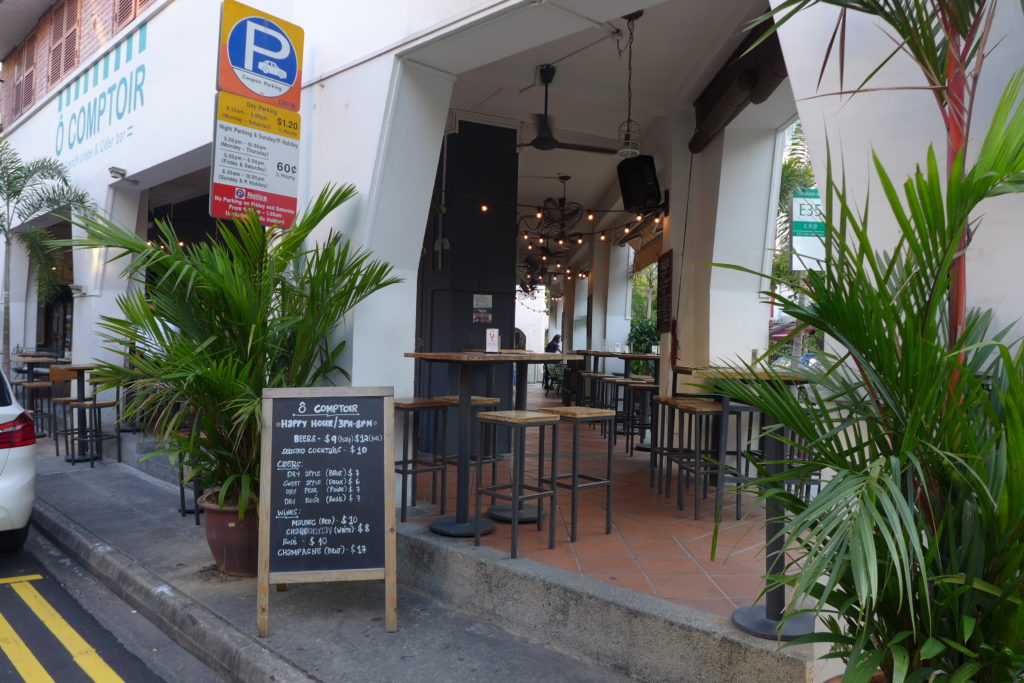 Singaporeans have given positive feedback
And Singaporeans, according to Antoine, have given back positive feedback about O COMPTOIR. He said, "We have feedback from Singaporeans that we are quite good! We also have quite a number of locals here. I think that we have quite a good mix of Singaporeans, French expats and other expats. We generally position ourselves to be a chic and laid back place to be, with a strong focus on the food and the great quality wine and ciders."
Due to their central Clarke Quay location, O COMPTOIR is generally visited by the walk-in lunch crowd in the afternoons and by the drinking crowd in the evenings.
O COMPTOIR Crepe and Cider Bar
79 Circular Rd, Singapore 049433
Opening Hours:
Mon – Tues from 11am – 12am
Wed – Thurs from 11am – 1am
Fri – Sat from 11am – 2am
Sun from 10am – 10pm
Share this page with your friends!