(The Pasta Vista at East Coast Road is now closed.)
A contemporary Italian-Western café, Pasta Vista aims to provide its patrons with a relaxing dining experience, to take away their everyday stresses. Moreover, they also pride themselves on their high quality and customer-friendly service.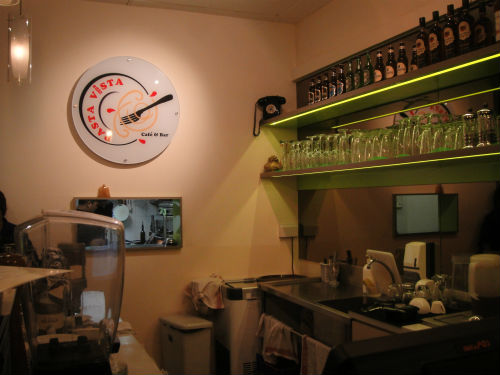 When this cosy café opened along East Coast Road, I wanted to give it a try, because I love eating pasta. I recently got the chance to do so.
The menu
There is a wide variety of pasta on the menu. These include classic favourites such as spaghetti bolognaise and beef lasagne to more unique dishes, like cheesy baked bratwurst sausages with penne and a spicy chicken linguine.
As well, starters such as calamari, chicken wings and popcorn chicken are available for those who want something else to munch with their main course. There are also salads for the health conscious, as well as a small range of desserts such as chocolate brownie and tiramisu for patrons who want to end their meal on a sweet note.
I ordered the cheesy baked bratwurst sausages, while my two eating companions selected a seafood aglio olio and a spaghetti vongole. We also had a popcorn chicken for appetiser and a molten chocolate cake for our dessert. For drinks, I had a cookie smoothie, while my companions had a hot chocolate and lime juice respectively.
Popcorn chicken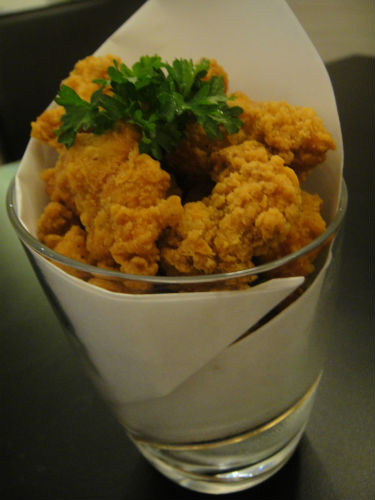 The good thing about this appetiser was that it was served piping hot. Moreover, the deep-fried chicken nuggets were fried till they were golden-brown and extremely crispy. One gripe though, about the appetiser was that the chicken meat was slightly dry. They may have been cooked for a bit too long.
Cheesy baked bratwurst sausages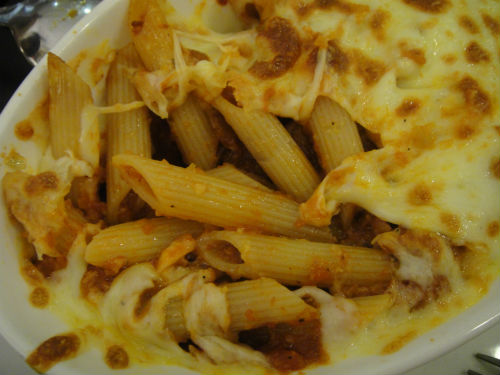 This dish came served with a very generous layer of cheese on top. Because of its stringy texture, I think it was probably mozzarella cheese. Under this, there was a substantial portion of penne and several huge slices of bratwurst sausages.
As for the flavour, it was quite tasty at first, but after getting halfway through the dish, the strong taste of the cheese began to feel a bit too rich. The penne was cooked al-dente and tasted quite delicious though, and it absorbed the flavour of the tomato sauce well. I really loved the bratwurst sausages because they were quite moist and tender.
Seafood aglio olio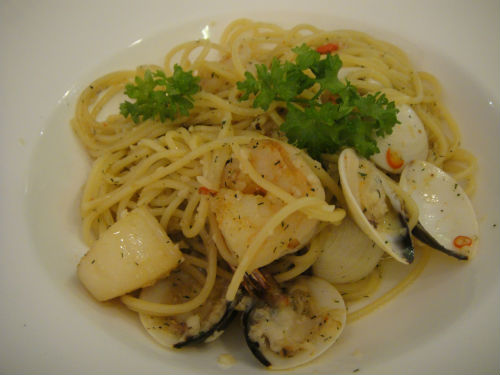 The seafood inside this dish comprised a few clams, two prawns and a scallop, mixed with olive oil.
My eating companion enjoyed this dish and commented that the spaghetti was cooked to perfection. As well, the clams were juicy and weren't overcooked. He also enjoyed the slight hint of spicy flavour in the dish.
Spaghetti vongole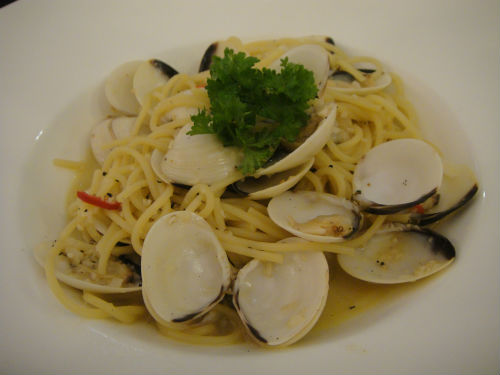 This dish came together with a very generous helping of clams. My eating companion thought the clams complemented the flavour of the pasta very well and she said that the dish had a very nice taste, without being too rich or overpowering.
Molten chocolate cake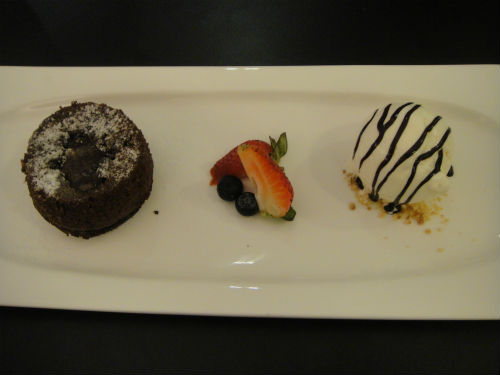 This was probably the best part of the whole meal, even though we had to wait about half an hour for it to arrive, after having finished our dinner.
The presentation of the cake was very pretty. The cake was on the left side of the plate, while a scoop of vanilla ice cream was placed on the right. In between were two strawberry halves and two blueberries, which added to the colour and presentation of the dish.
When I cut into the chocolate cake, the molten chocolate immediately oozed out, which was good. The sponge cake was also extremely warm and moist and when combined with the cold ice cream, the taste was completely divine.
Cookie smoothie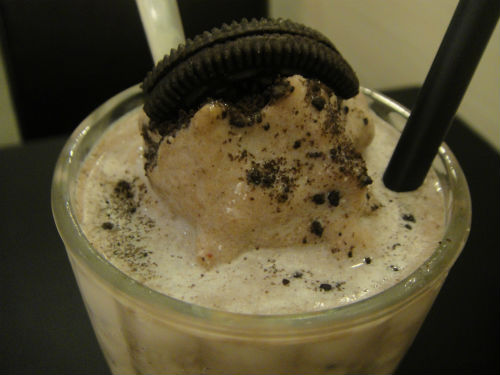 The presentation of this smoothie was quite interesting because of the piece of Oreo cookie sitting on the top of my glass.
As for the taste of this beverage, I thought the grounded-up Oreos inside the drink blended in very well. The beverage packed just enough flavour to satisfy me, but at the same time, it was not overpowering, so that was quite good.
Hot chocolate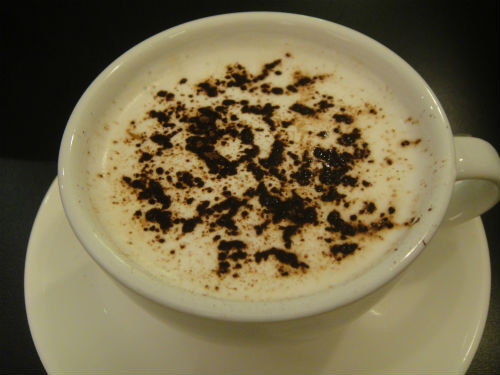 My companion quite liked this beverage and commented that it was just right for her because it wasn't so strong. However, I tried some and I found the taste disappointing, because the chocolate flavour was rather weak, but at the same time, quite sweet.
Lime juice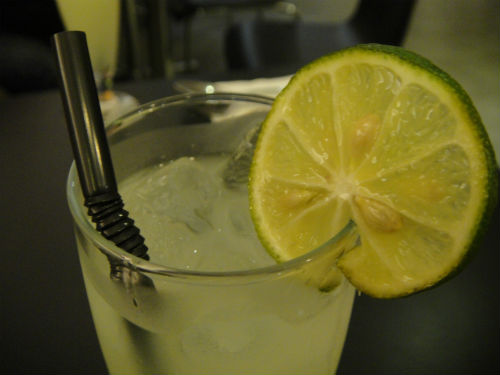 There was a segment of lime placed on the rim of the glass, to add a bit of colour and vibrancy to the drink.
My companion enjoyed this drink, because it was very cool and refreshing. Moreover, the taste of the lime flavour was not too sweet and it provided the perfect end to the meal.
The service
I thought the service here was pretty good. As soon as we stepped into the restaurant, a waitress greeted us in a very friendly manner. She continued to look after us throughout the entire meal and tended to our every request, with a big smile.
My only gripe about the service was that our chocolate cake took too long to arrive – our waitress had promised us that she would put it into the oven when we were halfway through our meal, but she had forgotten to do so, resulting in the long wait for it.
Overall comments
As a whole, I would probably come back to Pasta Vista again, but not to eat the cheesy baked bratwurst sausage dish. The popcorn chicken, yummy molten chocolate cake and the Oreo smoothie are definitely worth ordering again though. I may go for a plainer main course next time, such as the spaghetti bolognaise, because this is not so rich.
Our total bill for the meal came to $72, including GST and service charge.
Pasta Vista
95 East Coast Road
Singapore 428793
6348 9097
Share this page with your friends!