For Team IScream, one of the shortlisted finalists for the 2017 F&N Ice Cream Brand Challenge by Magnolia, the old school ice cream pushcarts are something that they hold close to their hearts.
Said team leader Sally Chin, 21, who is taking a Second Major in Advanced Business Technology at the School of Information Systems, Singapore Management University, "It is definitely something that we hold close to our hearts as we were all once children who patronised these hawkers regularly after our classes when we were younger. It was a good memory that we held of our childhood days, but sadly as we grew up, it was a memory that we left behind as we moved onto new trends."
She added, "We do see that the popularity of these ice cream hawker carts have been declining, and something that is so iconic to Singaporeans should not fade so easily to become just a distant memory that we reminisce to our future generations about. We want to be able to bring our future children and grandchildren to these carts and be proud to say, this was what I grew up with, we hope that you will enjoy them for many more years to come."
Challenge organised by F&N Creameries and the SMU Marketing Society 
F&N's Ice Cream Brand Challenge, organised by F&N Creameries and the SMU (Singapore Management University) Marketing Society, is one of several initiatives by F&N Creameries to help preserve our charming and endearing Singaporean icon, the ice cream cart. The challenge was designed to involve the next generation of Singaporeans to embrace and help do their part to keep our ice cream uncles relevant and independent.
The challenge had called for university and polytechnic students to lead the way in revamping the ice cream pushcart and its business model while retaining the appeal as a national icon, so that loyal customers, curious passers-by and tourists may continue to savour the delightfully local desserts in years to come.
Through the challenge, younger Singaporeans are engaged in playing an important and meaningful role in helping to preserve the well-loved Singaporean icon, while retaining the essence of its appeal. In a competitive market saturated with many players, tapping on the ideas and knowledge of the next generation will enable the economic continuity of the ice cream pushcarts.
Playing the role of a marketing business manager, students were given opportunities to wield their business knowledge and creativity in conceptualising feasible solutions and innovative marketing strategies for the revamp of the pushcarts and its business model.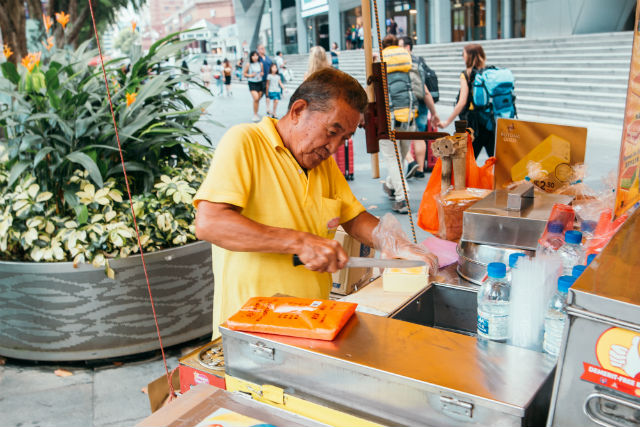 Apart from Sally, Team IScream consists of Hao Tian, 21, an Economics and Business Administration student majoring in Marketing, Sophia Tan, 20, an Accountancy student and Ong Yu Lin, 21, an Accountancy and Business Administration student majoring in Operations Management. All are studying at the Singapore Management University.
Decline of the ice cream cart is a pity
They had decided to take part in the contest because they felt that the decline of the ice cream carts was such a pity. Said Sally, "We are all ice cream lovers and we all loved going to the ice cream carts when we were young. Hence, seeing the decline of the ice cream cart industry is a pity to us and this made the case stand out! The ice cream industry in Singapore is very interesting and we can identify some challenges that ice cream cart hawkers face at the moment. That's why we want to use our knowledge to help revitalise this industry and bring about better business opportunity for our favourite ice cream cart uncles."
She added, "So when we were shortlisted, we were really happy and glad that our efforts did not go to waste."
Their new generation business idea
Their new generation business idea focuses on two stages. Explained Sally, "In a nutshell, our idea focuses on two stages, retaining shared memories and creating new experiences. As many Singaporeans grew up with eating ice cream sandwiches and had many fond memories associated with it, we want to ignite a sense of nostalgia amongst Singaporeans. Our recommendations work progressively from advertising to social media campaigns to forming strategic partnerships to promote Ice Cream Carts as a national icon. The main motive is to increase the engagement with Singaporeans, from gaining their interest through advertising and engaging them through the social media campaigns and eventually, be proud of these ice cream carts as something unique to Singapore, a national icon."
She added, "Apart from a solid marketing strategy, good content must be available to be marketed and we hope to achieve that with the second portion of our plan. We plan to revamp the entire look of the ice cream carts, as well as roll out a revised menu to attract and retain a strong group of customers. To make all of this feasible, we propose a change in business model that will give F&N a stronger presence in the operations of the cart, from standardising the outlook of the cart and the menu, to providing training to standardise the service and food quality, to having an efficient channel to disseminate critical information. All this was done with the goal of building a brand that sets F&N apart from competitors to attract and retain customers."
Confident of their ideas
And they are confident that their ideas will work. Said Sally, "Given the unique demographic of owners in this industry, we have taken feasibility very seriously and have considered many factors before arriving to these recommendations. As most of the hawkers are elderly who lead a modest lifestyle, we have considered their receptivity to new ideas, factors which interest them and also their abilities to carry out the new ideas. Hence we have simplified our recommendations to make it easy for the hawkers."
She continued, "We also consider the overall market outlook and general taste and preferences of Singaporeans as we explore options that creates new experiences. We have done surveys and did field observations to better align our strategies to the current landscape."
The team feels that their creative yet feasible ideas had helped them to clinch the shortlist. Said Sally, "We feel that it is a combination of ideas that are creative yet feasible with a sound flow in the process that allowed for our team to be shortlisted."
Looking forward to presenting their ideas
And her team is looking forward to presenting their ideas tomorrow. Sally said, "We are excited to be able to present in front of an esteemed panel of judges. We are very proud of our ideas as we put in many hours and hard work into finalising those ideas into a plan that we feel is creative and sound and we cannot wait to receive feedback from the professionals in the field to see where we did well and how we can further improve ourselves."
They are confident of taking the win outright, too. Said Sally, "We are confident of our own recommendations and we feel that we stand a good chance to win with our feasible and creative recommendations."
A great learning strategy 
The team also feels that this experience has been a great learning strategy for them. Sally explained, "The learning experience has been great for us, having a diverse team where each member comes from different faculties and majors allows us to contribute our different strengths to the entire process. At the same time, we are able to bounce ideas that we learnt from our different courses of study like marketing strategies, entrepreneurship, pricing strategies and so on and keep each other in check with possible constraints that we may not have thought of."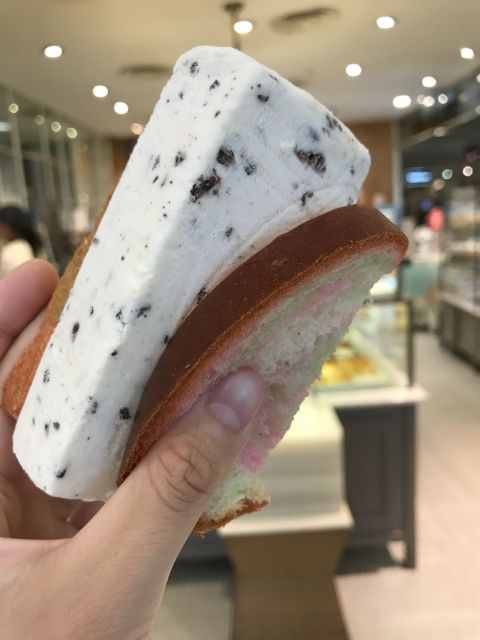 Grand Finals tomorrow: Saturday, 30 September
The other shortlisted teams who Team IScream will be fighting it out against, are Team Jaw, Team Dejavu, Team MBB Consulting, Team Lyve and Team Affogato.
The grand finals will be taking place tomorrow, Saturday 30 September, at the SMU Campus.
All the best to the teams.

Share this page with your friends!