The inaugural Run For Beer 2017 takes place on Friday November 24 at Clark Quay, Singapore's premier nightlife destination. Touted as Singapore's largest beer running event, Run For Beer 2017 will celebrate friendships, bonding and active living through a common love for beer.

A fun social event at the heart of the city
The Run For Beer is organised by Enterprise Sports Group (ESG), the founder of the Cold Storage Kids Run and the Great Eastern Women's 10km Run.
Said David Sim, Executive Director of ESG, "We recognise that there is a segment of people who love beer as much as leading an active lifestyle. We decided to put that together into this social fun event at the heart of the city. Running has always been a popular sport in Singapore and enjoying a good beer, especially amongst friends, is just as loved."
This is the first time that a beer running event will be held and promoted in the heart of the city.
A 3.2km route beginning at Clarke Quay's Fountain Square
The run begins at Clarke Quay's Fountain Square and runners will enjoy a breezy 3.2km route along the Singapore River, showcasing landmarks such as the Raffles Landing Site, Boat Quay and Cavenagh Bridge.
The finish line will bring runners back to Clarke Quay where they will be rewarded with beer and exclusive F&B discounts from the event's merchant partners. Post run activities also include games, band performances and more.
The ideal event for runners to hang out with good friends over beer
Said Sim, "We see Run for Beer as the idea event where runners can hang out with good friends for the perfect TGIF (thank god it's Friday) by getting a simple work out before enjoying the cold beers and continuing to have a great time at Clarke Quay. We also hope to promote responsible drinking with this event and are working closely with event partners to ensure this."
Events Promotes Fancy Dress
Run for Beer also promotes dress up amongst participants, with attractive prizes being given out across five fancy dress categories – Best Dressed Male & Female, Team, Organisation and CEO.
Runner Entitlements
All runners will receive entitlements such as an especially designed event tee, finisher's medal, and special promotions from participating outlets at Clarke Quay including complimentary cold beers, which will only be served to runners after completion of their run.
Said Sim, "We look forward to a strong participation in this event and will like to thank our corporate partners Clarke Quay, American Express and TimeOut Singapore for their support."
WIN Race Slots
PrisChew Dot Com is giving away race slots to the Run for Beer 2017!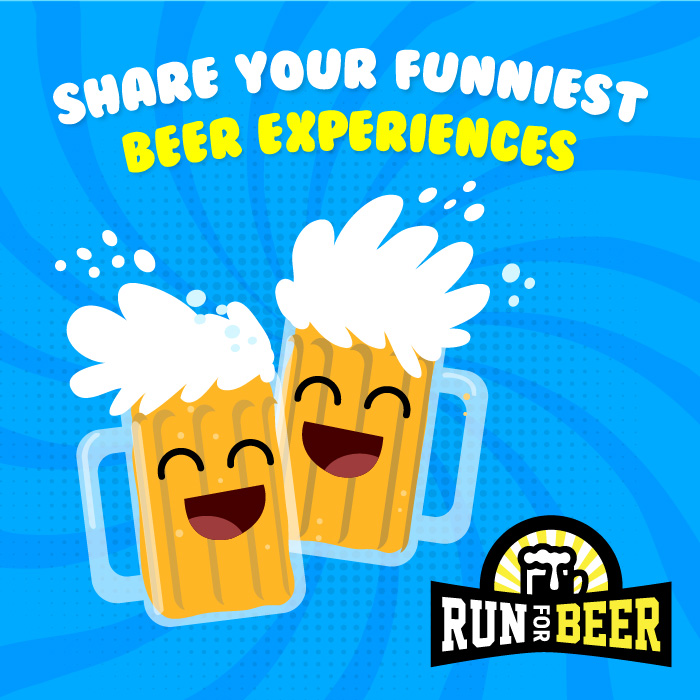 To stand a chance to win, do the following.
Like both

runforbeersg

and Prischew Dot Com on Facebook
Like and Share this blog post
Comment 'Liked and Shared' and Tag the friend(s) whom you wish to bring with you, to Run for Beer 2017.
And share your funniest beer experience in the comments..
The THREE readers with the best answers will each win a pair of FREE running slots for the Run For Beer 2017.
This contest closes at 11.59pm on Friday 15 September. Good Luck!
Registration 
Till 24 September, the registration fees are priced at $45/pax for individual registration and $35/pax for groups of four runners or more.
Special PrisChew Dot Com Discount Code
But readers! You can get an exclusive 10 per cent discount for this run with PrisChew Dot Com's promo code. (See infographic).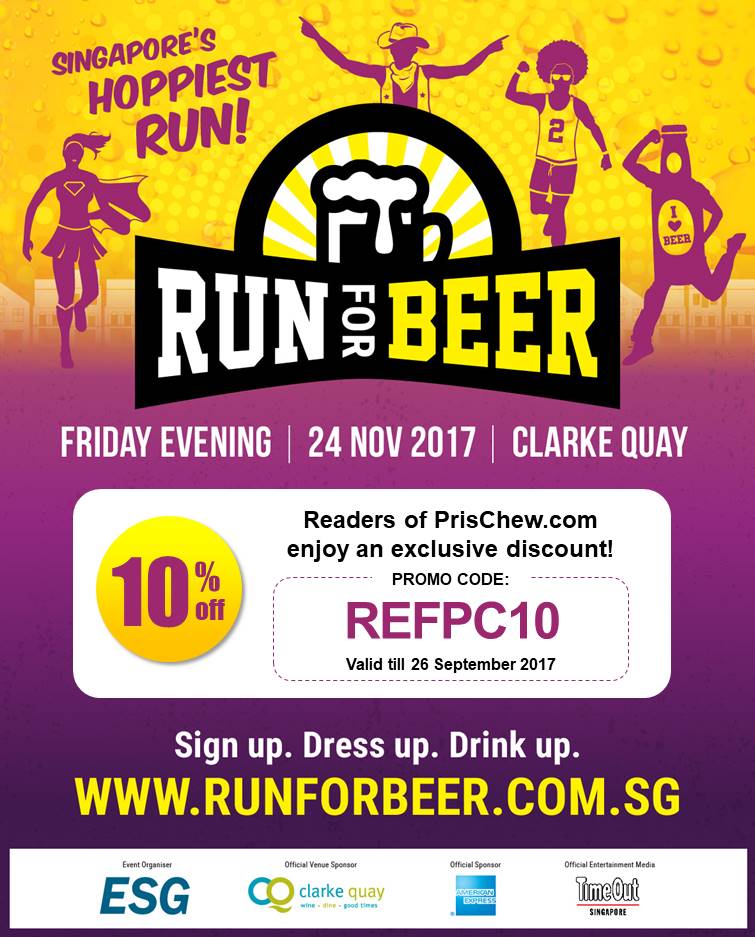 So if you do not win the free race slots, do not fret.
For more details and how you can register for the event, go to www.runforbeer.com.sg.

Share this page with your friends!