If your TV is connected to your PC, you can now navigate your TV in the dark – with the Logitech Illuminated Living Room Keyboard K830.
That's because this rechargeable QWERTY keyboard comprises of backlit keys, a fully integrated touchpad and complete wireless connectivity – to allow you to do your navigating and typing from the comfort of your bed or sofa.
Consumers want an easy way to access their movies and TV shows
Explained Charlotte Johs, Global Vice President of brand development for PC accessories at Logitech, "More consumers want an easy way to access their favourite movies, TV shows, music and photos, with the PC connected to their TVs."
Added Johs, "Our new Illuminated Living Room Keyboard K830 has been designed with this in mind. We have backlit keys and a premium aesthetic, blending perfectly into the living room. As a result, our keyboard is a great choice for people with TVs connected to their PC."
Setting up and using the keyboard
To set up the keyboard, it is very easy. Simply plug in the USB unifying receiver into any USB port on your PC and then slide on the power switch, which is located at the top ride edge of the K830. Then you will be able to control your PC, using the keyboard, to a maximum of 10 metres away. I think that this should be a good distance for the average user.
Besides testing it on my PC, I also plugged in the K830 keyboard on my smart 55" 3DTV and it worked to a tee, with the TV picking up the keyboard almost instantaneously.
Backlit keys and auto-illumination
Indeed, the first thing that I tried out was the illumination feature of the keyboard. Basically, depending on the amount of light inside the room, the keyboard will dim or brighten automatically – once you start typing. As it is pretty intuitive in this aspect, you need not worry about fumbling with these settings by yourself – which may sometimes be quite frustrating for "tech dinosaurs."
In short, I thought this feature is pretty awesome – and a better initiative compared to many other keyboards, which typically feature keys to adjust the brightness, manually.
Compact and light keyboard for typing
At the same time, this is a very compact and light keyboard and I found the regular-sized chicklet keys to be very soft and comfortable to type with. As well, I think it is good that the keyboard does not create too much noise when typing, so this will not cause any needless distractions as a result. The size of the keyboard is just right too – though it is a full-sized keyboard and not a condensed one, it does not feel clunky at all in the hands.
As well, it is also a very responsive and intuitive keyboard and this simply makes it a joy to type with. It is something that I can easily see myself using more often.
Built-in Track-Pad
I also liked the fact that there is a built-in track-pad for navigation, to avoid the hassles of carrying both a keyboard as well as a separate mouse. The track-pad, like the keyboard, is also pretty responsive and intuitive to use, and double-clicking to use the track-pad was a pretty easy affair as well – which is good.
Battery
According to Logitech, the battery life is expected to last about 10 days on a full charge – if the keyboard is used for two hours per day. So far, since fully charging the keyboard a few days ago to use, I have not had to recharge again. So I think that the battery life is quite good.
Overall Comments
In short, if you have a PC connected to a TV, or a smart TV that you wish to use to surf the Internet and watch YouTube videos, then the Logitech Illuminated Living Room Keyboard K830 is definitely a good investment.
It will set you back at S$139.00 (or US$99.99) each, but I think that the price is well worth it, for the features that you get from this keyboard.
Keyboard Specifications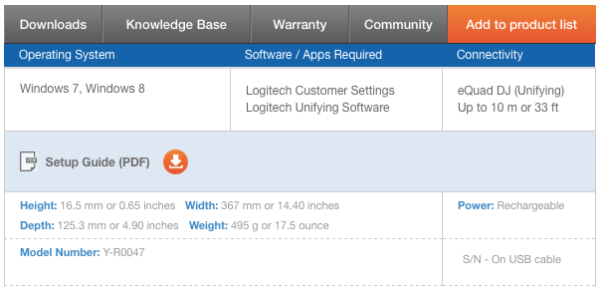 Thank you Logitech for giving me the opportunity to test the K830 keyboard.

Share this page with your friends!