Home-grown brand Pearlie White® has recently announced its latest oral care product – The Real Red® toothpaste. This is the company's most affordable variant to – date, retailing at SGD3.95 per 138g tube, and delivers on the company's promise to produce high-quality made-in-Singapore oral care products accessible to value-conscious customers.
Toothpaste does not contain any harsh chemicals
The toothpaste, according to Pearlie White®, does not contain any harsh chemical ingredients like sodium laurel sulphate, saccharin, paragons, triclosan and artificial colouring. In addition, the packaging bears the iconic Singaporean Lion symbol – to reflect the true Singaporean nature of the product and its origins.
Said Andy Ong, Managing Director of Pearlie White®, "We have a guiding motto to be a brand that is made in Singapore – for Singapore, by Singapore – and a brand that Singapore can trust. The Real Red® is an extension of that thinking – value-focused range of products that are developed and made locally, with un-compromised quality."
He continued, "So in marketing such a product, we felt that we should maintain those same principles – that it is genuinely made in Singapore, by Singapore – for Singapore, without any unnecessary additives."
Local photographer captured Real Singapore smiles
As part of their marketing campaign for the toothpaste, Pearlier White® commissioned notable local photographer Chia Aik Beng to capture real smiles on the streets of Singapore – and his images are the centrepiece of Pearlie White®'s launch campaign for The Real Red®.
Chia was heartened to learn, through this project, that Singaporeans smile because of acts of kindness displayed between strangers – and was heartwarming for Chia to find out, that the people's smiles will be celebrated by a home-grown commodity shared by fellow Singaporeans.
Trying out the toothpaste
I received a sample of The Real Red® Toothpaste – together with a personalised toothbrush (with my name printed on it) and a rinsing cup. I thought this was a very interesting initiative.
On opening it, the toothpaste is covered, with a tight aluminium foil covering the opening, which may make it a bit hard to start using – but at the same time, this ensures hygiene and cleanliness. With this, you know that you are getting a brand new product.
The toothpaste comes with a rather strong mint flavour, which leaves a lingering minty aftertaste in the mouth – even after rinsing. This gives me the feeling that I have brushed my teeth really well.
Where to purchase the toothpaste
The Real Red® toothpaste can be found at all major department stores, personal care stores, pharmacies, supermarkets and on the Pearlie White® website (www.pearliewhite.com).
The product description of the Pearlie White® Real Red® toothpaste is shown below.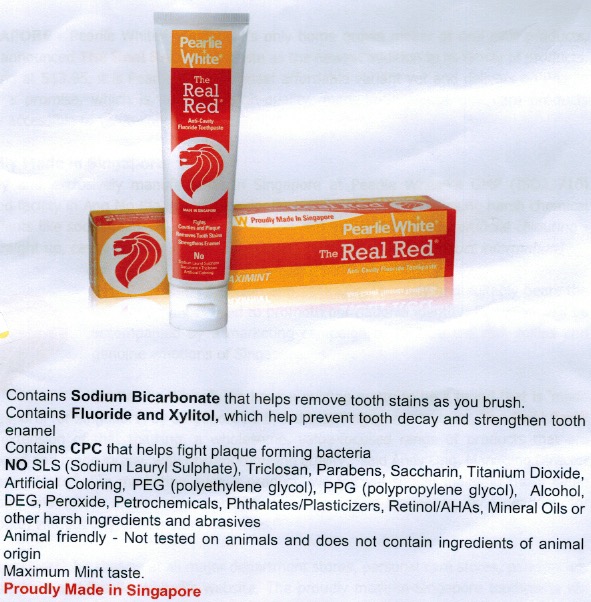 Share this page with your friends!