At the new Arsenal Puma kit launch 2014/2015, Sol Campbell was the guest of honour. Read on to find out what Gooners asked him at the Question & Answer (Q&A) session.
Ex-Arsenal player, Sol Campbell, who was a core member of Arsenal's Invincibles campaign in the 2003/2004 Premier League season, was in town last night – to help launch the Gunners' three new kits from Puma.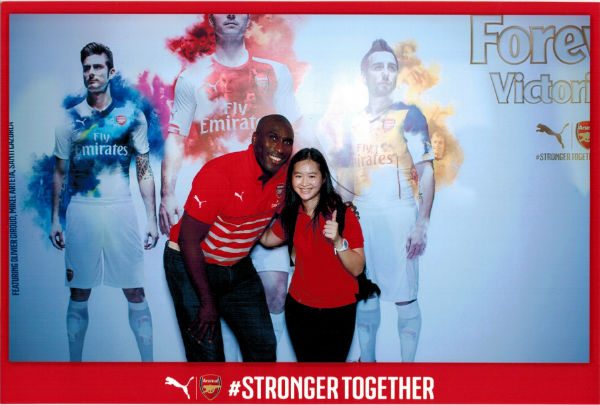 To celebrate the launch event, local Arsenal fans were invited for a meet-and-greet session with Campbell. At the event, there was a short Q&A segment too, for fans to find out more about the former Gunner star.
Here are the Q&A highlights.
You joined Arsenal in 2001. What was it like on the first day at the club?
It was really fantastic – playing for Arsenal is a fabulous experience. Arsenal is one of those clubs, with a global fan-base from all around the world. It is the most multi-cultural club in the world and I feel very grateful to have played for them.
It was a tough start for me to go from Tottenham to Arsenal at the beginning, but I believe in football and Arsenal manager, Arsene Wenger, is a fantastic philosopher when it comes to football. I believe in the dream, and winning the Double in the first year was fantastic for me. You can't get better than that.
Can you tell us an interesting dressing room story?
What goes on, stays on in the dressing room. You can't be going to that level and I'm not going to sink myself down to that. I didn't see anything, and that's about it!
You spent nine years at Tottenham. What does it feel like to finally win the league at White Hart Lane?
I know that for most Arsenal fans, winning the league against Spurs was definitely the best feeling in the world.
For me though, during that particular Barclays Premier League season (2003/2004), going unbeaten, as well – was a great achievement too. But before I joined Arsenal, I was a Spurs player. So yes, I had to be very professional (after the win). I could have easily run down the ground at least about 50 times but you know, I have humility and that's what you need sometimes – in the greatest events. I went off the pitch and I came back on and celebrated with the Arsenal fans in the corner.
But for me, it was exhilarating and tough and I think I have dreamed about it as a young football player on the streets, but to win it (the Barclays Premier League) was probably the best moments of my life as a football player.
Of all the players that you have played with, who do you think was the greatest and why?
There were several. I can't really put my finger on it, but as a double act, it was Thierry Henry and Dennis Bergkamp. As players, they were fantastic – strong, quick and full of class – from top to toe.
We also had other great players like Patrick Vieira and Robert Pires and we scored some wonderful goals and that is the beautiful thing about Arsenal. We also played tough, fair football and we all had that winning mentality – without sacrificing beautiful football!

Click here to read all about the new Arsenal Puma kit launch.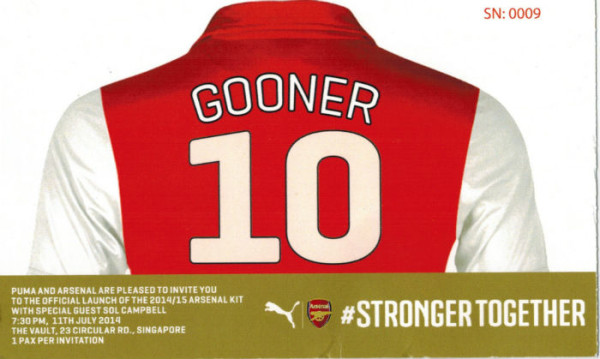 Other Blog Posts
Be A Gunner. Be A Runner. An Arsenal Charity Run.
What didn't you know about Aaron Ramsey
Share this page with your friends!