F&N's Ice Cream Brand Challenge, organised by F&N Creameries and the SMU (Singapore Management University) Marketing Society, was one of several initiatives by F&N Creameries to help preserve our charming and endearing Singaporean icon, the ice cream cart.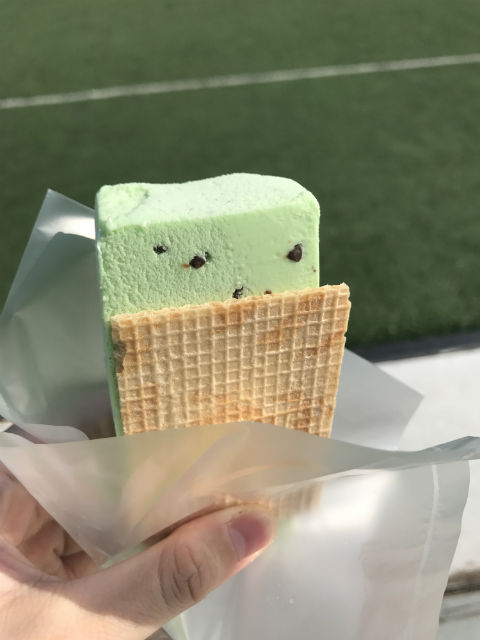 Challenge concluded last weekend with Team LYVE as the winner
The challenge, which had concluded last weekend with a presentation and conference at the Singapore Management University, had been designed to involve the next generation of Singaporeans to embrace and help do their part to keep our ice cream uncles relevant and independent.
Team LYVE had emerged as the winner of the F&N Ice Cream Brand Challenge. The team consisted of team leader Yeo Khee, 24, a Bachelor in Business Management student majoring in Marketing and Corporate Communications, as well as Ethan Hu Jiayu, 24, a Bachelor in Business Management student majoring in Marketing and Analytics, Thio Yun Rui Lester, 23, a Bachelor in Business Management student majoring in Marketing and Corporate Communications and Lim Yu Qian Vivian, 22, a Bachelor in Business Management student majoring in Marketing & Strategy. All are from the Singapore Management University.
Their win has yet to sink in
But for Team LYVE, their win has still yet to sink in though. Said Vivian, "To be honest, the idea of us having won the challenge hasn't really settled in my head yet. It still feels quite surreal that we've won the challenge over others, even though many of the teams have also contributed really good and creative ideas. I definitely feel humbled and thankful for having our ideas recognised by the judges."
Added Lester, "It's unbelievable. We had decided to take part in this competition for the experience and to end up winning it was truly unexpected. We worked hard and am glad our efforts paid off. It was a close final with many teams showing their qualities too, and we hope the ideas shared by the various groups, can help F&N and the ice cream hawkers."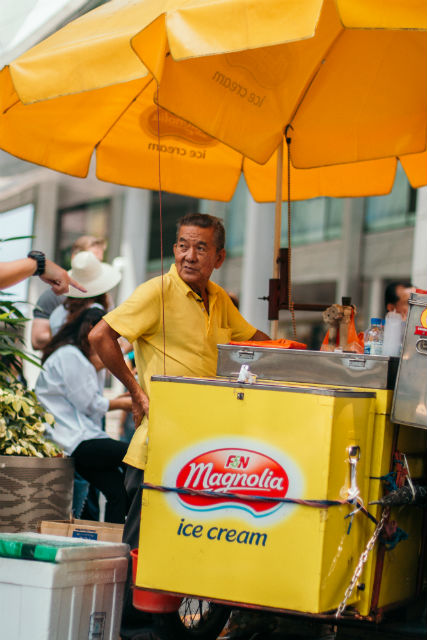 The win had also been completely unexpected for the four members of Team LYVE. Said Vivian, "I definitely did not expect us to win the first prize, since it's my first time joining a case challenge and the fact that we'd even made it that far into the challenge. I'm very proud of myself and our team."
Added Lester, "We joined it for the experience and when it was announced that we got into the finals, we decided to bring our collective effort to another level in hopes of at least finishing in the top three places, but to end up winning it, was a pleasant surprise."
University and polytechnic students had a chance to revamp the ice cream pushcart business model
The F&N Ice Cream Brand Challenge had called for university and polytechnic students to lead the way in revamping the ice cream pushcart and its business model while retaining the appeal as a national icon, so that loyal customers, curious passers-by and tourists may continue to savour the delightfully local desserts in years to come.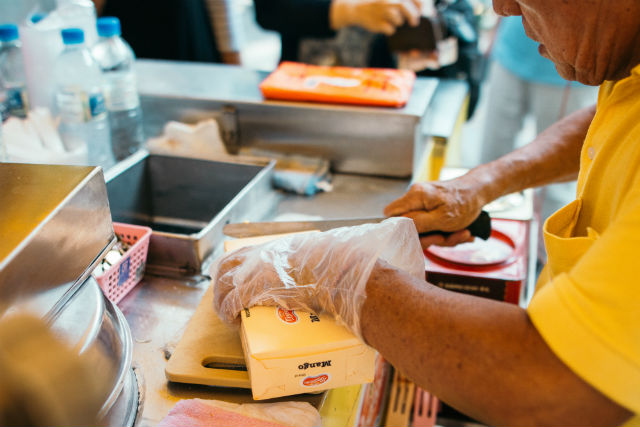 Through the challenge, younger Singaporeans had been engaged in playing an important and meaningful role in helping to preserve the well-loved Singaporean icon, while retaining the essence of its appeal. In a competitive market saturated with many players, tapping on the ideas and knowledge of the next generation will enable the economic continuity of the ice cream pushcarts.
Team LYVE have strong memories of the ice cream push carts
Team LYVE had been drawn to take part in the challenge because the ice cream push carts had been part of their childhood, and they didn't want to see them die out.
Explained Vivian "These ice cream push carts were a part of my childhood growing up, and recognising that these carts have become part of a sunset industry does tug at my heartstrings a little, and brings a sense of nostalgia in me. So we hoped that by joining this case challenge, it would help these uncles in some way through boosting awareness amongst others of their existence, and prevent this good old tradition from fading out."

They also love eating ice creams
It also helped that the students themselves had a soft spot for eating ice cream, too.
Said Ethan, "Ever since I was a kid, ice cream has been my comfort and indulgence food to wrap up a long day. My favourite flavour would be lime! Perhaps because that is my go-to as a child and therefore holds the strongest reminiscent value."
Added Vivian, "I love ice creams too and my favourite is the attap seed one. The flavour is really unique and even though the colours look like a blend of strawberry/chocolate, it tastes different. Plus the fact that it's not often listed on the menu, makes it feel even more special."
Their new generation business idea
Playing the role of a marketing business manager, students were given opportunities to wield their business knowledge and creativity in conceptualising feasible solutions and innovative marketing strategies for the revamp of the pushcarts and its business model.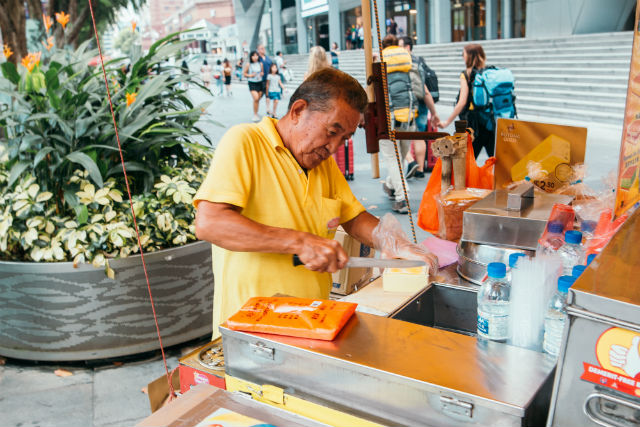 What was Team LYVE's new generation business idea? Explained Vivian, "Our new generation business idea would be first, have a method of tracking the location of these ice cream carts around Singapore through the use of a GPS tracking system as well as a Facebook chat bot system. Next would be our new model design of these carts to revitalise their image."
She added, "Following that, we'd increase the exposure of these carts among both Singaporeans and tourists through collaborating with numerous local brands, such as The Smart Local, Singapore Tourism Board and so on. Lastly we hope to introduce solar technology into these ice cream carts to improve the current cooling system of just using dry ice to cool the ice cream and at the same time, take a step forward into being eco friendly."
Their creative ideas clinched their win
Team LYVE think that their creative and out of the ordinary ideas had impressed the judges. Said Vivian, "I believe our idea of transforming these carts to become more eco friendly through the use of solar tech was something novel to the judges. I think trying to incorporate such technology may like a seem farfetched idea, especially since even some businesses out there are not willing to take the risk due to how costly it commonly is. However our group decided to take a risk to push for this idea, and who knows? Perhaps other businesses may even follow the footsteps of these ice cream carts, should they actualise!"
Added Ethan, "For our long term strategy, we took a leap of faith and proposed a more visionary idea, that is, eco friendliness, in the direction that we believe would be very relevant in the years to come. But we also placed a great deal of emphasis on the feasibility of our recommendations, taking into consideration the real world factors that may concern businesses."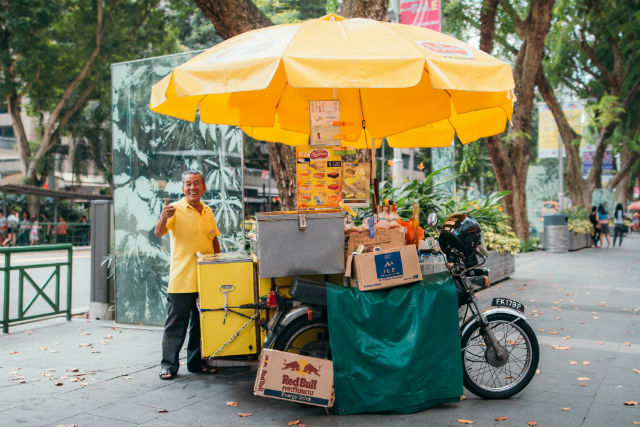 Honoured to see their ideas implemented by F&N
Should their ideas be implemented, Team LYVE would be honoured to see it happen. Said Lester, "It would be a huge honour should F&N choose to implement our ideas. We set out with the aim of helping these ice cream hawkers and to see our suggestions come to reality would be really amazing. We hope that these measures suggested will be able to successfully help them."
Added Vivian "It'll definitely be cool to see our ideas actualise! And we hope our ideas would help to improve the ice cream carts business and continue as a traditional icon that's uniquely Singaporean."
Have learnt a lot from the experience 
Nevertheless, whether their ideas do actualise, the team have learnt a lot from taking part in the F&N Ice Cream Brand Challenge.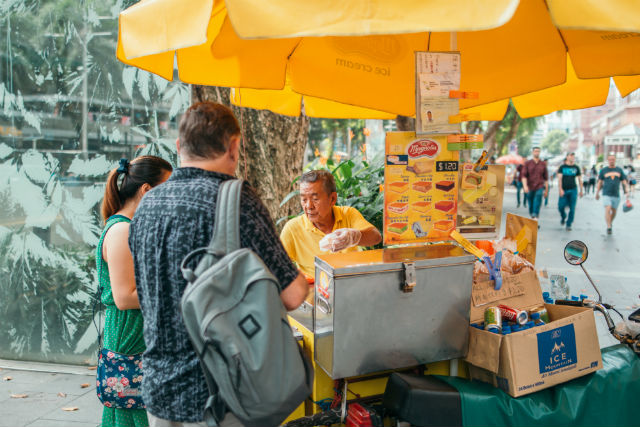 Said Lester, "The overall case competition experience gained and finding out more about these ice cream hawkers and their experiences is something that I will take away with me. Usually we will only go to the carts to purchase ice cream but we don't know what happens behind the scenes or the timeline of events, before he starts his or her business for the day. It's been an enriching journey."
He added "Not only did we learn from the experience of taking part in a case competition, we learnt more about F&N and the ice cream hawkers' industry as well. It was certainly fun working together with my team mates and we will remember this for a long time."

Share this page with your friends!