Football is typically seen as a "male game", but nowadays, some females are certainly bucking the trend and showing a passion for football.
I recently caught up with one of these football-loving females. She is June Ng, an educator, and she is passionate about her football and English club Chelsea FC. 
June, what originally made you interested in watching football?
My brothers, free-air-matches, and the adrenaline rush. I started watching football during the 1994 World Cup, which Brazil won. At that time, football in Singapore was still aired on free TV (Channel 5), so that made football (especially premium, high stakes ones) very accessible. My brothers alerted me to it, and we enjoyed the matches together. In addition, the quality of play in the World Cup was so good that I got hooked on football. I also love the adrenaline rush when you are not sure if a goal will happen or not, yet you're happy it will, because you can then shout, "GOAL!"
How often do you catch football games?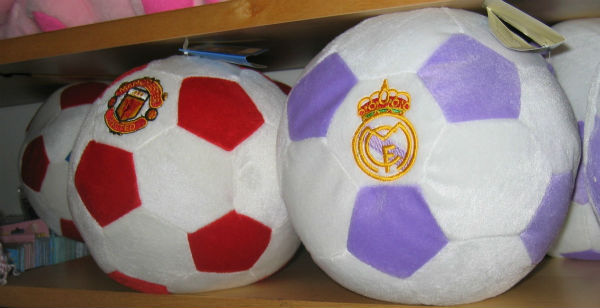 Before I subscribed to paid-TV, I only watched high-profile matches that were on Channel 5, such as the opening match of a Euro, or World Cup. However, after I subscribed, I was catching football every weekend, in the comfort of my home. I will also catch high-stakes matches in the wee hours of the night if there is one (mostly finals of international cups).
What is your response to guys who claim that girls simply watch football for the "eye candy" and don't actually have any interest in the game?
My response would be to put on a facial expression to show that I am feeling insulted (which I have done many times). That is actually a sweeping statement, and it certainly does not apply to me. I began watching football at a young age, and have always been more interested in shouting "GOAL" than anyone else. I do not follow players or managers though. I am more concerned about watching beautiful teamwork and great footwork, that will ultimately lead to goals.
Why don't more girls follow football?
Good question. I don't know! I can't understand why the overwhelming majority of my female friends are simply, completely uninterested in football, because football is such a wonderful and ecstatic affair!

Maybe, let me give you my mother as an example. She often asks, "what is so nice about 22 men running all over a patch of grass, chasing after a ball? Don't you find it silly?" She has been asking my two brothers and me the same two questions, for some 20 years now. People on the opposite side of an equation will always find each other weird.
Would you play football yourself, if you had the chance?
Professionally? No. I am not cut out for high-stamina sports. For recreation, yes, provided the people who play with me do not find an inexperienced and slow player (i.e. in running) a big nuisance.
Who do you think will win the

Barclays Premier League

(BPL) title this coming season and why?
That is too logical a question for me to answer. I am not good with analysis because I do not read the history of clubs, and I do not follow football news widely. I am in for the match, not the clubs, managers, or players.
Who is your all-time favourite football player and why?
Hmmm… … Again, I am not a player-type of fan. But just to name one, Didier Drogba, because of his achievements outside of football. This TIME Top 100 People of the Year (2010) man, has done so much for humanity, and completely deserves the adoration of people, whether football fans or not.
I could have said Oliver Kahn, Zinedine Zidane, or Lionel Messi, but no, it has to be Drogba.
Which

football

club do you support and why?
Chelsea, because that is the club I watch the most. I think it is a case of familiarity breeds love. I watch the Premier League with my husband, and the only channel that is on at home every weekend, is the one that features a Chelsea match. I do not tune in to any other channel, so I know very little about clubs other than Chelsea. My husband has been a Chelsea fan for more than 20 years, well before Mourinho's stronghold era. And I am proud that he is such a loyal fan. It says something about Chelsea, that the club is not just all about money and young top-of-the-league players.
What country do you support in football?
I support Germany, and at times, Brazil.
I support Germany because I like their style of play. They have been very solid over the years, because they are powered by a well-developed youth academy, which has always produced talents in all positions on the field – that works well in a big team of eleven. I also admire their grit and intelligent play.
As for Brazil, they have beautiful footwork, and of course, because they are winners!
How long have you been supporting Chelsea for?
That's easy. For as long as I had mioTV –  which is two years.
Who is your favourite Chelsea player?
Oh no, this is a difficult question. I think all of them are very good team players. I will name the first player I ever really like – Petr Cech. I think he is very committed to Chelsea, and he always gives his 100%. He never complains about being tired although he pretty much appears in every match, much like Brazilian Oscar dos Santos Emboaba Júnior. He also knows how to motivate the players, despite being somewhat stuck between the poles. He is an inspiration to me because he is so brave. I would like to give honorable mentions to Juan Mata, Eden Hazard, and Frank Lampard (Super Frankie Lampard 8) too.
Any player(s) that you think Chelsea should sign before the transfer window closes and why?
No. Partly because I do not follow football news and partly because I think we have got awe-inspiring players in every position already, and the current play is great because it gets us goals. I will not give up any of them, so I do not want others to come, and possibly replace them. Not now. What we needed was a manager, and then we got the Special One (Jose Mourinho)…
More football posts to satisfy your hunger!
Share this page with your friends!