An interview with florist Joey An
Kitchenware. Glass plates. Vegetables. These are just some of the unusual items that are used in floral arrangements by Joey An, in her part-time work as a florist.
Joey, a former procurement engineer, has a passion in flower arrangements.
Find out more about 32-year-old Joey's work with flowers.
Joey, how did you get interested in flower arrangements?
It was when I took up my wedding planner course after I graduated from University.
I become aware that flower arrangements are a must when you want to link up everything from events to weddings.
I started learning flower arrangements in early 2011 and I liked the creativity in finishing the whole arrangement. I had a real interest in this, so I teach and sell flower arrangements and I have an online shop called "Florentino Gifts" which I team up with a flower shop.
What types of arrangements do you do too?
I do all types of arrangements, depending on the customer's requirements. Normally, I love to do the vertical style (one with an up and down focus) as it is the most easy and simple one to do, but interesting at the same time.
What's the most popular type of flower arrangements nowadays?
The most popular arrangements at the moment are the vertical and parallel shaped ones. Floral arrangements are classified according to their shapes, such as the vertical and round ones, the "S" and "L" types and the parallel and triangle shaped ones.
Most people do not really appreciate the nature of the flowers so they will judge the beauty of the arrangement based on the overall outlook.
Is it best to use real or artificial flowers? What are the most common flowers used nowadays?
It is always best to use real flowers as they are more lively and vibrant. Artificial flowers tend to collect dust over time and the colours will turn dull. The most common flowers used nowadays are roses, carnations, gerbera and some necessary fillers such as sweet william and golden phoenix.  These are all commonly used as they are relatively cheap.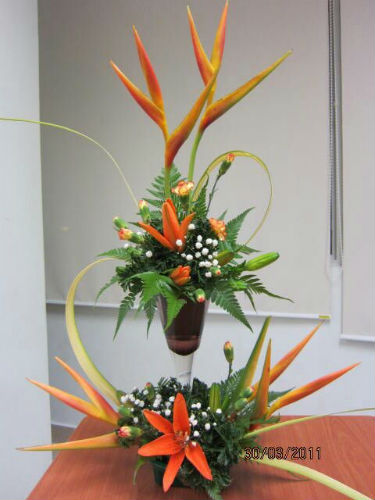 When selecting a floral arrangement, what should a person tell the florist?
A person should tell the florist what are the specific types of flowers that they prefer. They also need to tell the florist what the purpose and the occasion is, so that the correct types of flowers will be used.
What are the most popular colours and flowers used for wedding bouquets now?
Most brides prefer elegance and sweetness when selecting their wedding bouquets shown.
White lilies, white roses, pink gerbera and even tulips are still trendy for wedding bouquets.
What tips can you give to brides on how to choose their bouquets?
The cost of flowers needs to be budgeted properly.
For example, I met a bride once and she had only S$50 to cover both the hand bouquets and wedding car decorations. For six roses plus baby breaths, it costs at least S$70, so you must provide a reasonable budget for flowers. Also the theme of the weddings is important. If the theme of the wedding is white, I will suggest something simple and elegant for the bouquet.
I know that for one of your flower arrangements, you use coconut leaves. Is this using fresh leaves and what gave you the inspiration for this?
Yes, this is using fresh leaves. And what gave me the inspiration was that I was in need of leaves at the time but couldn't find any. I walked around and discovered that there were many leaves available on the trees outside and thus decided to make full use on it.
For this coconut arrangement, you also make use of a glass plate for your base. Do you often make use of kitchenware and food for your arrangements?
I dig out any kitchenware to explore if I can make full use of the utensils. I have even tried out vegetable arrangements.
Normally, my bases are simple. I use round containers, sometimes a rectangular container and then start my arrangements from these.
Is flower arranging becoming more popular now in Singapore?
Yes, and I personally feel that hand bouquets are very popular – compared to table flower arrangements. People order hand bouquets from me 90% of the time. Table flower arrangements are widely used in offices as decorations, though.
Where can you learn about flower arrangements in Singapore?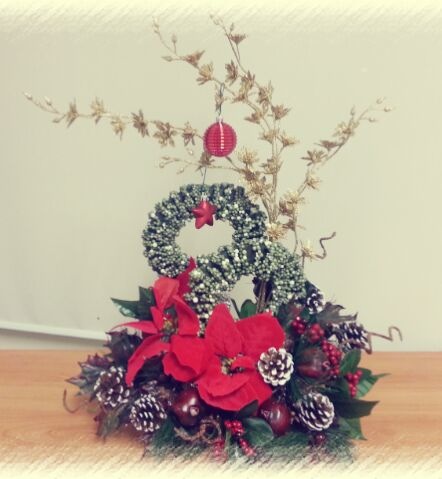 There are many places to learn about flower arrangements. One of the popular places is the WSQ (Workforce Skills Qualification) Centre where they teach you the basics of setting up a business and also gives you the basic knowledge for flower care.
Alternatively, you can sign up at any community centre under ONE PA.
Some flower shops also conduct private lessons.
You can also self learn by buying some flower arrangements books at Kinokuniya. It is also good to exchange pointers with your former classmates and look at their artwork too.
Get tips from Joey: Click here!
Contact Joey at Joey_an28@yahoo.com.sg if you are interested in flower arrangement for your wedding, birthday or any other special events.
*All photos in this article reproduced with permission from Joey An
Interested in my other interviews?
Share this page with your friends!