What sort of a one day cruise in Singapore can you get for $43?
Apparently you can get a one day cruise in Singapore with delicious buffet meals, a free gym, singing performances, massages and foot reflexology – all available in a single package. There is also the attraction of a casino on board.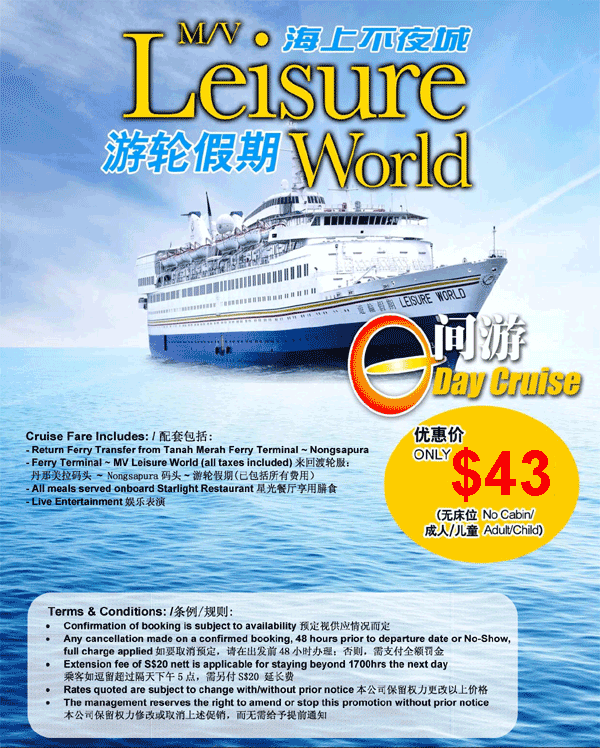 This is according to 25-year-old Justin Lee, who went on a one day cruise in Singapore recently. MV Leisure Cruises organized this one day cruise in Singapore to nowhere – sailing in the open sea connecting Malaysia, Singapore and Indonesia.
I caught up with the IT engineer to find out more.
Justin, what made you decide to go on this one day cruise in Singapore?
I have never been on a cruise before, so I thought that it would be cool to do something different. I am always excited to try out new things.
How crowded was your cruise?


There were about 300 people, but it didn't seem too crowded and was just nice. Maybe the only time I had noticed the crowds, was during the buffet meal times, when there were very long queues.
What were the passengers on the cruise like?
The people were friendly and was a mixture from different age groups. During the queuing for food though, the crowd may get a little rough. Sometimes I chatted with fellow passengers during meal times. They do respond in a friendly way when I talk to them.
What activities does the cruise have?
The MV Leisure World Cruise operates primarily as a casino for passengers, but I find that it is fun for non-gamblers too, because there were other interesting activities to do.
Besides the relaxing view of the sea, you can look forward to a complimentary buffet meal four times daily, free gym access, and a singing performance of Mandarin, Cantonese and Hokkien songs (similar to ge-tai) in the afternoon. There are also services available like a salon, Indonesian massages ($25 per hour), thai massages($50 per hour) and foot reflexology ($15 per hour) on board.
How was the casino?
I spent about 30 minutes there – and watched people playing with the slot machines. I didn't really try my luck there, though.
What was your favourite activity on the cruise and why?
Watching the live performances – the songs were a bit old but the renditions were excellent!
What was the food like? Did you like it?
The food was average, but the buffet experience was enjoyable. The whole package was really so economical that you can't complain too much about the food – which had a good spread of tasty dishes, including seafood.
As a whole, did you feel as though you had a good time?
Yes, the experience was good for the price. Cruising on water definitely does wonders for your body and soul – and it's so peaceful and relaxing.
Would you go on the one day cruise in Singapore again?
Yes, but I would like to try other cruises – and experience what they have to offer.
Prior to boarding, what were your initial impressions about this cruise?
I thought the ship would be much bigger – compared to the ones I see at the Harbourfront ferry terminal, so I was quite surprised at the smaller ship.
Did the actual experience meet your expectations?
Yes, at $43 for the one day cruise in Singapore, I participated with a lower expectation – and was quite happy with everything. It was good value for the price I paid.
What tips would you give to those who are going on a one day cruise in Singapore?
Be early! The view is much better during the day. The best time would be to leave the one day cruise in Singapore around evening time – so that you can see the sun setting.
Love cycling and cruising? 
Here is my review of my 8D 7N Star Cruises Cycling-Cruise Trip to Taiwan and Japan in June 2018.
MV Leisure World Cruises
50 Tanah Merah Ferry Road,
Tanah Merah Ferry Terminal #01-22
Telephone: +65 9834 7998 / +65 92957129
Fax: +65 6542 5250 (Attention to Soon)
Email: soonsoon@leisureworlds.com
Operating Hours: 0700hrs to 2030hrs (daily)
Prefer a Luxury World Cruise instead?
I interviewed a passenger on a three-month long world cruise about his experience. To find out more, click here.
Read more interesting interviews!
Share this page with your friends!