Avid trail runners, hikers and trekkers – have you ever wondered what would happen if you take a wrong turn one day – and find yourself alone , lost and stranded, as well as fast running out of water and food?
Watch doubles up as an emergency satellite beacon on your wrist
Now, with the Breitling Emergency II, you will no longer need to panic – when you find yourself lost – and there's no reception on your smartphone. That is because this Swiss-made watch – which has recently been launched here in Singapore, doubles up as an emergency satellite beacon… which you can simply strap onto your wrist for easy access.
The watch is like insurance
If there is a catastrophic emergency, the main function of the watch is to alert the SOS services in the country that you are in. To contact the SOS services, you would just pull the antenna of the watch to send out a signal to a low altitude satellite in space – which would then send back accurate search and rescue data to the search and rescue agencies help find you. It has an 18-hour dual frequency transmitter – which should be enough time to get the message out to the SOS services and for them to come to your aid.
Said Alexander C. Melchers, 48, the General Manager of C. Melchers GMBH & Co., the agent for Breitling watches in Singapore, "I see the Breitling Emergency watch like insurance. If you go on an adventure and are worried about your safety, the watch will keep you safe and you can rely on it when you need it. Also as a wrist watch, it is something that you will have on you all the time and does not really need you to change the gadgets or devices that you have to take. That is what we really like about it."
Has already saved lives
In fact, the Breitling Emergency watches have already saved lives in the past. One successful search and rescue effort took place in November 2012, when hunter Mark Spencer was lost in the Alaska Range while hunting grizzly bears about 120 miles (193kms) North-East of Anchorage in Alaska. He had been fighting for his life for 48 hours in the Alaskan Backcountry when he was rescued.
The Singaporean traveller can also make use of the Breitling Emergency II
While the watch does appear to be more suited to avid adventurers and explorers, it need not be restricted to this group of people only, though. In fact, Melchers stressed that the average Singaporean can even make good use of the watch when they go travelling.
Explained Melchers, "If you are travelling around Europe for the first time, for example, and are worried that something could happen to you, then this watch may give you some confidence and security. Or if you are a plantation owner travelling to Malaysia or Indonesia to visit your plantations, then this watch will give you security knowing that you can activate a rescue initiative on your own without being reliant on receiving a signal from your smartphone."
Works successfully almost everywhere in the world
Melchers added that the watch works almost everywhere in the world – on the mountains and even when you find yourself stranded in a boat at sea. Off-road drivers or para-gliders can also wear this watch. In fact, about 85 per cent of the world globe has been covered safely by the Breitling Emergency II watch in terms of search and rescue efforts.
Has its limitations
However, he admitted that the watch does have its limitations. Said Melchers, "The watch cannot work at sub-zero temperatures and underwater. So if you are going to the Himalayas, it is a little hard to activate the signal. And it's not a diving watch, because the antenna is not water resistant and cannot touch water. Also, the signal would get dispersed too much in water and so nobody would be able to receive it to rescue you."
But Melters explained that Breitling is looking into meeting these challenges. He said, "Submarines can send signals through water, but then again they have very large transmitters to go through water. It will be very hard to incorporate this into a very small watch. But we are thinking about how to do this, to suit the diving community and saving the lives of divers who drift too far away from the boat. That should be our next project. I am a diver myself, and I have quickly realised that this watch does not serve my purpose in this area."
Technical Specifications
Here are the technical specifications of the Breitling Emergency II watch and the beacon transmitter used inside it. (See Charts).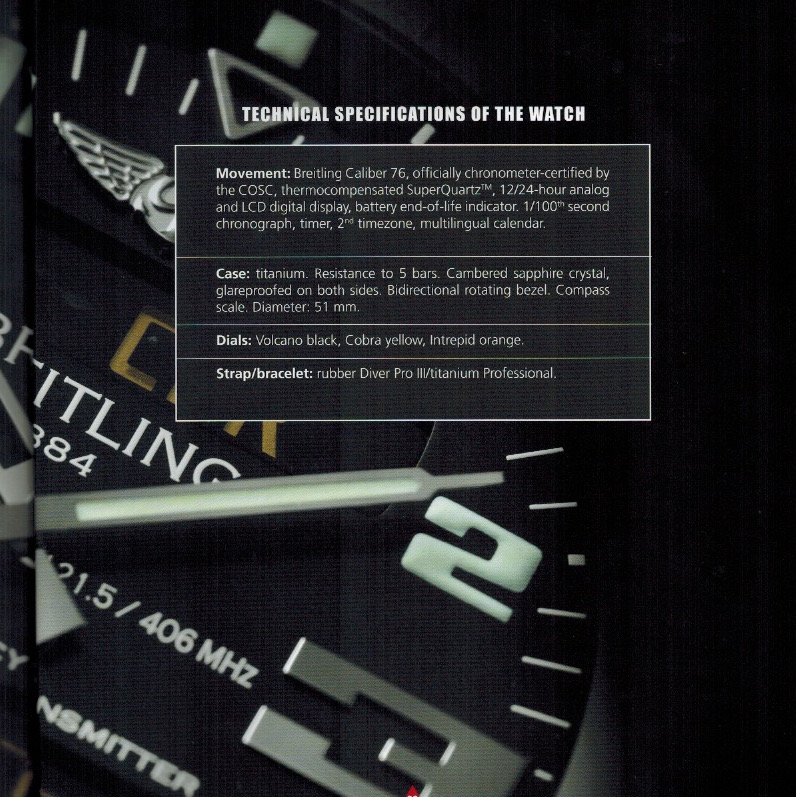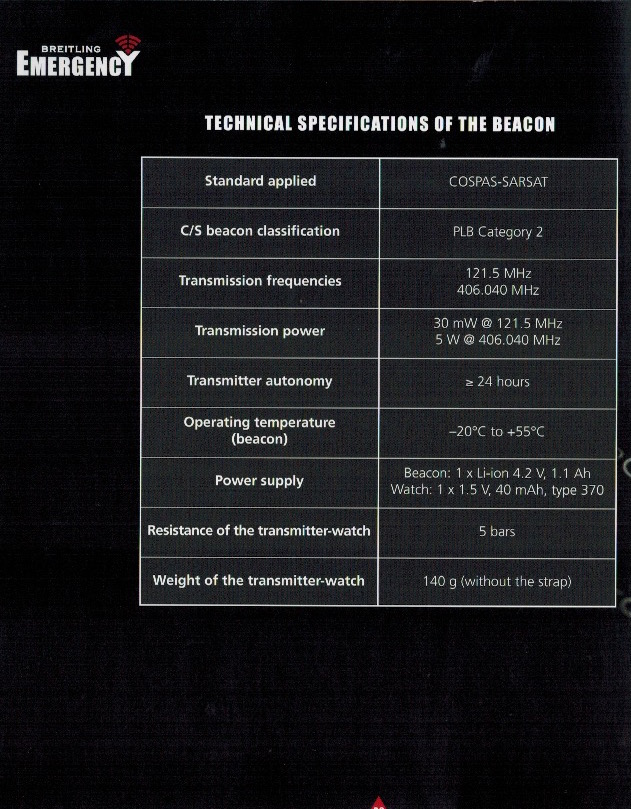 Share this page with your friends!