For the sixth year running, the DBS Marina Regatta is back at Marina Bay together with some brand new experiences and a packed slate of unmissable activities for revellers, as well as fitness lovers and sun enthusiasts alike. These include Singapore's largest obstacle course, which is making an appearance for the first time at the Regatta.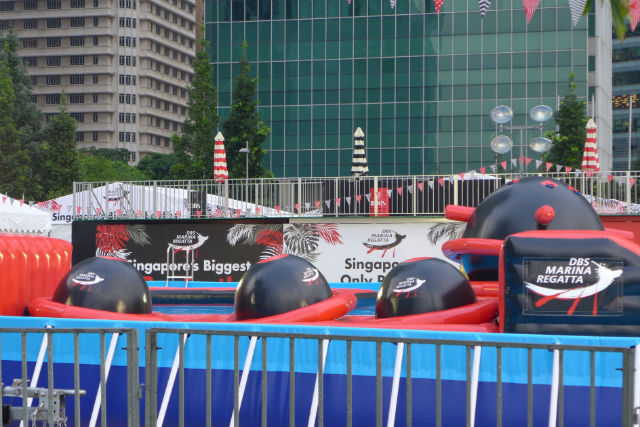 Recently, the DBS Marina Regatta gave members of the media and influencers a sneak peep at what the Regatta has to offer before it opens to the public. Here is what the DBS Marina Regatta has available this year, apart from the DragonBoat competitions.
Battle Bay: Singapore's largest inflatable obstacle course
This much hyped up obstacle course, Battle Bay, features nine challenges over 11,000 square feet. Fastest timings for individuals and teams stand to win up to SGD 8,000 in cash prizes and an all expenses paid trip to Beijing. Charges are SGD10 per try for adults and SGD5 for students.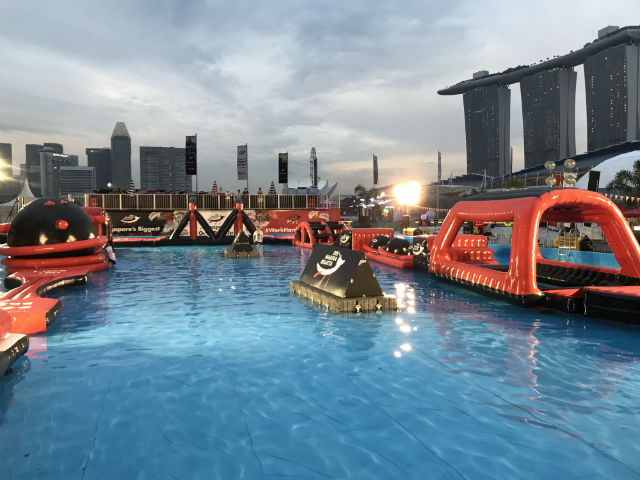 For the Battle Bay obstacle course, I tried it out and I must admit that I had fun there, but it is challenging at the same time. The obstacles include plenty of climbing, jumping and swinging. This had been the most slippery obstacle course that I had ever attempted. But eventually, I made my way through it.
But I will admit that there had been some obstacles that had tripped me up, such as the monkey bars and the slippery wall, as these had been too high for me. Others though, were relatively easy enough, such as simply sliding over the floating platforms and climbing up the rope ladder. But by the end of the course, I still found myself getting more drenched than I had anticipated. So, it had been a good thing that I had a spare set of clothes with me.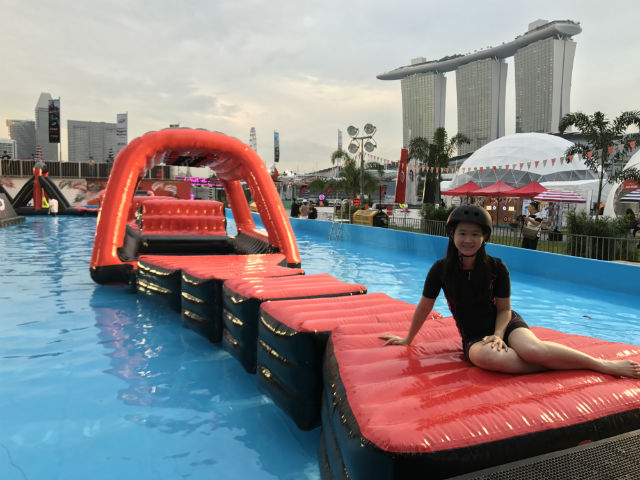 Fortunately this obstacle course is done all in the name of fun, and when you fail an obstacle, there isn't a penalty – unlike the Spartan Race where you must do 30 burpees should you fail to clear any of the obstacles. After all I figure that it may be quite hard to do burpees in the water!
Bay Beach, Singapore's Only Pop-Up Beach
Besides Battle Bay, Singapore's only pop up beach has also returned. The beach this year spans 21,000 square feet (1.5 Olympic pools) and is South East Asia's largest pop-up beach. It can fit up to 2,000 people and is filled with 151 tonnes of sand – eight truckloads worth.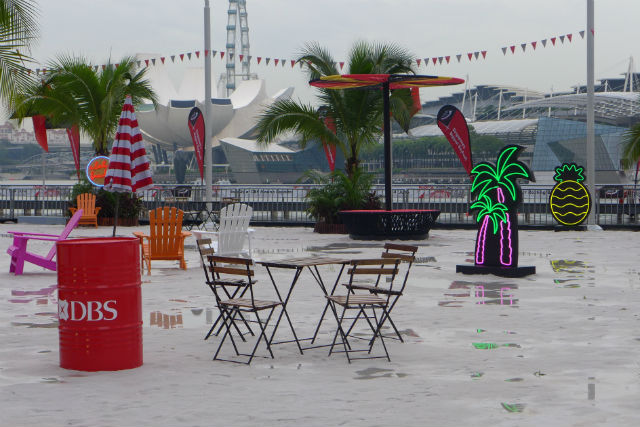 I had a walk around Bay Beach and there are plenty of places to simply sit down and chill out, if you are around the area and are feeling exhausted. Plenty of Instagram opportunities also await at the beach, with the beautiful towers of the Marina Bay Sands in the backdrop. If it had not been raining before night time fell, I think that I would probably have taken more photos there myself.
As well, the Bali Beach Club Potato Head is also bringing in their legendary Coconut Bar for the first time, complete with the uber fresh coconut cocktails and beers. The Three Buns' Gourmet Burgers will also be available for purchase.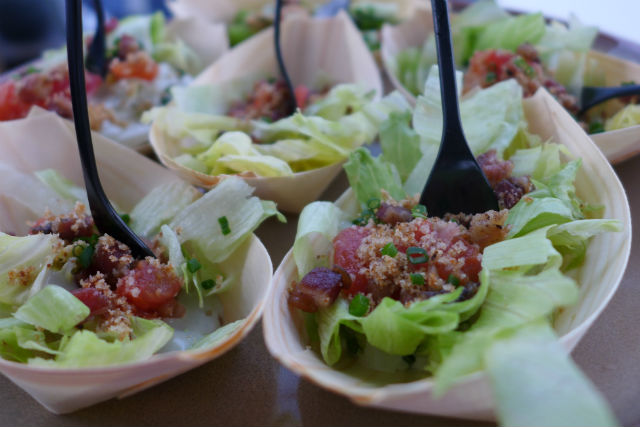 For some light hearted beach fun, Giant Games such as Giant Jenga or Giant Pick Up Sticks – a super sized take on the old-school Pick Up Sticks game, where you try to pick up a stick without moving any others in the pile, will also be available for the public to try out. These games are organised by Society Staples. The founders have siblings with developmental disabilities and seek to build a more aware and inclusive society about disabilities with their games.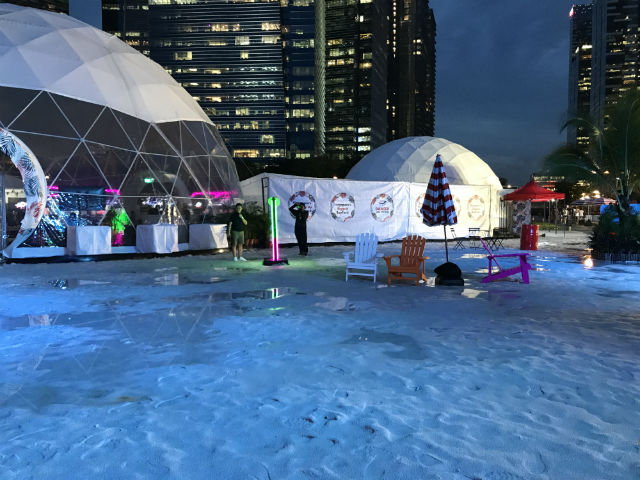 And come 4 June night, 50 Intel drones programmed to do bespoke designs for the regatta will be dancing in mid air to a commissioned music piece by local composer and conductor Eric Wong. This is the first time the drones are making an appearance in Asia. They were behind Lady Gaga's HalfTime Super Bowl earlier this year and they are equipped with LED lights that can create more than four billion different colour combinations.
Bay Dome, Singapore's Largest Interactive Art Exhibition
Also showcased at the DBS Marina Regatta is Singapore's largest Pop-Up interactive art experience, at 7.5 metres tall. Here you can customise your own artwork and watch it come to live on the spot.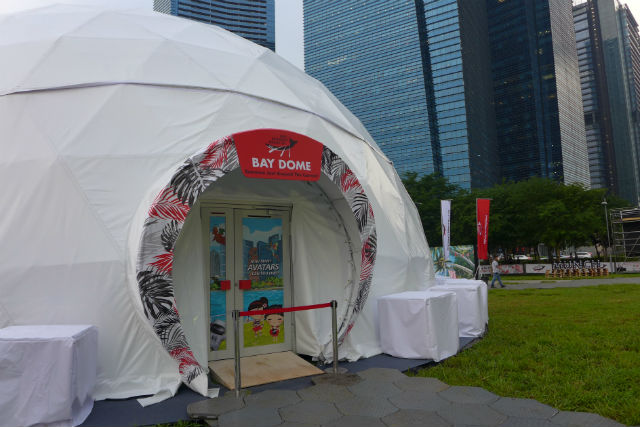 Unfortunately this had not been set up yet during the Media Preview, so we couldn't experience its wonders for ourselves.
Bay Eats, Offerings from Singapore's Top Chefs
As the name suggests, the Bay Eats area consists of award winning food stalls from top new eateries in town, such as the "Neo Sin" restaurant Labyrinth, French eatery Gargons, The BellJar, Leng Leng Ice Cream and more.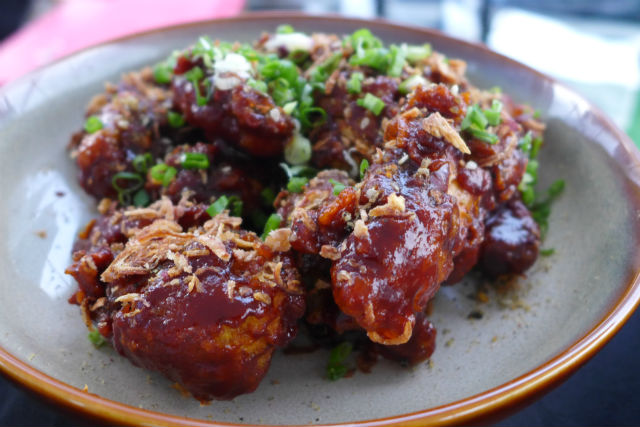 I can't wait to make another trip back to the DBS Marina Regatta to sample these food items when it finally opens.
At the Play Dome, Play All Day and Party All Night
At nine metres tall, the Play Dome consists of a myriad of activities throughout the day and night. To cater to sports junkies, there are fun-filled Yoga+ classes by Luluemon Athletica, as well as fitness classes by WeBarre and Eat Train Love.
Our media launch event took place primarily in the Play Dome and I would say that at first glance, the arena does look pretty big and impressive. I imagine that it must be quite interesting to do fitness classes in there, especially with the backdrop of the beach visible outside the windows.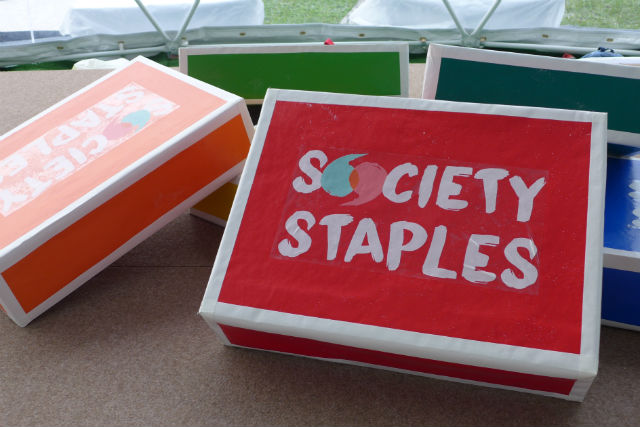 And at night too, the Play Dome will transform into a Music Festival, with the DBSMR x Ultra Countdown Party taking place from 7-10pm on Friday and Saturday evenings (2 and 3 June). The party will feature three Ultra Music Festival deejays each night, such as Dubvision, Jade Rasif and Myrne.
Do note however that the Ultra Countdown Party is only open to those aged 18 and above and charges are SGD15 per entry, inclusive of a free drink at the Play Dome Bar. DBS Live Fresh cardholders get priority access.
BayFest Shop, an eclectic range of stores
The BayFest Shop this year offers a diverse range of products and festival-friendly gear, from hammocks to pottery and henna. Social enterprise East Bali Cashews will also be the BayFest shop, and interestingly, 95 per cent of their employees are women.
I am already looking forward to browsing through the interesting and novel items that will be made available for sale.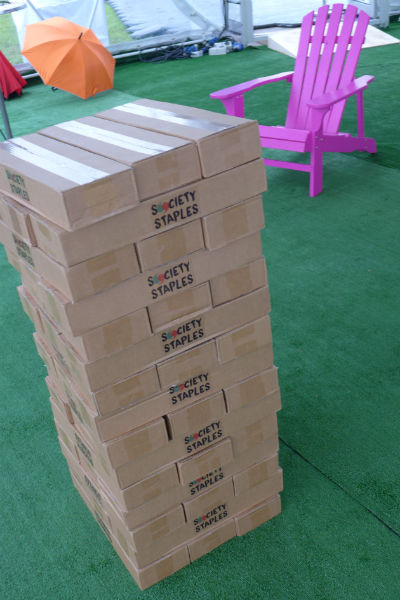 DragonBoating, with the region's top teams
For those who are keen to watch the DragonBoat competitions, this year will see an estimated 90 teams and more than 3,000 athletes converging on the Marina Bay waters to compete for cash prizes of SGD134,000, the highest for the sport in Asia.
This DragonBoating competition is organised in partnership with the Singapore Dragon Boat Association.
At Paddle Bay on 1 and 2 June, members of the public can also try the Dragon Boat orientation programme and perhaps be inspired to compete in next year's Regatta.
I have tried DragonBoating before and I think that it is an extremely fun sport to pick up, though it can get a little tiring if you don't have the upper body strength to continuously help to row the boat. Of course you can "slack off" and let your team mates do most of the work, but then again, what fun is there in doing that?
Sailing, on 18-metre tall mega sailboats
Besides DragonBoating, you can also try your hand at Sailing in the bay at the DBS Marina Regatta – on DBS' 18-metre tall Swedish Match sailboats, the first of their kind in Asia. These boats have been offering complimentary sailing lessons to members of the public since 2013, and they made their debut as part of the DBS Marina Sailing Programme two years later, in 2015.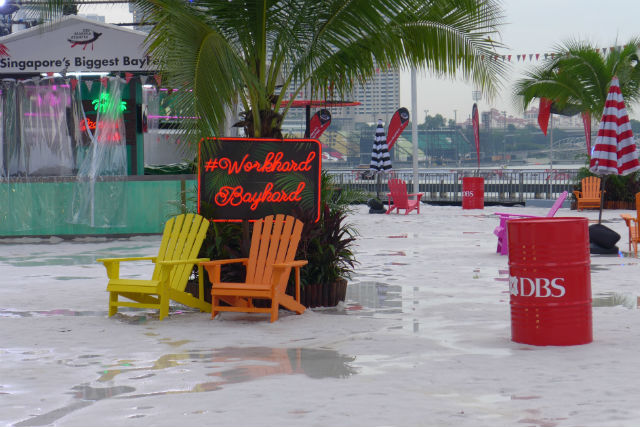 The same type of boats are also used by world class sailors at prestigious international competitions such as the America's Cup, the Formula One of sailing.
Programme and HighLights
For a full listing of the event programme and highlights at the DBS Marina Regatta, see the colourful images below.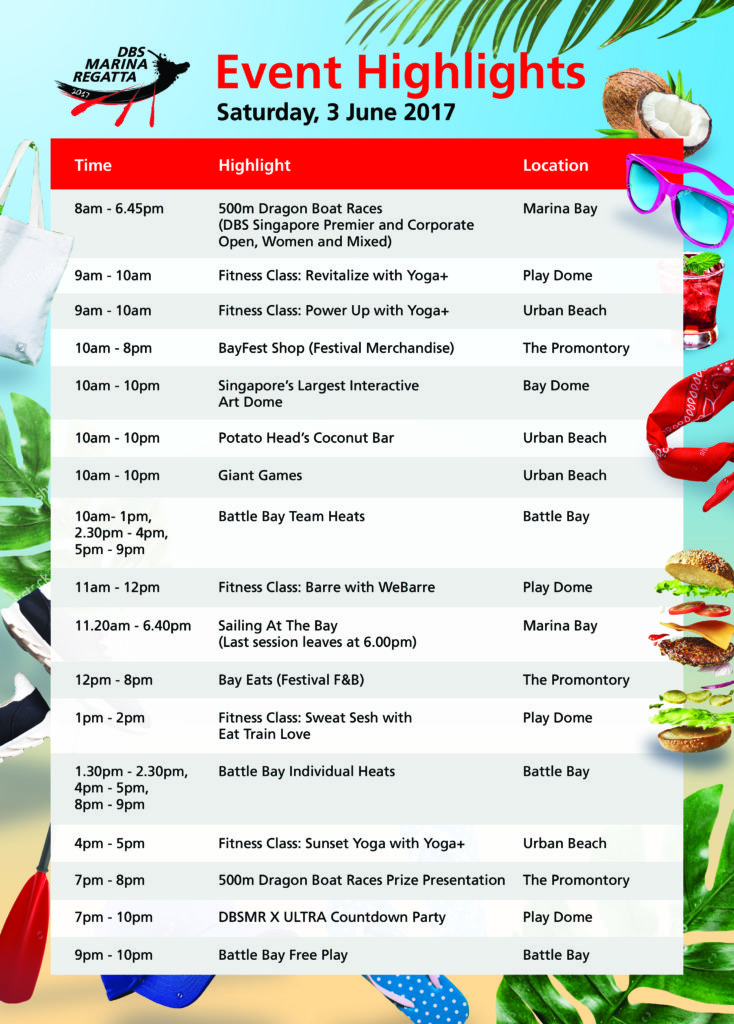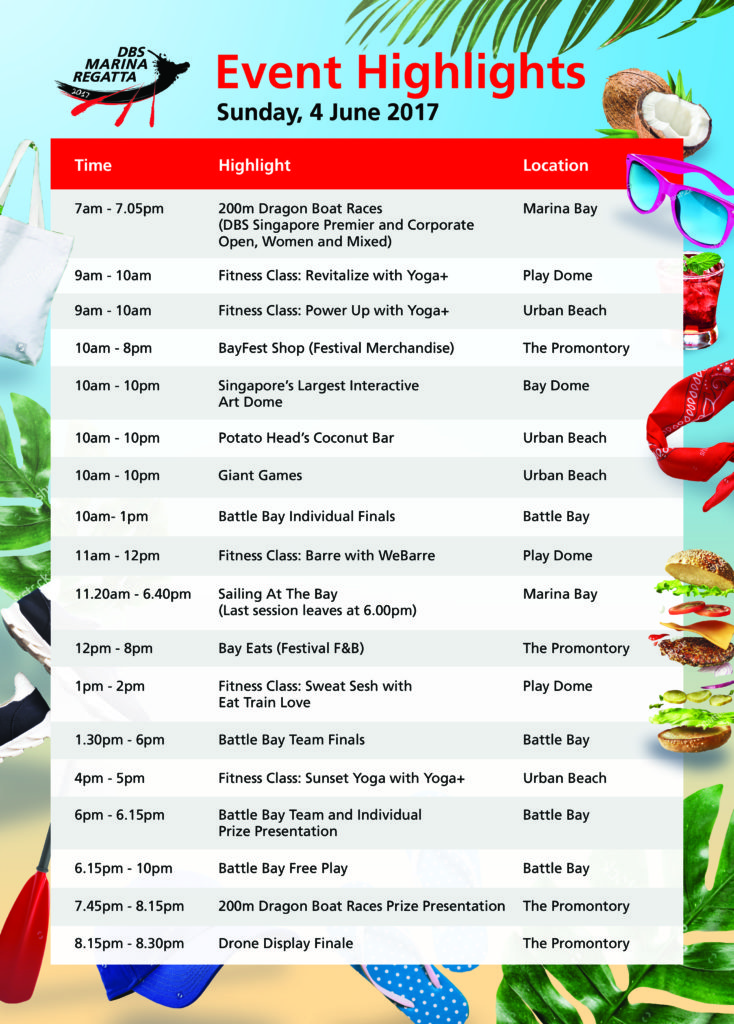 The DBS Marina Regatta 2017 is open from:
Date: 1 – 4 June 2017
Time: 4pm-10pm (1 June), 10am-10pm (2 to 4 June)
Admission is free.
Share this page with your friends!