Recently, I interviewed Joey An, a procurement engineer and a part-time florist about her passion in making flower arrangements.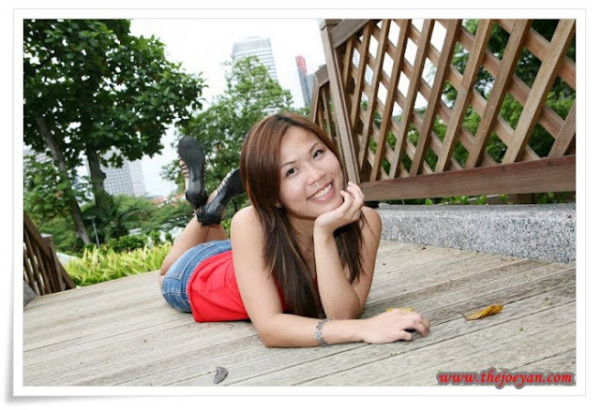 Many readers were intrigued by the interesting designs that Joey, 32, had created.
I caught up with this talented florist again to find out how she creates her favourite arrangements. Read on, to share Joey's secrets.
Doing The Doggie Arrangement
This arrangement uses flowers to form a little dog peering out of some ferns and is Joey's favourite.
Materials Used
Materials used are carnations (five stalks), baby's breath, orchids, Johor ferns and a basket. (See photo 1).
How to Arrange
This arrangement uses a round container, which is tied to a basket – as the base. The flowers are then arranged, according to photo 2 below.
The dog's eyes and nose can be bought from a gift shop, while bits of red cloth are used to make the mouth.
Doing The Vertical Arrangement
This is arranging flowers, to create an up-and-down focus. (See photos 3 and 4)
Materials Needed
An elegant arrangement, this uses statics (small purple flowers for fillers or accessories), coconut leaves, Johor Ferns and Gerberra. A tall vase can be used as the container. (See photo 5).
How to Arrange
The flowers are arranged, as seen in the two pictures above. The biggest flowers are placed at the bottom, while the smallest ones are placed at the top.
For leaves, the biggest one is put at the back, while the smaller ones are placed in the front, in a zig zag manner.
Doing Your Own Design: Roses in the Air
This floral arrangement is called, "roses floating in the air."
Materials used
Roses (6 stalks, baby's breath, forget-me-nots (little blue flowers, for fillers) and coconut leaves are used. (See photo 6 below).
How To Arrange
For this, Joey recommends that you do your own design, using photo 7 below as a guide. The coconut leaves – which provides stability, for the arrangement, are put into a rectangular base container. The flowers are then added, according to how you want them arranged.
For the three flower arrangements above, sponges (used by florists and available at art and craft shops) are cut into small pieces.
The flowers and leaves are poked into the cut sponge pieces to make an arrangement more stable.
Contact Joey at Joey_an28@yahoo.com.sg if you are interested in flower arrangements for your wedding, birthday or any other special events.
Want to know why Joey is so passionate about flowers? Find out here! 
*All photos in this article are reproduced with permission from Joey An
INTERESTED IN MY OTHER INTERVIEWS?
Share this page with your friends!