This week at a media press conference, AXN announced the identities of the three judges – for the second season of highly anticipated hit reality TV show Asia's Got Talent.
Reprising their roles as judges from Season One are 16-time Grammy award winner David Foster and internationally acclaimed singer Anggun, and they will be joined by international pop sensation Jay Park, an award-winning multi-platinum recording artist and savvy entrepreneur, CEO and founder of two successful record labels.
Said Jay, "Asia's Got Talent may reach a lot of people, but mostly it unifies a lot of countries together and that's what I am most excited to see. I'm excited to be a part of the show, and I am looking forward to joining the incredible David and Anggun to discover the next generation of Asian superstars."
David also shared the same sentiments and he too, is excited about returning to the show. He added, "Asia really impressed me in the first season. The talent was truly world-class. However this season I set my sights even higher and I expect to find the next Asian international superstar. I'm also excited to team up with the gorgeous Anggun again and to work alongside Jay."
Continued David, "Asia has become a second home. I love it here and it's great to be back. I'm so glad that this show is now back on air after a two-year break."
Judges' Tips for the contestants 
During the press conference, the three judges had also shared some tips for the  contestants, in terms of what they are looking for.
Shared Anggun, "They need to convince us that they are good. I know that they have only one shot at this and for most of them, it will be their first time performing in front of an audience. They are so nervous, but they need to show us what they are capable of; they need to feel as comfortable as possible."
She added, "Some of the contestants may be so nervous that they can't breathe. Basically we are there to encourage them and they need to just be themselves in showcasing their talents."
New judge Jay also concurs with Anggun's sentiments. He said, "If someone deserves to be here, I will be supportive of them. A lot of people put their lives on the line and devote themselves fully to what they do. But others audition for the show simply because they want to get famous. In order for me to support them, it's all about how authentic I think they are."
David had also pointed out that based on his experiences last season, some acts were under-represented in the show. He said, "I didn't remember many rappers, but there were lots of dance acts. I'm also waiting for more magicians to come out."
Judges are tasked with choosing the best from hundreds of acts from across the region
The three judges had arrived in Singapore yesterday, to start production of Asia's Got Talent and the will be tasked with judging hundreds of acts from 17 countries throughout the region.
Said Virginia Lim, Senior Vice President and Head of Production, Content and Marketing, Sony Pictures Television Network, "We are thrilled with the judges table this season as each judge brings their own style, voice and skillset to the show."
She added, "Jay has a massive fanbase in Asia, so AXN viewers will be exited that he has been selected to join an already powerful judges' table featuring David and Anggun. While the first season of Asia's Got Talent on AXN rocked the region as the number one show in primetime, the second season promises to up the ante and cement the show's place as the biggest, most mesmerising talent contest in the world."
Hosts will be Alan Wong and Justin Bratton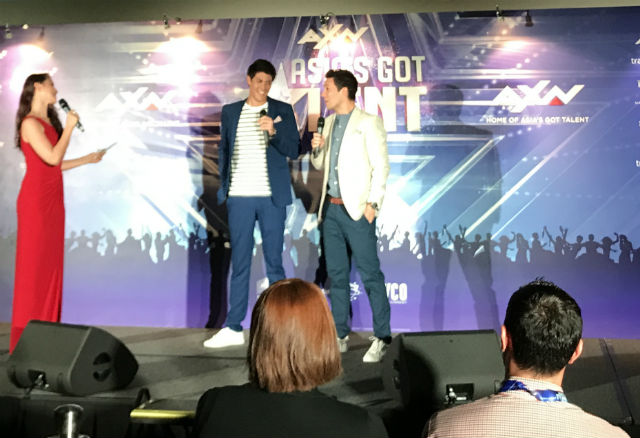 Besides the judges, the two hosts for Asia's Got Talent Season 2 were also revealed, to be actor and model Alan Wong as well as TV host, actor and film-maker Justin Bratton and both of them are eager and excited to be hosting the show. Their natural on-stage chemistry and witty bater is set to inject a comedic overtone into the series.
Said Alan "This is a massive deal to be hosting this show. We want to have lots of fun; everyone is up there bringing their dream to the stage and we want to bring that to the audience."
Added Justin "This is a show where people's dreams come true. It will be a great journey for everyone involved and for us as well. As well, Asia's Got Talent is also a very special show, in that 17 countries come together to celebrate talent that transcends languages, borders and cultures."
Performance by the Cazaubon sisters
One of the more impressive acts during the recent auditions in Singapore, had been a duet by young Singaporean sisters Ariane, aged 12, and Anne-Sophie Cazaubon, aged 10. In fact they were had been so good at the auditions that the two girls had been invited to sing at the media conference, as a sneak peep into what we could expect on the reality show.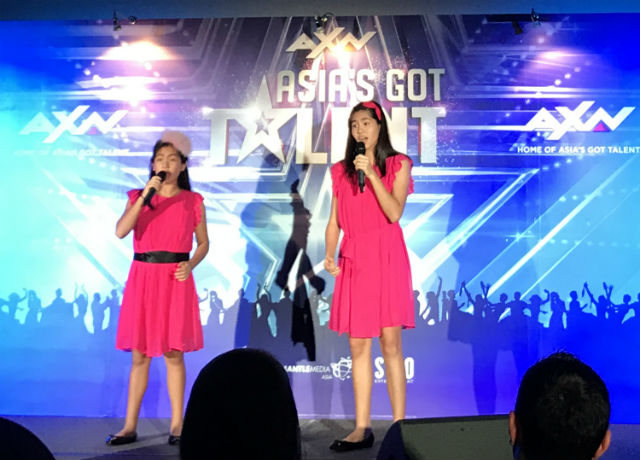 And both girls blew everyone away the members of the media, influencers and guests present, with their amazing duet. In fact, I won't be surprised if they could go on to win the show.
Ariane and Anne-Sophie had started singing at the tender age of two and have aspired to be world-class singers since then. They are currently singing with the Singapore Children's Choir.
Why did the girls decide to audition for the show? Said Ariane, "We want to share our talent with the world and share with others what we do. At the auditions, we were so excited to see so many talented people like us, that it was completely mind blowing."
Sharing and Tips from home-grown singer, Tabitha Nauser
Home grown singer Tabitha Nauser also gave a performance and shared some advice at the press conference too. Tabitha herself had come from a reality show background; she was a finalist in the 2004 edition of singing show Singapore Idol and this had launched her career. She was just 17 years old then.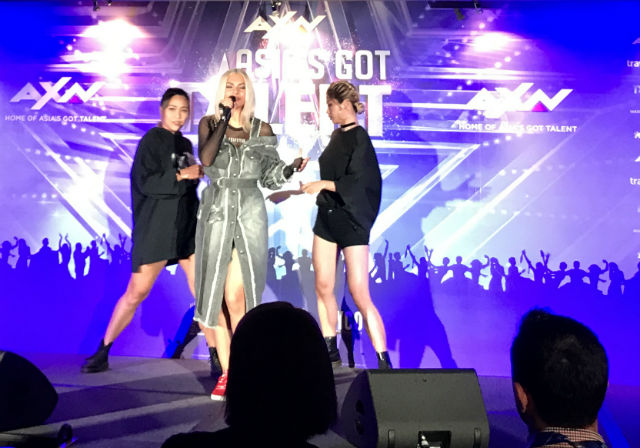 So she can empathise with the contestants, who now, would be going through the same thing as she had, all those years ago.
Said Tabitha, "Coming from a reality TV background, you get thrown into this pool where people want to help and nurture you. It can be scary and confusing at times, but it has mostly been amazing and I am so glad to be on this path."
She added, "I feel as though I have been singing forever. In fact, when I was about six or seven years old, I used to sing my lungs out late at nights before bed; my mum would tell me to stop singing and go to sleep. So my advice is, just keep singing and ignore your parents because that is training, by singing, you are practising your choice and that is the best advice that I can give."
Season Two returns in October, and is set to be even bigger and better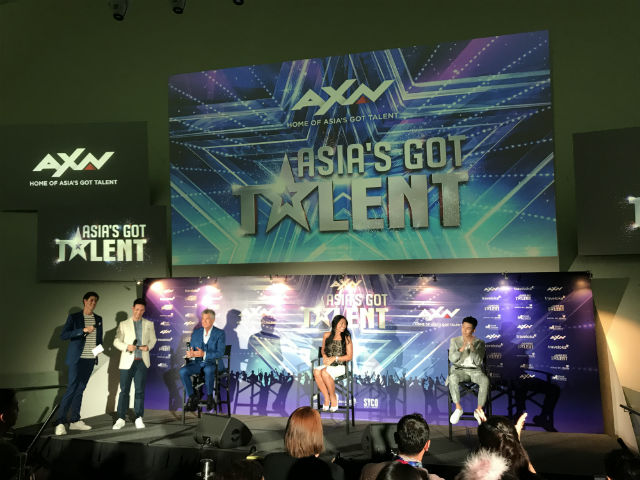 Asia's Got Talent returns to AXN in October. Over the course of 10 episodes, consisting of five judges auditions, three semi finals, a grand finale and a results show, the contestants will battle it out for the grand prize of USD$100,000.
Said Ganesh Rajaram, General Manager, EVP Sales Asia, FremantleMedia International, "The first season of Asia's Got Talent was one of the biggest productions in the world. The series unveiled a host of talent from across the region and fast became a fan favourite with AXN viewers. Season Two is set to be even bigger and better."

Share this page with your friends!