How would you like to smell the fragrant sweet citrusy scent of Yuzu, coupled with the spicy kick from Ginger – on your floor at home?
This is possible now – because Method has recently introduced a brand new line of Ginger Yuzu flavoured cleaning products into Singapore. And rumour has it that there's even some lemongrass and coconut thrown into the cleaning liquids – for good measure.
This  lingering scent of the Ginger Yuzu scent is infused inside Method's dish soap pump, its refill and the squirt + mop floor cleaner. Recently, my family tried out both the brand new Ginger Yuzu infused Method dish liquid and the floor cleaner. Here are our comments.
Method Ginger Yuzu Dish Liquid
The first thing that caught our attention in the dish liquid was the Ginger Yuzu smell, which we loved. We liked the fact that it was fragrant but at the same time, not too overpowering. We thought that the dish liquid seemed to be quite effective in cleaning our dishes too – and we could feel that the dishes were squeaky clean, once we had finished washing them. As well, the fact that this dish liquid was not too soapy, seemed to have reduced the rinsing time required.
Besides the Ginger Yuzu scent, Method has also introduced a brand new pump design for its dish liquid – so that you can squirt it straight into the sink, sponge or brush to avoid any mess. But we felt that if the actual size of the bottle was a little smaller, it would have been better. This is because it was a little hard to hold a cleaning brush or sponge in one hand while using the other hand to hold and squirt the dish liquid. But besides that, we all really liked this fragrant dish liquid.
Here is more information on the Dish Liquid.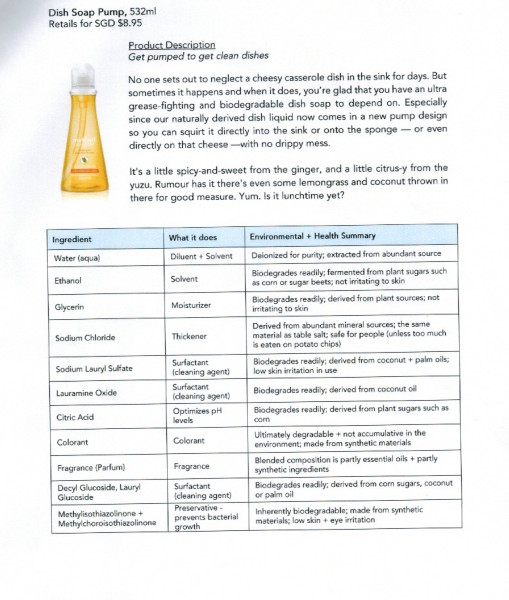 Squirt + mop floor cleaner
The floor cleaner too, had a Ginger Yuzu smell, which at the same time, was not overpowering.
In terms of how the product worked, we found the floor cleaner quite light – not too soapy and foamy even when we squirted the cleaner directly onto the floor and mopped it. And it still gave the floor a squeaky clean feeling.
While it may be slightly inconvenient to hold onto the bottle while cleaning the floor though, this squirt + mop cleaner is quite convenient to use. It makes cleaning hassle-free and a breeze.
Here is more information on the Soap + Mop floor cleaner.Clean, Green and Completely Environmentally Friendly Products
Like the rest of their cleaning range, Method's Ginger Yuzu cleaning products are environmentally-friendly. This means that the products are completely biodegradable and they break down within 28 days.
As well, they are safe for the health, non-toxic and guaranteed not to cause skin or respiratory irritations. Also, 100 per cent of the functioning ingredients come from plant-based, mineral or water sources – so the products are completely organic too. With Method's strong stand against phosphates and bleach, these products will provide you with a completely pleasant, organic and green cleaning process.
Method's range of Ginger Yuzu cleaning products are available at:
1) Cold Storage (Selected products only)
2) FairPrice Finest (Selected products only)
3) Isetan Singapore
4) Meidi-Ya Singapore
For more information on Method's latest products, visit www.methodhome.com.sg or stay updated via their Facebook page at www.facebook.com/MethodHomeSingapore. 

Share this page with your friends!