GrabShare – the first commercial carpooling service that is beta-tested in Singapore – has been launched today by Grab, the leading ride-hailing platform in South East Asia.
With GrabShare, passengers can enjoy cheaper rides while drivers earn more by completing two passenger bookings within a single trip.
The new GrabShare service complements Grab's other services – GrabTaxi (taxi hailing), GrabCar (private hire car hailing) and GrabHitch (non commercial social carpooling).
Gets passengers to their destination quickly
To get passengers to their destination quickly, GrabShare will pair two passenger bookings with similar trip routes within a single trip. Passengers will only experience a maximum of two stops before reaching their destinations. For example if Passenger A commences the ride first and is paired with Passenger B, depending on the more efficient trip route, Passenger A could make a first stop to pick up Passenger B and a second to drop off Passenger B.
This scheme would actually work out quite well for runners needing to get to their early morning running races – by pairing up runners who happen to be staying nearby each other, and who would be heading to the same destination.
Said Lim Kell Jay, head of Grab Singapore, "Commuters in Singapore indicated that they would be open to carpooling if they didn't have to make long detours with numerous passengers in one trip. Drivers had the same feedback – and wanted the option of taking short breaks between trips. GrabShare is designed with drivers and passengers in mind, to provide the best carpool experience in Singapore. And passengers enjoy cheaper fares with minimum additional time spent on the road and drivers earn more from shorter carpool trips."

What is the difference between GrabShare and the existing GrabHitch?
(Video courtesy of Grab.)
Benefits of using GrabShare
During the GrabShare media launch event, Lim also gave members of the media a brief introduction of what GrabShare is all about as well as the benefits of what it can offer passengers. The main benefits of GrabShare are:
Cheaper fares – GrabShare prices are up to 30 per cent cheaper than GrabCar Economy fares. The fares are fixed and displayed upfront when you book your ride and are susceptible to Grab's dynamic pricing model that balances supply and demand.
Ride with a friend – GrabShare users can bring one other friend on the ride at no additional cost, as long as both share the same pick up and drop off locations
Two-stop guarantee – Passengers can expect no more than two stops before reaching their destinations. This ensures that everyone reaches their locations fast, at less cost.
Instant booking – Passengers can book a GrabShare ride on-demand, immediately and at any time.
Ride with peace of mind – Grab's Group Personal Accident Insurance covers all passengers in the event of an accident. The total personal accident benefits for the driver and passengers can be up to USD250,000 per vehicle or an aggregate limit of USD2.5 million per accident.
Added Lim, "In GrabShare, we are minimising the amount of detour required and we do not look at the profile of the passengers. We also do not try and maximise the match rate if we think it is not convenient for the passengers."
Drivers can also benefit, by completing two passenger bookings at once to receive  higher combined fare with every GrabShare trip. They can also minimise their distance travelled, thus reducing fuel consumption and time.
Said Lim, "Our goal is to make on-demand transportation readily available and affordable, so that people no longer want to own a car for their personal use. GrabShare enables our drivers to serve more passengers, especially during peak hours when demand can be three times higher than usual."
However if GrabShare is unable to find a match, you will get to ride by yourself and still be paying the cheaper GrabShare prices.
How does GrabShare work?
Dominic Widdows, Software Engineer and GrabShare's Engineering Owner, also brought members of the media through a video demonstration of how GrabShare works.
Basically the service works as follows:
Passenger A selects the GrabShare ride and is picked up by a GrabShare driver
Passenger B selects a GrabShare ride and Passengers A and B are matched. The Grab app notifies both the driver and the two passengers of a successful match.
The Driver makes a slight detour to pick up Passenger B. Both passengers may bring one other person to ride with them.
The order of pick up and drop off will ensure that both Passengers A and B can get to their destinations quickly.
In the interests of making the flow of the ride as smooth as possible, the match is final once passengers have been notified of their driver and his number plate. So according to Lim, this means that if a better match comes in at a later time, Grab will not adjust the passenger match.
Grab estimates the amount of detour time expected for GrabShare rides, to be about 20 per cent longer than a GrabCar Economy rides of the same distance. As such, Lim, pointed out that users should not use GrabShare when they are in a rush, for example, to catch a flight at the airport.
As well, it must be noted that if additional charges such as ERP charges are incurred during the GrabShare ride, these costs will be split equally amongst the passengers.
GrabShare versus GrabHitch
Grab also pointed out that GrabShare has several key differences to Grab's social carpooling service, GrabHitch. For example, while GrabShare is on demand and instant, GrabHitch requires advance bookings of anywhere from 15 minutes to seven days.
The GrabShare drivers will also be utilising the professional GrabCar Economy drivers who are registered to operate a commercial service, whereas GrabHitch drivers are regular car owners who wish to make an extra buck or two on top of their full-time day jobs.
Here is a chart containing the full breakdown of differences between GrabShare and GrabHitch.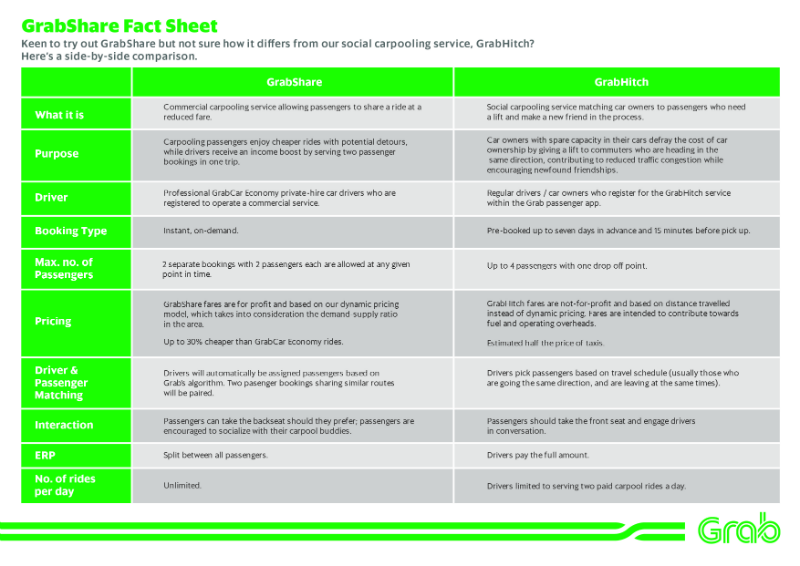 Following the media launch event
Following the media launch event, members of the media were given a tour of the Grab office so that we could have a better idea of the team behind the GrabShare platform.
We were then treated to a catered Christmas lunch buffet, following which Grab had then kindly utilised their fleet of drivers to take us all home.
While GrabShare is only available in Singapore at the moment, Grab also pointed out that they have the plans to roll it out in more markets "when the time is right" – according to Lim.
Ride with GrabShare for SGD $5 this Friday.
To celebrate the launch of GrabShare, passengers can ride with GrabShare for a flat fee of SGD $5 this Friday 9 December – regardless of the journey. Download the Grab app for free from the App Store or Google Play to experience GrabShare.

Share this page with your friends!