This year, catch international DJ Mike Candys and dance the night away at the Siloso Beach Party – Asia's largest countdown party, to usher in the year 2015.
Candys will bring up the crowd's tempo at the party
The Zurich-raised Candys will take the decks at the peak of the crowd's energy and bring the tempo up a notch through a night of mash-ups and original party mixes.
The possibilities are infinite
With Candys having been voted DJ Magazine's Top 100 DJs for three years in a row and spun at festivals including The White Festival, Temptation and Electric Mountain, the possibilities are infinite at the Siloso Beach Party.
More than 10 other international and local DJs will grace the party
Besides Candys, more than 10 other international and local DJs will deliver a stellar run-up of House, Funk, Electro, Trance, Electronic Dance and other music at five different party zones on the day.
These party zones include Azzura, Mambo, Wave House Singapore and C-Side (Coastes, Bikini Bar and Sand Bar). Some of the DJs are DJ Shy, a familiar face at many of the world's finest clubs from Los Angeles to Asia, as well as DJ TINC, DJ Charlotte and young DJs Charlotte and Jenni-F, amongst others.
Usher in the new year with non-stop music and scrumptious food
Indeed, this will be the only night in the year where thousands of party-goers will usher in the new year together with the best company possible for 12 hours of non-stop music and scrumptious food and a giant foam party.
Furthermore, to top off this amazing night, spectacular fireworks will await party goers and iridescent jets of neon UV paint will rain down on visitors – for a truly memorable countdown experience.
For more information on the Siloso Beach Party and the DJ line-up, visit www.silosobeachparty.com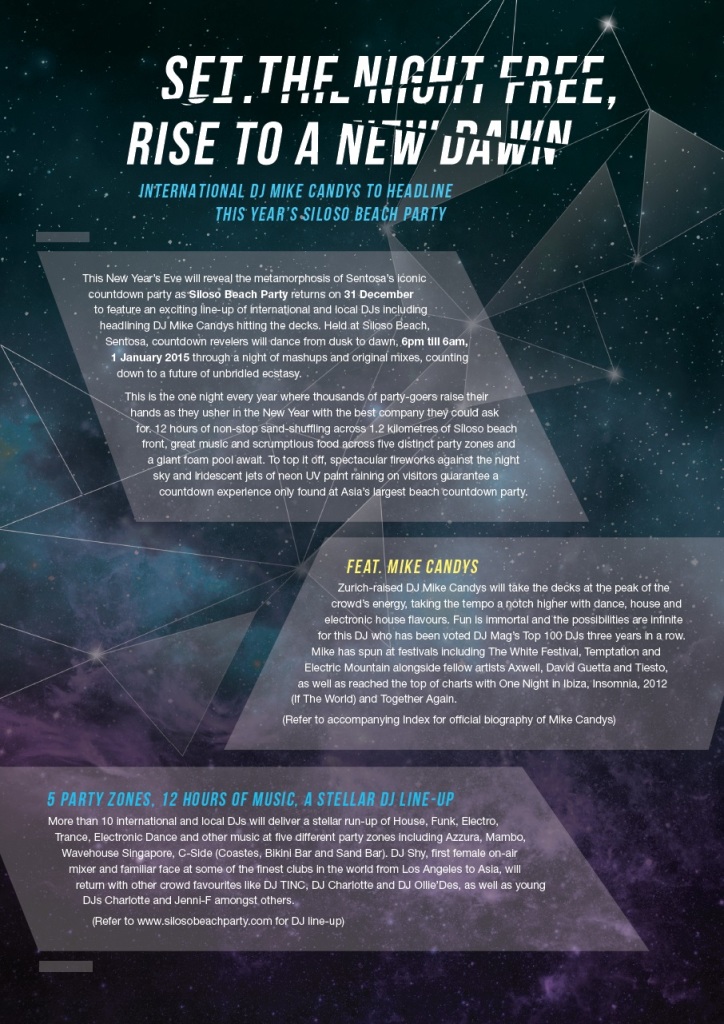 Siloso Beach Party
Date: 31 December 2014 – 1 January 2015
Venue: Siloso Beach, Sentosa
Time: 6pm to 6am (Dawn to Dusk)
Early bird tickets ($48) end in two days from today. So if you want to party the night away at Asia's premier countdown party, do hurry and grab your tickets now.

Share this page with your friends!