Last Wednesday evening, a small crowd had slowly gathered at the atrium of The Central, Clarke Quay – to witness a photo mural – comprising of more than 5,000 smiling portraits of Singaporeans – being lined on the floor, at the Atrium of the popular shopping centre.
This intriguing photo mural had been part of Smile Singapore, an advocacy campaign organised by Clarke Quay Central to promote a happier and joyful nation. The innovative campaign concept had originally been conceived after a 2012 Gallup poll which had ranked Singapore as being the most emotionless and unhappy nation in the world.
This year marks the second time that Smile Singapore is taking place. The first time had been a four-day campaign in 2013, over the National Day period. A total of 1,909 smiling portraits had been collected during that year.
Wanted to debunk the 2012 myth that Singaporeans are unhappy
Explained Eudora Tan, 27, account manager at Ape Works – the Creative Partner behind the Smile Singapore campaign, "We initially wanted to debunk the myth that Singaporeans are unhappy. This year, we wanted to make it bigger and better, since it is also SG50, Singapore's Jubilee Year. And the fact that we have collected more than 5,000 smiles today, shows that Singaporeans are not all that unhappy."
More than 5,755 people came to share their stories about what makes them happy
Over the past five weeks, in March and April this year, more than 5,755 people had come forward to share their stories about what makes them happy in Singapore. Their photo portraits were subsequently captured, printed, laminated and pieced together to create the giant photo mural, which will line the first through to the third floor of Clarke Quay Central when completed on 3 May –  thus transforming the mall into a record-breaking venue.
From the reasons collected by Ape Works, the top three that contributed to making Singaporeans from all walks of life wear a smile – were a stable home surrounded by loved ones (53%), celebrating the significant SG50 Jubilee Year (21%) and having a safe and clean environment to live in (12%).
Smile Ambassadors roamed the Singapore streets to collect stories
Smile Ambassadors also roamed the streets of Singapore, to take photos of smiling faces and collecting personal stories of what makes people happy to be in Singapore. One of the smile ambassadors was Deepika Das, 21, an Interior Design student at the Singapore Institute of Technology.
She said, "Generally, most of the people we approached, didn't resist when we told them this campaign was about SG50. Most of the people were okay with talking and sharing and having their photos taken. The older and younger people were good to talk with, although some of the middle-aged people were more hesitant – and they often asked their child to talk on their behalf."
Added Tan, "Most of the people were very participative and felt excited to be on board this project. We also encountered many fun things, such as bumping into a couple heading towards their wedding reception – and they decided to take photos with us. Tourists also liked to tell us why they are in Singapore, and that gave us a lot of interesting perspectives."
Fuji Xerox will be pledging $5 for every smile submitted
Besides simply collecting smiles from Singaporeans, event partners Fuji Xerox, which had come on board with the printing equipment for the photos, will also be donating five dollars for every photo submitted until 3 May, to Beyond Social Services to help less privileged families.
Said May Pay Boon Bee, 33, the Manager of Corporate Communications and Marketing at Fuji Xerox, "We hope that Singaporeans will smile more. And this campaign by Ape Works helped in terms of raising the awareness of why people should smile.
"As Fuji Xerox is also celebrating our 50th year in Singapore too, this campaign has an additional layer of meaning for us this year – and we want to do more than simply collect smiles. That is why we want to pledge five dollars to charity for every photo collected. Currently we will be donating more than $25,000 as there have been more than 5,000 photos collected," Pay continued.
The 2012 myth appears to have been completely debunked
Based on the success of the campaign so far, Ape Works is definitely happy that the 2012 myth of Singaporeans being unhappy, appears to have been debunked. Said Tan, "We feel good about debunking the myth. Our campaign shows that Singaporeans are a happy bunch after all, and it's so cool that so many people want to come on board when they find out what this is all about."
She continued, "As recent reports have shown that Singaporeans are a little bit happier, we have definitely risen in terms of happiness. Hopefully the happiness levels in Singapore will continue to increase over the next few years, but then again, you never know!"
Expected to break the Singapore National Record for Largest Display of Photos
The completed photo mural is expected to break the national record of Largest Display of Photos in the Singapore Book of Records. The public may view the completed photo mural from 4th May at Clarke Quay Central's Atrium.
How to participate in Smile Singapore
You can participate in the Smile Singapore campaign – and share your smile and personal stories of what makes you happy in Singapore – by heading down to the live photo studio at The Atrium, Clarke Quay Central. You have till May 3 to do this. By participating in the Smile Singapore campaign, you'll also receive an instant 4R print keepsake of yourself.
Smile photos can also be submitted online at the campaign website, www.smilesingapore.sg.
Here is a more detailed outline of the key dates in the Smile Singapore campaign.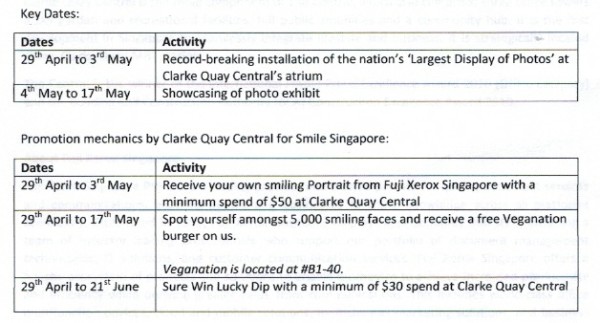 Other Blog Posts
Share this page with your friends!