Unless you have been living under a rock, you will probably be aware by now, that the National Steps Challenge Season 3 is now underway.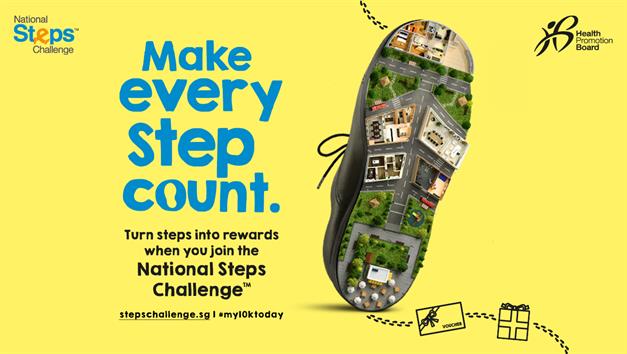 First nationwide steps movement in Singapore 
The National Steps Challenge is the first nationwide steps movement in Singapore and  was initiated by the Health Promotion Board Singapore. Its goal is to encourage participants to sit less and move more.
To take part in the challenge, participants are either issued with a free steps tracker or else they can track their steps via their smartphone and upon clocking certain numbers of steps per day, participants earn points and redeem sure-win prizes such as shopping or grocery vouchers.
The third edition, taking place from now till 30 April 2018, is bigger and better than ever, with more ways for participants to win.
However do note that only Singaporeans and Permanent Residents aged 17 and over, are eligible to take part in the National Steps Challenge.
New and Returning Participants 
For new and returning participants, they can exchange their Health Points for sure win rewards worth up to S$35. Returning participants from Season 2 can continue from the sure-win tier that they had previously unlocked from the past season.
Returning participants who had not yet completed Tier 1, they would be eligible for a special sign up bonus of 350 Health Points, and upon completing Tier 1, they would receive a 300 Health Points bonus.
With every 5,000 steps clocked daily, participants receive 10 Health Points. They get 25 Health Points for 7,500 steps and a maximum of 40 points for 10,000 steps clocked. Additional steps beyond 10,000 however would not receive extra points.
By clocking either 5,000, 7,500 or 10,000 steps, too, participants would also gain chances to go into the grand draw, where they can win Business Class tickets courtesy of Singapore Airlines or a dream vacation of their choice.
To up the game, the National Steps Challenge this season is also featuring thematic, community and corporate challenges, in order to encourage Singaporeans to clock steps together with their families or colleagues and engage in friendly rivalries.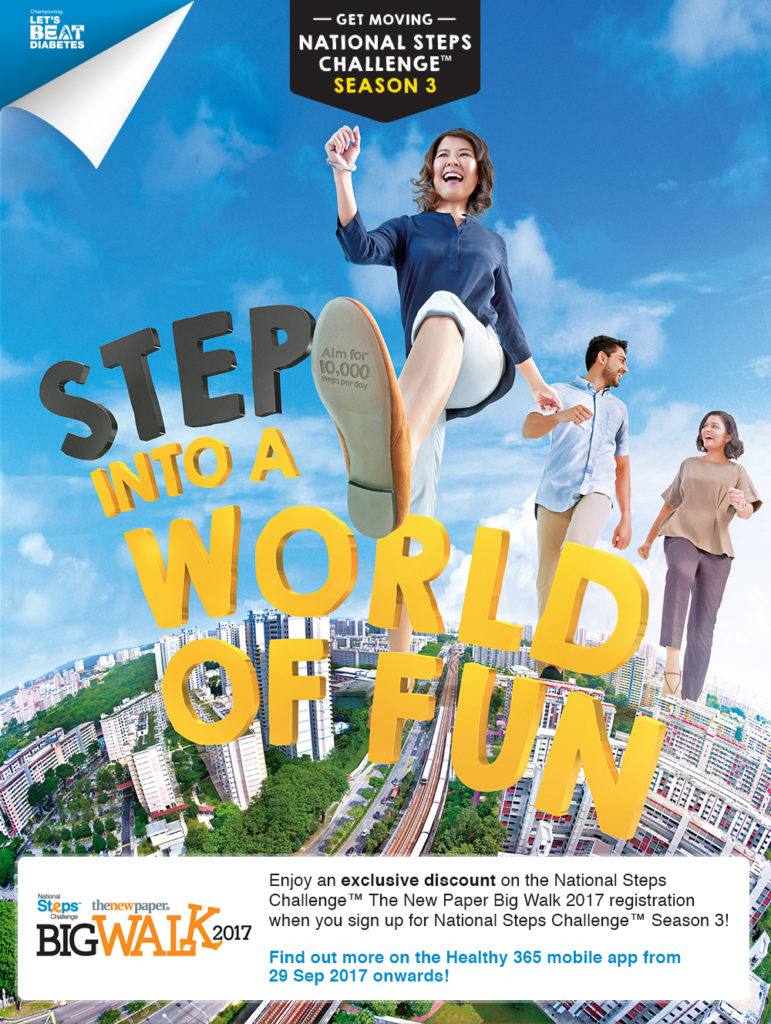 Completers Rewards
Those who had successfully completed all six reward tiers are not left out either in Season 3. Termed Completers, these people are entitled to a limited edition Completer's kit including a tee shirt, a desk calendar and a new steps tracker with heart rate monitoring function. They are the ones who were active during Season 2 of the National Steps Challenge and have clocked a minimum of 960 kilometres, based on the conversation of 1,250 steps being equivalent to one kilometre of walking.
Though this group of people are not eligible any longer for the Sure Win rewards, they will be able to take part in a Pledge and Win contest, where they pledge to achieve a daily target number of steps over a stipulated number of days to receive special prizes worth up to S$70.
As a Completer, I am taking part in this Pledge and Win challenge, and I am presently still on track to win a Timberland Lightweight BackPack worth S$69.90. This is equivalent to 120 Days of 15,000 Steps.
For More Information 
For more information on the National Steps Challenge, head to https://www.healthhub.sg/programmes/37/nsc

Share this page with your friends!