Last night, the nine finalists for Asia's Got Talent gave their all at the Marina Bay Sands Mastercard Theatres in Singapore in one of the most thrilling nights of the year.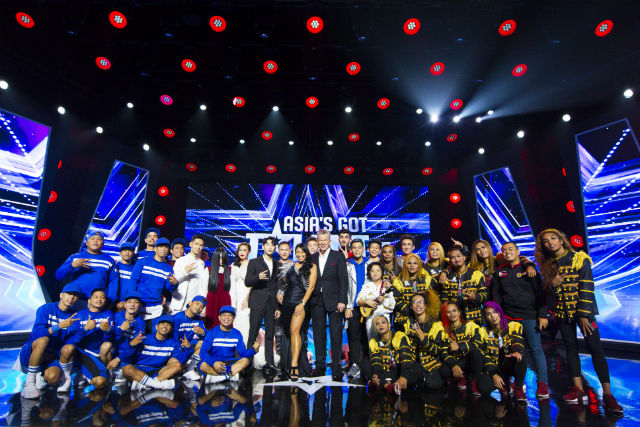 The nine finalists are as follows:
Indonesian singer and harpist Angela July (#AGTVote2)


With her angelic harp and powerful vocals, Angela, who is also a full-time mum, is this season's singing sensation. In fact she had impressed the judges so much that she received the first Judges' Pick of the season.

I loved Angela's singing and I think that especially the way that she shifts her voice and is able to hit the high notes is amazing.

Said David Foster, "Tonight you were the very best version of yourself."
Philippines' beatboxer Neil Rey Garcia Llanes (#AGTVote6)

Returning this season, Neil had been determined to make it to the Grand Finals. And this time around, his awe inspiring percussion ability made him a social phenomenon on Facebook and YouTube.

In my opinion, Neil's performance was definitely original and fresh, and something that I have certainly not heard before, from this side of the world at least. His percussion talent definitely shines through from his performances.

Said Anggun, "I was very impressed by you from the first season but then you came back and stepped it up. I am really hoping that you go very, very far."

Canion Shijirbat (#AGTVote8) from Mongolia


In both of his auditions, Canion delivered a truly unique performance in syncing his dancing together with his visual act.

The visual aspect in Canion's performances are definitely amazing and the way that he is able to sync everything together certainly created a lasting impression in my mind.

Additionally, the costumes used were also spectacular.Said David Foster, "I love unique… I love your brain and what you have created."
Kyrgyzstan's ADEM Dance Crew's (#AGTVote9)

Jay Park's Golden Buzzer, the ADEM Dance Crew delivered again with a strong 'Night in the Museum' inspired performance that got a standing ovation from the audience.Watching the ADEM Dance Crew perform, their brand of dance performance is so unique and it is possibly like no type of dance that you have ever seen before. The way that they contort their bodies and twist their limbs to the beat of the music, is completely mind-blowing and amazing.

Said Jay Park, "I got to give you props for how much yo have sacrificed and gone through for your craft."
Indonesian viral sensation The Sacred Riana (#AGTVote11)

Indonesian illusionist Riana's Asia's Got Talent performance clips have been viewed more than 70 million times on YouTube and Facebook globally, making her a hot favourite.Riana is different to other illusionists that you have seen before. When she had summoned zombies during her act in the grand finals, it had been scary, yet entertaining at the same time.At the same time we could literally see that it creeped out the judges, especially Anggun.For myself, I admit that I had been a bit spooked too.

As well, I also thought that the way that she continues to stay in character throughout her performances is amazing, including the parts where she does not answer any questions thrown her way by the judges and the emcee because it is not the character that she is portraying.

This made me quite curious too – if Riana did indeed win Asia's Got Talent – and there is a high chance of her doing so as she is one of the most popular acts, would she actually celebrate her win and break character, or would she simply not celebrate her win on stage?

I wonder if we would be able to find this out for ourselves next week.

Said Jay Park, "I think I peed in my pants a little. It was scary but still entertaining at the same time."
DM-X Comvalenoz (#AGTVote16)

This group pulled an 180 to show the feminine side of themselves, performing a dance that was a perfect combination of sexy, glamour  and class.I thought that throughout their performances, the way this group had conducted themselves in terms of their stunts, choreography and facial expressions had been quite engaging and definitely attention grabbing.Said Jay Park, "As far as the dance performance goes, I think you guys have it all. You have the full package, you have everything."
Taiwanese child prodigy Feng E (#AGTVote19)

The recipient of David Foster's Golden Buzzer and a Judges Pick, Feng E's musical talent is unparalleled in this competition.I found it quite hard to believe that Feng E is only 10 years old.The way that he conducted himself during his performances and the way that he handled his ukulele are definitely professional and befitting of someone who is many years older than he really is.I must say that he is definitely talented and that he will go far in his musical career, should be choose to pursue this full-time.

Said Foster, "If I could push the Golden Buzzer again, I would do it. There might not even be another person that could play the ukulele like you."
Illusionist Sobhi Shaker (#AGTVote23) from Malaysia

Declared by David Foster as the best magician that he has ever seen, this Syrian refugee's inspiring story and reason to win the show, makes him the most compelling act to watch this season.I feel that the profound messages behind his magic tricks are definitely touching and sentimental and they certainly remind us of the world that we are living in today.His magic definitely has a deeper purpose than sheer entertainment, and it can stands for a greater good in today's society.Said Anggun, "That performance was flawless, that was the best performance of the night. I have never experienced goosebumps during a magic performance."
Philippines' Urban Crew (#AGTVote24)

Complete with inhuman jumps, flips and spins, their adrenaline pumping ninja style dance seemed as though it came right out of an anime.They are dancing for a cause too – to help kids to stay off the streets in the Philippines.Their stunts, moves and choreography are definitely not easy to do and I can imagine the sheer hard work that had been put into making their performances a success.At the same time, they are lively and energetic too and their performances certainly get the heart pumping.

Said Jay Park, "The stunts and moves are definitely the most difficult I have seen. You guys are world class in my eyes."
Vote for your favourite performance 
The nine acts are now up for public voting ad only one can win Asia's Got Talent and the grand prize of USD$100,000. Voting is now open and will last till 13 December at 11.59pm.
Fans can vote via Facebook Hashtag, Facebook Messenger and Google Search.
For more information 
Visit www.AXN-Asia.com/AGTVote for more information.
Results Show will take place next Thursday 
The Asia's Got Talent Season 2 will culminate with the Results Show next Thursday December 14th at 8.30pm. To follow the journey of this season's acts, check out the hashtags #AXNAsia and #AsiasGotTalent.

Share this page with your friends!