Ever since the first Despicable Me movie was released into cinemas in 2010, Gru's adorable yellow minions have completely captured our hearts and souls. In fact, these yellow thumb-shaped creatures are so popular that there is an entire market for them out there.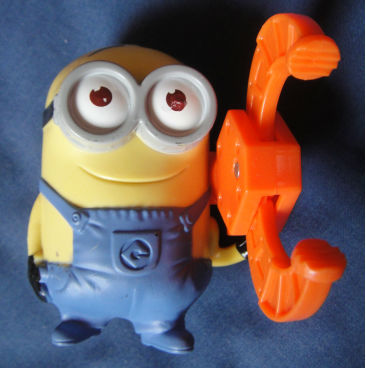 Minion-shaped stuffed toys, free minions coming together with your McDonalds happy meal, minion-shaped cupcakes and sponge cakes, minion nail art – you name it, and someone has probably thought of it already – to capitalise on the current minion craze that is sweeping the globe.
In fact, Gru's minions are so popular that they are even going to have their own movie, which will come out in 2014.
But exactly why are Gru's minions so popular? Here are some reasons as to why these adorable creatures could be stealing our hearts.
They have absolutely no responsibilities
In today's hectic world, where we are always being lumbered with chores and more chores, the minions are a complete breath of fresh air. They get to play and have parties almost all day long without a single care in the world. In this way, they are practically what we all wish we could be.
As a result, the behaviour of the minions appeals to our subconscious mind and we wish that we could be like them – so we adore them to bits.
They thrive on fun and laughter
As humans, we all want to have fun and enjoy ourselves. But we can't because we are surrounded by work, projects and multiple deadlines. So when we watch the antics of Gru's minions in "Despicable Me" we see these little yellow critters constantly having fun and enjoying themselves. For example, Gru's minions are either sunbathing on the beach or throwing a party in their home at Gru's basement.
In this way, they appeal to our inner subconsciousness, because we wish we could simply shirk our responsibilities and just have the amount of fun that they are having. So as a result, we fall in love with them.
They follow their instincts
As we have probably noticed from both of the "Despicable Me" films, Gru's minions completely follow their instincts. In today's world, we are always stopping to consider the consequences of the choices that we make and whether we are making the correct decision.
But Gru's minions are the total opposite. Whatever they want, they will immediately go ahead and do it. For example, in "Despicable Me 2" Gru's minions saw an ice cream truck, so they immediately rushed towards it, in the hope of seizing some ice cream. They didn't stop to consider, for example, whether the ice cream is healthy or whether it would make them gain weight. They just do it simply because they want to do so and they listen to their innate desire.
In this way, they greatly appeal to us, because they are, once again, what we wish we could be.
They are small
For some reason, people seem to love anything that is small. For example, babies, kittens and puppies share one thing in common – they are all tiny. And at the same time, we adore them because they are so cute and adorable. The minions are tiny too – they are so small that they only reach up to Gru's legs. As a result, we may fall in love with the minions because of their size.
Related Post
Share this page with your friends!