An exhibition on wheels – the Yellow Ribbon Community Truck has been at Bugis+ for the past two days. And yesterday, I went to take a peek at the truck, which is to help the public understand what the Yellow Ribbon Project is all about – that is, to try and help give ex-offenders a second chance in life.
Truck has been making its rounds of Singapore
The Community Truck has been making stops at locations such as the URA Building, Gardens by the Bay, the Singapore Expo, Toa Payoh and Bugis. The truck will make its final stop at the Home Team Fest on the weekend of 13 to 15 November.
This type of vehicle was chosen because it is a mobile platform for an exhibition and can thus easily drive to the targeted places – as compared to a physical exhibition which needs to be demolished and re-built each time it travels to a new venue.
Truck was easy to spot
When I reached Bugis+, the truck had been very easy to spot. Parked at the Civic Plaza outside the shopping mall, I immediately recognised the iconic yellow ribbon symbols adorning the truck and so I headed straight towards it.
Lots to see inside the truck
Inside the truck, there was quite a lot of stuff to see. The moment that you step inside, you will be greeted by a table with heart-wrenching school report cards full of 'F' grades as well as unpaid bills. These are template representations of what the families of the ex-convicts face, when a main family breadwinner gets sent to prison.
Above the table is a shattered family portrait – a literal depiction of a broken family.
As well, in this room is also a video depicting a young boy named Sam and we get to witness how his grandmother nags at him. Sam's father has been sent to prison. So he has become very withdrawn and sad and is a loner at school. He also does not have much family support.
These gut-wrenching examples mimic the real lives of families who have had a member sent to prison. So the Yellow Ribbon Project hopes to drive home the message that even though a family member has been incarcerated, the bills still needs to be paid and so these families need financial support. It is not only the inmates that are affected by a prison sentence. Their families, including their kids, are also at stake too.
An Exhibit room with lots of information about the Yellow Ribbon Project
When you draw open the curtain and enter the next room you will be greeted by an exhibition room containing information about the Yellow Ribbon Project.
These include what the project does when they were founded. Success stories that have taken place and events that the Yellow Ribbon Project has organised, such as the well-known Yellow Ribbon Prison Run and the Yellow Ribbon Community Art Exhibition are also explained.
For example, did you know that there are 9,000 ex-offenders released every year, but it is not purely the former inmates themselves who are affected by the incarceration. Imagine if each ex-offender was a part of a family of four, then this means that 36,000 people in all – would be affected by the prison sentence, as we had seen in Sam's story in the earlier part of the exhibition.
So this is where the Yellow Ribbon Project comes in. Founded in 2004, and comprising of 1,200 volunteers and more than 3,000 employees, it provides a pillar of support for the successful rehabilitation and integration of the ex-offenders.
Besides the information for members of the public, there were also stuffed toys on display, which were made by the inmates from Changi Women's Prison. From the appearance of these toys, I could tell that these women are definitely talented and they have a lot to live for in life, upon their release from prison.
Where will the truck be at next?
If you are interested to find out more and check out the exhibition for yourself, here are the dates and venues that the truck will be on display.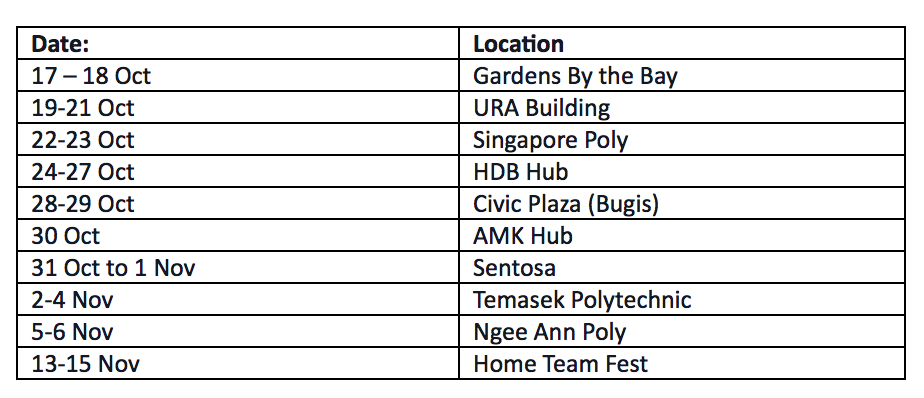 Share this page with your friends!