To celebrate the return of the SEA Games in Singapore, after a 22-year hiatus, 100PLUS has launched a limited edition GOLD CAN. Every 100PLUS GOLD CAN will act as the nation's voice of support of Team Singapore as they strive for a record number of 50 gold medals at the regional event.
The biggest sporting event in the region
The SEA GAMES is the biggest sporting event in the region. Come 5 June, Singapore will play host to 7,000 athletes and officials from 11 nations across 36 sports. 100PLUS – recognised as a brand which has supported the cultivation of greatness amongst athletes and sporty individuals – is pleased to be the 28th SEA GAMES' official isotonic drink – to rehydrate athletes as they strive to outdo themselves at the Games.
Ongoing SEA GAMES Campaign
At the same time, 100PLUS also has a SEA GAMES campaign ongoing, to rally Singaporeans to cheer for their countrymen.
This campaign, honouring the contribution of local athletes, features swimmer Danny Yeo, Table Tennis ace Isabelle Li and sprinter Calvin Kang – and their journey towards a spot in the the SEA GAMES through hard work, sacrifice and sheer determination. Legendary athletes Ang Peng Siong, Jin Jun Hong and Melvin Tan are also represented.
Members of the public can show their support for TEAM SINGAPORE
As part of this campaign, members of the public can also show their support for Team Singapore – by uploading photos of themselves with the limited edition 100PLUS Gold Can on Instagram, using the hashtag #GoForGoldSG together with a message of encouragement to Team Singapore athletes.
Take part in a sure-win Lucky Dip
At the same time, people can also take part in a sure-win lucky draw at the 100PLUS roadshows this weekend. The lucky draw is for consumers who purchase $8 worth of participating products. Nila, the SEA GAMES mascot, will also make an appearance at these road shows.
Here is more information on the roadshows. (See Table)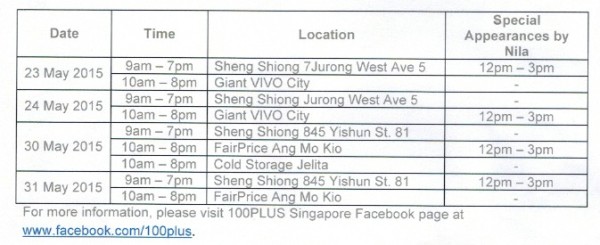 100PLUS Gold cans are available until stocks last
The 100PLUS Gold Cans (325ml each) are available until stocks last, at major supermarkets, hypermarkets, participating convenience stores and provision shops. The recommended selling price is SGD0.80 per can.

Share this page with your friends!