OrangeTheory Fitness, a fitness studio with a brand new gym concept, is fast making waves in Singapore, having recently opened up a new studio at Tanjong Pagar, to cater to working adults who may want to work out after or before work, or else during lunch time.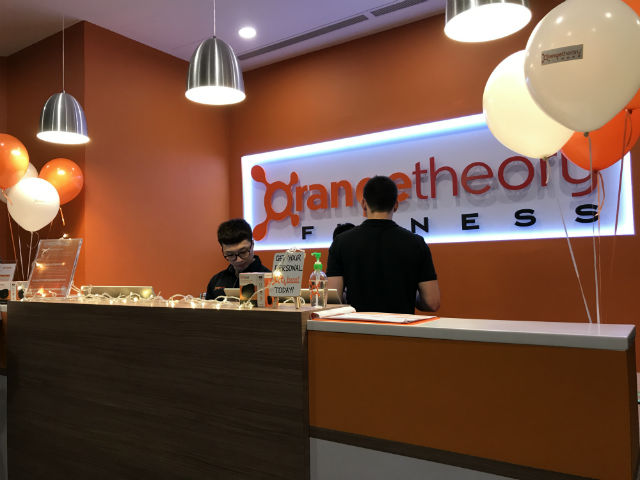 A different approach to working out
A completely different approach to exercising, OrangeTheory Fitness classes are a one hour full body workout that focuses on building training endurance, strength and power.
And to achieve this, their workout regimes are based on two key concepts – heart rate monitoring and excess post exercise oxygen consumption (EPOC), the latter meaning that if you work out at a specific effort, your body creates an oxygen deficit that must be levelled off after you finish your workout. So this means that as the body is repaying its oxygen debt, additional calories will continue to be burned, hours after the workout has already finished.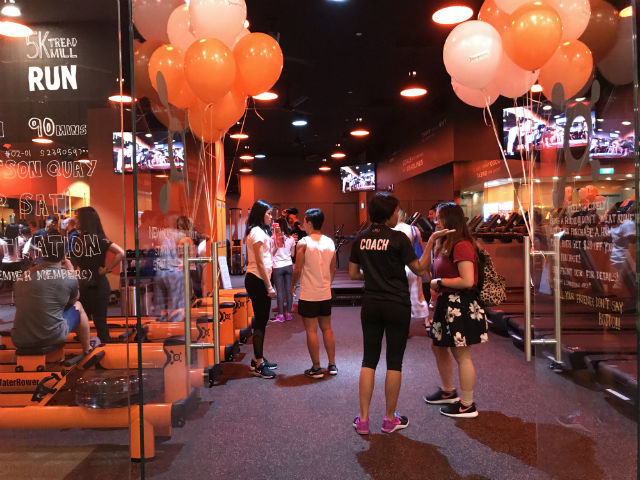 According to OrangeTheory Fitness, this increased rate of calorie burning can last for up to 36 hours and on top of that, you can burn anywhere between 500 to 1,000 calories per workout session.
Each session at OrangeTheory Fitness is designed to produce 12 minutes of working out at an intensity of 84 per cent or higher (Zones 4 and 5) of your maximum heart rate in order to produce the after burn effect. Out of the remaining workout time, about 30 minutes is spent in Zone 3 and the rest is spent in Zones 1 and 2, which is termed as the warm up & recovery zone by OrangeTheory Fitness.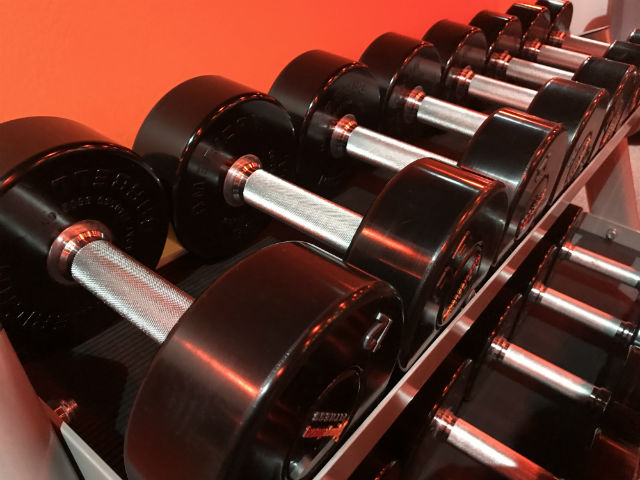 Strapped to their heart rate monitors
And in order to measure your heart rate, you are strapped with one of their in-house heart rate monitors when you work out at OrangeTheory Fitness. The chest straps are more accurate but should you find this uncomfortable though, you can always opt for the wrist version instead, which measures and tracks your pulse rate. Generally I prefer the wrist one anytime because they are more comfortable and convenient to wear and use. And your real time results are displayed in large screens through the studio when you are exercising too, so this means that if you are slacking, then everyone else will know, too. This would thus reduce the chances of gym members not working out to their potential.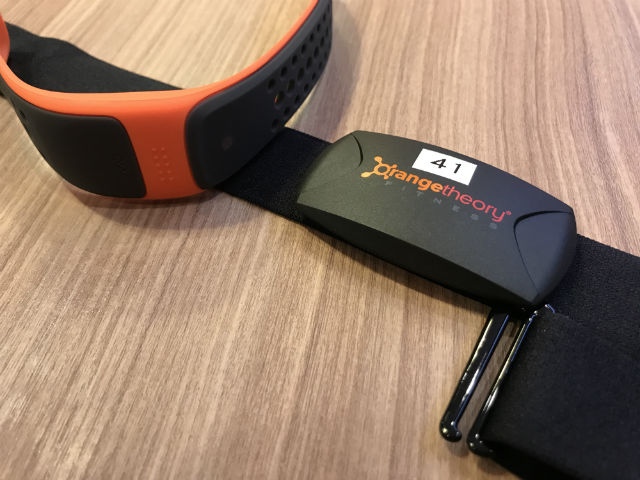 However, it must be noted that their heart rate monitors only work with their own equipment though, so if you have a FitBit or your own heart rate tracking device, these unfortunately will not work, but then again, at least you would be able to compare any possible differences, if any, in the heart rate readings between the two.
As well, their in-house OrangeTheory Fitness coaches also lead the workout to prevent you from overtraining or under training. So this means that you know for sure that you will be getting a sound workout.
Invited down to the Tanjong Pagar studio launch event
I had been recently invited down to the launch event of the new Tanjong Pagar studio and also given a tour of the fitness studio.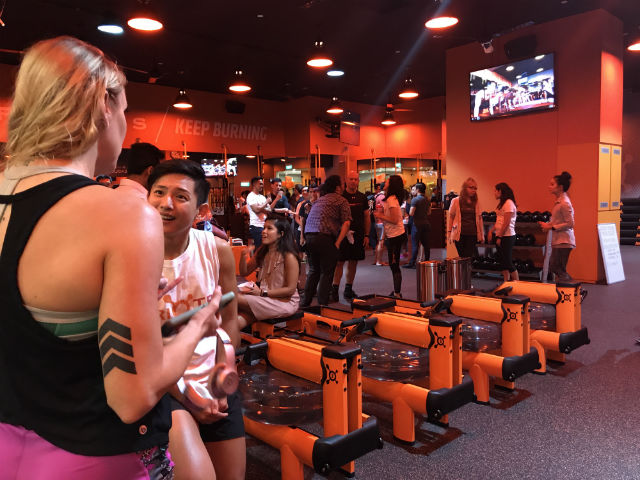 My first impression of the studio is that it is very up-to-date with the latest technologies. There are plenty of treadmills for cardio training, as well as water based rowing machines and a weights area.
The treadmills at OrangeTheory Fitness absorb 40 per cent of the shock, meaning that there is less impact on the knees and lower legs as you are running, thus reducing your chances of sustaining injuries.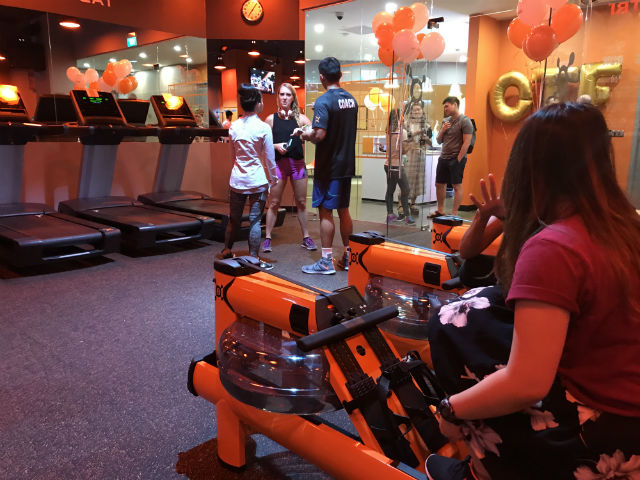 And as for the rowing machines, the water enables a smoother rowing experience as compared to a standard rowing machine, to mimic the effects of rowing on actual water. I tried these machines out and I noted that they indeed feel much smoother than normal rowing machines.
OrangeTheory Fitness also has amenities to make your gym experience more comfortable. These include seven showers in the female washroom. So I expect the male one to have ample washing facilities. Also you can charge your phone inside the lockers at the fitness studio, so you won't need to worry about running out of battery.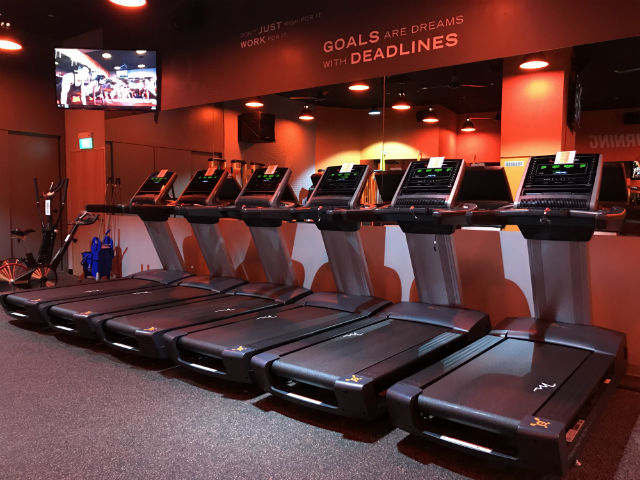 The Tanjong Pagar studio, I also thought, seemed to have a night club atmosphere rather than feeling like a gym, because it had been rather dimly lit, thus giving you the feeling that you are having fun rather than working out. This is good because it can  probably help you to enjoy your workout more.
Friendly competition 
To kick off the launch event, there was a friendly competition whereby staff members and launch event guests got together in teams of three and competed against one another on a relay consisting of 500 metres of rowing, followed by body weight exercises (squats, mountain climbers and burpees) and 1km of running. I took the running leg, and it had been quite exhausting going flat-out at about 14kmh on the treadmill! I am used to running, but I had to catch my breath when I was done.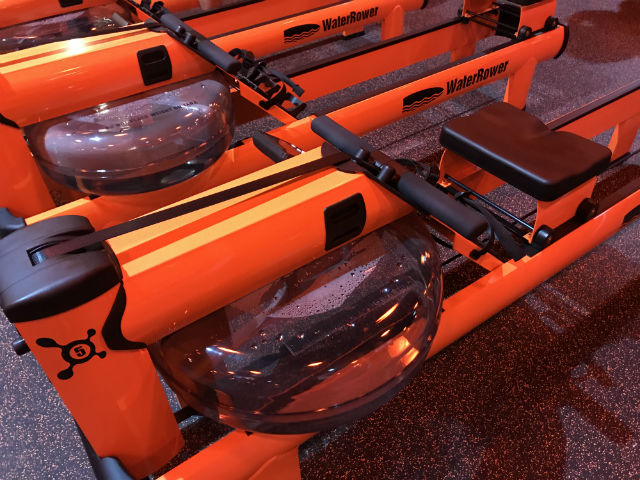 But the relay competition was nevertheless quite fun, and our team did quite well. Though all of the other teams had looked really fit, at least I was not the last to finish too and I didn't disappoint the team.
Won a gym bag in the lucky draw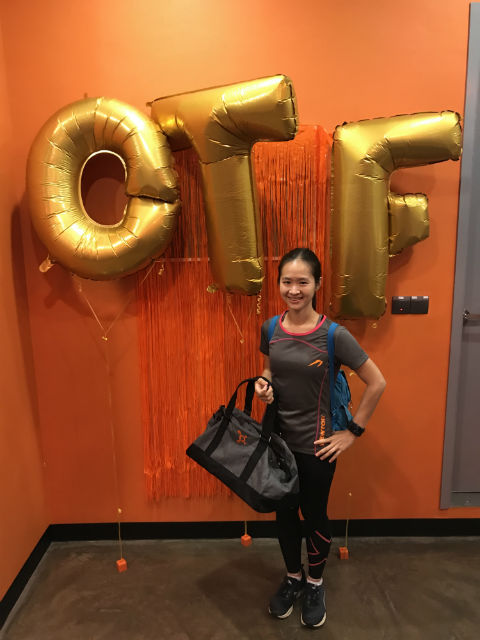 There was also plenty of food and drinks available at the launch event for guests to tuck into throughout the duration of the event, and then the night was capped off with a lucky draw, in which I was fortunate enough to win a lovely grey limited edition Lululemon gym bag that I can definitely foresee myself using.
OrangeTheory Fitness Tanjong Pagar is located at:
12 Gopeng Street #01-58, Icon Village, Singapore 078877
Call them at 6224 4288 for more information.
Share this page with your friends!