The new Arsenal FC Away and Third Kits for the 2016/2017 Season were unveiled in Los Angeles – at a star-studded event.
Gunners fan Jamie Foxx stirred up the crowd and PUMA sponsored players Santi Cazorla, Hector Bellerin and Nacho Montreal presented the kits to an audience of Hollywood celebrities and fans in a recreation of the WE ARE THE ARSENAL Campaign.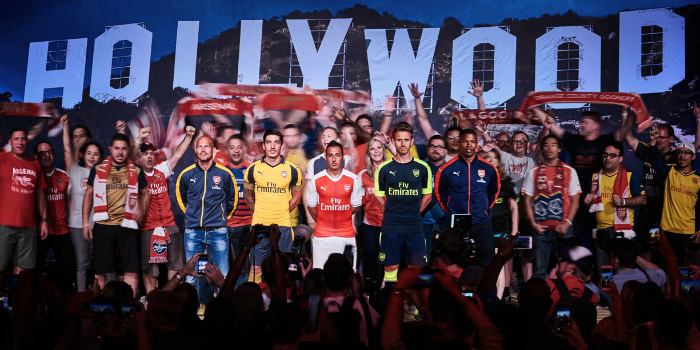 AWAY KIT
The Arsenal FC Away Kit is rounded off with the classic grey gunmetal details and celebrates the rich storied history of the London club.
The yellow shirt's uniquely tailored look features Jacquard pinstripe and a grey fold over collar with yellow stripe details and grey coloured sleeves, complemented with a PUMA Form Stripe, also in yellow colour.
The design also features the PUMA Cat and Arsenal Badge Logo on the chest and the Gunners Cannon on the back neck area.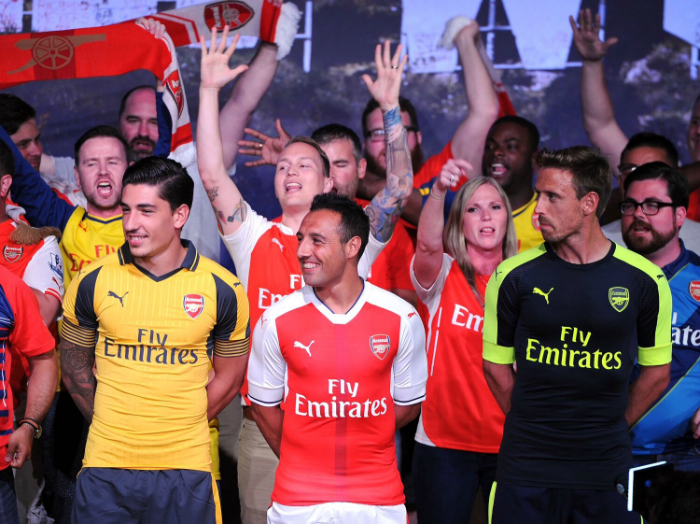 Designed with deeper meanings, the away kit takes inspiration from the club's determination to look to the future.
THIRD KIT
The Arsenal FC third kit features an ultra modern look and feel, with the visually contrasting safety yellow in the Puma Form Stripe along the sleeves and cuffs on the dark blue hue creating a visual treat for fans.
The dark blue shorts also features the the same yellow detailing and is coupled with block yellow socks to finish the look.
The carbon surface finish on the shirt also provides the ultimate futuristic look – to tie in with the theme.
PLAYERS LOVE THE KITS
Arsenal's star left back and PUMA evoSPEED player, Nacho Monreal, loves the new kits. He said, "The new kits are very nice and we are looking forward to wearing them this season."
He added, "It's also always nice to meet our fans whenever we travel. It's clear they have such passion for the Arsenal, no matter how far away from us they are. We enjoy these events that bring us closer to them and it is an opportunity to thank them for the support."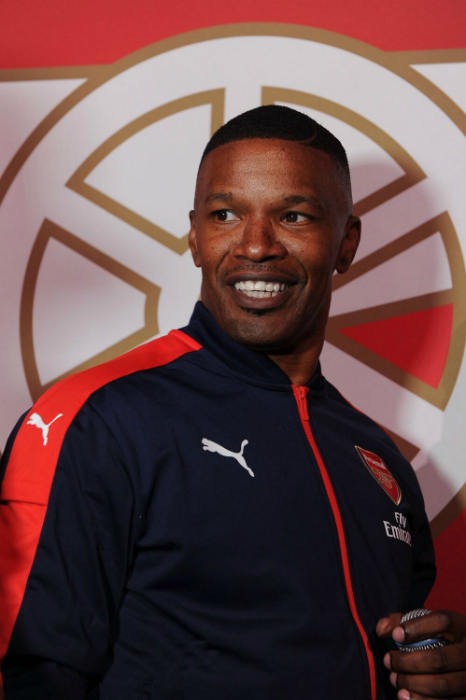 KITS ARE AVAILABLE IN SINGAPORE
The Away Kit and the Third Kit are both now available in Singapore, at PUMA VivoCity and Weston Corporation Stores. The prices start from SGD 109.
For more details check out www.puma.com/arsenal.
Photos are all courtesy of PUMA.
Share this page with your friends!