The hottest football tickets in town – for the Barclays Asia Trophy 2015 – will go on sale tomorrow – Wednesday 13 May at 10am Singapore time.
This mouth-watering tournament, now into its seventh edition – and taking place in Singapore for the first time, will give local fans the opportunity to catch some of the world's best Barclays Premier League stars in action. These will include Arsenal's German ace Mesut Oezil, Everton's promising Belgian youngster Romelu Lukalu and Stoke City's lanky English striker Peter Crouch in action – all up against the Singapore Select XI.
Teams are in red-hot form
Stoke, Everton and Arsenal are all in red-hot form, as the Barclays Premier League season 2014/2015 reaches its climax this month.
Stoke City are on course to end the season in the top 10 of the Premier League – for the second season running – their first time in 40 years – thanks to wonder goals by Charlie Adam and Jon Walters.
And Everton too, are on an impressive run of form, due to the sublime football skills of Ross Barkley and Leighton Baines.
Arsenal, currently on an electric run of form, have confirmed their participation in the Champions League for the 18th successive season – and are in prime position to clinch the runners-up spot in the Premier League table.
All of the three Barclays Premier League teams will be bringing to Singapore, many of the star players from their first-team squads – as well as new signings, if there are any. So there will definitely be a mouth-watering array of world-class footballing talent in Singapore, come July.
Managers are all anticipating the tournament with bated breath
The managers of the various English clubs are all eagerly anticipating the tournament in Singapore – and coming face-to-face with football fans in the region.
Said Arsenal manager Arsene Wenger, "I am pleased to be going to Singapore because Arsenal has many fans there and we always get a very warm welcome in Asia. We are always amazed by how much people know about our club and how popular the Premier League and Arsenal is. The digital age has made a miracle of football. When I am in press conferences, it seems that people know more about our club – than I do! Certainly, the Barclays Asia Trophy will give the people of Singapore a chance to get to know Arsenal even better."
Added Mark Hughes, manager of Stoke City, "We at Stoke City are really looking forward to it and the quality of the games in the Barclays Asia Trophy is going to help our preparation too. I think fans in Singapore will see players really trying to get their levels up to Premier League standard and I'm sure the quality of matches will be really high."
Roberto Martinez, manager of Everton, also felt likewise – in that the quality of the games will possibly be better than games in England. He explained, "At home, perhaps you play with the gloves on a little, the fans are relaxed and there's no huge expectation to test yourself. But when you are abroad, then it is a little different – you want to put on a good show. So I expect it to be competitive, which will help us reach a good physical level and that is going to help us start the season well."
Match schedules
In the opening matches, taking place on 15 July, Everton will be up against Stoke City, while the Singapore Select XI will be up against FA Cup finalists Arsenal.
Here is a detailed schedule of the match line-ups. [SEE CHART]

Tickets go on sale tomorrow
Tickets go on sale tomorrow 10am. Over 90,000 tickets will be made available to the public to buy over the two match days and 70 per cent of tickets will be on sale for $70 or less. The cheapest adult ticket is priced at $40 and children will be able to see these big-name players for $25.
Here is a schedule of ticket prices for the tournament and where to purchase them locally. [SEE CHART].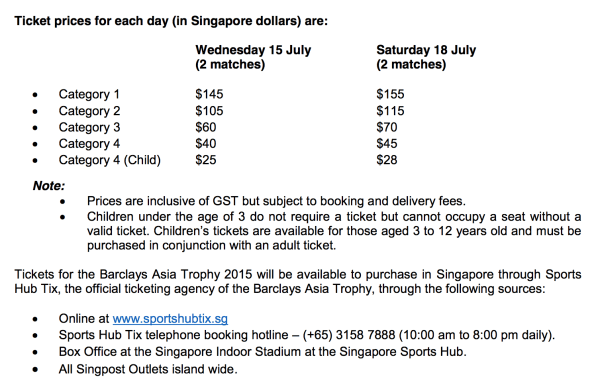 However, fans living in the United Kingdom who wish to support their favourite clubs in Singapore, should contact their respective clubs directly about the ticketing.

other Blog Posts
Share this page with your friends!