Last night, as the 2015 Barclays Asia Trophy final match between English Premier League sides Arsenal and Everton was about to begin, I could have sworn that I had somehow been teleported to the Emirates Stadium in London – the home ground of English Premier League club Arsenal.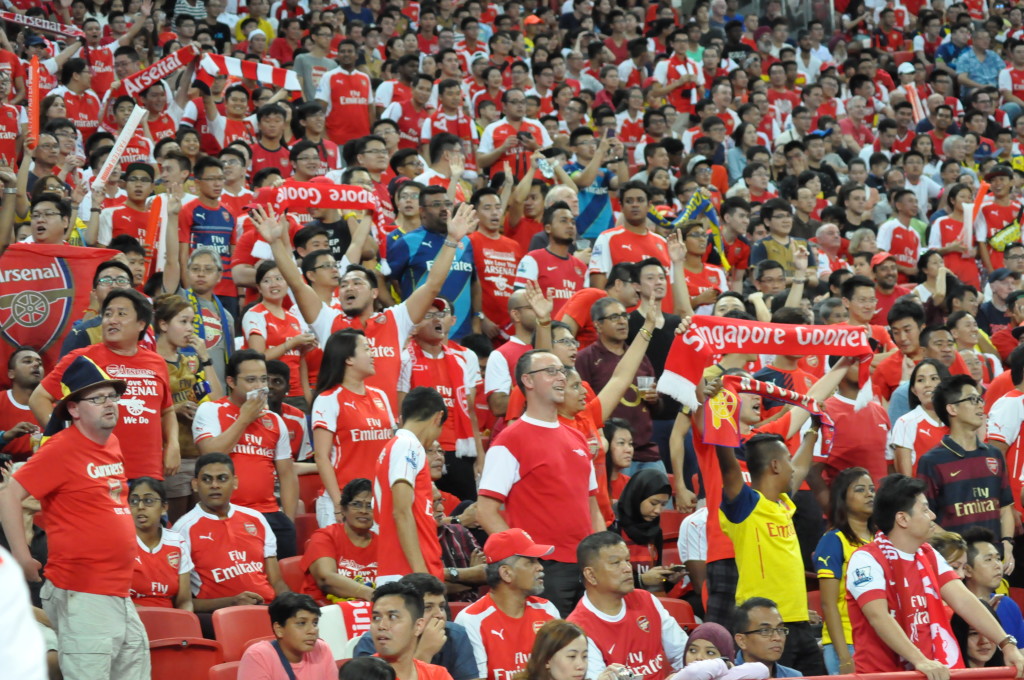 Arsenal shirts and Gunners cheers were aplenty
This is because wherever I turned my head, I could see red & white Gunners shirts aplenty. Young and old people from all walks of life were donning Arsenal shirts and strongly showing their passion for the London club. And famous Arsenal cheers were also ringing loudly through my ears.
Ooh to be a Gooner…
We all follow The Arsenal…
We love you Arsenal, We do…
Indeed, I couldn't help myself but be absorbed by the infectious and contagious atmosphere too and sing along with them too, with passion and pride.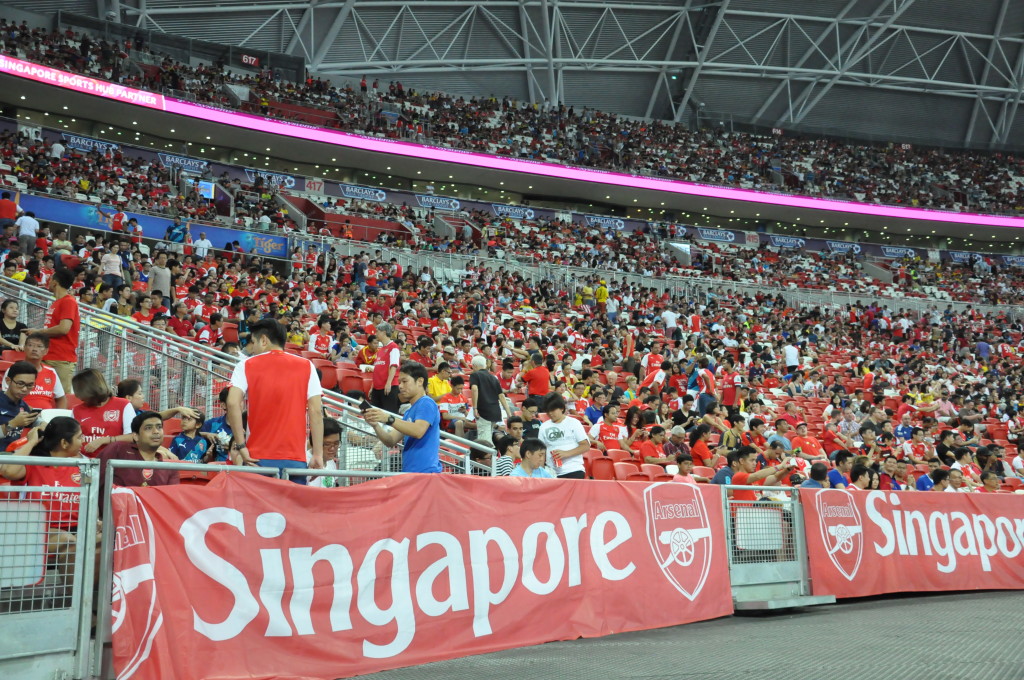 And moreover, there had even been an Arsenal merchandise booth outside Gate 10 at the National Stadium – which no doubt, had attracted long queues of fans who were rushing to buy the latest jerseys and other Gunners memorabilia in time for the match.
Hard to believe I was still in Singapore
Indeed, with such a lively football atmosphere abundant, it had been so hard to believe that I was actually at Singapore's very own National Stadium – which had been chosen to host the 2015 edition of the Barclays Asia Trophy last week. Featuring four football teams – Arsenal, Stoke, Everton and the Singapore Selection XI side, the final of this tournament was played at 8.30pm on our very own turf, last night.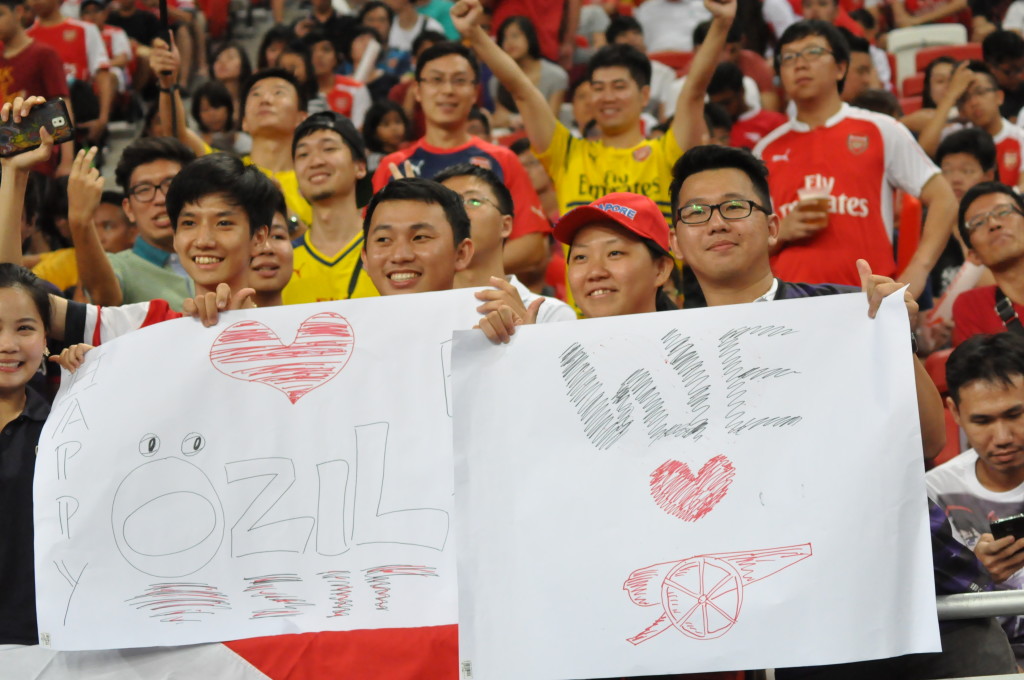 The last time that Arsenal had visited Singapore had been in 1991, so this was a match to cherish for many Arsenal fans in Singapore – a lot of whom had never seen their idols in the flesh before. So I could certainly sense their excitement. In fact, I was rather excited and eager myself too – even though I had been to the Emirates Stadium in 2010 to watch Arsenal play, in a very unforgettable and memorable trip, too.
Everyone clapped with gusto at the sight of the Arsenal stars
The cheering and chanting grew even louder too, when the Arsenal players made their way out onto the pitch. Everyone clapped enthusiastically and with gusto when Petr Cech, Arsenal's new star goalie, officially stepped onto the pitch – he was finally making his long-awaited debut for the Gunners and I simply could not wait either, to see him in action.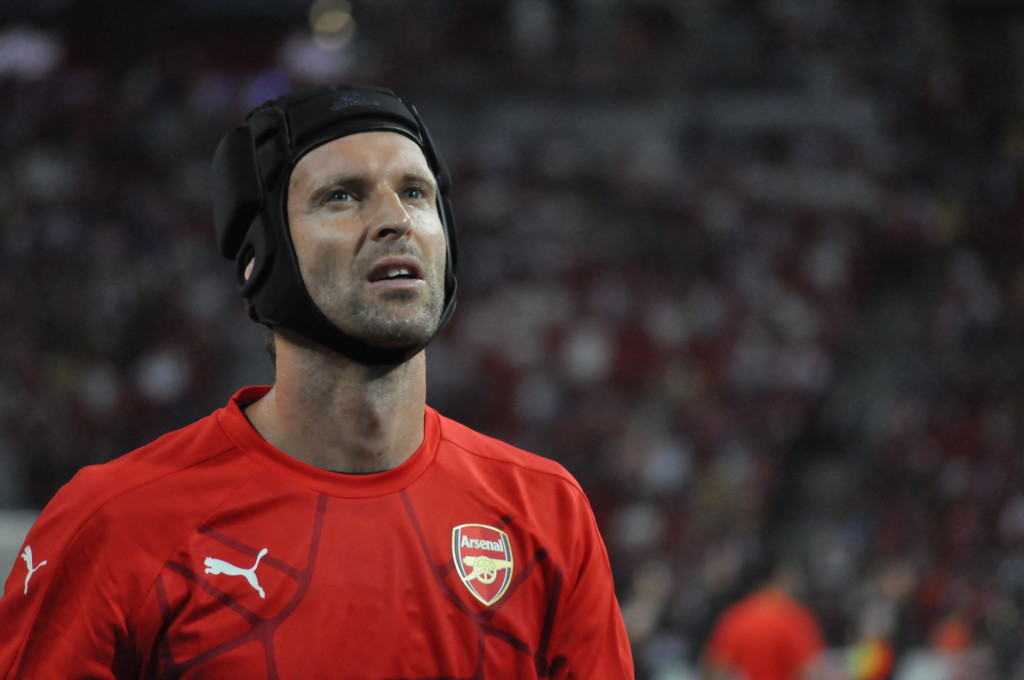 In fact, when Cech had been spotted warming up on the side of the pitch – prior to the official announcement of the team sheet, Arsenal fans were already clapping with glee and salivating at the prospect of seeing the newest club signing.
Gunnersaurus entertained fans
And as the players walked out, Gunnersaurus, the Arsenal FC animal mascot, entertained fans by walking around the stands and dancing. Gunners fans lapped this all up with glee and many took the opportunity to take photos and selfies with the large green dinosaur.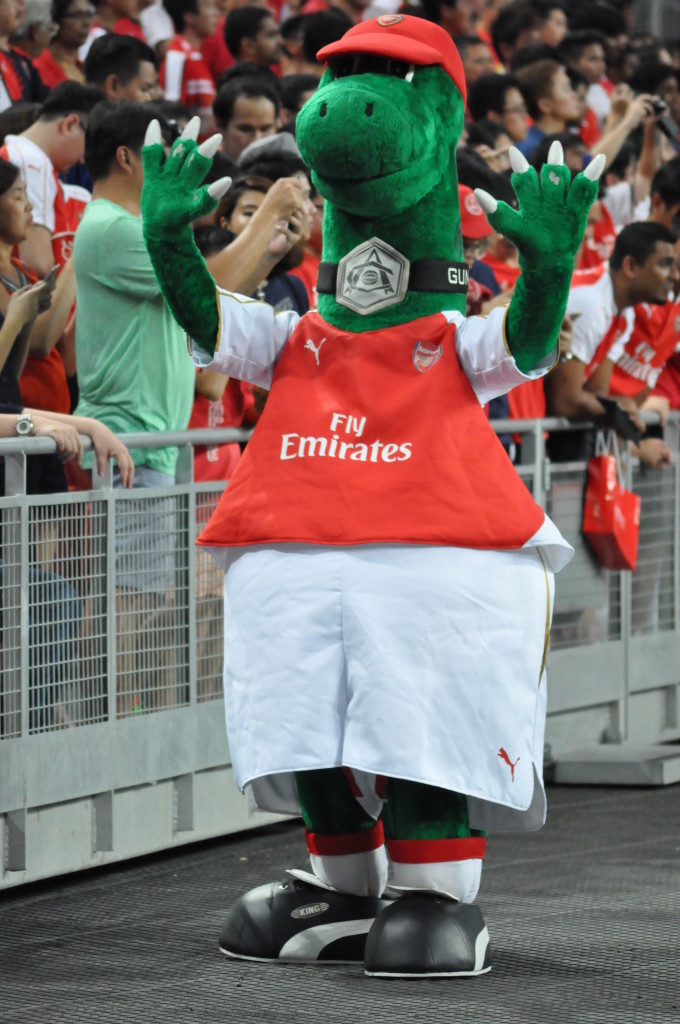 Then as the players took their positions on the pitch and the game started, everyone began to cheer. The Arsenal chants grew louder. At the same time, I could also hear a small pocket of Everton fans at the stadium, trying to make their voices heard. But they were usually quickly drowned out by the Gunners fans, though.
Arsenal played a confident game
Arsenal played a sure and confident game, and was quickly rewarded through a Theo Walcott goal in the 22nd minute of the game. And at this very stage, the crowd went completely insane. Everyone immediately leapt out of their seats and were screaming their lungs out. Soon after, the Kallang Wave also made its way around the stadium – I must say that it felt really heartwarming to experience again, this age-old trademark of Singapore football days gone by. The famous Kallang Wave lasted about three rounds. I was definitely having the time of my life and soaking everything up.
As the game wore on, Arsenal continued their dominance over the Toffees and were subsequently rewarded with two more goals – by Santi Cazorla in the 58th minute and Mesut Oezil in the 62nd minute. With each goal, the decibel level of the crowd grew louder than ever and they did the Kallang Wave over and over again. I could also hear several Arsenal chants and cheers and many times, I could not resist joining in with all the action myself because it was so addictive.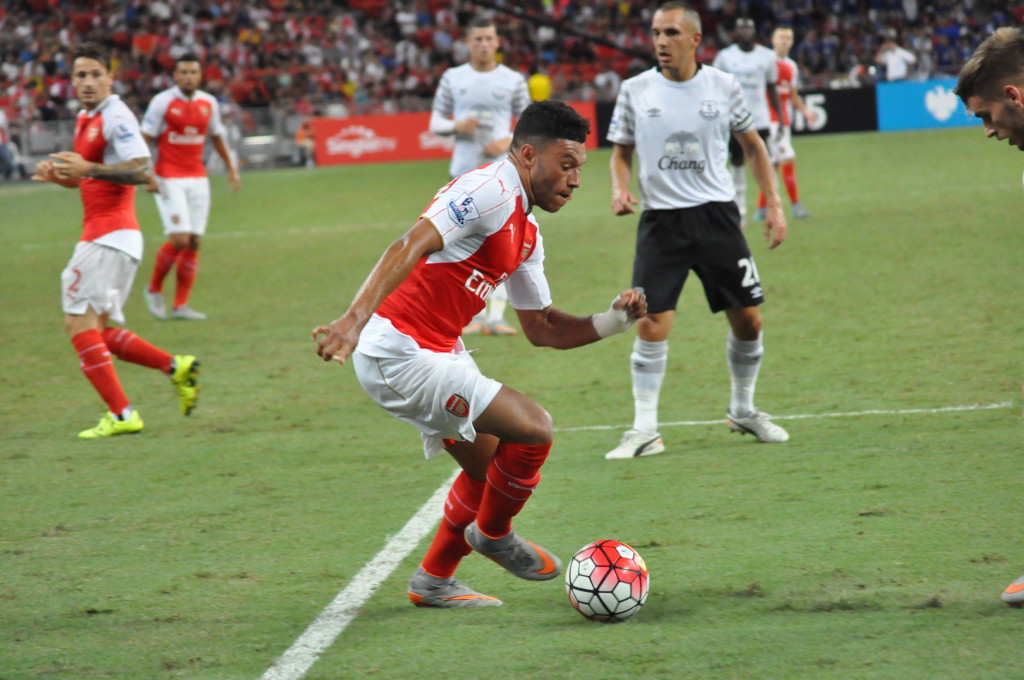 The match eventually finished 3-1 in Arsenal's favour, with Everton netting a consolation goal in the 68th minute through Ross Barkley. This had been more than enough for a comfortable Arsenal win – and the moment that the final whistle blew, complete mayhem erupted in the stands. Fans stood up to clap and cheer their idols on, and complete strangers were even hugging each other.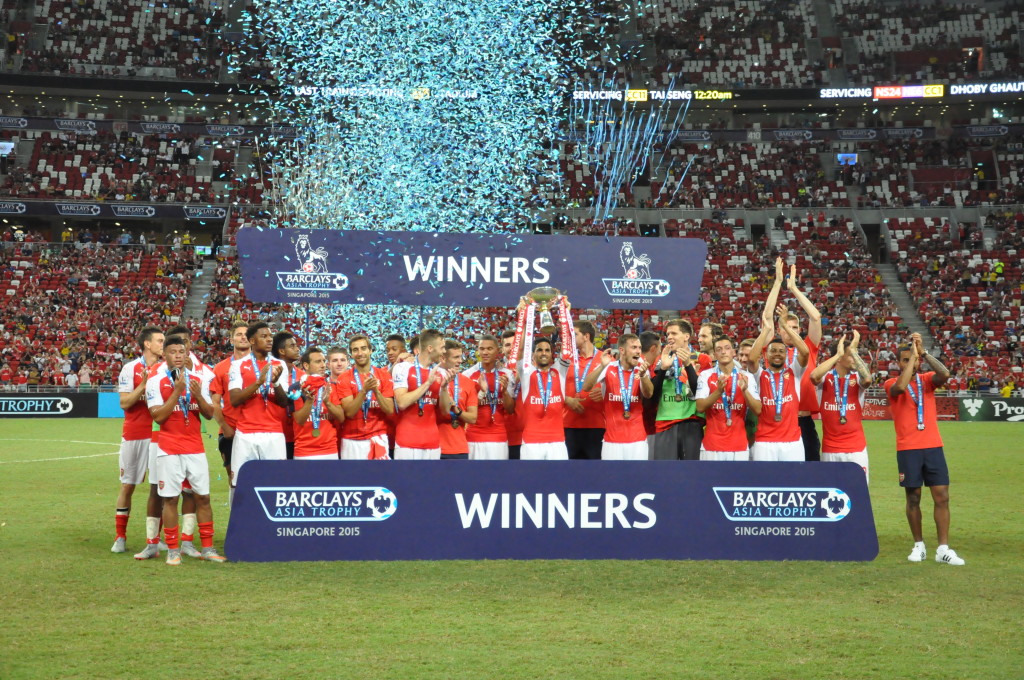 Brought a tear to my eyes when Arsenal thanked their fans for their support
The Gunners fans cheering and celebrating continued through to the prize presentation and trophy ceremony, with the Arsenal chants growing louder and louder. And it was so heartwarming, when, at the end of the trophy ceremony, the Arsenal players took out a large red banner and paraded around the National Stadium with it – to say thank you to their fans for everything. This really brought a tear to my eyes and reminded me once again, of this great club that we have all come together to support.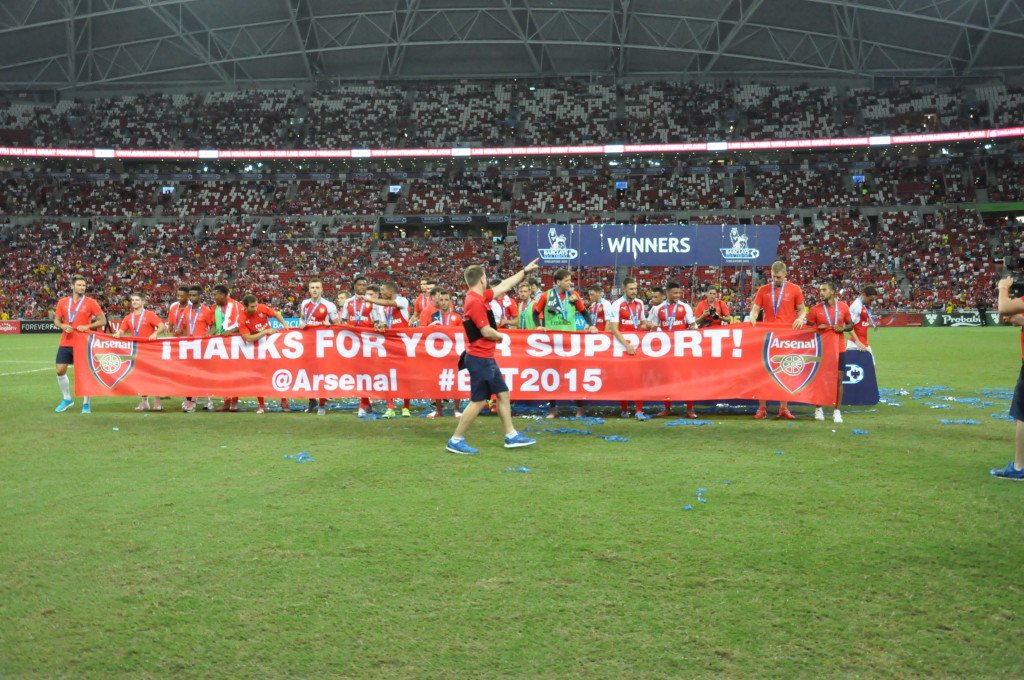 Football is indeed a sport that has the power to unite people from all ages, races, religions and walks of life. It is truly universal – and we were shown that in a big way last night, especially with a record number of attendance of more than 52,000 at Singapore's 13-month old National Stadium.

Click here to read about Arsenal 3-1 Everton
Other blog posts
Share this page with your friends!