During the Barclays Asia Trophy 2015 in Singapore, STOKE CITY will be showing their support for the Asian Football Confederation's One Goal campaign.
They will do so by donning shirts with the One Goal logo at the tournament – which takes place in Singapore later this month. Stoke will first put on the shirt in the opening game of the Barclays Asia Trophy when they play Everton on Wednesday 15 July.
The partnership is in line with the Premier League's Mutual Cooperation Agreement that Stoke City had signed with the AFC in March 2014. Then, the two organisations had agreed to work closely together in both social and commercial development – and the One Goal campaign was central to this.
Aims of One Goal movement
One Goal aims to use football to increase awareness of child malnutrition in Asia. With more than 200 million children across Asia who are being prevented from leading a healthy, active life because of poor nutrition, the Asian Football Confederation and World Vision – together with the Premier League – have created One Goal, to build awareness of and tackle this pressing issue.
Said Stoke City's Chief Executive Tony Scholes, "It's a staggering statistic that one quarter of Asia's 350 million children under five years old, are underweight.
He continued, "One Goal will utilise the power of football to promote, fund and push for programmes to be introduced that will look to make that statistic history. As football is enormously popular in Asia, we are thus delighted to be able to use our participation in the Barclays Asia Trophy 2015 to help publicise and endorse the One Goal message."
Stoke City's contributions to One Goal
Stoke City, who are taking part in the Barclays Asia Trophy for the first time, have already come up with a specific nutrition module for football coaches for One Goal. They have also taken their support further by inviting One Goal to adorn their shirts for the tournament.
Asian Football Confederation Deputy General Secretary Dato' Windsor John, is pleased with Stoke City's support of the One Goal movement  He said, "The AFC is happy to see Stoke City FC support the One Goal campaign, raising awareness of child malnutrition through the power of football. Every child deserves the possibility to play football, regardless of social status, and health and appropriate nutrition are the very basic requirements for this."
Added Stefan Germann, the Executive Director of One Goal. He added, "It is great to see Stoke City FC actively supporting this movement. And now, football fans in Asia and around the world can see good nutrition getting to every child – through the One Goal movement."

How to buy BAT2015 Tickets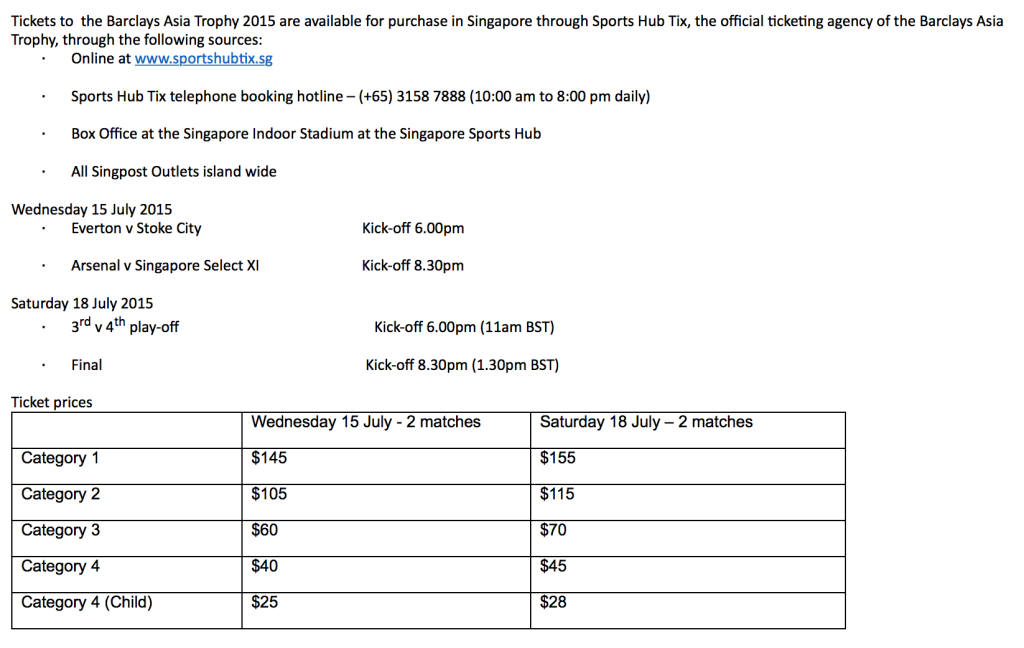 Share this page with your friends!