Football fans, do you need to catch a flight… but are afraid of missing out on that big Barclays Premier League football game? Now, you don't need to worry. For you will now be able to experience Premier League football at its best… in the heart of Changi Airport.
First fully-fledged sports-themed bar at Singapore Changi Airport
This is because Carlsberg, the Official Beer of the Barclays Premier League, officially opened its first fully-fledged sports-themed bar in Changi Airport last Friday. Barclays Premier League, Carlsberg Sports Bar, Changi AirportThis sports bar, which will be located in Singapore Changi Airport's Departure and Transit Lounge in Terminal 3, comprises of a full sports themed outfit – ranging from interior décor to staff attire, as well as an exciting new bar menu.
"As the Official Beer of the Barclays Premier League, we are committed to bringing our consumers the best viewing experience wherever they may be," said Mr John Botia the Managing Director of Carlsberg Singapore. "With the new Carlsberg Sports Bar, our consumers will be able to immerse themselves in probably the best sports bar in the world with probably the best beer in the world – our Carlsberg Green Label."
Features many installations to immerse customers in the complete football experience
The Carlsberg Sports Bar has features such as a state-of-the- art projector screen, an artificial grass pitch installation, and the latest LCD TVs.
In addition, the Carlsberg Sports Bar will also offer Carlsberg's full range of established brands and premium products from all over the world. These include the Carlsberg Special Brew, Kronenbourg 1664, Kronenbourg BLANC, Somersby Cider, SKOL, Danish Royal Stout, Corona, Grimbergen, Tetley's, Asahi and Jolly Shandy.
A unique selection of popular bar snacks also available
At the same time, customers will also be able to enjoy a unique selection of popular bar snacks from its 'Pub Grub Menu' – while cheering their favourite teams on.
Here is the Pub Grub menu for you to take a look at.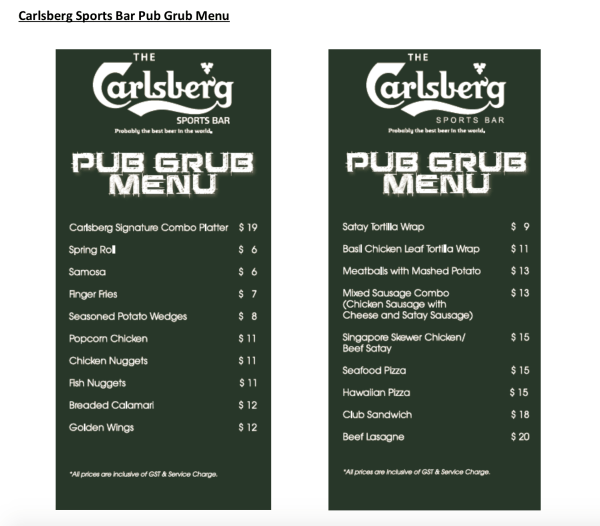 Designed to complement the full range of Carlsberg's portfolio, the bar snacks include heartier dishes such as Satay Tortilla Wraps and pizzas, as well as light bites such as Breaded Calamari and Popcorn Chicken. So there is something to satisfy your stomach, no matter how hungry or full you are feeling.
Said Alvin Tan, General Manager, De-Prospero Pte Ltd, "By bringing together Carlsberg's extensive portfolio of some of the worlds' most well-loved and established beer brands, Carlsberg's close association with football, and our expertise in food and beverage operations, we are confident that the Carlsberg Sports Bar is probably the best sports bar in the world."
The 24-hour Carlsberg Sports Bar is located on level two of the Changi Airport Terminal 3 Departure and Transit Lounge – near the Koi pond.

Share this page with your friends!