Dining together with your footballing idols. Travelling with them to a football match. Sitting on the players' bench during the game. Presenting the Golden Boot award after the match. Attending the VIP after-match party with your idols.
Does this sound too good to be true?
A dream comes true for one Liverpool FC fan
For Liverpool fan Benjamin Lai, this dream came true for him – when he was crowned as the Carlsberg 'Ultimate Football Fan' last night. So Lai, 37, will be spending the day with the Liverpool Legends on the day of the Castlewood Group Liverpool Masters Match on 15 November – and experiencing all of the above. As a result, he will be able to get close and personal with Reds legends such as Robbie Fowler, Steve Harkness and Patrik Berger.
Said Lai, who works in inventory management, "This is a dream come true and I was really blown out of my mind when I realised I had won. Thank you Carlsberg, this is a great experience and something I will definitely never forget for the rest of my life."
Paired up with Patrik Berger and participated in a commentary challenge
To win this exclusive experience, Lai, who has been a Liverpool fan since he was 12 years old, had participated in a first-of-its-kind match commentary challenge at an exclusive football live screening event held at The Cube in Asia Square last night – and had outclassed three other football fans there.
Each football fan was paired together with one of the Liverpool Legends to deliver the commentary of a pre-determined football video clip. Lai's partner in the challenge was Patrik Berger and this alone, was a surreal experience for him in itself – let alone the ultimate prize.
Said Lai, "This was the first time I was meeting Berger. He is a Liverpool hero and has some great goals and assists to his name. I was really star-struck, just standing side by side with him! I tried my best to give a good commentary."
Liverpool and Man U legends were present last night to meet football fans
Besides the Carlsberg 'Ultimate Football Fan' Commentary Challenge, Liverpool legends Robbie Fowler, Steve Harkness, Patrick Berger, Vladimir Smicer and Man U legend Paul Parker were present at Asia Square for the 'Carlsberg Ultimate Football Experience' event last night – to meet fans, take selfies and sign autographs.
A surreal experience for many football fans
More than 250 football fans attended the invite-only event, for the opportunity to get up close and personal with these Premier League legends. And for many of these football fans, it was definitely a surreal experience indeed.
Said Liverpool fan Edwin Ong, 34, a communications professional, "Fowler has been my hero since 1993. So it is a dream to see him in person, shake his hand and get his autograph. It's the first time I have ever done that to a Liverpool legend and meeting him felt like coming face-to-face with God in person."
Two football matches were screened with plenty of prizes to be won
Two football matches, Liverpool vs. Chelsea and Man U vs. Crystal Palace, were also screened live at the Carlsberg event, which had been organised as part of Carlsberg's 'Ultimate Football Experience' campaign, which had been launched in September 2014 to coincide with the new Barclays Premier League season.
Consumers at the live screening session also had the chance to win amazing prizes through other activities held throughout the event. These included score prediction contests and lucky draws. Prizes had included autographed footballs and jerseys.
I may not have been lucky enough to win any prizes myself, and had narrowly missed out on the Liverpool vs. Chelsea score prediction contest because of an incorrect guess of the first goal timing. But nevertheless it was still great fun to be there and experience this fantastic football atmosphere live.
Said Bernard Yeo, Head of Marketing, Carlsberg Singapore, "As the official beer of the Barclays Premier League, it's been our goal to continue bringing football fans and consumers in Singapore the Ultimate Football Experience, by giving them memorable and authentic once-in-a-lifetime opportunities that can be shared with their fellow football fans."
Barclays Premier League trophy made an exclusive appearance
At the event, football fans were also treated to the special appearance of the Barclays Premier League trophy, which had been won by Manchester City last season. We were given the chance to take photographs posing with the trophy.
This isn't the first time that I have seen English football's most prized piece of silverware, but it was still pretty surreal to be coming face-to-face with the very trophy that the 20 top flight teams in England, are fighting for throughout the course of this season.
See the Barclays Premier League trophy for yourself
But if you have not yet seen the Barclays Premier League trophy, it is here for a Singapore tour from now till 15 November 2014, before being displayed at the Jalan Besar Stadium on the final day of the trophy tour.
In addition, Carlsberg will be giving one year's supply of Carlsberg Green Label to the ultimate selfie photo taken during this period. To take part in this contest, you just need to take a selfie with the trophy and upload it onto Instagram with the hashtag #CarlsbergUltimate.
The winner will be announced on 15 November 2014 on Carlsberg Singapore's Facebook page.
Where will the trophy be displayed?
The list of venues that the trophy will be at, are as follows: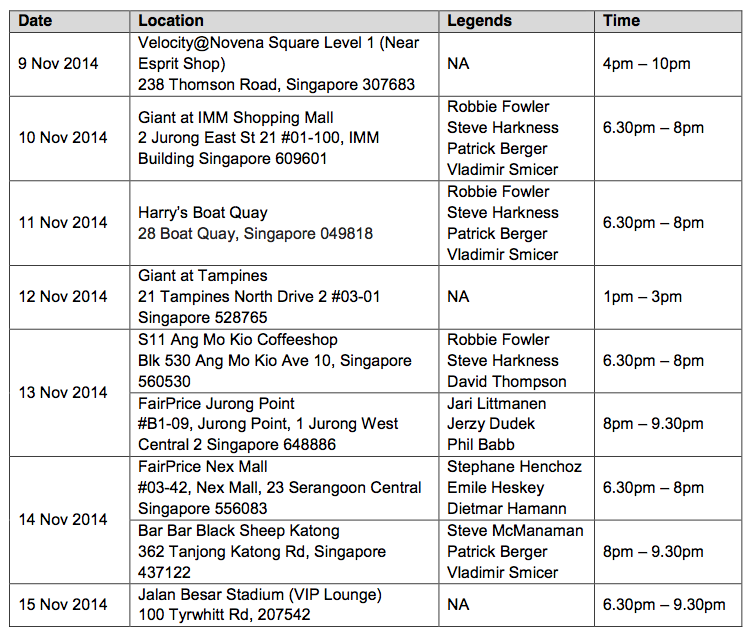 Share this page with your friends!