One of the fringe activities preceding the OCBC Cycle Singapore event taking place on 18 and 19 November, is the OCBC Cycle Cafe Bike Crawl. As the name suggests, this is billed as a "cafe crawl on wheels."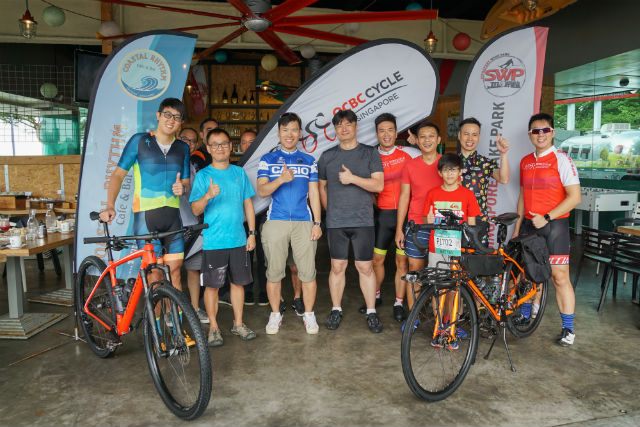 If you love eating as much as you do cycling, then this is the perfect activity for you. So as you explore new cycling routes and cafe haunts, you can also enjoy the company of like-minded cycling enthusiasts at the same time. The route for the Cafe Bike Crawl changes each year, so cyclists who have taken part in previous editions can always expect something completely new each time.
Cafe Bike Crawl Media Preview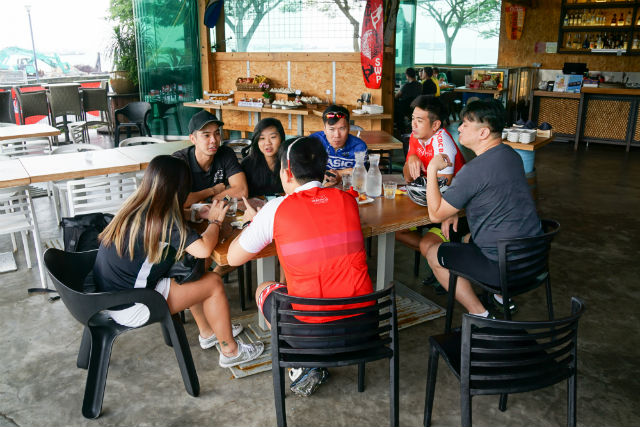 A media preview was held for the Cafe Bike Crawl last Saturday. The session had initially been scheduled to begin at 8.30am, but a downpour had initially threatened to derail the Cafe Bike Crawl.
Fortunately though for us, the rain eventually cleared up, and our Cafe Bike Crawl began just under two hours later. I breathed a sigh of relief when the organisers gave the go-ahead for the Bike Crawl to continue on.
Meeting at the Costal Rhythm Cafe @ Singapore Wake Park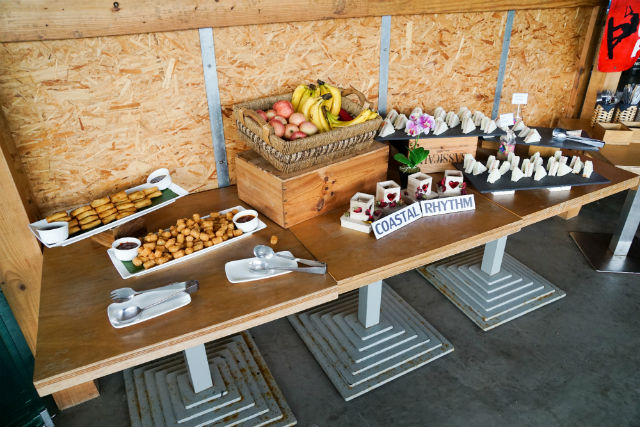 The meeting point for the 2017 edition was at the Coastal Rhythm Cafe at the recently opened Singapore Wake Park, within the East Coast Park vicinity. Coastal Rhythm Cafe is a waterfront bistro serving Nanyang favourites as well as modern European cuisine, and offers a rustic and laid back atmosphere for families and sports enthusiasts who want to relax and chill out.
At the Coastal Rhythm Cafe, there was a yummy buffet breakfast consisting of sandwiches, spring rolls, hash browns and fresh fruit. I had particularly enjoyed tucking into the mini hash browns; as these were crispy and tasty.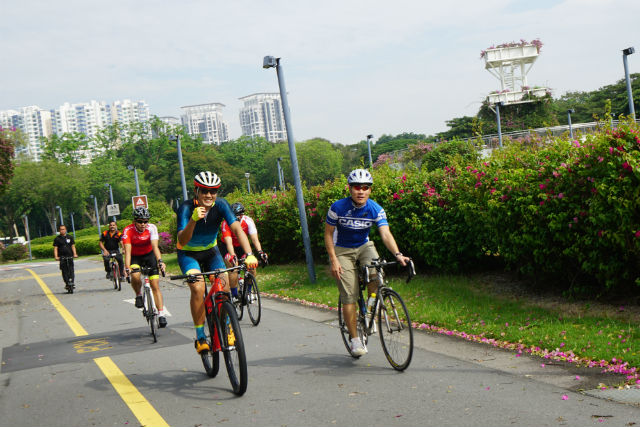 Riding through the Eastern Coastal Loop
We were off by about 10.10am. By this time, the rain had stopped and the sun had come out in full force. The 2017 Cafe Bike Crawl route took us through the Eastern Coastal Loop, that is, through East Coast Park and taking us through the Tanah Merah Coastal Road – a 10km stretch that is one of the newest sections in Singapore's ever-expanding park connector network and had just opened in April this year. Previously cyclists would have had to cycle through the Changi Coastal Road, but this part is now closed to make way for a new Changi Airport extension.
30 per cent more cycling than previous editions
As well, the 2017 route consisted of about 30 per cent more cycling than previous editions. Feedback from earlier editions of the Cafe Bike Crawl were that there was too much feasting and not enough pedalling, and the organisers had chosen to heed such comments. The total cycling route was about 23km long, according to my Garmin.
And what I particularly liked about riding this particular route, was that there was very minimum disruptions in terms of traffic lights and pedestrian crossings, so this meant that we could pedal on without stopping. So this makes the new stretch great in terms of training for long rides and Ironman triathlons.
Unfortunately not much of the route was shaded, though, and with the sun coming out in full force as it neared midday, it began to get pretty hot as I continued riding. At least it was just a leisure ride for all of us, and so we did not have to exert ourselves too hard. In fact, the organisers had given us a 15kmh speed cap regardless of whether we were riding on road bikes, mountain bikes, hybrids or foldies! As such, this cycling pace fell well within my Easy heart rate zone.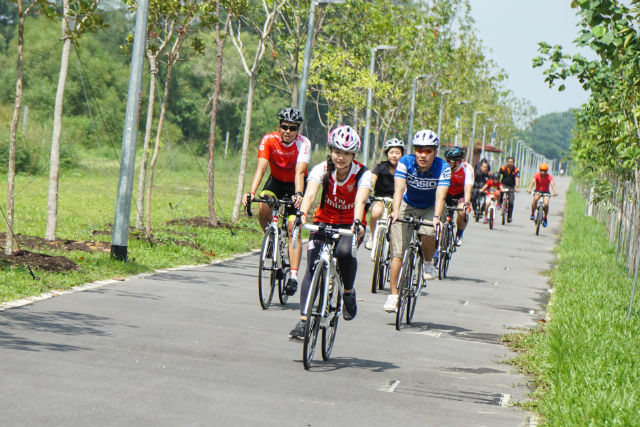 And fortunately for me too, I had frozen my bottle of water the night before, so I could cool my body down with ice-cold water, which was great as it had helped to keep me going, as well.
Second Stop: Makan@80 Local Coffee Shop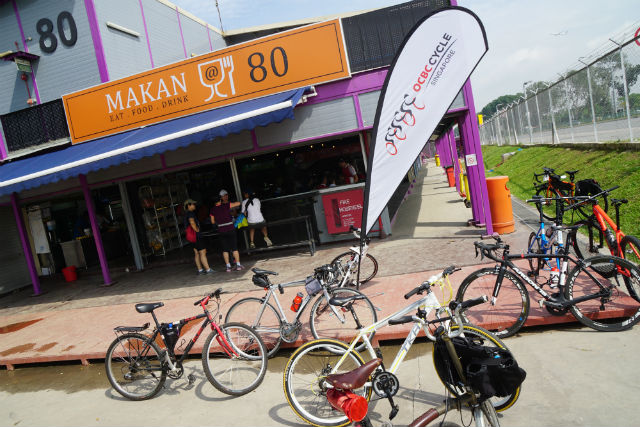 The second stop on the Cafe Bike Crawl was the Makan@80 local coffee shop, a small haunt tucked away along Tanah Merah Coastal Road. I must admit that this place is quite easy to miss and I would probably have cycled straight past it, if the OCBC Cycle had not pointed it out to us.
We stopped for about an hour at the coffee shop, ordering local drinks from the Changi Coast Coffee stall. Besides your typical Singaporean beverages, this little stall also sells local toast sets, eggs and an assortment of old-school bread, buns and cakes. I had an Iced Milo from the stall, and it was probably one of the best Milo drinks that I have had; but that's probably also because the sun was starting to get to me a little bit, by that point in time. I was quite tempted to get a bun too, but in the end, I decided not to.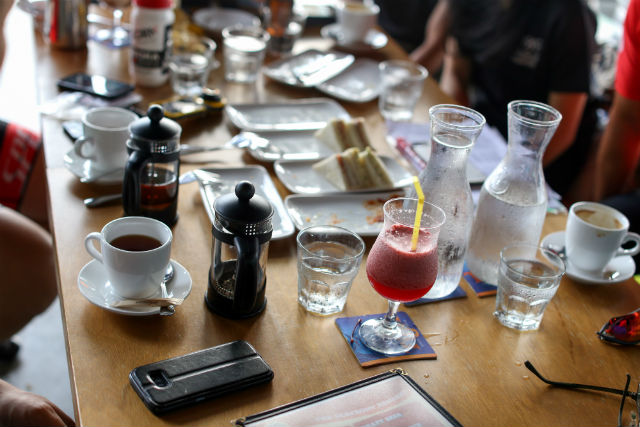 Cycling through Changi Beach Park and Changi Village
When we had rested enough, we continued on our way, through the Changi Beach Park as well as Changi Village. I have good memories of Changi Village and I have always like the quaint little cafes in the area. I think that as I train for my 42km ride at the OCBC Cycle event this November, the Changi Village cafes will serve as great motivation in terms of a mid-ride or post-ride makan treat for me.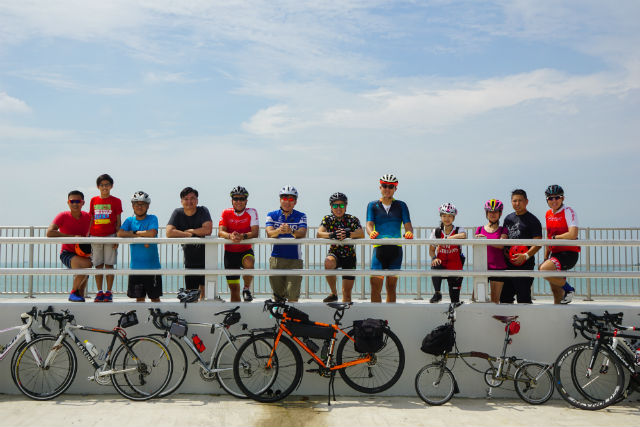 We stopped along the way for another photo opportunity too. Also, according to the OCBC Cycle organising team, there was supposed to be a water pit stop at the Changi Ferry Terminal where they would hand around bottles of water to us. But we were still feeling okay by that point, so we opted not to stop here, and headed straight on to our lunch location.
Third Stop: Jubilee Coffee House and Bar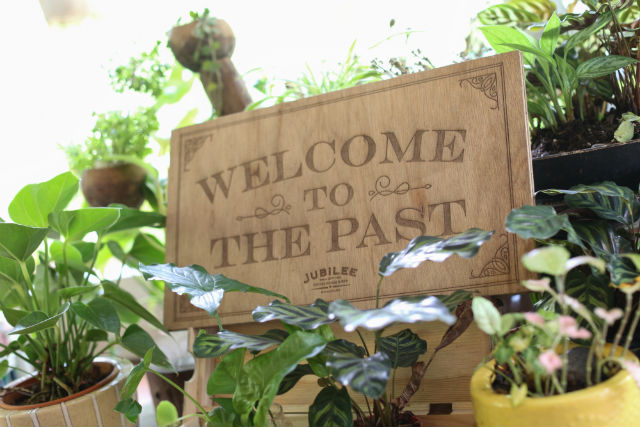 Lunch was at the Jubilee Coffee House and Bar at Netheravon Road. Once again, I think that this is a place that I would probably be cycling past without taking a second glance at, if the OCBC Cycle team had not brought us there. As such, it was my first time discovering this quaint little cafe.
Jubilee Coffee House and Bar is a two storey vintage restaurant set in a bungalow house that tries to preserve the nostalgic familiarity of the 1960s amongst Singaporeans, bringing together all generations, young and old alike.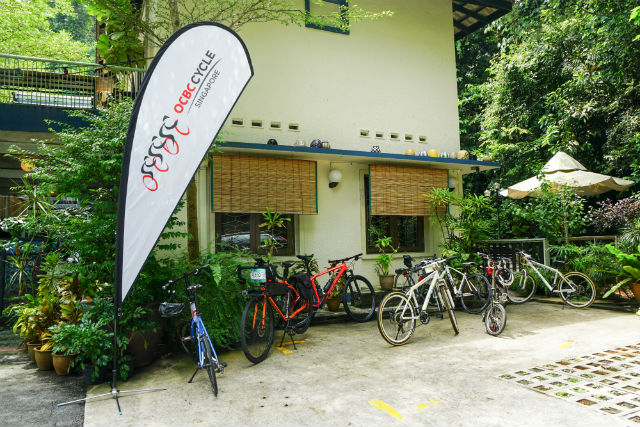 Walking around the cafe and its surrounding area, I had been greeted with an eclectic collection of vintage vehicles and old fashioned memorabilia, such as typewriters and record players, targeted at inviting a feeling of nostalgia amongst visitors. Old school snacks such as iced gem biscuits and pig's ear cookies are also being sold in small packages.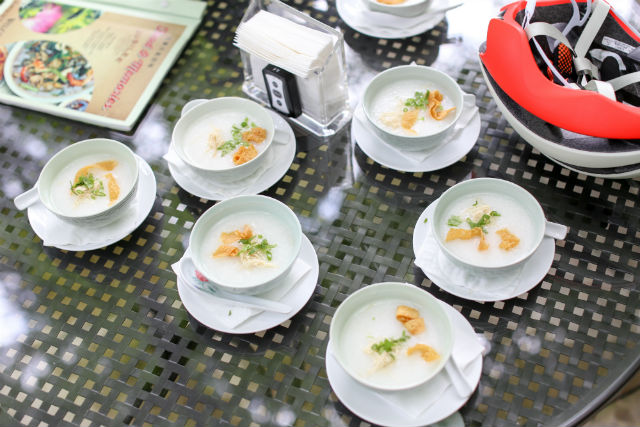 In terms of food, they serve a mixture of popular local delights as well as Western favourites. We tried a mixture of the food items there, including their porridge, dim sums, fried chicken and truffle fries. The food was quite delicious and I was feeling quite hungry again at this point, and so I probably ended up eating much more calories than I had burned from riding!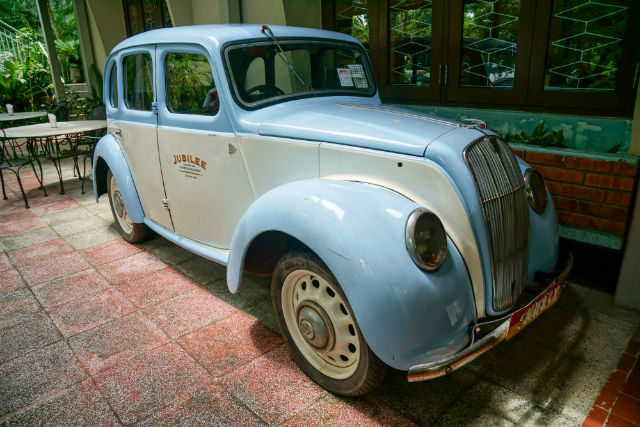 Bus ride back to East Coast
We chatted over lunch for roughly a couple of hours before calling it a day and parting ways. The organisers had thoughtfully arranged for a bus to take us, and a lorry to transport our bikes, back to the starting point.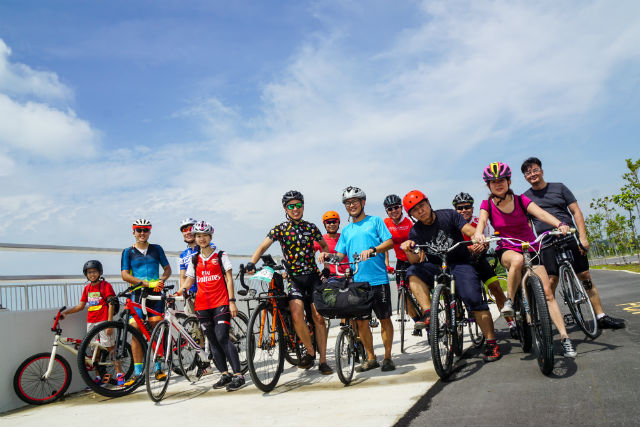 I boarded the bus, as getting back home was much more convenient for me from East Coast Park rather than Changi. But for other participants who had found it less of a hassle to get home from Changi, though, they chose to cycle straight home.
A fun experience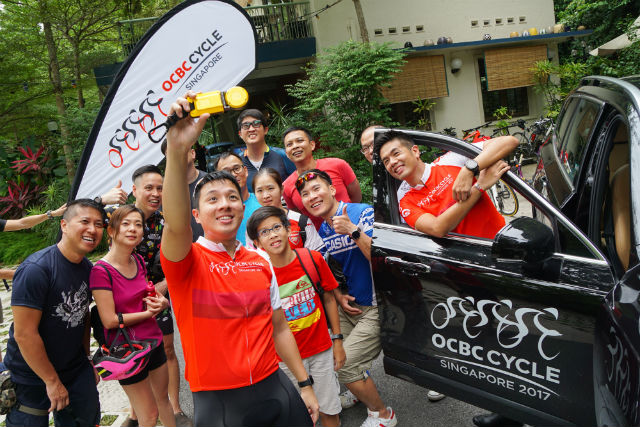 Overall I thought the Cafe Bike Crawl had been a great experience, not only in terms of discovering new cycling routes and cycling-friendly places to eat, but also to meet like minded people and fellow cycling enthusiasts.
I already can't wait for the next edition of the Cafe Bike Crawl, and discover where it would bring us all.
Be part of the Cafe Bike Crawl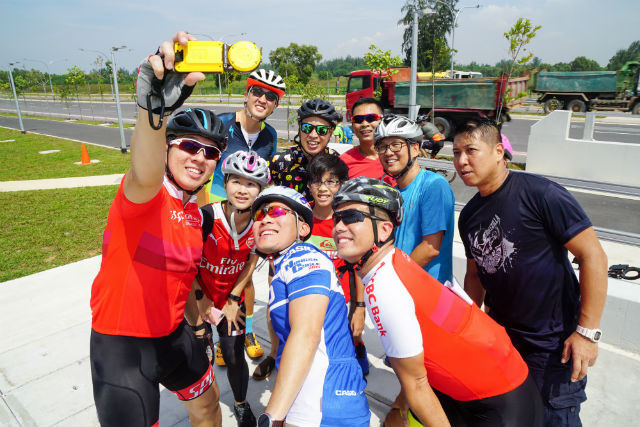 The Cafe Bike Crawl 2017 takes place again on 12 August and 16 September 2017. It is a half-day session, from 8am to 1pm. It costs S$6 per person. So if you are interested, you may register for the event at this link.

Thank you OCBC CYCLE for the invite and for the lovely images.
other blog posts
Share this page with your friends!