Are you a road cyclist who strongly believes that you have the potential to be on par with our national athletes… and do Singapore proud in cycling?
If this describes you, then you may finally get your chance to make your deepest desires come true.
A structured ranking system to enhance the local cycling scene
This is because of a new structured ranking and points system by the Singapore Cycling Federation (SCF) – that is set to enhance the local cycling scene. As such, any Singaporean cyclist who enjoys racing… is eligible to earn and collect points in this new ranking system.
Said Samuel Yang, Sports and Technical Manager of SCF, "What SCF wants to institute is a transparent system where everyone will be eligible to qualify for. You may be a national or experienced cyclist but if you don't have the means to compete overseas, this system means that you won't lose out."
He added, "Young up-and-coming cyclists will also have a chance to represent Singapore if they prove that they are good enough, and current national cyclists will be constantly kept on their toes to ensure they collect enough points each year to maintain their rankings or others may overtake them."
Points system will come into effect from 13 March 2016
Coming into effect on 13 March at the OCBC Cycle Road Race, the points will be totalled up upon the conclusion of the year's final event – the OCBC Cycle Speedway Club Championships at the end of the year. At the beginning of each new year, the point tallies of riders will be reset.
The new ranking will play a vital role in the identifying and shortlisting athletes and teams for major tournaments and overseas competitions, and if there are two riders or teams with the same number of points, the eventual ranking will be selected based on the greatest number of first-placing points on the rankings.
Should a tie occur, the decision will be made based on the greatest number of second place and third places, and so on, secured by the riders or teams concerned.
The team seedings will be obtained by adding together the points of the four best placed riders in the individual rankings during the course of the year.
Points system will complement the current calendar of road cycling events in Singapore
This new points system is expected to complement the current competitive road cycling calendar of events. Altogether there will be four such competitive road cycling events for 2016 – kicking off with the OCBC Cycle Road Race on 13 March.
Next up will be the OCBC Cycle National Road Championship, comprising of a criterium on 22 May and individual time trial on 29 May. Then the OCBC Cycle Speedway Club Championships will take place later on in the year.
Currently there are very few officially sanctioned road cycling events in Singapore. In fact the only one in 2014 had been the SCF Celebration Series and in 2015, there was the 28th South East Asian Games and the OCBC Cycle Speedway Club Championships. So the additional events and extra competition means that the Singapore cycling scene can look forward to some exciting times ahead.
Said Jeffrey Goh, President of SCF, "The SCF's five year strategic plan has four key components. Of relevance here is the strategic intent to create a vibrant calendar of events for cyclists in Singapore. The SCF Management Committee held several meetings on this and it was decided that apart from just organising more events, it is critical that we develop an event eco-system where all critical success factors have to be in place."
He added, "This includes a points system to keep our cyclists competitive. The points system will be introduced for Road events first. Moving forward though, we intend to do the same for Mountain bike, BikeTrial and BMX ones, where we are able to organise or sanction a series of competitive events."
SCF hopes to grow the Singapore cycling community
Goh adds that SCF eventually hopes to be able to grow cycling as a community in Singapore.
He explained, "Today, many parents are afraid to let their kids cycle on roads because they feel that it is not safe. So we will be developing a 'safe cycling' programme targeting Primary 3 or Primary 4 students and teaching them about road safety and traffic rules. This is not new – in fact that's what they do in countries such as Denmark to allow cyclists and motorists to respect each other."
And in the longer term, the SCF aims to have cyclists meeting the qualifying mark for international competitions such as the Asian Games and the Commonwealth Games on merit.
Said Adrian Ng, Head Cycling Coach, "For SCF, the points system we are implementing is the starting point for us. Eventually we would like to have cyclists competing at the international level – we are targeting the 2018 Commonwealth Games and the 2020 Olympics. So there are exciting times ahead for our young and established riders."
Response of cyclists, to the new system has been positive
So far the response to the new points system has been positive, according to SCF. Said Ng, "This is only the start so we do not have much feedback as of yet. But at the end of the season we will fine-tune things. For example if we find that there is one person winning everything, then we will adjust the system to make it more competitive."
He added, "But feedback from friends have been good. About 99 per cent of the Singapore cycling population has no chance to qualify to represent their country currently. So with the point system, they will be in with a shout if they can show they are good enough."
As such, the new system means a lot to ordinary racers like Ng himself. He said, "Though most of the Singapore population is more interested in cycling rather than racing, what always held us back is seeing these few national cyclists in front – it makes everyone else demoralised and then we end up dropping off. So with these new categories and point systems, even my wife has told me that she will give it a go."
SCF is open to sanctioning cycling events held by cycling fraternities too. Said Goh, "We are aware that clubs have their own little races as well as some 'official' ones to spur them on but in order to engage the cycling fraternities, we will sanction their races if they meet certain standards."
A key component in the Singapore cycling eco-system
Title sponsors OCBC Bank are also pleased with the new implementations in the Singapore cycling scene. Said Koh Ching Ching, Head of Group Corporate Communications at OCBC Bank, "I commend Jeffrey and his new committee for being able to design and launch the first ranking and points system for the cycling community soon after they have helmed SCF."
She added, "The ranking and points system serves not only as a source of motivation for our national athletes and a process to identify talents, we also see it as a key component in the cycling eco-system to encourage more serious cycling, raise the standards and enlarge the cycling community. With a more vibrant cycling scene in Singapore, it gives OCBC more reasons to continue to support OCBC Cycle and all the cycling races."
Prizes will be awarded to the winners of the individual and team rankings one week after the completion of the OCBC Cycle Speedway Club Championships.

Here is a full breakdown of the points system.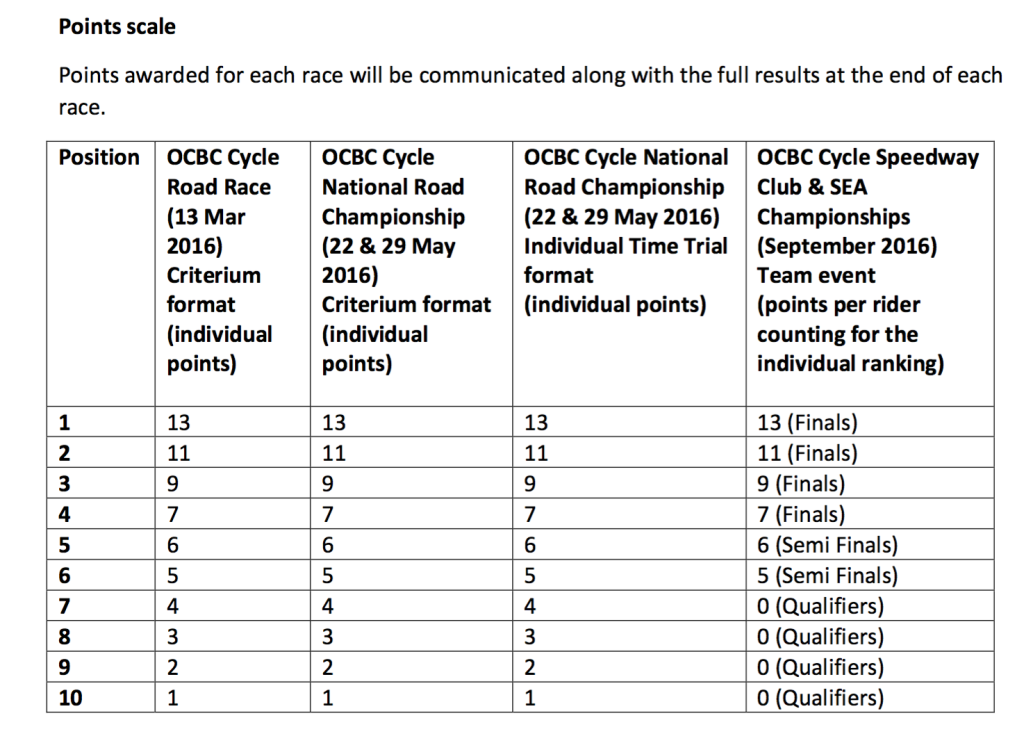 Share this page with your friends!